Important Daily Current Affairs of 10th Dcember 2021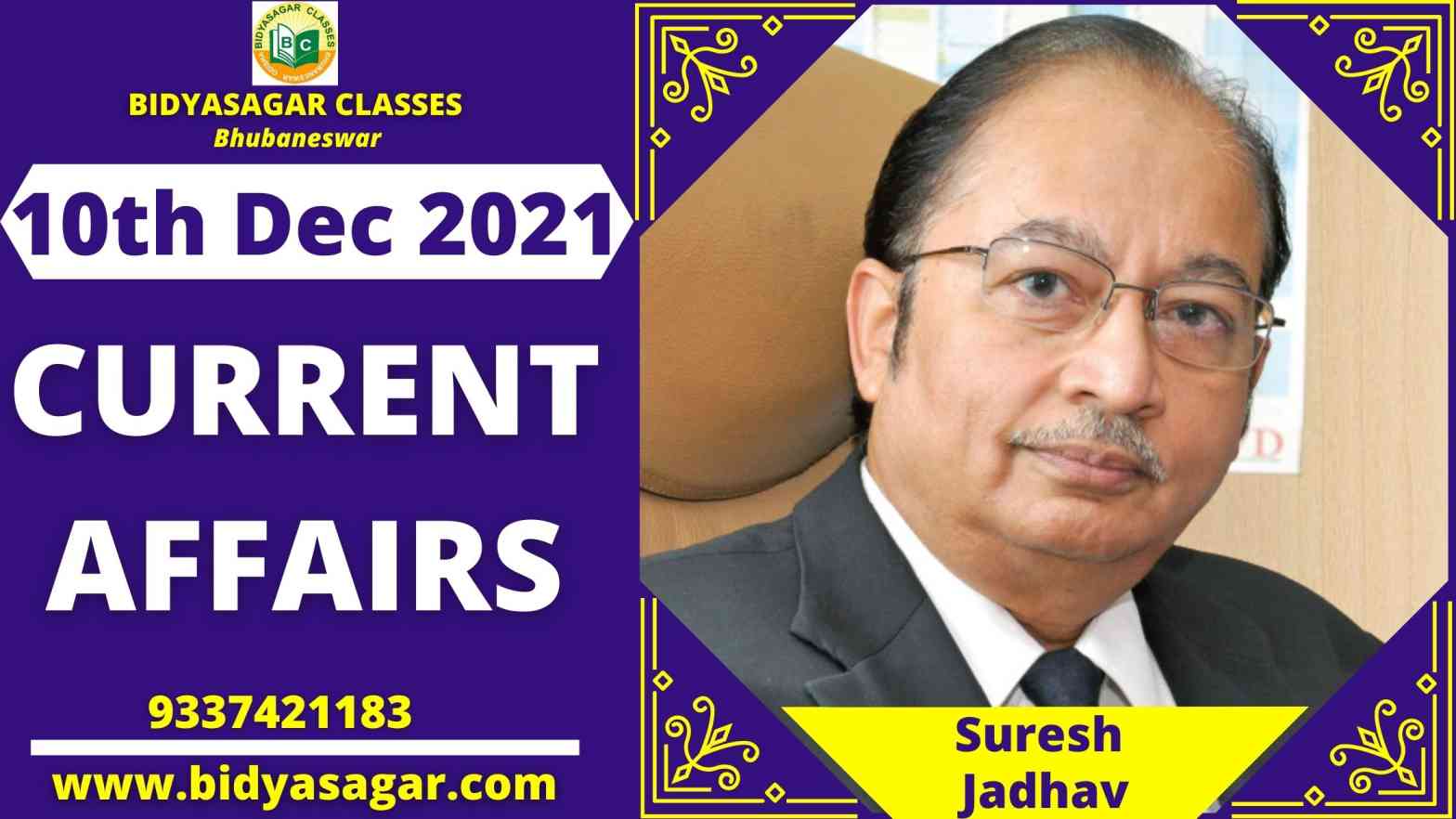 In this article, we will discuss all the important current affairs of 10th Dcember 2021 in detail.
---
National
---
1. The 'Milk Price Incentive Scheme' was announced by Uttarakhand Chief Minister Pushkar Singh Dhami.
Pushkar Singh Dhami, the Chief Minister of Uttarakhand, launched the 'Milk Price Incentive Scheme' in Dehradun.
The project aims to provide incentives to about 53,000 Uttarakhand residents. In Uttarakhand, the state government plans to invest INR 444.62 crore to open 500 milk sales facilities.
2. With CESL and WRI India, NITI Aayog launched the "e-Sawaari India Electric Bus Coalition."
In collaboration with Convergence Energy Service Limited (CESL), World Resources Institute, India (WRI India), and Transformative Urban Mobility Initiative, NITI Aayog has created the e-Sawaari India Electric Bus Coalition (TUMI).
Aim: To exchange the knowledge of various stakeholders — central and state government agencies, transit service providers, and original equipment manufacturers (OEMs) – in order to speed up the process of e-bus service adoption in India.
3. The "Airtel India Startup Innovation Challenge" was launched in collaboration with Invest India.
The 'Airtel India Startup Innovation Challenge' was jointly established by Bharti Airtel and Invest India, the National Investment Promotion and Facilitation Agency, seeking startups to develop solutions in 5G and IoT.
Early-stage technology companies are asked to exhibit differentiated solutions in areas such as 5G, Cloud computing, Internet of Things (IoT), and digital entertainment as part of the Startup Innovation Challenge.
4. India and Russia have agreed to purchase AK-203 assault rifles.
India has inked a contract with Indo-Russia Rifles Pvt. Ltd., an Indian-Russian joint venture, for the indigenous production of over 6 lakh AK-203 assault rifles in Korwa, Uttar Pradesh.
It envisions Kalashnikov transferring all of its technology to IRRPL for the production of the first 70,000 rifles.
---
International News
---
5. India is among the most unequal countries, according to the World Inequality Report 2022.
The World Inequality Report 2022, published by Lucas Chancel, co-director of World Inequality Lab, and overseen by renowned French economist Thomas Piketty, was released by the Paris-based World Inequality Lab.
According to the study 2022, India is currently one of the world's most unequal countries, having a wealthy elite.
---
Banking & Finance News
---
6. PMAY-G will be extended until March 2024, according to the Cabinet.
Prime Minister Narendra Modi's Union Cabinet has approved the extension of the Pradhan Mantri Awaas Yojana – Gramin (PMAY-G) beyond March 2021 until March 2024.
Within the total objective of 2.95 crore dwellings, financial help will be offered for the building of the remaining 155.75 lakh houses.
7. The Reserve Bank of India has designated Paytm Payments Bank as a scheduled bank.
Paytm Payments Bank Limited (PPBL), a Paytm partner, has received approval from the central bank to operate as a scheduled payments bank, allowing it to expand its financial services offerings.
The bank is listed under the Reserve Bank of India Act, 1934's Second Schedule. The second schedule also includes Fino Payments Bank and India Post Payments Bank, in addition to Paytm.
---
Appointments News
---
8. Disney BYJU's Early Learn App has named Neeraj Chopra and PV Sindhu as Brand Ambassadors.
Olympic medalists Neeraj Chopra and PV Sindhu will serve as brand ambassadors for the Disney BYJU'S Early Learn app for a two-year period.
Neeraj Chopra, a gold medalist in javelin throwing, and PV Sindhu, a bronze medalist in badminton, both competed in the 2020 Tokyo Olympics.
---
Sports News
---
9. At the Asian Youth Para Games 2021 in Bahrain, India won 41 medals.
At the 4th Asian Youth Para Games (AYPG), Asia's greatest tournament, held in Riffa, Bahrain, India won 41 medals (12 gold, 15 silver, and 14 bronze).
The National Paralympic Committee (NPC) of Bahrain is hosting the event, which has the support of the local government. From the 2nd to the 6th of December 2021, about 700 competitors from around 30 countries competed in the event.
---
Awards & Honours News
---
10. Ropesh Goyal was named the winner of the "Young Geospatial Scientist" Award for 2021.
IIT-Ropesh Kanpur's Goyal received the 'Young Geospatial Scientist' award for his unique contribution to the development of the Indian Geoid Model and computing tools.
Since 2011, a gold medal and the 'Young Geospatial Scientist' award have been given to young scientists under the age of 35 in memory of Rachapudi Kamakshi, a strategic analyst with a keen interest in geography and geospatial studies.
---
Obituary News
---
11. India's Serum Institute Suresh Jadhav, the Executive Director, passed away.
After a protracted illness, Executive Director of the Serum Institute of India (SII) Suresh Jadhav (72 years) died in Pune, Maharashtra.
He played a key role in the development of the Covishield vaccine for Covid-19 as well as the establishment of the Developing Countries Vaccine Manufacturing Network.
12. Awardee of the Padma Shri Nanda Kishore Prusty was killed in a car accident.
Nanda Kishore Prusty (Nanda Sir), a well-known Odisha teacher and Padma Shri awardee, died in Bhubaneswar, Odisha.
He received the Padma Shri award for his achievements in the field of education on November 9, 2021.
---
Important Days
---
13. International Human Rights Day is celebrated on December 10th.
Every year on December 10th, International Human Rights Day is commemorated.
The day commemorates the United Nations' adoption of the Universal Declaration of Human Rights on December 10, 1948.
Bidyasagar Classes Address
Plot No-N-6-325, Biju Patnaik College Road,  Infront of SBI, Jayadev Vihar, Bhubaneswar
Website: www.bidyasagar.com
Opening and closing hours: Monday to Sunday :7AM-9PM
 -Mail : bidyasagar.classes@gmail.com
Contact No. : 8917265768; 9337421183, 8093021183