Important Daily Current Affairs of 10th January 2022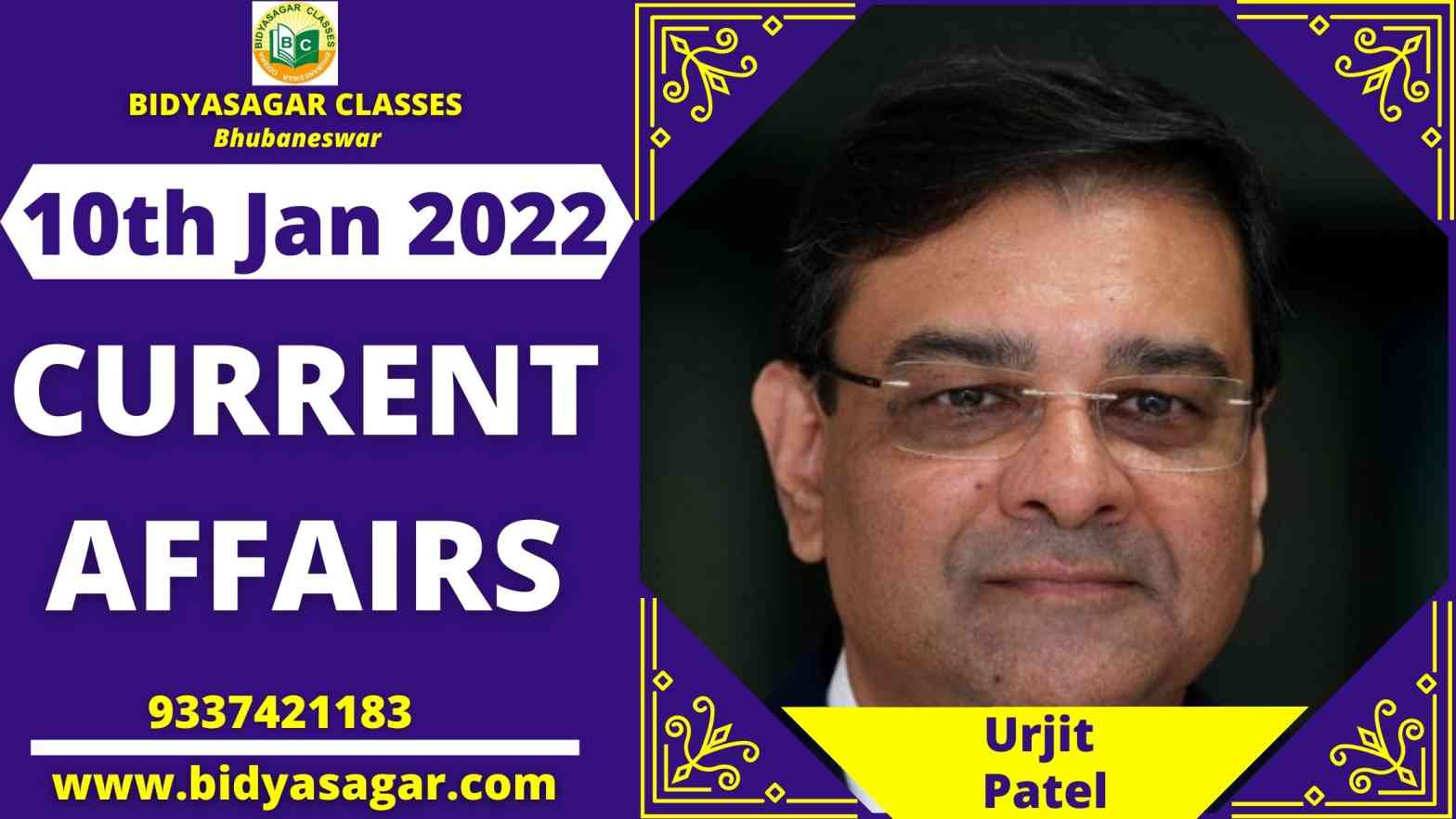 In this article, we will discuss all the important current affairs of 10th January 2022 in detail.
---
National
---
1. The Assam government has signed a Memorandum of Understanding with the National Dairy Development Board (NDDB) to establish a joint venture worth Rs. 2000 crore for dairy development.
The Assam government signed a Memorandum of Understanding (MOU) with the National Dairy Development Board (NDDB) for holistic dairy development, with the goal of establishing a Joint Venture (JV) worth 2000 crores that will process 10 lakh litres of milk through six new milk processing units in seven years.
Meenesh Shah, Chairman, NDDB, and Maninder Singh, Additional Chief Secretary, Department of Cooperation, Government of Assam, inked the JV, which will be led, monitored, and mentored.
2. The National Tiger Conservation Authority's 19th meeting was headed by Bhupender Yadav, and 14 Tiger Reserves were awarded. Accreditation by CA|TS
The National Tiger Conservation Authority (NTCA) convened its 19th meeting under the supervision of Bhupender Yadav, the Union Minister for Environment, Forests, and Climate Change.
In India, there are currently 51 Tiger Reserves, and more than 35 rivers originate from those areas, all of which are critical for water security.
3. TCS was chosen by MEA for the second phase of the Passport Seva Program.
The Ministry of External Affairs (MEA) has chosen Tata Consultancy Services Ltd (TCS) to undertake the country's most mission-critical e-governance programme, Passport Seva.
TCS transformed the delivery of passport-related services, digitising processes, and setting global norms in timeliness, transparency, and reliability with the Passport Seva Program, which began in 2008.
4. The Ganjam district of Odisha has been certified child marriage-free.
After gathering precise information about all weddings that took place in 2020 and 2021, Odisha's Ganjam district was proclaimed child marriage-free with effect from January 3, 2022.
The reward for persons who report the occurrence of child marriage has been enhanced to Rs 50,000 from Rs 5,000 by the Ganjam district administration.
---
Banking & Finance News
---
5. According to the SBI Ecowrap research, India's GDP growth will be 9.5 percent in FY22.
India's Gross Domestic Product (GDP) growth in FY22 is expected to be revised to about 9.5 percent, according to a report by the State Bank of India's economic research unit Ecowrap.
The National Statistical Office (NSO) released its first advance estimate of GDP growth for FY22, putting India's GDP growth at 9.2 percent.
6. Limits on cash withdrawals and micro statements on AePS transactions were implemented by NPCI.
The National Payments Corporation of India (NPCI) has established limitations for cash withdrawals and mini statements, which acquiring banks must apply by January 15, 2022, in order to make Aadhaar enabled Payments Systems (AePS) more standardised.
The acquiring banks will be required to establish a maximum limit of five approved cash withdrawal transactions per customer per terminal per day, according to the guidelines. The maximum cash withdrawal from AePS micro-ATMs (automated teller machines) is Rs 10,000 per transaction.
7. RBL Bank teamed together with Google to develop a next-generation customer experience.
RBL Bank and Google have formed a strategic partnership to help the bank achieve its customer experience goals.
Through the digital platform Abacus 2.0, the bank will enhance its value proposition to suit its fast rising customer base.
8. Reliance bought a 73.37 percent share in the Mandarin Oriental hotel in New York.
Reliance Industries Ltd has announced the purchase of a 73.37 percent controlling stake in Mandarin Oriental New York, a high-end luxury hotel in Manhattan's midtown district.
RIL has bought the full share capital of Cayman Islands-based Columbus Centre Corporation (Cayman) for $98.15 million through its wholly-owned subsidiary Reliance Industrial Investments and Holdings Limited (Rs 735 crore).
---
Appointments News
---
9. Urjit Patel has been named as the Asian Infrastructure Investment Bank's Vice President.
Urjit Patel, a former governor of the Reserve Bank of India, has been named Vice President of the Asian Infrastructure Investment Bank (AIIB).
His term will be three years. He will take over from D J Pandian, who is responsible for AIIB's sovereign and non-sovereign funding in South Asia, the Pacific Islands, and Southeast Asia.
10. IBBI Chairperson Navrang Saini has been given new responsibilities.
Navrang Saini has been given the additional responsibility of chairperson of the Insolvency and Bankruptcy Board of India (IBBI) by the centre.
Saini was given the additional role of chairperson of the IBBI by the Centre in October of last year for a three-month period.
---
Sports News
---
11. Bharath Subramaniyam has become India's 73rd Grandmaster in chess.
Bharath Subramaniyam, a 14-year-old from Tamil Nadu, has become India's 73rd Grandmaster in chess. At an event in Cattolica, Italy, he earned his third and final Grandmaster norm.
He finished eighth in the event with 6.5 points from nine rounds and four others. He earned his third GM norm and surpassed the requisite 2,500 (Elo) threshold here.
---
Awards & Honours News
---
12. The 'International Craft Award for 2021' went to the Kerala Arts & Crafts Village Organization.
The World Crafts Council International has given the Kerala Arts and Crafts Village Organization (KACV) from Kovalam the 'International Craft Award for 2021' for the greatest craft village in the world.
It was India's only award in the non-individual category. The Uralungal Labour Contract Cooperative Society (UL CCS) founded the KACV for the Kerala State Tourism Department.
---
Obituary News
---
13. Marilyn Bergman, an Oscar-winning songwriter and composer, has died.
Marilyn Bergman, an Oscar-winning writer and composer, died in Los Angeles.
Bergman and her colleague Alan were nominated for 16 Academy Awards over their careers, winning three of them. One of those Oscar wins was for the song "The Way We Were" from the Barbara Streisand film of the same name, which also received two nominations.
---
Important Days
---
14. World Hindi Day is celebrated on January 10th.
Every year on January 10th, World Hindi Day is commemorated to encourage the usage of Hindi throughout the world.
The World Hindi Conference, which was organised for the first time in 1975, is also commemorated on this day.
Bidyasagar Classes Address
Plot No-N-6-325, Biju Patnaik College Road,  Infront of SBI, Jayadev Vihar, Bhubaneswar
Website: www.bidyasagar.com
Opening and closing hours: Monday to Sunday :7AM-9PM
 -Mail : bidyasagar.classes@gmail.com
Contact No. : 8917265768; 9337421183, 8093021183