Important Daily Current Affairs of 12th Dcember 2021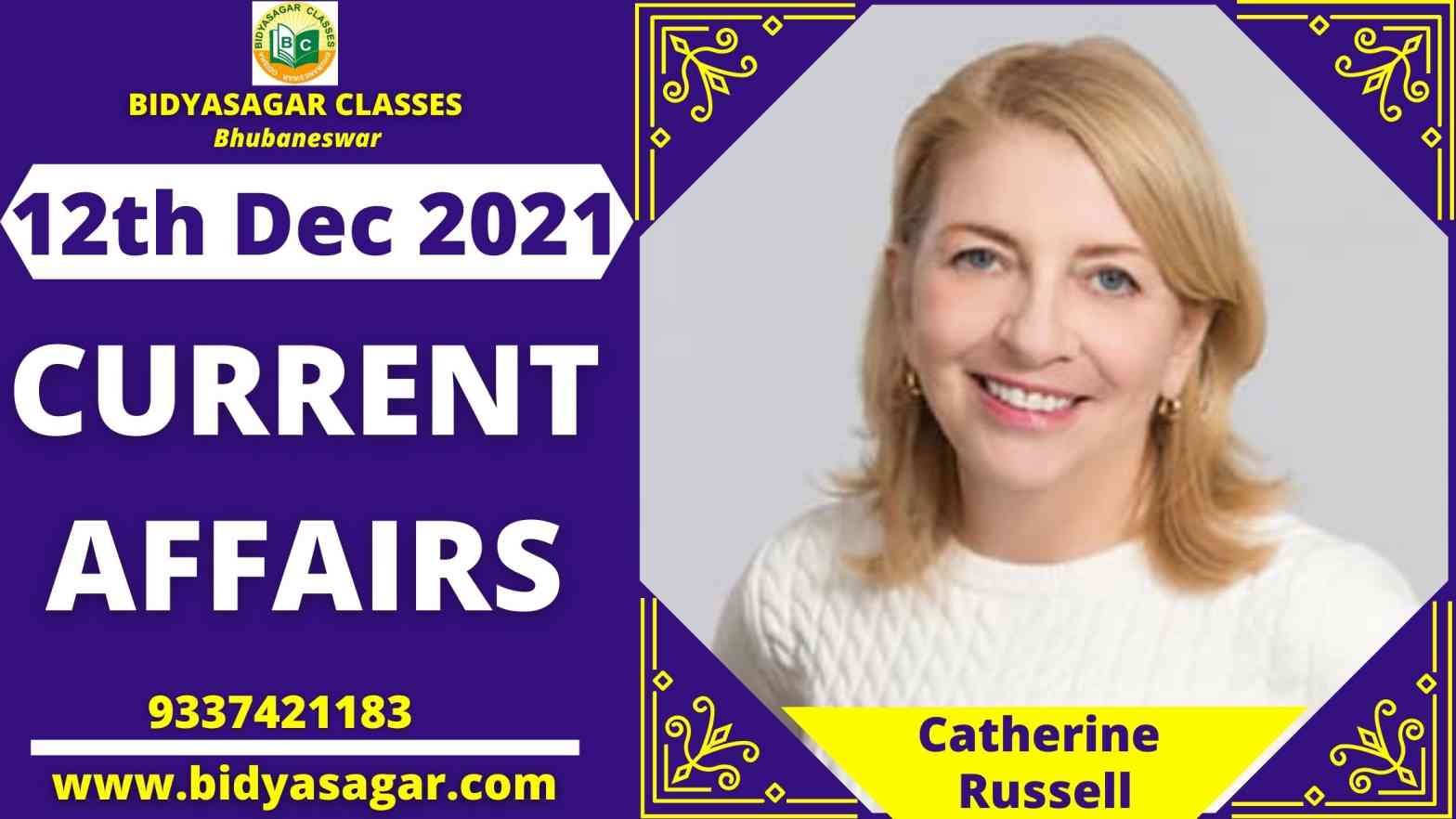 In this article, we will discuss all the important current affairs of 12th Dcember 2021 in detail.
---
National
---
1. ISRO and Oppo India Join Forces to Strengthen NavIC Messaging R&D
The Indian Space Research Organisation (ISRO) and the Indian arm of Chinese smart device maker Oppo have signed an agreement to strengthen the R&D of the NavIC messaging service, an Indian satellite navigation system.
Navigation using Indian Constellation, or NavIC, strives to provide a user-friendly platform.
2. The Ministry of Defense has signed an agreement with Gandhinagar's IITE to train 800 Sainik School instructors.
The Memorandum of Understanding is for a period of five years, beginning in January 2022. More than 800 teachers from all Sainik Schools will be trained as part of the partnership through courses called 'Gurudiksha' and 'Pratibaddhta.'
Rakesh Mittal, Joint Secretary (Land & Works) and Honorary Secretary, Sainik Schools Society (SSS), (on behalf of the Ministry of Defence); and Himanshu Patel, Registrar of IITE, signed the MoU in New Delhi.
3. In terms of total registered electric vehicles in India, Uttar Pradesh, Delhi, and Karnataka are at the top.
Nitin Gadkari, Union Minister of Road Transport and Highways, briefed the Rajya Sabha on the situation of electric vehicles (EV) in India during the Winter Session of Parliament. According to the data, India has a total of 870,141 registered electric vehicles, with Uttar Pradesh (UP) leading the way with 255,700.
Delhi (125,347), Karnataka (72,544), Bihar (58,014), and Maharashtra (52,506) are in order of importance.
---
International News
---
4. India is ranked 66th in the Global Health Security Index for 2021, whereas the United States is ranked first.
With a score of 75.9, the United States of America (USA) came in first, followed by Australia and Finland.
With 58 percent of countries rating below average for prompt response to and mitigation of the spread of an epidemic, no countries scored in the top tier (no country scored above 75.9) of the GHS ranking.
5. UNICEF: COVID-19 is the most serious global threat to child progress in UNICEF's 75-year history.
According to the research, the COVID-19 pandemic had the greatest impact on children, making it the greatest threat to children's advancement in our 75-year history.
The report describes our present efforts, taking into account COVID-19's ongoing influence on children as well as each child's response and recovery path in the future.
6. PM Narendra Modi attended the 1st Summit for Democracy's closed-door session.
India was one of the 12 countries invited to the Plenary Session of the Summit for Democracy Leaders.
The summit will focus on the challenges and possibilities that democracies face, and will give a platform for leaders to make individual and collective promises, reforms, and initiatives to safeguard democracy and human rights at home and abroad.
---
Banking & Finance News
---
7. For the Doorstep Bill Payments Service, IPPB and NPCI Bharat BillPay Limited partnered.
National Payments Corporation of India has a wholly-owned subsidiary, NBBL (NPCI).
Customers can use the site to pay bills for utilities and other regular services.
8. Vasai Vikas Sahakari Bank and Kotak General Insurance have partnered to offer Insurance Solutions.
Vasai Vikas Sahakari Bank Ltd. will offer Kotak General Insurance's entire suite of general and health insurance products to its customers through its network of 21 branches as part of this partnership.
The insurance products will reduce risks and protect the consumers' assets and health.
---
Business & Economy News
---
9. India's recovery is expected to be faster than that of the other BRICS countries, according to the BRICS Economic Bulletin 2021.
The CRA Research Group is in charge of improving the BRICS' research, economic analytical, and surveillance capabilities.
'Navigating the Ongoing Pandemic: The BRICS Experience of Resilience and Recovery' was the theme of this bulletin.
---
Appointments News
---
10. Catherine Russell is named Executive Director of UNICEF by the United Nations.
Catherine Russell was named Executive Director of the United Nations International Children's Emergency Fund by UN Secretary-General Antonio Guterres on December 10. (UNICEF). Russell will take over for Henrietta Fore, who stepped down in July 2021.
---
Sports News
---
11. Magnus Carlsen defeats Ian Nepomniachtchi in the 2021 World Chess Championship.
On the 10th of December 2021, Norway's Magnus Carlsen, the defending champion, won his 5th World Chess Championship after defeating Russia's Ian Nepomniachtchi in the FIDE (International Chess Federation) World Chess Championship in Dubai, UAE.
Magnus Carlsen defeated Ian Nepomniachtchi of Russia in the finals, winning 7.5-3.5.
---
Awards & Honours News
---
12. Professor Neena Gupta has been awarded the DST-ICTP-IMU Ramanujan Prize for Young Mathematicians for the year 2021.
She is the third woman to earn the Ramanujan Prize, following Sujatha Ramdorai in 2006 and Carolina Bhering de Araujo of Brazil in 2020.
She received the Indian National Science Academy's (INSA) Young Scientists Award in 2014 for solving the Zariski cancellation problem, a basic problem in Algebraic Geometry.
---
Books & Authors News
---
13. "Watershed: How We Destroyed India's Water And How We Can Save It," by Mriduala Ramesh, is her new book.
Mriduala Ramesh is the author of "The Climate Solution" and a regular contributor to environmental publications.
She is also a member of the World Wildlife Fund (WWF) India's board of trustees and the chairwoman of the National Institute of Technology in Andhra Pradesh's board of governors (AP).
Bidyasagar Classes Address
Plot No-N-6-325, Biju Patnaik College Road,  Infront of SBI, Jayadev Vihar, Bhubaneswar
Website: www.bidyasagar.com
Opening and closing hours: Monday to Sunday :7AM-9PM
 -Mail : bidyasagar.classes@gmail.com
Contact No. : 8917265768; 9337421183, 8093021183