Important Daily Current Affairs of 13th November 2021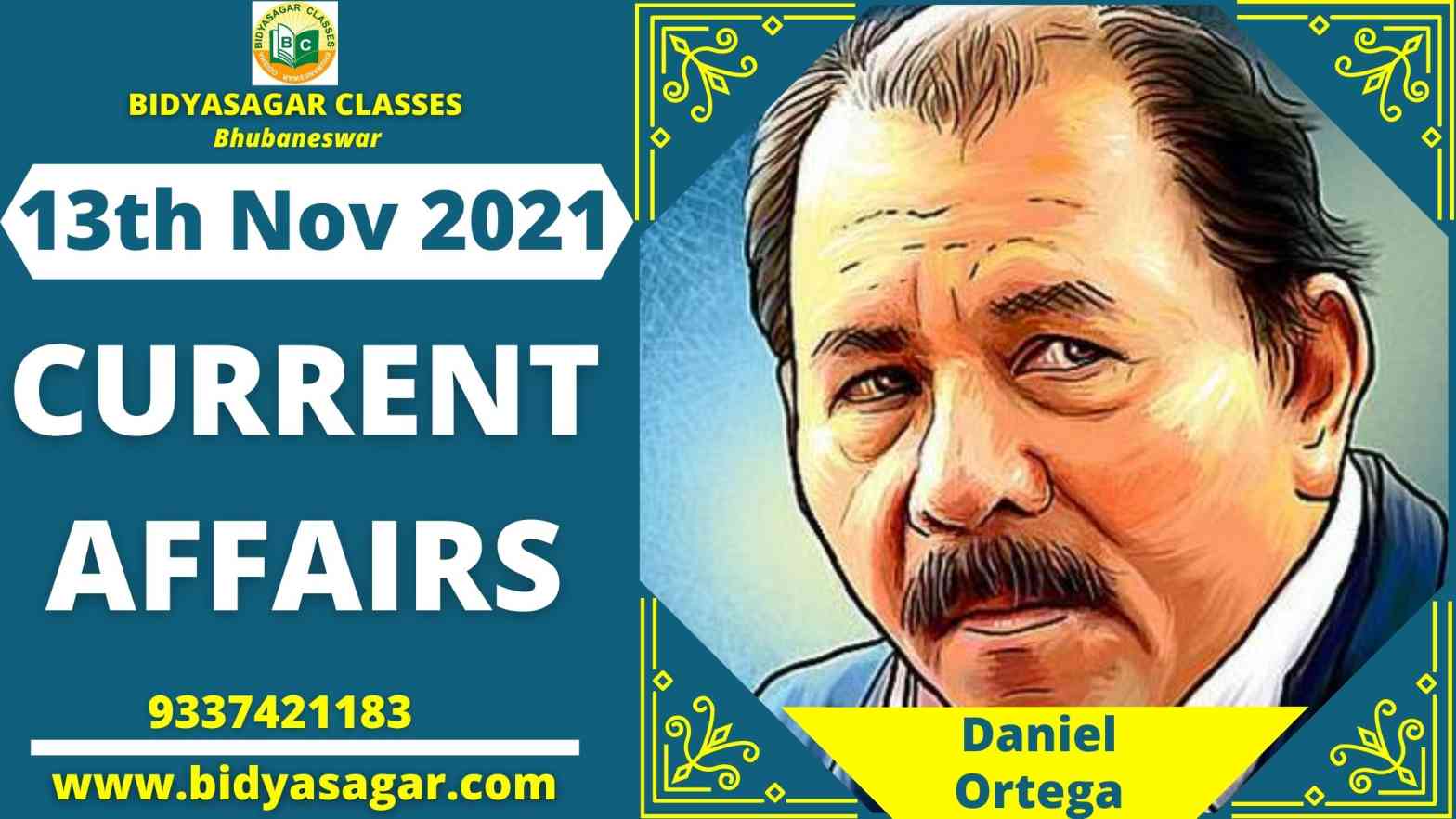 In this article, we will discuss all the important current affairs of 13th November 2021 in detail.
---
National
---
1. Wangala Festival is held in Meghalaya.
In India's north-eastern state of Meghalaya, the Wangala Festival, also known as the 100 drum festival, is celebrated with fervour and enthusiasm.
It is the most important celebration of the Garo tribe, and it attracts a large number of tourists. It has been celebrated since 1976.
---
International News
---
2. The Indian and Thai warships have started a three-day synchronised patrol.
The Indian and Thai navies have embarked on a three-day joint patrol in the Andaman Sea, amid mounting concerns about China's escalating maritime excursions into the Indian Ocean region.
Officials claimed the coordinated patrol (CORPAT) includes the Indian Navy's indigenously built missile corvette Karmuk and Thailand's Khamrosin class anti-submarine patrol vessel Tayanchon, as well as maritime patrol aircraft from both countries.
---
Banking & Finance News
---
3. Geojit has launched a facility for non-resident Indians (NRIs) to open trading and demat accounts.
Geojit Financial has launched a platform for Non-Resident External (NRE) and Non-Resident Ordinary (NRO) categories of investors to open online trading and demat account services through Central Depository Services Ltd, in a first-of-its-kind move by an Indian brokerage (CDSL).
Until now, brokerages treated NRI account holders as a single group when it came to trading and demat account opening. A prospective participant only needs an Aadhaar-linked cellphone number and a PAN to participate.
4. SBM Bank and Visa are Niyo's partners for a digital savings account.
Niyo Global, a fintech business, has announced that it now offers a digital savings account in collaboration with SBM Bank India and Visa.
Customers can now earn interest on their savings accounts, in addition to the zero forex mark-up, Niyo Global said, adding that the company has served over 300,000 customers in the last two years and that this latest development aims to simplify foreign exchange spending for international travellers and students.
5. For its merchants, BharatPe has launched a 'Merchant Shareholding Program.'
BharatPe, a fintech business, has launched a Merchant Shareholding Program (MSP) for its merchant partners.
This programme will be sent out to the company's 7.5 million+ existing merchant partners, as well as new merchants that join.
6. MobiKwik partners with the National Payments Corporation of India (NPCI) and Axis Bank to introduce "MobiKwik RuPay Card." MobiKwik has teamed up with the National Payments Corporation of India (NPCI) and Axis Bank to launch "MobiKwik RuPay Card."
Customers will be able to get the card for free and it will be entirely digital.
7. To assist SMEs, Jana Small Finance Bank has partnered with three TReDS platforms.
M1xchange, RXIL, and A.TReDS have partnered with Jana Small Finance Bank. Buyers and suppliers registered on all TReDS platforms will now have a choice of alternatives for securing cash by discounting bills after sale, thanks to the partnership with Jana Small Finance Bank.
The RBI created the Trade Receivables Discounting System (TReDS) to help MSME suppliers overcome credit issues by allowing them to discount their invoices and bills of exchange.
---
Business & Economy News
---
8. In October, retail inflation increased slightly to 4.48 percent.
According to government figures, retail inflation increased to 4.48 percent in October due to an increase in food prices. Inflation based on the Consumer Price Index (CPI) was 4.35 percent in September and 7.61 percent in October 2020.
According to figures issued by the National Statistical Office (NSO), food basket inflation increased to 0.85 percent in October, up from 0.68 percent the month before.
9. The Securities and Exchange Commission (Sebi) has changed the requirements for the launch of silver ETFs.
Sebi, the market regulator, has revised rules to allow the introduction of silver exchange traded funds, which will broaden the choices for investing in commodities through stock markets.
Indian mutual funds are currently permitted to develop gold-tracking ETFs (Exchange Traded Funds). According to a statement published by the watchdog, the rules have been modified to allow the introduction of silver ETFs.
10. NHSRCL and a Japanese agency have signed a memorandum of understanding for a high-speed rail line between Vadodara and Ahmedabad.
The National High-Speed Rail Corporation Limited (NHSRCL) and Japan Railway Track Consultant Co Limited (JRTC) have signed a Memorandum of Understanding (MOU) for the design of HSR track construction.
The T3 package of the Mumbai-Ahmedabad High-Speed Rail (MAHSR) Corridor Project is the subject of this MoU. The T3 package travels 116 kilometres between Vadodara and Sabarmati Depot in Gujarat.
11. The BSE has partnered with the All India MSME Association to promote MSMEs' listing on the stock exchange.
The most important stock exchange The BSE stated it has partnered with the All India MSME Association (AIMA MSME) to encourage and promote MSMEs and startups to list on the exchange.
AIMA MSME will support BSE in evaluating MSMEs and startups for listing on the exchange's SME platform, as well as raising awareness among its investor network about investing in listed MSMEs, according to the agreement.
12. The TVS Motor Company has signed up to the United Nations' Global Compact for Sustainable Development.
TVS Motor Company, situated in Chennai, has announced its participation in the United Nations Global Compact, the world's largest sustainability programme.
The corporation will now embrace the UN Global Compact's 'Ten Principles' on human rights, labour, the environment, and anti-corruption, according to TVS Motor Company.
---
Appointments News
---
13. Nicaraguan President Daniel Ortega is re-elected for a fourth term.
After imprisoning political rivals before of a poll that triggered threats of US sanctions and international calls for democratic elections, Nicaraguan President Daniel Ortega earned a fourth consecutive term, according to results.
With nearly all of the ballots tabulated, Nicaragua's Supreme Electoral Council announced that Ortega's Sandinista coalition had won with about 76% of the vote.
14. PC Mody succeeds Ramacharyulu as Secretary General of the Rajya Sabha.
PPK Ramacharyulu, who was appointed as the Rajya Sabha's secretary general less than three months ago, has been replaced by PC Mody, the former head of the Central Board of Direct Taxes (CBDT).
Mody was named as the Rajya Sabha's new secretary general barely weeks before the start of the Winter Session of Parliament, which is set to begin on November 29.
---
Obituary News
---
15. Anand Shankar Pandya, a well-known novelist, died at the age of 99.
Anand Shankar Pandya, a well-known novelist, died at the age of 99.
Former Vice President of the Vishwa Hindu Parishad, Anand Shankar (VHP).
---
Important Days
---
16. World Kindness Day: 13 November
World Kindness Day is held globally on 13 November to highlight good deeds in the community focusing on the positive power and the common thread of kindness which binds us.
The theme for 2021 World Kindness day is Kindness: The World We Make – Inspire Kindness.
Bidyasagar Classes Address
Plot No-N-6-325, Biju Patnaik College Road,  Infront of SBI, Jayadev Vihar, Bhubaneswar
Website: www.bidyasagar.com
Opening and closing hours: Monday to Sunday :7AM-9PM
 -Mail : bidyasagar.classes@gmail.com
Contact No. : 8917265768; 9337421183, 8093021183