Important Daily Current Affairs of 14th January 2022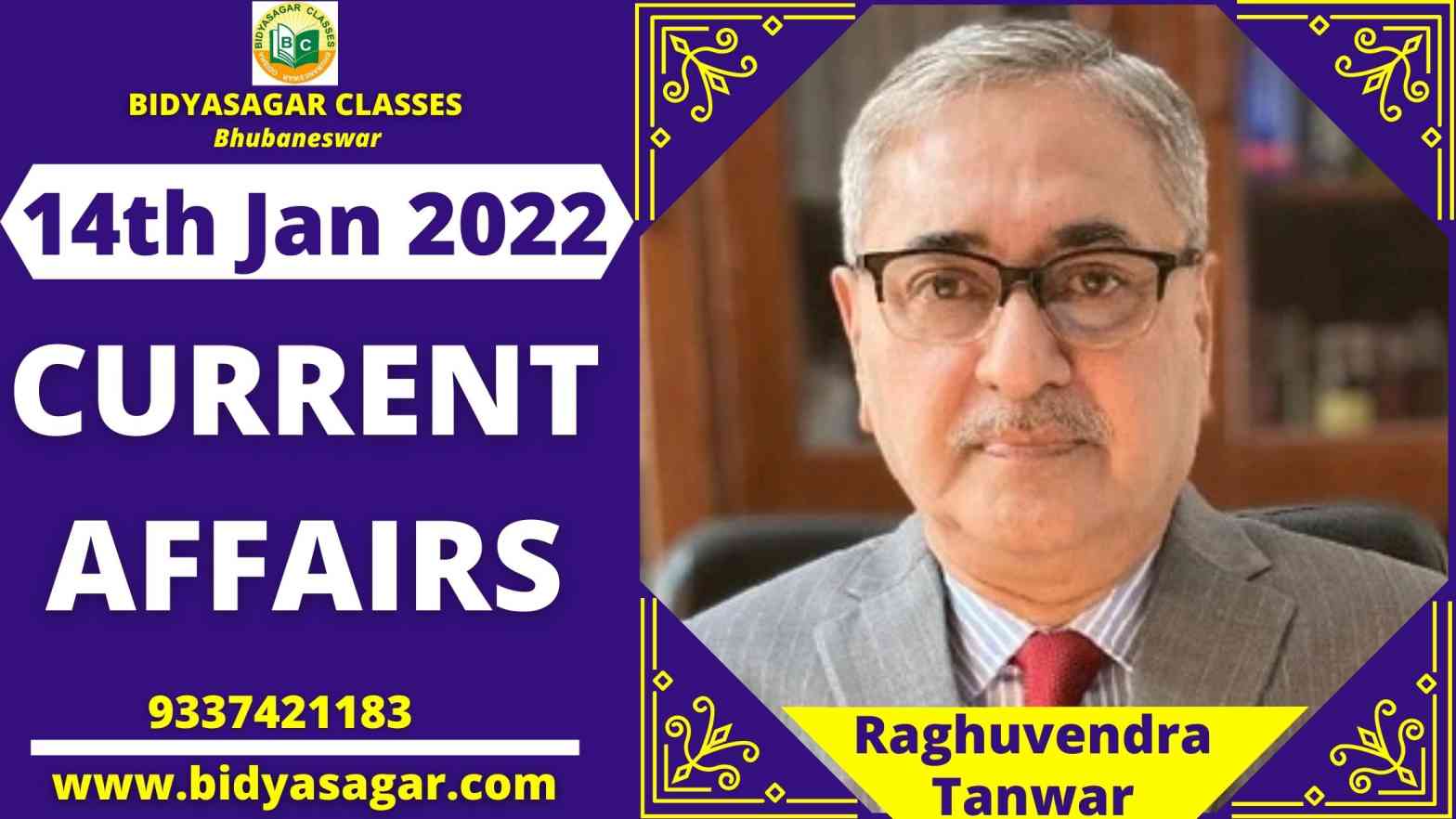 In this article, we will discuss all the important current affairs of 14th January 2022 in detail.
---
National
---
1. In Manipur, the 18th Kachai Lemon Festival has begun.
In Manipur, the 18th iteration of the Kachai Lemon Festival has begun. Kachai Lemon has been designated as a Geographical Indication (GI) and is commonly grown in Kachai Village, Ukhrul district.
The Kachai Lemon Festival is held every year to showcase this special type of lemon and to support lemon farmers.
2. Odisha came out on top in the India Skills 2021 nationwide competition.
More than 200 contestants were honoured by the Ministry of Skill Development and Entrepreneurship at the conclusion of the India Skills 2021 nationwide competition.
There were 270 medallions of excellence awarded to the competition winners, including 61 gold, 77 silver, 53 bronze, and 79 medallions of excellence.
3. The Adani Group and POSCO of South Korea have inked a memorandum of understanding to establish a steel factory in Gujarat.
POSCO, South Korea's largest steelmaker, has inked a non-binding memorandum of understanding (MoU) with Adani Group to explore business potential in India.
This includes the construction of a green, environmentally friendly integrated steel plant in the Gujarat city of Mundra. The project's anticipated investment is up to $5 billion (approx. Rs 37,000 crore).
4. India State of Forest Report 2021 was released by Environment Minister Bhupender Yadav.
In 2021, India's total forest and tree cover will be 80.9 million hectares (8,09,537 sq. km). This accounts for 24.62 percent of the country's total land area.
---
International News
---
5. Nicaraguan President Daniel Ortega is sworn in for a fifth term.
Nicaraguan President José Daniel Ortega Saavedra was sworn in for a second term as the leader of the Sandinista National Liberation Front (FSLN).
This is his fifth term as President of Nicaragua, and his fourth in a row. He will hold the position until January 2027.
---
Banking & Finance News
---
6. NABARD and Arthimpact Digital Loans have inked an agreement to support SHGs.
Arthimpact Digital Loans (ARTH) and the National Bank for Agriculture and Rural Development (NABARD) have inked a partnership agreement to deliver end-to-end fintech (financial technology) solutions to support self-help groups (SHGs).
ARTH will assist micro-MSME businesses with credit, payment, and insurance options. Both organisations will work together to provide SHGs with microfinance services and forward linkage assistance.
7. Paytm Payments Bank has become India's most popular UPI beneficiary bank.
Paytm Payments Bank Ltd (PPBL) has overtaken Paytm Payments Bank as India's largest and fastest-growing UPI beneficiary bank.
It becomes the country's first beneficiary bank to reach the milestone of 926 million UPI transactions in a single month.
8. In December 2021, retail inflation reached a 6-month high of 5.59 percent.
Retail inflation in December 2021 reached a six-month high of 5.59 percent, up from 4.91 percent in November 2021, owing primarily to a strong increase in food prices, which jumped sharply to 4.05 percent from 1.87 percent in November 2021.
Prices of cereals, eggs, milk products, and prepared meals increased in December 2021, according to data issued by the ministry of statistics and programme implementation.
9. In its World Economic Situation and Prospects 2022 report, the UN predicted that India's GDP would increase at 6.5 percent in FY22.
According to the United Nations World Economic Situation and Prospects (WESP) 2022 study, India's GDP growth is expected to be 6.5 percent in fiscal 2022.
This was previously expected to be 8.4%. The World Economic and Social Progress Publication (WESP) is a flagship report prepared by the United Nations Department of Economic and Social Affairs (UN-DESA). The United Nations has forecasted a 5.9% growth rate for fiscal year 2023 (FY 2022-2023).
10. According to RBI data, India's forex reserves have decreased by USD 1.466 billion to USD 633.614 billion.
According to the latest Reserve Bank of India (RBI) figures, India's foreign currency reserves fell by $1.466 billion to $633.614 billion in the week ending December 31, 2021.
To USD 39.405 billion, gold reserves increased by USD 14 million. In the week ending September 3, 2021, India's FX reached a new all-time high of USD 642.453 billion.
11. In collaboration with NPCI, UCO Bank has launched the RuPay Select Contactless Debit Card.
The 'UCO Bank RuPay Select Contactless Debit Card' was released by UCO Bank in collaboration with the National Payments Corporation of India (NPCI) with a slew of perks for its premium/HNI (High Networth Individuals) customers.
This event took place on the bank's 79th Inauguration Day, which falls on January 6, 2022.
---
Appointments News
---
12. Raghuvendra Tanwar has been named chairperson of the Indian Council of Historical Research. Tanwar is a professor emeritus at Kurukshetra University (ICHR).
Tanwar's appointment is for three years, beginning on the day he takes the position of Chairman of the Council and ending until additional orders are issued.
---
Sports News
---
13. Savita Punia has been selected captain of the Indian women's hockey squad for the 2022 Women's Hockey Asia Cup.
Savita Punia, an Indian goalkeeper, will lead the Indian team at the Women's Hockey Asia Cup 2022 in Muscat, Oman.
The Indian ladies are the defending continental champions. The Indian women's hockey squad consists of 16 players that competed in the Tokyo 2020 Olympics, where India finished fourth.
---
Awards & Honours News
---
14. Global Women's Health Tech Awards were given to NIRAMAI Health Analytix and InnAccel Technologies.
NIRAMAI Health Analytix Pvt Ltd and InnAccel Technologies Pvt Ltd, both DBT-BIRAC sponsored start-ups, have earned the World Bank Group and Consumer Technology Association's Global Women's Health Tech Awards.
The prize honours creative enterprises that use technology to improve the health and safety of women.
---
Important Days
---
15. Veterans Day of the Indian Armed Forces is observed on January 14th.
Every year on January 14, Indian Armed Forces Veterans Day is commemorated to honour the services of the first Commander-in-Chief of the Indian Armed Forces, Field Marshal KM Cariappa, OBE, who retired on January 14, 1953.
Bidyasagar Classes Address
Plot No-N-6-325, Biju Patnaik College Road,  Infront of SBI, Jayadev Vihar, Bhubaneswar
Website: www.bidyasagar.com
Opening and closing hours: Monday to Sunday :7AM-9PM
 -Mail : bidyasagar.classes@gmail.com
Contact No. : 8917265768; 9337421183, 8093021183