Important Daily Current Affairs of 16th Dcember 2021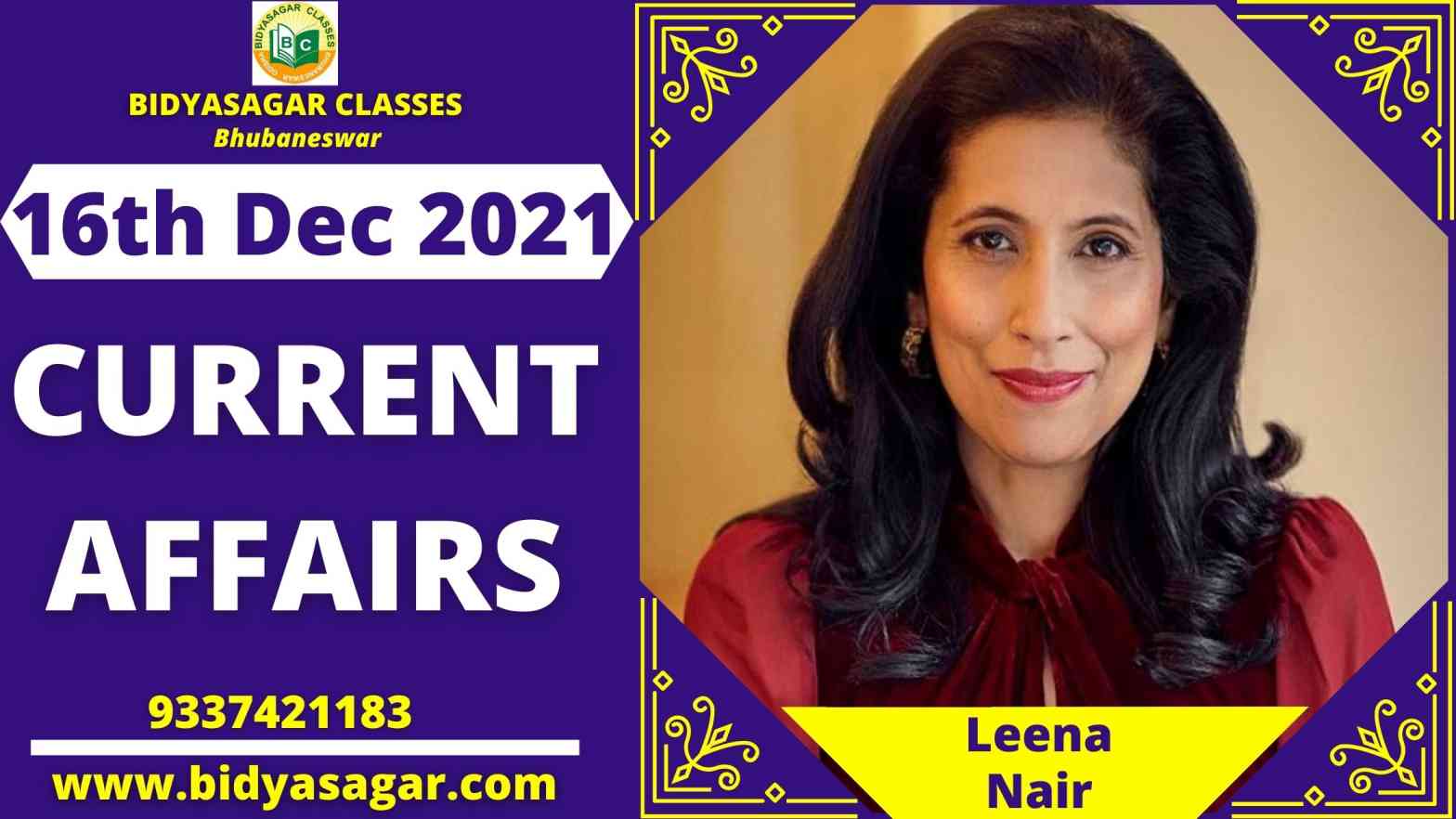 In this article, we will discuss all the important current affairs of 16th Dcember 2021 in detail.
---
National
---
1. The government has established a National Helpline to report atrocities against SCs and STs.
To prevent atrocities against people of Scheduled Castes (SCs) and Scheduled Tribes, the Ministry of Social Justice and Empowerment established the National Helpline Against Atrocities (NHAA) (STs).
The NHAA will guarantee that the Scheduled Castes and Scheduled Tribes (Prevention of Atrocities) Act (POA) 1989 is properly implemented. The NHAA will be available 24 hours a day, 7 days a week on the toll-free number 14566.
2. Andhra Pradesh inked pact with UN-FAO & ICAR for sustainable agriculture
An agreement on Technical Cooperation Project has been inked by Andhra Pradesh Government with the United Nations Food and Agriculture Organisation (UN-FAO) and Indian Council of Agricultural Research (ICAR) to help the state farmers in adopting a sustainable agriculture food system.
FAO will provide training to farmers, Rythu Bharosa Kendram (RBK) staff, officials, and scientists on new technologies in agricultural allied sectors and training to farmers on best cultivation management practices.
3. NTPC will set up India's 1st Green Hydrogen Microgrid Projects at Simhadri, AP
National Thermal Power Corporation Limited (NTPC) has awarded a project of Standalone Fuel-Cell based Micro-grid with hydrogen production using electrolyzer in Simhadri, near Visakhapatnam in Andhra Pradesh.
It is India's 1st Green Hydrogen based Energy Storage Project and one of the largest in the world. India targets to become carbon neutralby2070.
4. Durga Puja on UNESCO's 'Intangible Cultural Heritage of Humanity' list
United Nations Educational, Scientific and Cultural Organisation (UNESCO) has added Kolkata's Durga Puja festival to its 'Representative List of the Intangible Cultural Heritage of Humanity'.
India now has 14 intangible cultural heritage elements on the UNESCO list. Other Indian entries that were previously inscribed include Nowrouz (2016), Ramlila (2008), Yoga (2016), and Kumbh Mela (2017).
---
Banking & Finance News
---
5. ADB approved $112 million loan to establish Assam Skill University
The Asian Development Bank (ADB) has approved a $112 million loan to strengthen skills education and training through the establishment of the Assam Skill University (ASU).
The Loan will create a path for skill development to enhance the productivity and competitiveness of Assam's economy and industries.
6. SEBI set up Advisory Committee for Leveraging Regulatory and Technology Solutions; headed by Madhabi Puri Buch
The Securities and Exchange Board of India (SEBI) has set up an Advisory Committee for Leveraging Regulatory and Technology Solutions (ALeRTS) to enhance technological capabilities and explore suitable technology solutions for the early detection of market anomalies.
ALeRTS, is a 7-member committee headed by Madhabi Puri Buch, former whole-time member of SEBI and has experts from various technology domains as members.
7. RBI introduced PCA framework for large NBFCs
RBI has introduced prompt corrective action (PCA) framework for large non-banking financial companies (NBFCs) with effect from October 2022.
The PCA framework will be applicable to All Deposit-Taking NBFCs (NBFCs-D) and All Non-Deposit Taking NBFCs (NBFCs-ND) in the Middle, Upper, and Top Layers. It will put restrictions on para-banks whenever vital financial metrics dip below prescribed threshold.
8. LIC launched 'Dhan Rekha' individual savings life insurance plan
Life Insurance Corporation of India (LIC) has introduced a new Non -Linked, Non-Participating, Individual Savings Life Insurance Plan named 'Dhan Rekha'.
The plan will offer special premium rates for female lives and it is also allowed for the third gender. The minimum sum assured under this plan is Rs 2 lakh and there is no limit for the maximum sum assured.
---
Appointments News
---
9. Leena Nair appointed as global CEO of 'Chanel'
Leena Nair has been appointed as the new global Chief Executive Officer (CEO) of French fashion house 'Chanel'.
She will assume the office with effect from January 2021. She was working with Unilever for over 30 years, most recently as the chief of human resources and a member of the company's executive committee.
---
Sports News
---
10. David Warner, Hayley Matthews declared ICC Player of the Month for November 2021
Australia opener David Warner and West Indies all-rounder Hayley Matthews have been voted the ICC Players of the Month for November.
Warner was the Player of the Tournament as Australia won their maiden T20 World Cup title. In four ODIs in November, Matthews scored 141 runs and claimed nine wickets, including a stunning 4/26 against Pakistan in Karachi.
---
Awards & Honours News
---
11. Sunil Gavaskar honoured with SJFI Medal 2021
The Sports Journalists' Federation of India (SJFI) has decided to honour former Indian Cricketer and cricket commentator Sunil Manohar Gavaskar with its prestigious 'SJFI Medal 2021' at SJFI Annual General Meeting (AGM) in Guwahati, Assam.
SJFI Medal is the highest honour of SJFI. SJFI was founded on 27th February 1976 at the Eden Gardens, Calcutta (now Kolkata), West Bengal.
12. Simone Biles named Time Magazine's 2021 Athlete of the Year
Simone Biles was named Time magazine's 2021 Athlete of the Year. The world's most decorated gymnast, a four-time Olympic medalist, was hailed for putting her mental health first when she withdrew from four event finals at the Tokyo Olympics.
Despite the setback, the 24-year-old managed to earn a team all-around silver and a bronze in balance beam at the Tokyo Games.
---
Books & Authors News
---
13. Vice President released the book 'Raj Kapoor: The Master at Work'; authored by Rahul Rawail
Vice President of India, M Venkaiah Naidu released the book titled 'Raj Kapoor: The Master At Work' authored by Rahul Rawail.
The book launch event was held at India Habitat Centre in New Delhi, coinciding with Raj Kapoor's 97th birth anniversary. The vice president described the book as a "labour of love and dedication".
---
Obituary News
---
14. Famous American author Anne Rice passed away
Famous American gothic-fiction writer Anne Rice, best known for The Vampire Chronicles novel series, passed away in Rancho Mirage, California.
She was widely known for her bestselling gothic novel, Interview with the Vampire, published in 1976 and was later adapted into a movie starring Tom Cruise in 1994.
---
Important Days
---
15. 16 December 2021: 50th Vijay Diwas observed
In India, Vijay Diwas (also called Victory Day) is celebrated every year on December 16 to commemorate the victory of the Indian armed forces over Pakistan in the 1971 war.
The country is celebrating the 50th Vijay Diwas in 2021. The Indo-Pakistan war of 1971 which began on December 3 lasted for 13 days and officially ended on December 16, after which Pakistan surrendered to India.
Bidyasagar Classes Address
Plot No-N-6-325, Biju Patnaik College Road,  Infront of SBI, Jayadev Vihar, Bhubaneswar
Website: www.bidyasagar.com
Opening and closing hours: Monday to Sunday :7AM-9PM
 -Mail : bidyasagar.classes@gmail.com
Contact No. : 8917265768; 9337421183, 8093021183