Important Daily Current Affairs of 19th November 2021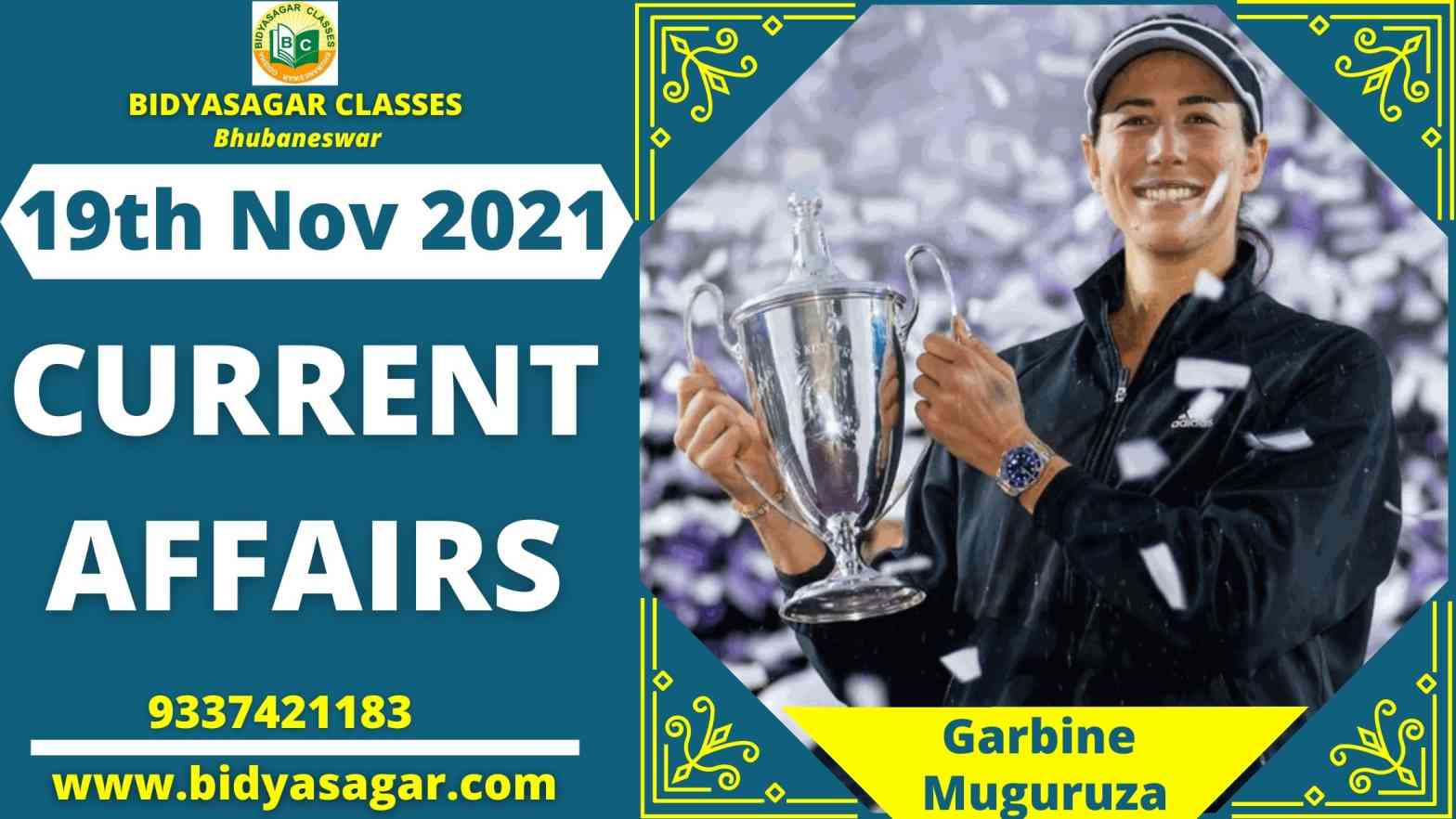 In this article, we will discuss all the important current affairs of 19th November 2021 in detail.
---
National
---
1. In Thanjavur, Tamil Nadu, Union Minister Piyush Goyal inaugurates India's first food museum.
Shri Piyush Goyal, Union Minister for Commerce, Industry, Food and Public Distribution, launched India's first Food Museum using a virtual platform on November 15, 2021 at Thanjavur, Tamil Nadu.
The Food Security Museum tells the tale of India's agricultural revolution, from dependency to self-sufficiency and one of the world's top food grain exporters.
2. President Ram Nath Kovind officially opens the Adarsh Village 'Sui' in Bhiwani, Haryana.
On November 17, 2021, India's President, Shri Ram Nath Kovind, paid a visit to Sui village in Haryana's Bhiwani district to open a number of public infrastructure.
Mahadevi Parameshwaridas Jindal Charitable Trust is developing this hamlet as an Adarsh Gram (Model village) under the Haryana Government's Swa-Prerit Adarsh Gram Yojana (SPAGY) scheme.
3. In Noida, Uttar Pradesh, the state's first anti-air pollution tower was unveiled.
On November 17, 2021, Union Minister of Heavy Industries Mahendra Nath Pandey inaugurated the state of Uttar Pradesh's first air pollution control tower in Noida.
Bharat Heavy Electricals Ltd, a state-owned company, created the prototype for the Air Pollution Control Tower (APCT) (Bhel).
4. Prime Minister Modi gives a virtual keynote talk at the Sydney Dialogue.
Prime Minister Narendra Modi presented a video conferencing keynote presentation at The Sydney Dialogue on November 18, 2021.
The PM spoke on the topic of "India's technological progress and revolution" at the occasion.
---
International News
---
5. In the midst of the Ladakh standoff, the Army and the Indian Air Force are preparing for a winter deployment called Operation Hercules.
A combined exercise was conducted by the Indian Army and Air Force to examine their logistical supply chain.
On November 15, the Indian Air Force and Indian Army conducted an exercise called 'Operation Hercules,' in which transport aircraft of the IAF were deployed.
---
Banking & Finance News
---
6. The Asian Infrastructure Investment Bank (AIIB) has approved a loan of USD 150 million for the implementation of the Chennai Metropolitan Area's Sustainable Urban Services Program.
The Asian Infrastructure Investment Bank (AIIB) has authorised a USD 150 million loan for the Government of India to implement the Chennai Metropolitan Area's Sustainable Urban Services Program (CMA).
Water resource management, water supply and sewerage, urban transportation, solid waste management, and public health will all be covered under the CMA project.
7. Mswipe and OneCard have teamed up to offer no-cost EMI at the point of sale.
Mswipe announced that it has teamed up with OneCard, a mobile-first credit card firm, to offer no-cost Equated Monthly Instalments (EMIs) to its 250,000 retailers.
According to the corporation, the agreement will allow OneCard customers to access no- or low-interest EMIs when making mid- and high-value purchases at retail establishments with Mswipe machines.
8. SBI and U Gro Capital have agreed to co-lend to SMEs.
The State Bank of India has announced a co-lending collaboration with fintech firm U GRO Capital to provide finance options to micro, small, and medium companies (MSMEs).
SBI and U GRO Capital hope to disburse up to Rs 500 crore in financing to MSMEs under this partnership by March 2022.
9. PM SVANidhi initiative gets a micro-credit facility from HDFC Bank.
PM Street Vendor's AtmaNirbhar Nidhi (PM SVANidhi), a micro-credit facility for street vendors, has been launched by HDFC Bank with common service centres (CSC).
PM SVANidhi will be made available to HDFC Bank's village-level entrepreneurs (VLEs) through the digital sewa platform, allowing vendors to complete the full procedure online. It's a $10,000 no-collateral, low-interest loan with a 7% interest rate subsidy.
10. The RBI has given NSDL e-Governance preliminary approval as an Account Aggregator.
The RBI has given NSDL e-Governance Infrastructure, an IT-enabled services provider, in-principle approval to start an account aggregator business through its wholly owned subsidiary, NSDL e-Governance Account Aggregator Ltd. PAN cards are issued by NSDL e-Governance Infrastructure, which also assists government agencies with e-governance programmes.
It has been at the forefront of developing the country's e-governance infrastructure and delivering citizen-centric services at a large scale.
---
Appointments News
---
11. Sanjay Kumar Mishra's term as ED Director has been extended by the Centre for another year, until November 2022.
Sanjay Kumar Mishra, the Director of the Enforcement Directorate (ED), has had his term extended by the Ministry of Finance for another year, till November 18, 2022.
Mishra's extension came after the Central Vigilance Commission Amendment Ordinance 2021 was passed.
12. With 164 votes, India was re-elected to the UNESCO Executive Board for the period 2021-25.
On November 17, 2021, India was re-elected to the UNESCO Executive Board for the term 2021-25.
India gained 164 votes in order to be re-elected to a four-year term.
---
Sports News
---
13. Garbine Muguruza of Spain wins the WTA Finals in 2021.
On November 17, 2021, Garbine Muguruza of Spain defeated Anett Kontaveit of Estonia in the final, 6-3, 7-5, to win her maiden WTA Final title.
Muguruza also holds the record for becoming the first Spaniard to win the WTA Finals.
---
Books & Authors News
---
14. Ajay Chhibber and Salman Anees Soz's book "Unshackling India: Hard Truths and Clear Choices for Economic Revival"
Ajay Chhibber and Salman Anees Soz coauthored the book "Unshackling India: Hard Truths and Clear Choices for Economic Revival."
A new book looks at whether India can use the next 25 years, when it celebrates its 100th year of independence, to not only restructure its economy, but also to rekindle its democratic energy and unleash its potential to become a really developed economy by 2047.
---
Obituary News
---
15. Novy Kapadia, a veteran sports broadcaster and football analyst, died at the age of 68.
Novy Kapadia, a veteran novelist, football journalist, and sports pundit, went away due to health issues. He was 68 years old at the time.
Kapadia was dubbed "the voice of Indian football" by many.
---
Important Days
---
16. The dates for National Newborn Week in 2021 are November 15-21.
Every year, from November 15 to November 21, India celebrates National Newborn Week.
The goal is to emphasise the importance of newborn health as a critical priority area of the health sector and to lower infant death rates by improving neonatal healthcare settings.
17. The week of November 18-24 is designated as World Antimicrobial Awareness Week.
Every year, from November 18 to 24, the World Antimicrobial Awareness Week (WAAW) is observed.
To prevent the emergence and spread of drug-resistant illnesses, raise public awareness of global antimicrobial resistance and encourage best practises among the general public, health workers, and policymakers.
18. The 19th of November is World Toilet Day.
Every year on November 19th, World Toilet Day (WTD) is commemorated to encourage people to take action to address the worldwide sanitation challenge.
The World Toilet Organization initiated the day in 2001, and the United Nations General Assembly proclaimed it in 2013.
Bidyasagar Classes Address
Plot No-N-6-325, Biju Patnaik College Road,  Infront of SBI, Jayadev Vihar, Bhubaneswar
Website: www.bidyasagar.com
Opening and closing hours: Monday to Sunday :7AM-9PM
 -Mail : bidyasagar.classes@gmail.com
Contact No. : 8917265768; 9337421183, 8093021183