Important Daily Current Affairs of 1st Dcember 2021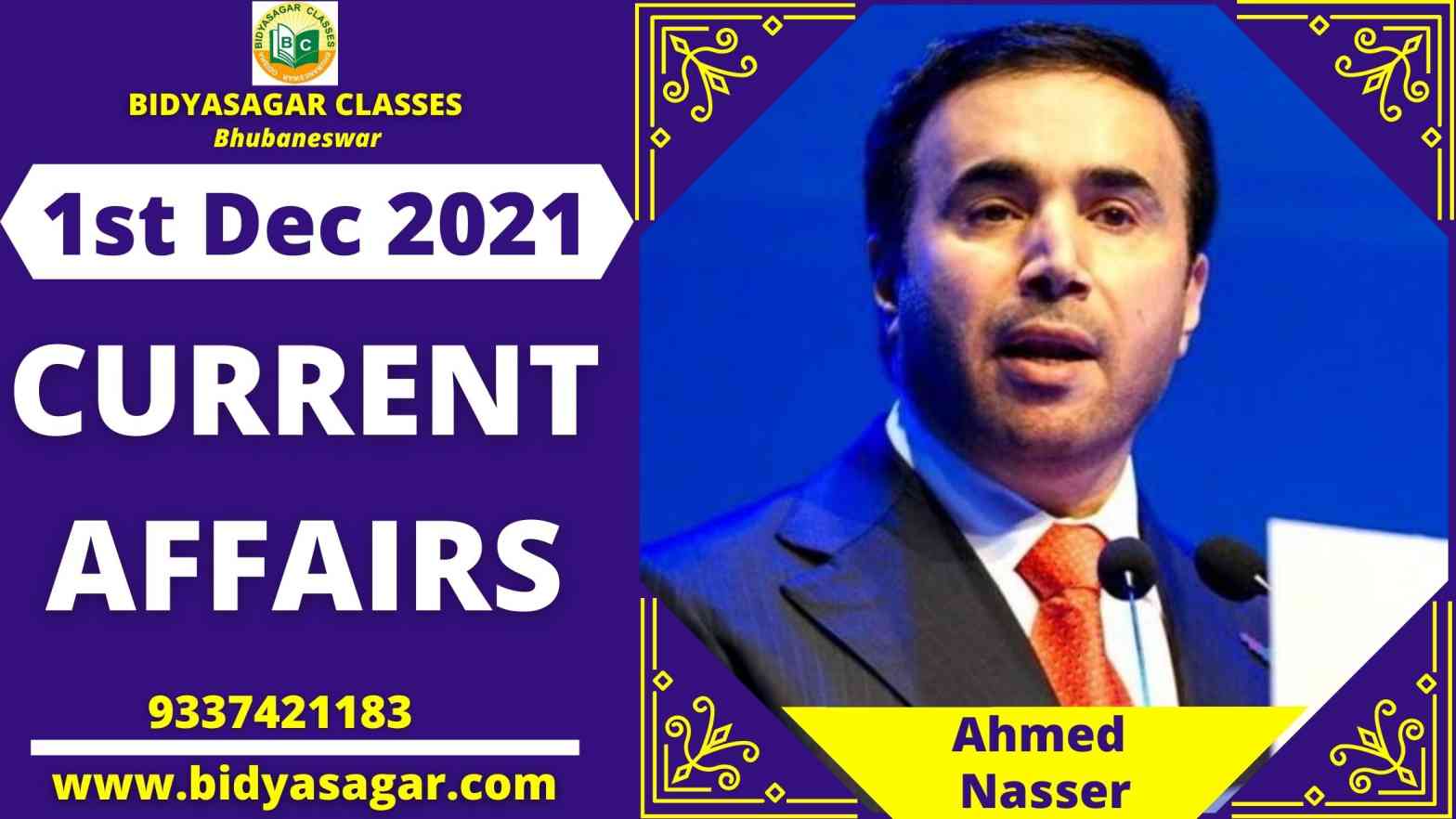 In this article, we will discuss all the important current affairs of 1st Dcember 2021 in detail.
---
National
---
1. The government has formed a committee to review the criteria for the EWS quota, with ex-Finance Secy Ajay Pandey serving as the panel's chairman.
The Ministry of Social Justice and Empowerment said that the Centre has created a three-member committee to review the criteria for reservation for the Economically Weaker Sections (EWS) category.
Former finance secretary Ajay Bhushan Pandey will chair the group, which also includes V K Malhotra, member secretary of the Indian Council of Social Science Research (ICSSR), and Sanjay Sanyal, principal economic advisor to the government. The committee has been given three weeks to conclude its work.
2. To boost tourism, the first-ever Aharbal festival was conducted in Kulgam, J-K.
The tourism department of Kashmir, in conjunction with the district administration of Kulgam, organised a day-long Aharbal festival in south Kashmir's Kulgam district to continue its marketing of unusual tourist spots in the valley.
To promote Doodhpathri as an appealing tourist destination, the department conducted the first ever Lolab festival, a one-day celebration at Chandigam Lolab in north Kashmir's Kupwara district, J&K, and the Doodhpathri Festival, a three-day tourism festival at Budgam, J&K.
3. Telangana and Kerala lead in H1 capex; UP and Maharashtra are laggards, according to the report.
According to a report, Telangana and Kerala lead the capital expenditure chart of states in the first half of 2021-22, while the two biggest spenders, Uttar Pradesh and Maharashtra, are the laggards, spending only a fifth of the budgeted amount, bringing the overall capex by states to a low 28.4 percent in the period.
24 states have budgeted for Rs 5,76,181 crore in capex for FY22, but have only invested Rs 1,63,868 crore in H1FY22, according to Madan Sabnavis, the chief economist at Care Ratings. The top 10 states account for Rs 4.45 lakh crore, or 77%, of the total of Rs 5.76 lakh crore raised by 24 states.
---
International News
---
4. The word of the year for 2021 is vaccination, according to Merriam-Webster.
"Vaccine" was named Merriam-word Webster's of the year for 2021.
The choice follows the publication of the Oxford English Dictionary's word of the year, "vax." It also comes after Merriam-Webster named "pandemic" as one of the top search terms on its website last year.
5. By 2025, South Korea will have the world's first floating metropolis.
Off the coast of South Korea, the world's first "floating metropolis" will be developed, which will be hurricane-proof, flood-proof, and self-sustaining.
The UN-backed project, which will be built off the coast of Busan, was created in response to increasing sea levels. It is scheduled to be finished in 2025.
---
Banking & Finance News
---
6. SBI signs a memorandum of understanding with Usha International to support women businesses.
The State Bank of India (SBI) and Usha International Limited (UIL) have formed an agreement to help women entrepreneurs by providing financial support.
According to SBI, the financial help will be offered through the Joint Liability Group mechanism.
7. For farm loan disbursals, NBFC Agriwise Finserv collaborates with the Central Bank of India.
For agri-loan disbursal, Agriwise Finserv Limited, an agri-focused NBFC, has engaged into a co-lending agreement with the Central Bank of India.
The co-lending agreement will ensure that farmers, agribusinesses, and related businesses may obtain financing at reasonable rates in a simple, transparent, and timely manner.
8. HSBC India has launched a credit card made of recycled PVC plastic.
India's first credit card made of recycled PVC plastic was launched by HSBC India.
This launch is part of a new HSBC Group initiative to create sustainable cards across all of the bank's global locations in order to support the bank's global commitments to sustainability and a net-zero future.
9. Central Electronics is being sold by the government to Nandal Finance and Leasing for Rs 210 crore.
The sale of Central Electronics Ltd to Nandal Finance and Leasing for Rs 210 crore was approved by the government, marking the second strategic disinvestment of the current fiscal year.
CEL, which is part of the Ministry of Science and Technology, was founded in 1974 and is a pioneer in the field of solar photovoltaic (SPV), having created the technology via its own R&D efforts. It has also created axle counter systems, which are utilised in railway signalling systems to ensure train safety.
---
Business & Economy News
---
10. IRCTC and redBus have teamed up to launch the'redRail' train ticketing service.
With the debut of redRail, the online bus ticketing company redBus announced its push into train ticketing.
As an authorised partner, redBus has introduced this rail ticket buying service in partnership with IRCTC (Indian Railway Catering & Tourism Corporation).
11. In the second quarter of the current fiscal year, India's GDP increased by 8.4%.
India's Gross Domestic Product, or GDP, grew at the quickest rate among major economies in the world in the second quarter of this fiscal year.
According to government data, the country's GDP increased by 8.4% over the previous year. According to figures from the National Statistics Office, manufacturing output increased by 5.5 percent during the time, while construction output increased by 7.5 percent.
---
Appointments News
---
12. Ahmed Nasser Al Raisi of the United Arab Emirates was elected president of Interpol.
Major General Dr. Ahmed Nasser Al Raisi, the inspector general of the UAE's Ministry of Interior, has been elected as the new president of Interpol.
The UAE nominee received 68.9% of the votes cast by member countries in the final round.
13. Magdalena Andersson, Sweden's first female prime minister, has been re-elected.
Magdalena Andersson, Sweden's first female prime minister, has been reappointed as the country's leader, less than a week after resigning within hours of assuming office.
Andersson was prime minister for seven hours before resigning last week after her two-party coalition was split by the Greens.
---
Awards & Honours News
---
14. Sreenivasan Jain and Mariyam Alavi of NDTV and Lakshmi Subramanian and Bhanu Praksh Chandra of The Week have been jointly received the International Press Institute (IPI) India Award for Excellence in Journalism-2021 by the International Press Institute.
The prize was given to Jain and Alavi for their report on the "untruthfulness of the cases of forceful conversion lodged against young Muslim men in Uttar Pradesh who had married Hindu women in the guise of love Jihad."
15. Ballon d'Or winners Lionel Messi and Alexia Putellas
Lionel Messi won the Ballon d'Or for the seventh time, capping off a stellar final season with Barcelona and capturing his first big international prize with Argentina.
For a fantastic season with Barcelona and Spain, Alexia Putellas became the third winner of the women's award.
---
Books & Authors News
---
16. Ayaz Memon's book "Indian Innings: The Journey of Indian Cricket from 1947"
Ayaz Memon's book titled "Indian Innings: The Journey of Indian Cricket from 1947" was recently launched.
It is an anthology of Indian cricket that contains various insights into the sport's history throughout the last 70 years. From senior cricketers K N Prabhu through P N Sundaresan and Dicky Rutnagar to Ramachandra Guha and Suresh Menon, the book covers the years of significant successes, including World Cups, many Test matches, and so on.
---
Obituary News
---
17. Noted Sirivennela Seetharama Sastry, a Telugu lyricist, has died.
Sirivennela Seetharama Sastry, a Padma Shri awardee and award-winning Telugu lyricist, has died. He was 66 years old at the time.
Over 3000 songs had been written by Sastry. Swayamkrushi, Swarna Kamalam, Shrutilayalu, Gaayam, Swati Kiranam, Kshana Kshanam, Sindhooram, Nuvve Kavali, Okkadu, Varsham, and Gamyam were among the films for which he wrote songs. He was well-known for his poetic, classical writing style.
18. Rafiqul Islam, a renowned Bangladeshi academic, has died.
Bangladesh's eminent academic and national professor In Dhaka, Professor Rafiqul Islam passed away. He was 87 years old when he died.
Prof Rafiqul Islam was a leading authority on Bangladesh's national poet, Kazi Nazrul Islam.
Bidyasagar Classes Address
Plot No-N-6-325, Biju Patnaik College Road,  Infront of SBI, Jayadev Vihar, Bhubaneswar
Website: www.bidyasagar.com
Opening and closing hours: Monday to Sunday :7AM-9PM
 -Mail : bidyasagar.classes@gmail.com
Contact No. : 8917265768; 9337421183, 8093021183