Important Daily Current Affairs of 20th November 2021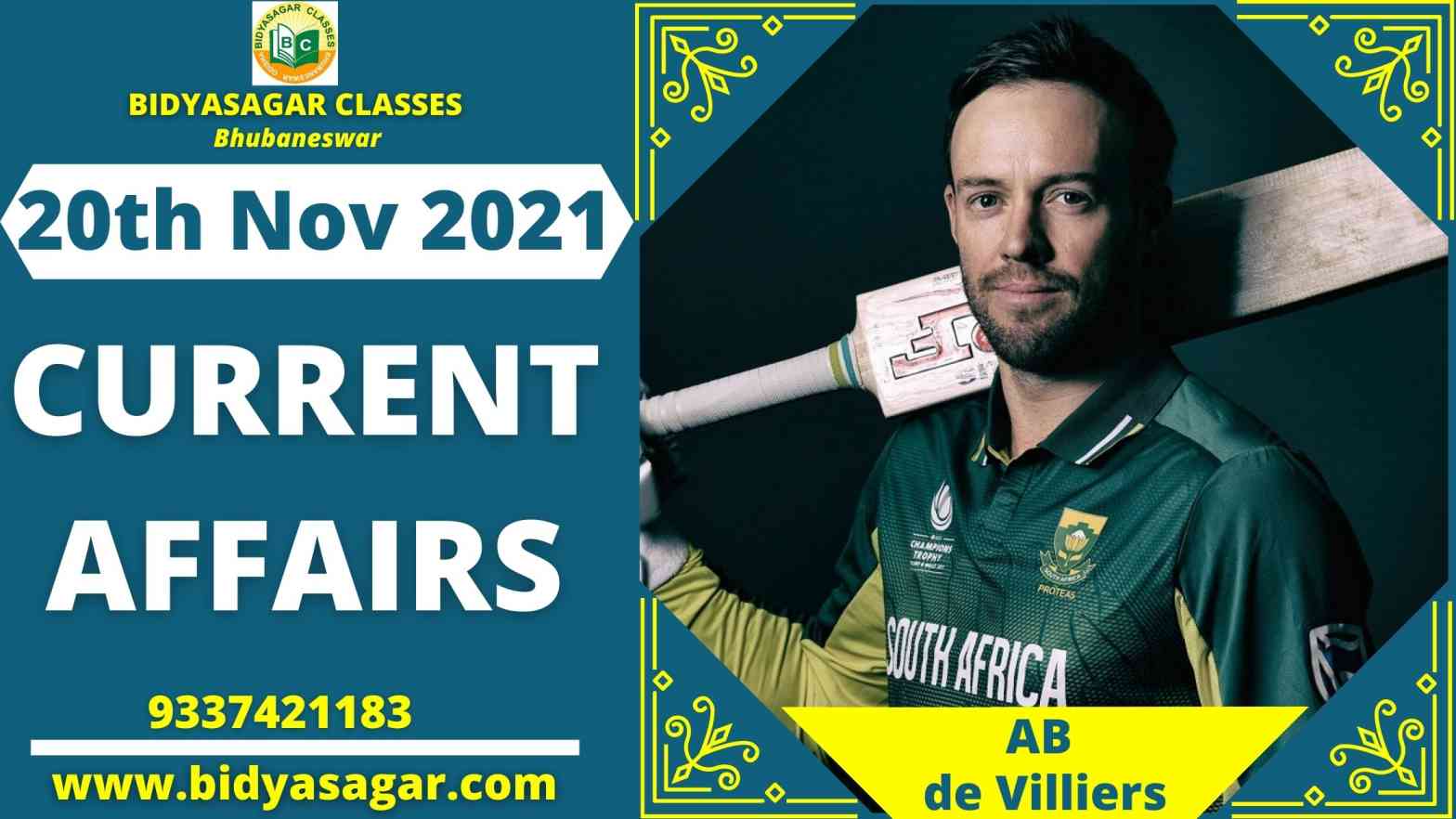 In this article, we will discuss all the important current affairs of 20th November 2021 in detail.
---
National
---
1. Pochampally village in Telangana has been designated as one of the world's best tourism villages by the United Nations World Tourism Organization (UNWTO).
The Pochampally hamlet in Telangana has been selected for the United Nations World Tourism Organization's 'Best Tourism Villages' award (UNWTO).
The prize will be handed on December 2, 2021, in Madrid, Spain, at the UNWTO General Assembly's 24th session.
2. In Chushul, Ladakh, Defence Minister Rajnath Singh dedicates the restored Rezang La Memorial to the country.
Mantri Raksha Mantri Raksha Mantri Raksha Man On November 18, 2021, Shri Rajnath Singh dedicated the refurbished Rezang La War Memorial (Ahir Dham) in Chushul, Ladakh, to the nation.
In 1962, Indian troops fought Chinese soldiers at Rezang La, a mountain pass on the Line of Actual Control between India and China.
3. PM Modi travels to Uttar Pradesh's Mahoba and Jhansi districts.
On November 19, 2021, Prime Minister Shri Narendra Modi dedicated to the nation numerous development projects in the Uttar Pradesh districts of Mahoba and Jhansi.
At Mahoba, the Prime Minister launched a series of projects aimed at addressing the region's water shortage, with a total cost of more than Rs. 3250 crore.
4. Salman Khan has been appointed as the Covid vaccine ambassador by the Maharashtra government.
The Maharashtra government has appointed legendary Bollywood actor Salman Khan as a vaccination ambassador to promote and encourage people to get both Covid vaccine doses, particularly in Muslim-dominated districts.
The state government decided to bring Salman Khan on board after noticing apprehension about the immunisation among Muslims in Muslim-majority areas.
---
International News
---
5. Barbados is set to open the world's first metaverse embassy. Barbados is set to become the world's first sovereign country with a metaverse embassy.
On November 14, the tiny Caribbean island government agreed to "outline the baseline development features for its metaverse embassy" with Decentraland, one of the largest and most popular crypto-powered digital worlds.
6. India has been re-elected to the Unesco Executive Board for the period 2021-2025.
For the period 2021-25, India has been re-elected to the UNESCO Executive Board, one of the UN's three constitutional agencies.
Japan, the Philippines, Vietnam, the Cook Islands, and China were also voted to Group IV Asian and Pacific States.
---
Banking & Finance News
---
7. In the United Arab Emirates, NPCI and Network International have signed a memorandum of understanding for UPI payments.
Network International, the Middle East and Africa's leading enabler of digital commerce, has signed an MOU with NPCI International Payments Ltd (NIPL), the international arm of National Payments Corporation of India (NPCI), to discuss their collaboration on the acceptance of NIPL's mobile-based real-time payment system, Unified Payments Interface (UPI), in the United Arab Emirates (UAE).
This announcement is part of Network's ongoing effort to increase digital payment acceptance in the UAE.
8. The AIIB has approved a loan of USD 150 million for the Chennai Metropolitan Area project, with additional 27 projects worth USD 5 billion in the works for India.
The Asian Infrastructure Investment Bank (AIIB) has authorised a loan of USD150 million to the Government of India for the implementation of the Chennai Metropolitan Area Sustainable Urban Services Program (CMA).
The bank has sanctioned 29 projects worth 6.8 billion dollars for India so far. The energy and transportation industries have gotten the most funding from the AIIB.
9. Bank of Baroda credit cards will be launched on the RuPay platform by BOB Financial and NPCI.
BOB Financial Solutions Limited (BFSL), a wholly owned subsidiary of Bank of Baroda (BoB), has partnered with National Payments Corporation of India (NPCI) to develop BoB Credit Cards on the RuPay platform (Easy and Premier variants).
Both cards, which were launched on the JCB International network, have global acceptability.
---
Business & Economy News
---
10. Paytm Money introduces an AI-powered 'Voice Trading' service.
Voice Trading, driven by artificial intelligence, has been introduced by Paytm Money, a wholly-owned subsidiary of fintech platform Paytm.
Users will be able to place a trade or acquire stock information with a single voice command thanks to the Voice Trading feature.
11. SIDBI and Google have teamed up to offer a $15 million financial support initiative to MSMEs.
On November 18, 2021, the Small Industries Development Bank of India (SIDBI) will launch a $15 million financial support initiative for micro-enterprises in collaboration with Google.
SIDBI has created a one-of-a-kind scheme to revive India's MSME sector in response to the Covid-19 issue.
---
Appointments News
---
12. Anil Kumble is replaced as chairman of the International Cricket Council by Sourav Ganguly.
Sourav Ganguly, president of the BCCI, has been named Chairman of the ICC Men's Cricket Committee, according to the game's governing body.
Ganguly will take over for fellow Indian Anil Kumble, who resigned after serving three three-year terms.
13. S K Mishra's tenure as Director of the ED has been extended by a year by the government.
Sanjay Kumar Mishra's term as ED Director was extended by a year to November 18, 2022, just days after the Centre passed ordinances allowing ED and CBI directors to serve for up to five years.
Mishra, 61, was originally appointed ED director by an order on November 19, 2018, for a two-year term. The appointment letter was later retroactively updated by the Central government on November 13, 2020, and his two-year term was substituted with three years.
---
Sports News
---
14. AB de Villiers has announced his retirement from cricket in all forms.
AB de Villiers, the former South African captain and superstar batter, has announced his retirement from all forms of cricket, ending his 10-year relationship with the Royal Challengers Bangalore team in the Indian Premier League.
De Villiers, who retired from international cricket in 2018, joined RCB in 2011 and had a great stint with the team, hitting 4491 runs in 28 matches and helping them reach the IPL Playoffs five times.
15. The 2021 Erste Bank Open is won by Alexander Zverev over Frances Tiafoe.
Alexander Zverev of Germany won the 2021 Erste Bank Open in Vienna, defeating Frances Tiafoe of the United States 7-5, 6-4.
This is his 18th ATP victory overall and fifth of the season.
16. The Badminton World Federation will honour Badminton star Prakash Padukone with a Lifetime Achievement Award.
The Badminton World Federation (BWF) Council has chosen Indian badminton legend Prakash Padukone for the coveted Lifetime Achievement Award for 2021.
In 2018, the former world number one received the Badminton Association of India's (BAI) Lifetime Achievement Award.
---
Books & Authors News
---
17. Tiya Miles and Jason Mott have won National Book Awards.
Hell of a Book, a strange meta-narrative about an author's promotional tour and his tormented past and present, has received the National Book Award for fiction, a plot twist Mott could not have predicted.
Hell of a Book is a satirical take on a Black writer's adventures on the road for a promotional tour — Mott had his own share of misadventures while promoting previous works like his debut novel The Returned — as well as a stark and disorienting tale of racial violence and identity, based on recent headlines and the author's childhood.
---
Books & Authors News
---
18. Smriti Irani makes her debut as an author with Lal Salaam.
Smriti Zubin Irani, a Union Minister, has published her first novel, "Lal Salaam," according to Westland Publishing.
"Lal Salaam" tells the narrative of Vikram Pratap Singh, a young officer who encounters problems in a system rife with backroom dealings and corruption.
---
Important Days
---
19. 20 November is World Children's Day.
Every year on November 20th, the Universal/World Children's Day is observed to promote international unity, awareness among children worldwide, and improvements in children's welfare.
Theme for 2021: A Brighter Future for Every Child
Bidyasagar Classes Address
Plot No-N-6-325, Biju Patnaik College Road,  Infront of SBI, Jayadev Vihar, Bhubaneswar
Website: www.bidyasagar.com
Opening and closing hours: Monday to Sunday :7AM-9PM
 -Mail : bidyasagar.classes@gmail.com
Contact No. : 8917265768; 9337421183, 8093021183