Important Daily Current Affairs of 25th November 2021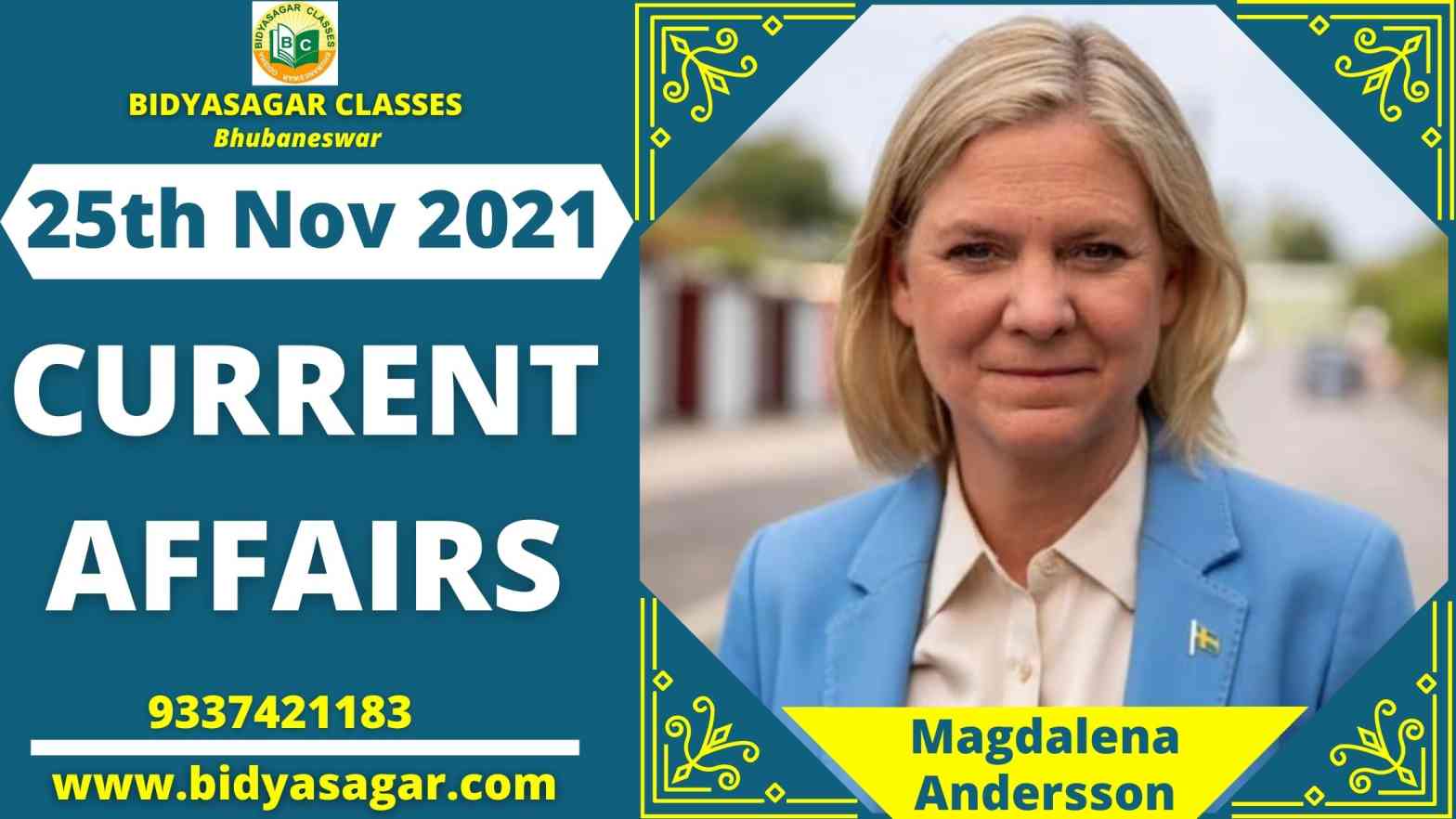 In this article, we will discuss all the important current affairs of 25th November 2021 in detail.
---
National
---
1. Union Minister Pralhad Joshi inaugurates the E-portal of the Mineral Exploration Accreditation Scheme.
On November 23, 2021, Union Minister of Coal, Mines, and Parliamentary Affairs Shri Pralhad Joshi launched the E-portal of Mineral Exploration Accreditation Scheme.
The platform was launched in New Delhi at the 5th National Conclave on Mines and Minerals.
2. Shimla comes out on top in the NITI Aayog's first SDG Urban Index and Dashboard 2021–22.
On November 23, 2021, NITI Aayog announced the inaugural SDG Urban Index & Dashboard 2021-22 to promote localization of the Sustainable Development Goals (SDGs) and establish comprehensive SDG monitoring at the city level.
The SDG Urban Index and Dashboard 2021-22 scores 56 cities across 46 SDG targets based on 77 SDG indicators.
3. The government has agreed to extend the National Apprenticeship Training Scheme for another five years.
The continuance of the National Apprenticeship Training Scheme for the next five years has been approved by the Union Cabinet.
For the year 2021-22 to 2025-26, the cabinet chaired by Prime Minister Narendra Modi approved stipendiary support of three thousand 54 crore rupees to apprentices doing apprenticeship training under the National Apprenticeship Training Scheme. Industry and commercial organisations would teach approximately nine lakh apprentices.
4. The Cabinet has approved the continuance of the O-SMART umbrella plan.
The Cabinet Committee on Economic Affairs has approved the continuance of the Ministry of Earth Sciences' umbrella scheme, Ocean Services, Modelling, Application, Resources and Technology, or O-SMART, for execution from 2021 to 2026 at a cost of Rs 2 thousand 177 crore.
Ocean Technology, Ocean Modelling and Advisory Services (OMAS), Ocean Observation Network (OON), Ocean Non-Living Resources, Marine Living Resources and Ecology (MLRE), Coastal Research, and Operation and Maintenance of Research Vessels are the seven sub-schemes that make up the scheme.
5. Union Finance Minister Nirmala Sitharaman handed over credit authorization letters totaling Rs 306 crore to beneficiaries in Jammu and Kashmir and announced a slew of measures, including a Rs 200 crore cluster development fund for the Union territory.
She also established the groundwork for rural self-employment training institutes in the Kashmir Valley's Shopian and Baramulla districts.
---
International News
---
6. NASA has launched the world's first DART mission, which will crash a spacecraft into an asteroid.
NASA has launched DART, a first-of-its-kind mission to alter the trajectory of an asteroid by deliberately crashing a spacecraft into it.
Double Asteroid Redirection Test (DART) is an acronym for Double Asteroid Redirection Test.
7. Dosti, a five-day trilateral exercise between the Maldives, India, and Sri Lanka, has come to an end.
The 15th iteration of the biennial Maldives, India, and Sri Lanka Trilateral Exercise 'Dosti' is slated to end in the Maldives. This year marked the 30th anniversary of the exercise's inception.
The five-day military drill was conducted by the coast guards of India, the Maldives, and Sri Lanka to improve interoperability and collaboration.
8. Nepal and India have signed a Memorandum of Understanding on the reciprocal recognition of COVID immunisation certificates.
India and Nepal signed a Memorandum of Understanding for reciprocal recognition of COVID vaccination certificates, which will make it more easier for fully vaccinated people from the two nations to travel between them.
The MoU between the two countries' health ministries is an important step toward making travel easier for fully COVID-19-vaccinated passengers from both countries.
---
Banking & Finance News
---
9. FSB names JP Morgan as the world's most systemic bank.
JP Morgan Chase topped the Financial Stability Board's list of globally systemic banks (G-SIBs) for 2021. (FSB).
The Financial Stability Board (FSB) has designated 30 banks as globally systemic banks (G-SIBs). There are four "buckets" in each of the 30 banks.
10. India and the Asian Development Bank (ADB) have signed a credit arrangement worth $300 million to boost India's primary health care.
On November 23, 2021, the Indian government and the Asian Development Bank (ADB) announced a $300 million loan deal to expand and improve access to comprehensive primary health care in metropolitan areas.
The scheme will be implemented in 13 states' urban areas.
---
Business & Economy News
---
11. India's GDP growth is expected to be 9.8% in FY23, according to Goldman Sachs.
According to a foreign brokerage, India's GDP would rise at 8.5 percent in 2021-22, and then accelerate to 9.8 percent in 2022-23.
The GDP dropped by 7.3 percent in pandemic-hit FY21, but is widely predicted to expand quicker in 2021-22 owing to the base impact. The Reserve Bank of India (RBI) forecasts 9.5 percent growth in 2021-22, with 7.8 percent growth as things settle down.
---
Appointments News
---
12. Magdalena Andersson has been chosen as Sweden's first female Prime Minister.
Magdalena Andersson, the head of the Social Democratic Party, was elected as Sweden's first female prime minister at a Parliamentary election on November 24, 2021.
Stefan Lofven, the current Prime Minister, will be replaced by her.
13. Kuwait's Prime Minister, Sheikh Sabah Al-Khalid, has been re-appointed.
Kuwait's Emir has reappointed Sheikh Sabah al-Khalid as Prime Minister and charged him with creating a government, the Gulf OPEC oil producer's third this year in the midst of a domestic political crisis.
Crown Prince Sheikh Meshal al-Ahmad al-Sabah signed an emiri decree re-appointing Sheikh Sabah, who has been Prime Minister since late 2019. In a stalemate with the elected parliament, the administration resigned on Nov. 8.
---
Sports News
---
14. Alexander Zverev beat Daniil Medvedev to win his second ATP Finals title
In Tennis, Alexander Zverev of Germany beat World No.2 Daniil Medvedev of Russia, 6-4, 6-4, in the men's single finals to clinch 2021 ATP Finals title on November 21, 2021, held at Turin in Italy.
This is Zverev's second Nitto ATP Finals title, after winning the first in 2018.
---
Awards & Honours News
---
15. Sohan Roy is the first Indian to be awarded the Parte Guelfa Knighthood in Florence.
Dr. S K Sohan Roy, the CEO and founder of the Aries Group of Companies from Kerala, has been awarded the Knighthood of Parte Guelfa for his humanitarian and environmental initiatives in business and film.
The honorary title of "Knight of Parte Guelfa" was bestowed upon him during a ceremony held at the Basilica of Santa Croce and the Palagio di Parte Guelfa in Florence, Italy, during the Investitures of Parte Guelfa of Annus Domini 2021.
---
Books & Authors News
---
16. Ban Ki-memoirs, moon's "Resolved: Uniting Nations in a Divided World,"
Ban Ki-moon, the former Secretary-General of the United Nations, has published an autobiography titled "Resolved: Uniting Nations in a Divided World."
HarperCollins India is the publisher of the book.
17. Abhijit Banerjee's book, 'Cooking to Save Your Life,' is a Nobel Laureate.
Abhijit Banerjee, a Nobel Laureate in Economics, has released a new book titled "Cooking To Save Your Life."
Cheyenne Olivier, located in France, illustrated the book, which was published by Juggernaut Books.
---
Important Days
---
18. 25 November is International Day for the Elimination of Violence Against Women.
On November 25, the United Nations has proclaimed November 25 as International Day for the Elimination of Violence Against Women.
The goal is to raise awareness about how women all around the world are subjected to various forms of violence, and how the full scale of the problem is frequently hidden.
Bidyasagar Classes Address
Plot No-N-6-325, Biju Patnaik College Road,  Infront of SBI, Jayadev Vihar, Bhubaneswar
Website: www.bidyasagar.com
Opening and closing hours: Monday to Sunday :7AM-9PM
 -Mail : bidyasagar.classes@gmail.com
Contact No. : 8917265768; 9337421183, 8093021183