Important Daily Current Affairs of 26th October 2021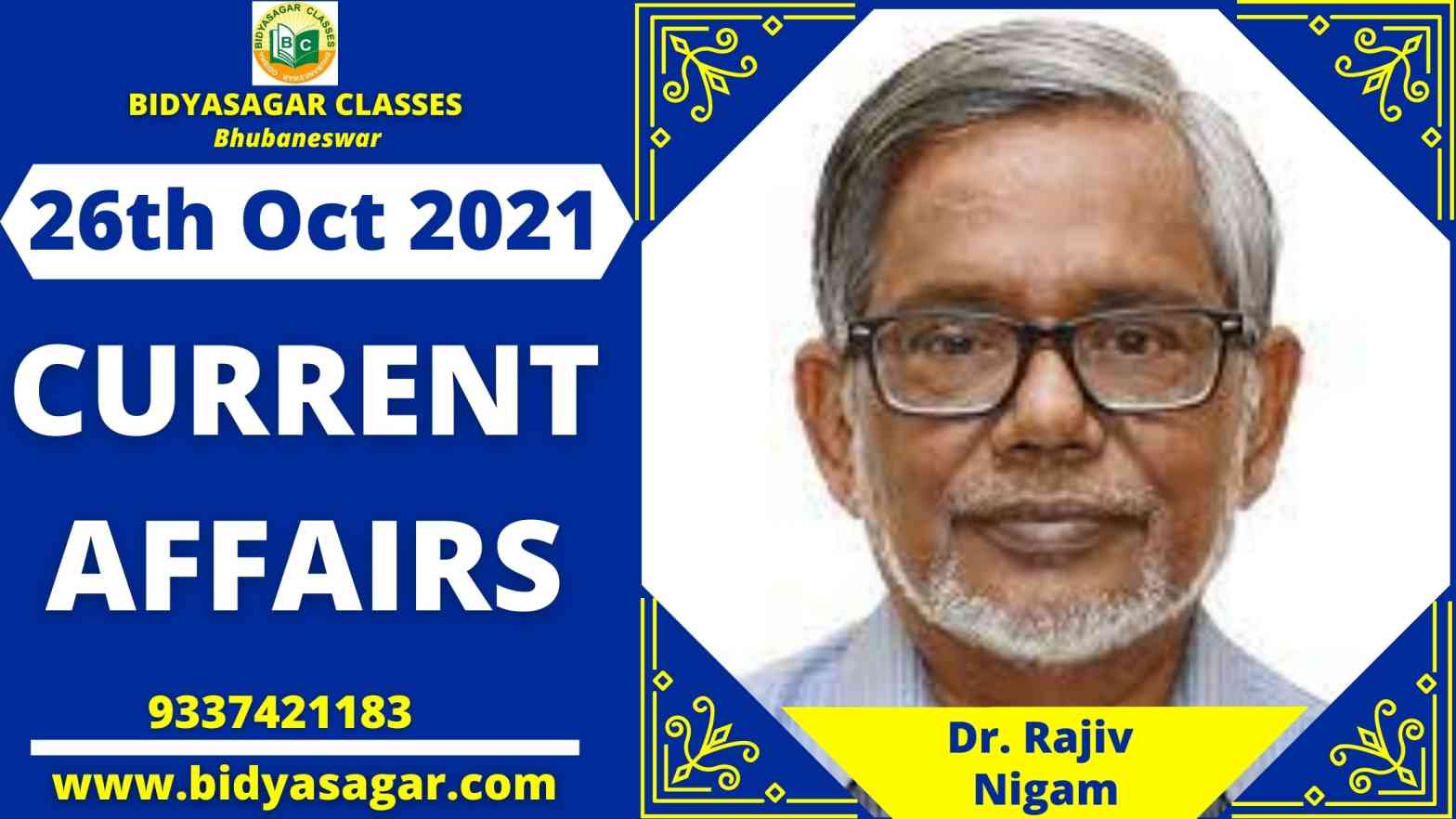 In this article, we will discuss all the important current affairs of 26th October 2021 in detail.
---
National
---
1. From Varanasi, Prime Minister Narendra Modi announces the commencement of the 5,000-crore 'Ayushman Bharat Health Infrastructure Mission' across India.
On October 25, 2021, Prime Minister Shri Narendra Modi started the "Ayushman Bharat Health Infrastructure Mission" from Varanasi, Uttar Pradesh, his parliamentary constituency.
In addition to the National Health Protection Mission, the Ayushman Bharat Health Infrastructure Mission is one of the greatest pan-India schemes for developing healthcare infrastructure across the country (Ayushman Bharat Yojana).
2. "Innovations for You" is a new initiative from the NITI Aayog. Digi-Book
The NITI Aayog's Atal Innovation Mission (AIM) has released a Digi-book titled "Innovations for You." This Digi-book focuses on the healthcare industry.
The book features 45 health-tech businesses that were fostered at Atal Incubation Centers across the country.
3. The government forms a National Steering Committee to carry out the NIPUN Bharat Mission, with Education Minister Dharmendra Pradhan as its chairman.
For the implementation of the NIPUN Bharat Mission, the Department of School Education and Literacy has formed a National Steering Committee (NSC).
The NSC will be chaired by Union Education Minister Shri Dharmendra Pradhan, and Vice Chaired by Minister of State for Education Smt. Annpurna Devi.
4. For the years 2021-2023, Invest India has been elected President of the Geneva-based WAIPA.
The World Association of Investment Promotion Agencies (WAIPA) has unanimously elected Invest India, a new startup inside the Indian government, as its President for the period 2021-2023.
The National Investment Promotion and Facilitation Agency, or Invest India, assists investors seeking investment possibilities and options in India.
---
International News
---
5. IRIS is being launched at COP26 by India, the United Kingdom, and Australia.
On the sidelines of the next Conference of Parties, India, Australia, the United Kingdom, and small island developing nations (SIDS) will announce a new initiative called Infrastructure for Resilient Island States (IRIS) (COP26).
The platform's goal is to build a coalition to build disaster-resistant infrastructure and reduce economic losses in island countries.
6. As sea temperatures rise, 14 percent of the world's coral is gone.
As rising temperatures take a toll on marine ecosystems around the world, about 14% of the world's coral reefs have been lost since 2019. The new data was revealed as part of the Status of Coral Reefs of the World: 2020 report, which looked at worldwide coral reef health over a 40-year period in 73 nations.
Over 300 scientists worked across 12,000 coral sites to collect two million individual observations and chronicle the ecosystem's constant stress from climate change and other local stressors like overfishing, unsustainable coastal development, and diminishing water quality.
---
Banking & Finance News
---
7. Bank of India and Future Generali India Insurance have formed a bancassurance partnership.
Future Generali India Insurance (FGII), a private sector general insurer, has formed a bancassurance partnership with the Bank of India (BoI) to expand the reach of its general insurance products.
Through this partnership, FGII will provide 5,084 BoI branches across 28 states and 8 union territories with a comprehensive range of best-in-class and innovative insurance options.
---
Appointments News
---
8. Realme has named KL Rahul as its brand ambassador.
KL Rahul, an international cricketer, has been named as Realme's brand ambassador.
Realme is a Chinese smartphone manufacturer, and Rahul will assist in increasing sales in India.
---
Sports News
---
9. Max Verstappen is the winner of the United States Grand Prix in 2021.
On October 24, 2021, Max Verstappen (Red Bull – Netherlands) won the 2021 United States Grand Prix at the Circuit of the Americas in Austin, Texas, USA.
Verstappen has now won eight times this season.
10. The Indian Premier League has two new teams: Ahmedabad and Lucknow (IPL)
From 2022, the Indian Premier League (IPL) will welcome two additional teams: Ahmedabad and Lucknow. As a result, the total number of teams in the competition has increased to ten.
The Lucknow team is owned by RP-Sanjiv Goenka Group (RPSG), while the Ahmedabad team is owned by CVC Capital Partners.
---
Awards & Honours News
---
11. The 51st Dadasaheb Phalke Award was given to legendary actor Rajnikanth.
The renowned 51st Dada Saheb Phalke Award has been given to veteran actor Rajinikanth for his remarkable contribution to Indian film.
Vice President M. Venkaiah Naidu presented the famous actor with the Dadasaheb Phalke award for 2019 at the 67th National Film Awards in New Delhi on October 25, 2021.
12. Dr. Rajiv Nigam, a former NIO scientist, Chosen for the Joseph A. Cushman Award in 2022
Dr. Rajiv Nigam, the former Chief Scientist of the CSIR-National Institute of Oceanography (NIO), Goa, has been named the recipient of the Joseph A. Cushman Award for Excellence in Foraminiferal Research for 2022.
Dr. Nigam is the first Indian citizen to be honoured with this honour. He was chosen for his remarkable contributions to the field of foraminifera (microfossil) study during the course of his career.
---
Books & Authors News
---
13. Chidanand Rajghatta's book "Kamala Harris: Phenomenal Woman"
The biography and rise to power of "phenomenal woman" and US Vice President Kamala Harris is chronicled in a new book by journalist and novelist Chidanand Rajghatta.
The book Kamala Harris: Phenomenal Woman, published by HarperCollins India, will be released on 'Softcover', ThePrint's online venue for releasing chosen non-fiction books, on October 28.
Bidyasagar Classes Address
Plot No-N-6-325, Biju Patnaik College Road,  Infront of SBI, Jayadev Vihar, Bhubaneswar
Website: www.bidyasagar.com
Opening and closing hours: Monday to Sunday :7AM-9PM
 -Mail : bidyasagar.classes@gmail.com
Contact No. : 8917265768; 9337421183, 8093021183