Important Daily Current Affairs of 27th October 2021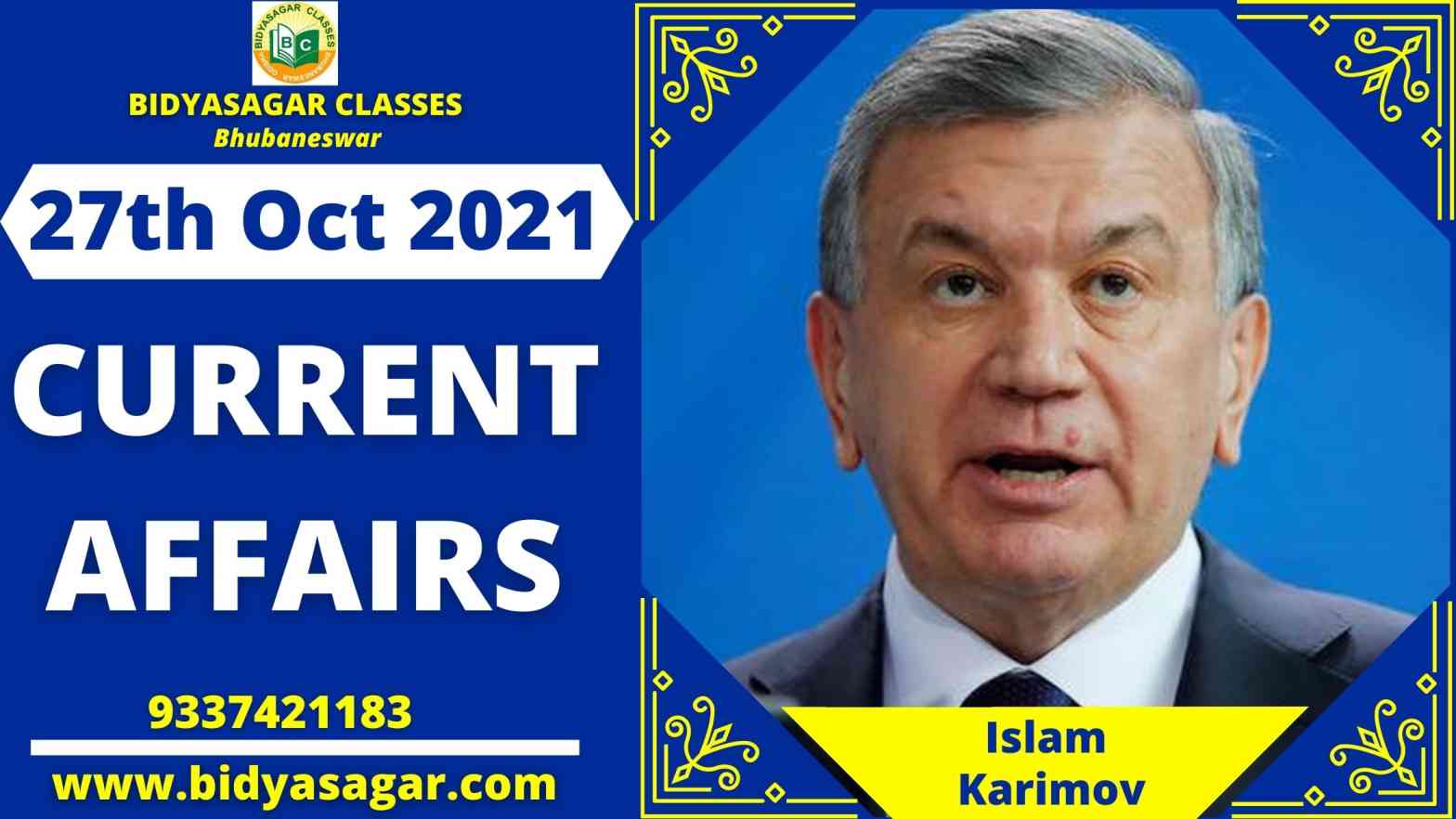 In this article, we will discuss all the important current affairs of 27th October 2021 in detail.
---
National
---
1. In Hyderabad, Mohd Azharuddin introduces the world's largest cricket bat.
On the eve of the India-Pakistan ICC Men's T20 World Cup, President of Hyderabad Cricket Association (HCA) and former India captain Mohd Azharuddin launched the world's largest cricket bat on October 23, 2021 at Hyderabad.
The bat has been verified as the world's largest cricket bat by the Guinness Book of World Records.
2. At Kolkata's Syama Prasad Mookerjee Port, India's first Radio over Internet Protocol system for major ports was launched.
Kolkata's Syama Prasad Mookerjee Port (SPM) has become the first major Indian port to install a Radio over Internet Protocol (ROIP) system.
On October 25, 2021, Vinit Kumar, Chairman of SPM, officially opened the ROIP.
3. In Nagpur, India's first state-owned wildlife DNA testing lab was unveiled.
The Regional Forensic Science Laboratory (RFSL) in Nagpur, Maharashtra, has become India's first state-owned Wildlife DNA analysis laboratory.
There are now two Wildlife DNA laboratories owned by the federal government. These are in Dehradun and Hyderabad, respectively.
4. G.K. Reddy, Minister of Culture, has launched the Amrit Mahotsav Podcast.
As part of the ministry's Azadi ka Amrit Mahotsav celebrations, Union Minister for Culture and Tourism Shri. G.K Reddy launched the Amrit Mahotsav Podcast.
The Amrit Mahotsav Podcast series (Zara Yaad Karo Qurbani) is a tribute to the Indian National Army (persons and movements) who made significant contributions to India's freedom struggle, some of which have gone unreported and haven't found a place in the traditional plot.
---
International News
---
5. The COP-26 conference will be held in Glasgow.
From October 31 to November 12, the United Kingdom will host the COP26 United Nations Climate Change Conference in Glasgow, Scotland.
The COP26 meeting will bring parties together to speed up progress toward the Paris Agreement and the UN Framework Convention on Climate Change's aims.
6. India and the United Kingdom participate in the first bilateral tri-service exercise, Konkan Shakti 2021.
The maritime portion of the first bilateral tri-service exercise between the UK and Indian Armed Forces, 'Konkan Shakti 2021,' began off the Konkan coast in the Arabian Sea.
According to an Indian Navy official, all participating units were divided into two opposing formations with the goal of obtaining "sea control" so that Army ground troops could be landed at a pre-determined location.
---
Banking & Finance News
---
6. India and the Asian Development Bank (ADB) have signed a project readiness financing loan to help Mizoram's urban mobility.
A 4.5 million dollar project readiness financing PRF loan was agreed between the Centre and the Asian Development Bank to support project preparation and design work to improve urban mobility in Aizawl, the capital city of the northeastern state of Mizoram.
By identifying high-priority urban transportation expenditures for the subsequent project and strengthening its readiness by supporting due diligence and other preparatory actions, the PRF supports the creation of long-term solutions to improve urban mobility in Aizawl.
7. ICICI Bank surpasses Hindustan Unilever in market capitalization to claim fifth place Private sector lender ICICI Bank has surpassed Hindustan Unilever in market capitalization to become the fifth largest corporation by market value.
According to BSE data, ICICI Bank's market capitalization (m-cap) was 5.83 lakh crore, just slightly more than HUL's 5.76 lakh crore.
8. Users can now access ICICI Lombard's BeFit cashless OPD and wellness solution.
ICICI Lombard has launched BeFit, a service offered through its ILTakeCare app that provides users with cashless access to a full range of OPD services, including medical consultations, pharmacy, diagnostics, and more.
Customers can take advantage of a variety of wellness services thanks to the solution. As the necessity of good health and immunity grows, this all-in-one solution will be more useful than ever. V
9. IndiGo and Kotak Mahindra Bank have teamed up to launch a Ka-ching co-branded credit card.
The 6E Rewards programme has announced a strategic relationship between Kotak Mahindra Bank (KMBL) and IndiGo for the creation of a co-branded credit card called Ka-ching.
Customers will benefit from this collaboration in the shape of a robust product proposition that provides a premium rewards experience.
---
Appointments News
---
10. In a landslide victory, Uzbek President Islam Karimov is re-elected for a second term.
According to early results of a poll that Western observers criticised as uncompetitive despite recent political reforms, Uzbek President Shavkat Mirziyoyev has been re-elected for a second five-year term.
Mr. Mirziyoyev received 80.1 percent of the vote against four token opponents, according to the Central Election Commission of Uzbekistan.
11. Manoj Bajpayee joins SMB Neobank FloBiz as myBillBook brand ambassador FloBiz, a fast-growing neobank for Indian SMBs, has announced its partnership with Padma Shri awardee actor Manoj Bajpayee.
With Manoj Bajpayee as its brand ambassador, the Bengaluru-based fintech hopes to expand its reach into the SMB sector and boost use of its main product myBillBook — a simple to use GST billing and accounting software.
---
Sports News
---
12. Denmark Open 2021 was won by Axelson and Yamaguchi.
Viktor Axelsen, a Danish Olympic champion, won the 2021 Denmark Open Badminton in the Odense Sports Park in Denmark. He beat Japan's world number one, Kento Momota.
Akane Yamaguchi of Japan won her second women's title, defeating An Se-young of South Korea (South Korea).
13. In Hyderabad, the Telangana government unveiled the world's largest cricket bat.
In Hyderabad, the world's largest cricket bat was unveiled, according to Guinness World Records. On the eve of the ICC Men's T20 World Cup, the event took place. Mohammed Azharuddin, the former captain of the Indian cricket team, showcased the cricket bat. Pernod Ricard created the bat as an homage to the Indian cricket team.
The massive bat measures 56.1 feet in length and weighs 9,000 kilogrammes. The bat is now on exhibit on Bund Tank and will remain there until November 16. The bat will then be stored in the Rajiv Gandhi International Stadium in Uppal for display.
---
Obituary News
---
14. Roh Tae-woo, the former president of South Korea, has died.
Former South Korean President Roh Tae-woo, a decorated war veteran who played a key but divisive role in the country's transition from authoritarian rule to democratic elections, has died. He was 88 years old when he died.
Roh moved from military coup conspirator to South Korea's first democratically elected president in the span of a few decades, only to conclude his political career in ignominy with a prison sentence for treason and corruption.
---
Important Days
---
15. Disarmament Week 2021 will take place from October 24 to October 30.
Every year on October 24, the anniversary of the United Nations' creation, Disarmament Week begins and runs until October 30.
The yearly commemoration aims to raise awareness and understanding of disarmament challenges in various countries, as well as their cross-cutting significance.
16. Vigilance Awareness Week 2021 will be held from October 26 to November 1, 2021.
The Central Vigilance Commission (CVC) is hosting the Vigilance Awareness Week 2021 from October 26 to November 1, 2021.
The annual celebration takes place during the week of Sardar Vallabhbhai Patel's birthday, which is celebrated on October 31.
17. The 27th of October is World Audiovisual Heritage Day.
Every year on October 27, the World Day for Audiovisual Heritage is observed.
"Your Window to the World" is the theme for 2021.
Bidyasagar Classes Address
Plot No-N-6-325, Biju Patnaik College Road,  Infront of SBI, Jayadev Vihar, Bhubaneswar
Website: www.bidyasagar.com
Opening and closing hours: Monday to Sunday :7AM-9PM
 -Mail : bidyasagar.classes@gmail.com
Contact No. : 8917265768; 9337421183, 8093021183