Important Daily Current Affairs of 28th July 2021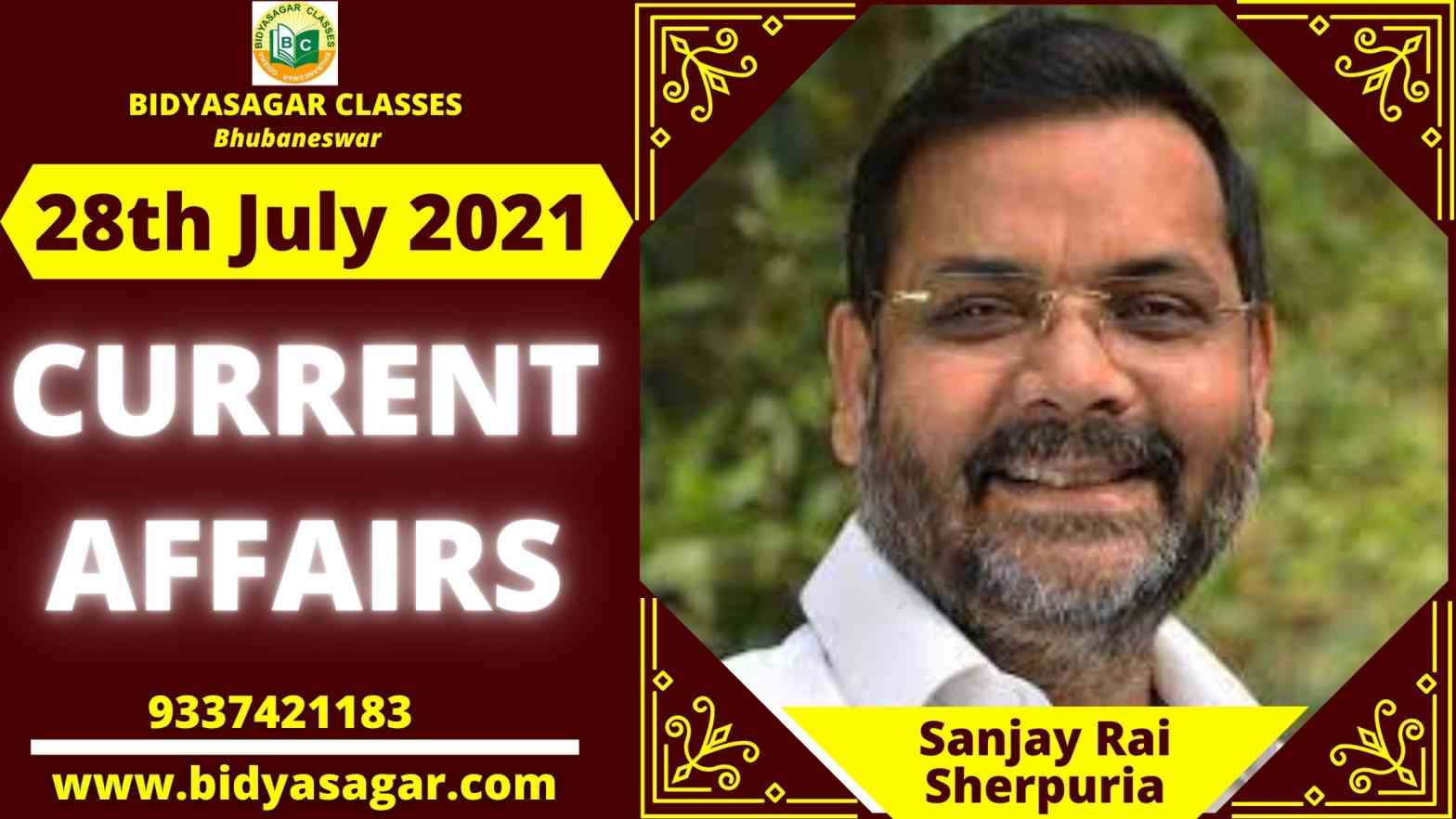 In this article, we will discuss all the important current affairs of 28th July 2021 in detail.
---
National
---
1. Puri is the first city in India to offer drinkable tap water at all times.
People in Odisha's temple town of Puri can now drink water right from the tap, with no need to store or filter it because the facility is open 24 hours a day, according to Chief Minister Naveen Patnaik.
With this, Jagannath Dham becomes the first city in India to give "drink from tap" quality water 24 hours a day, seven days a week.
2. The Harappan City of Dholavira in Gujarat's Rann of Kutchch has been designated as India's 40th UNESCO World Heritage Site.
UNESCO listed the historic Harappan city of Dholavira in the Rann of Kutchch, Gujarat, on the World Heritage list on July 27, 2021, during the World Heritage Committee's 44th session.
Since 2014, the site has been on UNESCO's tentative list.
3. The government creates the SMILE scheme, which includes a variety of welfare measures for beggars.
The Ministry of Social Justice and Empowerment has devised a programme called "SMILE – Support for Marginalized Individuals for Livelihood and Enterprise," which includes a subscheme called "Central Sector Scheme for Comprehensive Rehabilitation of Persons Involved in Begging."
This system includes a variety of comprehensive measures, including welfare measures for people who are begging.
4. The Uttar Pradesh government and Sapio Analytics have teamed up to help MSMEs thrive by distributing automation tools.
The Government of Uttar Pradesh's Department of MSME has inked an MoU with government advisory firm Sapio Analytics to give 20,000 MSMEs in the state with licences for automation software Accloud valued Rs. 72 crores.
The software licences will be supplied free of charge to MSMEs who will be able to apply for them through a site (https://sapioanalytics.com/accloud/).
5. Garima Grihas for transgender people are being established with the assistance of community-based organisations:
According to the Centre, community-based organisations are assisting in the establishment of Garima Grihas for transgender people.
A. Narayanaswamy, Minister of State for Social Justice and Empowerment, told the Lok Sabha that 12 pilot shelter homes had been established to provide safe and secure housing to transgender people.
6. In Cherrapunji, Meghalaya, Amit Shah inaugurates the Greater Sohra Water Supply Scheme.
The much-anticipated and famous "Greater Sohra Water Supply Scheme" was inaugurated at Sohra, popularly known as Cherrapunji, in Meghalaya by Union Home Minister Amit Shah and Meghalaya Chief Minister Conrad K. Sangma.
Sohra Town and 12 other habitations in the East Khasi Hills will receive pure drinking water through taps as part of this project. The government will use the Wah Lyngksiar waterfall and Law Sanlait spring as a source of water for this.
7. Himanta Biswa Sarma, the Chief Minister of Assam, laid the foundation stone for the Bamboo Industrial Park in Dima Hasao.
Assam On July 26, 2021, Chief Minister Shri Himanta Biswa Sarma lay the foundation stone for the Northeast's first-ever Bamboo Industrial Park in Manderdisa, Assam's Dima Hasao district.
The Ministry of Development of the North Eastern Region (DoNER Ministry) will carry out the project, which will cost Rs. 50 crores and span 75 hectares.
---
International News
---
8. Covid research will bring together scientists from India, Russia, Brazil, and South Africa.
Scientists from India, Russia, Brazil, and South Africa will work together to develop or repurpose medications to combat COVID-19.
The BRICS countries' health systems and health services will be improved by combining the efforts, expertise, and experience of scientists and specialists from various fields.
9. The 12th Edition of the Indo-Russia joint Military Exercise INDRA-2021 will take place in Volgograd, Russia, from August 1 to 13.
The exercise will involve a joint force conducting counter-terror operations against foreign terror groups under the auspices of the United Nations.
10. INS Talwar arrives in Mombasa for Exercise Cutlass Express 2021.
The Indian Naval Ship (INS) Talwar is taking part in Exercise Cutlass Express 2021, which began on July 26 and is aimed at improving combined maritime law enforcement capacity and increasing interoperability among regional navies. On August 6, the exercise will come to a close.
The drill is an annual maritime exercise held in East Africa and the Western Indian Ocean to strengthen national and regional maritime security.
---
Banking & Finance News
---
11. To help retailers and merchants deal with cash shortages, HDFC Bank has launched an overdraft credit of up to Rs 10 lakh.
In conjunction with the government's e-governance services delivery arm CSC SPV, India's largest private lender HDFC Bank introduced an overdraft facility for small shops, allowing government schemes and services to be delivered through common service centres (CSCs).
The HDFC Bank's 'Dukandar Overdraft Scheme' is designed to assist retailers and merchants with cash flow issues. Retailers that have been in business for at least three years and can provide a six-month bank statement from any bank are eligible for the plan, according to the bank.
---
Business & Economy News
---
12. The IMF has lowered India's GDP growth forecast for FY22 to 9.5 percent.
The IMF dropped India's FY22 growth prediction by 300 basis points (bps) from its April projection to 9.5 percent, the biggest cut of any economy, blaming the damage caused by the second Covid wave, which peaked in May.
While the international agency kept its global growth forecast for 2021 at 6%, it lowered its earlier projection for developing countries by 40 basis points and raised it by 50 basis points for advanced economies.
---
Appointments News
---
13. Sanjay Rai Sherpuria, a well-known social worker and entrepreneur, has been elected National Brand Ambassador for SDG Choupal.
Sanjay Rai 'Sherpuria' was honoured for his outstanding achievements in the aftermath of COVID at a ceremony held here this evening.
14. Former Prime Minister Najib Mikati named as Lebanon's Prime Minister-designate Lebanon's president is expected to appoint billionaire businessman and former Prime Minister Najib Mikati as the country's next prime minister-designate, after Saad Hariri abandoned attempts to form a Cabinet earlier this month amid the country's unprecedented financial meltdown
Mikati was also approved by Hariri, who gave up on forming a government after failing to reach an agreement with Aoun on the composition of the Cabinet.
---
Sports News
---
15. Mithali Raj has reclaimed the top rank in the ICC Women's One-Day International Rankings for the ninth time.
After West Indies skipper Stafanie Taylor slid to fifth place, India batting great Mithali Raj is back at the top of the MRF Tyres ICC Women's ODI Player Rankings for the ninth time since she originally occupied the position more than 16 years ago.
This occurred following the most recent weekly ranking update, which took into account the West Indies' and Pakistan's results in the final three matches of their five-match series.
16. India wins five gold medals in the World Cadet Championships in Budapest.
At the World Cadet Championships in Budapest, Hungary, India wins 13 medals, including five golds.
Priya Malik, Tannu, Aman Gulia, Sagar Jaglan, Chirag, Jaideep, and Komal, all young Indian wrestlers, won gold medals at the World Cadet Wrestling Championship.
17. Yuto Horigome of Japan is the first Japanese skateboarder to win an Olympic gold medal.
Yuto Horigome of Japan has made history by being the first person to win an Olympic skateboarding competition.
In the men's street skating category at Ariake Urban Sports Center in Tokyo, the 22-year-old scored 37.18 points to win the first ever Olympic Gold medal for skateboarding.
---
Awards and Honours
---
18. Kandla is the first Green Special Economic Zone.
IGBC Platinum Rating was given to Kandla SEZ (KASEZ). The IGBC Green Cities Platinum Rating for Existing Cities has been awarded to KASEZ, making it the first green SEZ to do so.
The KASEZ team's achievements were praised, particularly because they were completed in the Bhuj region, where water conservation and afforestation are key interventions.
---
Obituary News
---
19. Steven Weinberg, a doyen of particle physics, has died.
Steven Weinberg, a physicist who shared the Nobel Prize for Physics in 1979 with two other scientists for their contributions to unravelling the mysteries of small particles and their electromagnetic interactions, has died at the age of 88.
Weinberg and physicists Abdus Salam and Sheldon Lee Glashow received the Nobel Prize in Physics in 1979. According to a UT release, their findings enhanced understanding of how everything in the cosmos is connected.
---
Important Days
---
20. 28th July:  World Hepatitis Day
Every year on July 28th, World Hepatitis Day is commemorated to increase global awareness of the global burden of viral hepatitis, a liver inflammation that can lead to a variety of health concerns, including liver cancer.
The 28th of July was chosen as World Hepatitis Day since it is the birthday of Nobel Laureate and hepatitis B virus discoverer Dr. Baruch Blumberg (HBV). He also developed a virus diagnostic test and vaccination.
21. 28th July:  World Nature Conservation Day
Every year on July 28, the world commemorates World Nature Conservation Day.
The major goal of this day is to increase awareness about environmental protection and best practises for preserving our natural resources.
---
Bidyasagar Classes Address
Plot No-N-6-325, Biju Patnaik College Road,  Infront of SBI, Jayadev Vihar, Bhubaneswar
Website: www.bidyasagar.com
Opening and closing hours: Monday to Sunday :7AM-9PM
 -Mail : bidyasagar.classes@gmail.com
Contact No. : 8917265768; 9337421183, 8093021183