Important Daily Current Affairs of 29th November 2021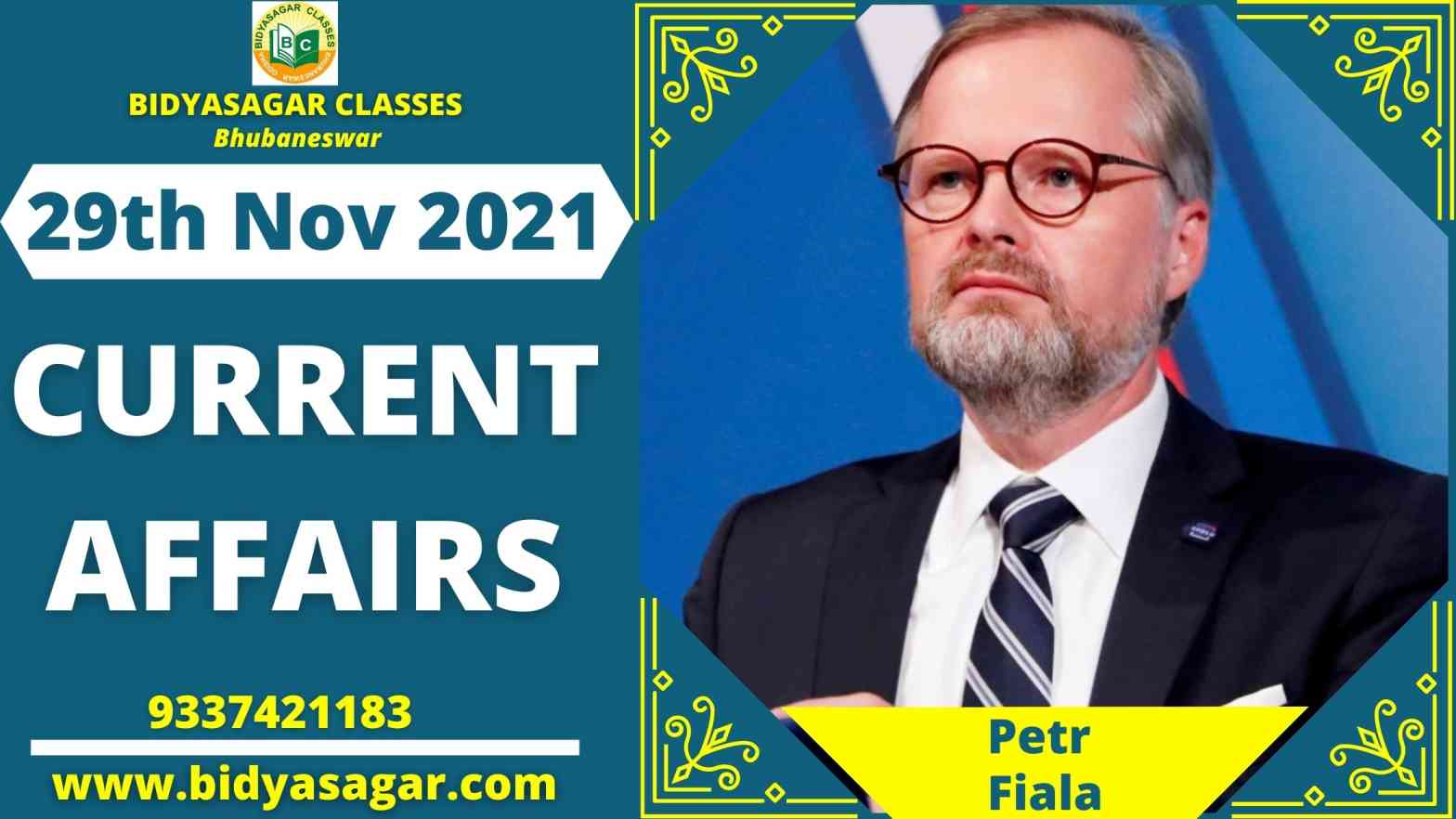 In this article, we will discuss all the important current affairs of 29th November 2021 in detail.
---
National
---
1. The government would invest Rs 64,000 crore in the health sector. Mansukh Mandaviya, a Union Minister, said the Centre will invest roughly Rs 64,000 crore in building health facilities in the country over the next five years.
The union for health and family affairs stated that the central government is aiming to ensure that everyone has access to health care through various health assistance programmes.
2. As an interim measure, an additional Rs 10,000 crore has been given for MNREGA.
According to the Ministry of Rural Development, the Finance Ministry has provided an additional 10,000 crore as an interim solution for the Mahatma Gandhi National Rural Employment Guarantee Act (MGNREGA) initiative, which ran out of funds allocated in the budget (MoRD).
The rural development ministry — the relevant ministry for the Mahatma Gandhi National Rural Employment Guarantee Scheme — also said that allocations could be provided based on demand assessments during the Revised Estimate stage.
3. The government has formed a five-member council to oversee the Central Vista project.
According to an official statement released by the Ministry of Housing and Urban Affairs, the Centre has established a Central Vista Oversight Committee to monitor the Rs 20,000 crore project for a period of two years.
Ratan P Watal, a former finance secretary, has been named head of the group, which will give reports or recommendations to the Ministry of Housing and Urban Affairs.
4. Bihar, Jharkhand, and Uttar Pradesh are among the poorest states, whereas Kerala and Goa have the lowest poverty rates: Niti Aayog is a non-profit organisation that works to improve the lives
According to the first National Multidimensional Poverty Index (MPI) produced by the NITI Aayog, a quarter of India's population is still poor, although the situation has improved since then, officials stated.
According to the index, Bihar has the greatest percentage of poor people (51.91 percent), followed by Jharkhand (42.16 percent), Uttar Pradesh (37.79 percent), and Madhya Pradesh (36.65 percent).
5. Kerala Tourism has launched the STREET project, which is focused on experience tourism.
Kerala Tourism started the 'STREET' project in chosen areas in seven districts as a pioneering initiative to take tourism deep into the state's interiors and rural hinterland, allowing visitors to experience the range of attractions in these locales.
The Responsible Tourism Mission's concept is based on the United Nations World Tourism Organization's slogan, "Tourism for Inclusive Growth" (UNWTO),
6. Uttarakhand's drinking water supply schemes worth Rs 225.24 crore have been approved by a state-level scheme sanctioning body.
Uttarakhand's drinking water supply schemes totaling Rs 225.24 crore have been approved by the state-level scheme sanctioning committee (SLSSC).
These projects will bring tap water to 293 communities in seven districts across the state. One of the 12 water supply plans approved is a single village scheme, while the other 11 are multi-village schemes.
---
International News
---
7. "Vaccine" is the Word Of The Year for 2021, according to Merriam-Webster Dictionary.
The term "vaccine" has been named the 2021 Word of the Year by Merriam-Webster, an American publishing business.
Merriam-Webster is the most widely used online dictionary in the United States for English definitions, meanings, and pronunciation.
8. By 2025, South Korea will have the world's first floating metropolis.
To deal with the problem of flooding caused by increasing sea levels, South Korea will soon have the world's first floating metropolis.
The UN Human Settlement Programme (UN-Habit) and OCEANIX collaborated on the floating city project.
---
Banking & Finance News
---
9. In FY 22, the Export-Import Bank of India (Exim Bank) has pledged $100 million in loans to domestic manufacturers of Covid-19 vaccines and related items.
During the current fiscal year, about a half-dozen drug companies in the country will receive these loans. Vaccine loans are being extended to other countries as well.
10. The Reserve Bank of India has imposed a fine of Rs 1 crore on State Bank of India.
The Reserve Bank of India (RBI) has fined State Bank of India (SBI) Rs 1 crore for violating Section 19 of the Banking Regulation Act, 1949's provision of subsection (2).
This penalty was issued in accordance with RBI's powers under section 47 A (1) (c) of the Act, as well as clauses 46 (a) I and 51 (1) of the Act.
11. After 15 years, the RBI raises the promoter stake cap in private banks to 26 percent.
An internal Reserve Bank working committee on private sector bank ownership and corporate structure has recommended allowing promoters to keep any proportion of ownership in the first five years (rather than the current minimum of 40%) and then capping it at 26% after 15 years of operations.
According to current RBI guidelines, a private bank's promoter must reduce his or her shareholding to 20% within 10 years and 15% within 15 years.
---
Business & Economy News
---
12. Model Retail Outlet Scheme is launched by Indian Oil, BPCL, and HPCL.
Model Retail Outlet Scheme and a Digital Customer Feedback Program named Darpan@petrolpump have been launched by Indian Oil, Bharat Petroleum Corporation Limited, and Hindustan Petroleum Corporation Limited.
Three state-owned oil companies have teamed up to develop Model Retail Outlets to improve service standards and amenities across their networks, which serve over 6 million customers daily.
13. Guwahati will have a cyber security centre of excellence.
In Assam's largest city, Guwahati, a strategic cyber intelligence centre of excellence (CoE) would be established soon.
Assam Electronics Development Corporation Limited (AMTRON), Mastercard Asia/Pacific Pvt Ltd, and I-Sec Security Services Pvt Ltd signed a tripartite agreement to create the centre.
---
Appointments News
---
14. Harshwanti Bisht, a renowned mountaineer, has been voted as the Indian Mountaineering Foundation's first female president.
Uttarakhand's most famous mountaineer Harshwanti Bisht holds the distinction of being the Indian Mountaineering Foundation's first female president (IMF).
On November 20, she was chosen to the coveted position, receiving 60 votes out of a total of 107.
15. Petr Fiala has been named Prime Minister of the Czech Republic.
After testing positive for COVID-19, Czech President Milos Zeman selected Petr Fiala, the leader of a centre-right alliance, as Prime Minister in a ceremony held from a plexiglass cubicle.
Fiala, 57, is the leader of the three-party coalition Together (Civic Democratic Party, Christian Democrats, and TOP 09), which won 27.8% of the vote in early October. Andrej Babis is replaced by Fiala.
---
Sports News
---
16. Kerala hosts the Senior Women's National Football Championship.
The senior women's national football championship will be held in four sites across Kerala beginning November 28.
On December 9, the competition will come to a close.
Municipal Stadium, Kuthuparamba, EMS Corporation Stadium, Kozhikode, Calicut University, Kozhikode, and Calicut Medical College, Kozhikode will host the matches.
17. In the World Para-Powerlifting Championships, Parmjeet Kumar wins bronze.
Parmjeet Kumar won a bronze medal in the current World Championships in Tbilisi, Georgia, becoming the first Indian para-powerlifter to do so.
Kumar, who trains at Gandhinagar's Sports Authority of India Centre, took bronze in the men's 49kg division with a 158kg effort.
---
Obituary News
---
18. Stephen Sondheim, a veteran Broadway composer, has died.
Stephen Sondheim, a veteran songwriter who reinvented American musical theatre, has died. He was 91 years old when he died.
His plays have undoubtedly revolutionised the Broadway musical stage, from the comic 'A Funny Thing Happened on the Way to the Forum' to the ground-breaking 'Company' and the experimental 'Pacific Overtures.'
---
Important Days
---
19. 29 November is International Day of Solidarity with the Palestinian People.
Every year on November 29, the United Nations organises the International Day of Solidarity with the Palestinian People.
It is marked to commemorate the adoption of Resolution 181 by the United Nations General Assembly on November 29, 1947, which called for the division of Palestine.
Bidyasagar Classes Address
Plot No-N-6-325, Biju Patnaik College Road,  Infront of SBI, Jayadev Vihar, Bhubaneswar
Website: www.bidyasagar.com
Opening and closing hours: Monday to Sunday :7AM-9PM
 -Mail : bidyasagar.classes@gmail.com
Contact No. : 8917265768; 9337421183, 8093021183