Important Daily Current Affairs of 2nd Dcember 2021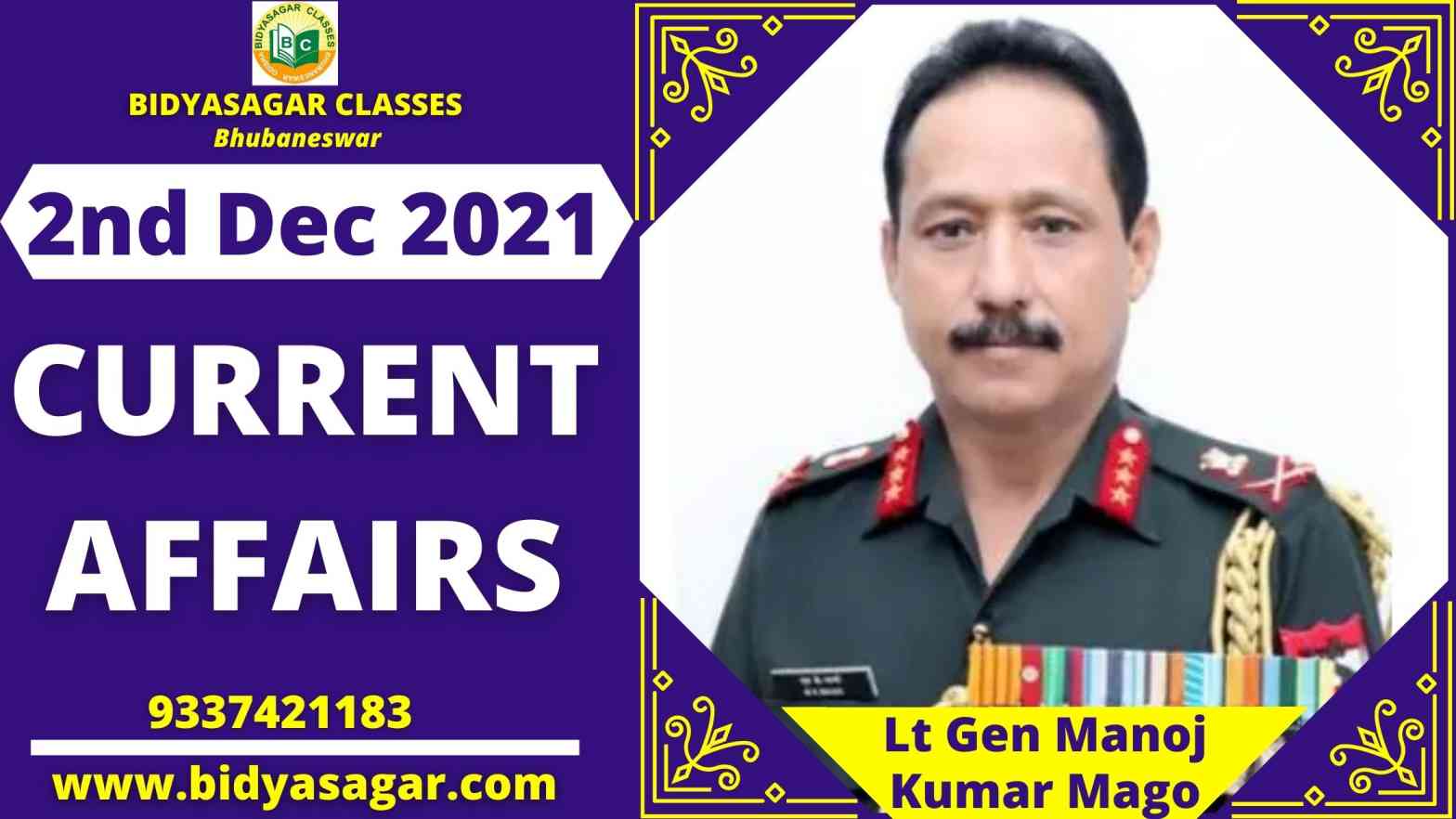 In this article, we will discuss all the important current affairs of 2nd Dcember 2021 in detail.
---
National
---
1. The Delhi government has launched a TV show called "Business Blasters" to assist schoolchildren in pitching start-up ideas to investors.
The Delhi government has started the 'Business Blasters' programme, a first-of-its-kind televised event that will let kids in classes 11 and 12 at Delhi government-run schools to present their start-up ideas to investors and get investment funding to help them grow.
Kids' entrepreneurial ideas will be featured on the show, which were chosen from 51,000 entries submitted by 3,00,000 students.
2. The government expects to save around Rs 44,000 crore in fiscal 2020-21 thanks to DBT.
With the Direct Benefit Transfer (DBT) method, the government expects to save about Rs 44,000 crore in fiscal 2020-21.
With this, overall savings for the fiscal year ending March 31, 2021 have surpassed Rs. 2.22 lakh crore. The sum saved is nearly equal to the current fiscal's total health and welfare spending, or more than three times the allocation for the Mahatma Gandhi National Rural Employment Guarantee Scheme (MGNREGS).
3. In Nagaland, Chief Minister Neiphiu Rio launches the NIPUN Bharat Mission.
On December 1, 2021, Nagaland will celebrate its 59th Statehood Day.
This morning, a state-level programme was organised in the Civil Secretariat Plaza Kohima. Chief Minister Neiphiu Rio, speaking to the people of the state, stated that the government is committed to taking the required steps for the state's overall development and to provide the best possibilities for growth and success.
He also opened a photography exhibition called Glimpses of the State's History.
4. Rajasthan's drinking water delivery schemes costing Rs 1816 crore have been approved by the SLSSC.
Rajasthan's drinking water delivery schemes have been approved by the State-level Scheme Sanctioning Committee (SLSSC) for a total of one thousand 816 crore rupees.
These projects will connect 2,348 villages in 20 districts across the state to safe drinking water. It would connect around 4 lakh rural houses to running water.
5. The Centre appoints a three-member committee to assess the EWS quota criteria.
The Ministry of Social Justice and Empowerment has formed a three-member group to assess the basis for reservations for the Economically Weaker Section (EWS).
Former Finance Secretary Ajay Bhushan Pandey, Member Secretary ICSSR Prof VK Malhotra, and Principal Economic Advisor to the Indian government Sanjeev Sanyal will make up the committee.
---
International News
---
6. Tel Aviv has surpassed Hong Kong, Paris, and Zurich as the world's most expensive city to live in, because to the rapid spike in inflation that has driven up the cost of a wide range of products and services around the world in the aftermath of the coronavirus pandemic.
According to the respected rating system compiled by the Economist Intelligence Unit, the Israeli city surged five points in the last year to grab the undesired title away from last year's joint winners of Paris, Hong Kong, and Zurich (EIU).
7. India and the European Union have agreed to form a Clean Energy and Climate Partnership.
The Clean Energy and Climate Partnership between India and the European Union (EU) will be expanded.
The India-EU Energy Panel was co-chaired by Reenat Sandhu, India's Ministry of External Affairs Secretary (West), and Mechthild Wörsdörfer, European Commission Deputy Director-General for Energy.
---
Banking & Finance News
---
8. DBS Bank India has launched a digital and paperless trade finance solution, which is a first in the market.
DBS Bank India has created a paperless solution for buyers and sellers to finance domestic invoicing. The bank now digitally validates the e-Way Bill (i.e. proof of movement of goods) for the purpose of establishing the genuineness of underlying trade transactions.
DBS has been able to process transactions more quickly because to the implementation of this technique, which eliminates the requirement to get underlying physical papers.
9. India's first standalone metal debit card has been launched by IDFC FIRST Bank.
In collaboration with Visa, the global leader in digital payments, IDFC FIRST Bank announced the launch of FIRST Private Infinite, the country's first-ever independent metal debit card.
The First Private Infinite card is a complimentary lifetime card for customers who are members of the Bank's FIRST Private programme, which is a premium savings and wealth product.
10. 10,000 white-label ATMs are being installed by India1 Payments.
India1 Payments Ltd (formerly BTI Payments Pvt Ltd) has reached the 10,000 White Label ATM deployment milestone.
The Banktech Group of Australia is promoting India1 Payments, which is set to become public in the near future. Previously, it was known as BTI Payments. In semi-urban and rural locations, India1 ATM has grown to become the second-largest white label ATM brand.
---
Business & Economy News
---
11. According to a UN report, global trade is anticipated to increase by 23% to $28 trillion by 2021.
According to a research released by the United Nations Conference on Trade and Development, global trade is estimated to reach $28 trillion in 2021, up 23% from last year (UNCTAD).
According to the Global Trade Update report, global goods trade reached a new high of $5.6 trillion in the third quarter of this year.
While this was a 24% increase over the same quarter in 2020, it was a 13% increase over the third quarter of 2019.
12. November's GST collection jumped 25% to Rs 1.31 lakh crore, the second highest since the rollout, showing economic improvement and increased compliance.
The revenue from products sold and services given has surpassed Rs 1 lakh crore for the sixth month in a row.
13. Walmart and Flipkart have signed a Memorandum of Understanding with the Madhya Pradesh government to train and support local SMEs.
Walmart and its subsidiary Flipkart have announced that they will sign an MoU with the Madhya Pradesh government to create a capacity-building ecosystem for MSMEs in the state.
Walmart and Flipkart will work with the MP government's Department of Micro, Small and Medium Enterprises (MSME) to help MSMEs digitise their companies and sell products across India through online retail.
---
Appointments News
---
14. NDC Commandant Lt Gen Manoj Kumar Mago takes charge.
The Commandant of the National Defence College (NDC) in New Delhi is Lt Gen Manoj Kumar Mago.
He is from Ludhiana and was commanding the 10 Corps at Bathinda before being assigned to the NDC, which comprises developing a strategic culture among the country's senior military, civilian, and Indian Police Service personnel.
15. The government of Arunachal Pradesh has appointed Bollywood star Sanjay Dutt as a brand ambassador for the state's 50th anniversary festivities.
The Arunachal Pradesh administration has appointed Bollywood star Sanjay Dutt as the state's brand ambassador.
On the occasion of the golden jubilee celebrations, which honour the 50th anniversary of the state's designation, filmmaker Rahul Mittra has been enlisted as a brand advisor with Sanjay.
---
Sports News
---
16. At the Madhya Pradesh State Shooting Academy, Rajshree Sancheti won the women's 10-meter air rifle national title.
At the Madhya Pradesh State Shooting Academy range in Bhopal, Rajshree Sancheti won the women's 10-meter air rifle national title.
Rajshree won the eight-woman final with a score of 251.8, more than 1.6 points ahead of Himachal Pradesh's Zeena Khitta, who took silver. Shreya Agrawal finished in third place with a score of 227.7, bowing out after the 22nd shot of the 24-shot final.
---
Awards & Honours News
---
17. This year, Skytrax named IGI Airport the "Best Airport in India and Central Asia": Gen. VK Singh, MoS
The Indira Gandhi International Airport in Delhi was named the 'Best Airport in India and Central Asia' by Skytrax this year, according to the Centre.
Minister of State for Civil Aviation Gen VK Singh said in a written reply to the Lok Sabha that the Delhi airport, along with those in Hyderabad, Mumbai, and Bengaluru, is included in Skytrax's World To 100 airports list.
18. Barbados Declares Rihanna a National Hero After dismissing Britain's Queen Elizabeth II as its head of state and ushering in a new era as a republic, Barbados has designated Rihanna a national hero.
During a ceremony held overnight in the capital, Bridgetown, to mark the political transition, Prime Minister Mia Mottley revealed that the 33-year-old Barbadian artist and entrepreneur would be honoured with the honour of National Hero of Barbados.
19. MoCA has given the Star Air Bags Award for the 'Highest Average Passenger Load Factor on RCS Flights.'
Star Air had a wonderful and interesting voyage during the winter schedule of October 2020, as part of its commitment to improve regional connectivity across the country. The Ministry of Civil Aviation named it the airline with the greatest average passenger load factor on RCS flights.
Star Air assures its passengers the highest care as ardent advocates for hassle-free, cheap, and on-time services. Star Air is dedicated to fulfilling everyone's travel dreams, and the airline is continually working to Connect Real India and make travel more accessible and cheap.
---
Books & Authors News
---
20. The Kamaladevi Chattopadhyay NIF Book Prize 2021 goes to Dinyar Patel's biography of Dadabhai Naoroji.
Dinyar Patel's biography of Dadabhai Naoroji, one of the founding members of the Indian National Congress, won the Kamaladevi Chattopadhyay NIF Book Prize 2021.
"Naoroji: Pioneer of Indian Nationalism" was chosen from a shortlist of six books that covered a wide range of topics and issues and displayed some of the best non-fiction writing on India, according to the organisers, the New India Foundation.
Bidyasagar Classes Address
Plot No-N-6-325, Biju Patnaik College Road,  Infront of SBI, Jayadev Vihar, Bhubaneswar
Website: www.bidyasagar.com
Opening and closing hours: Monday to Sunday :7AM-9PM
 -Mail : bidyasagar.classes@gmail.com
Contact No. : 8917265768; 9337421183, 8093021183