Important Daily Current Affairs of 3rd Dcember 2021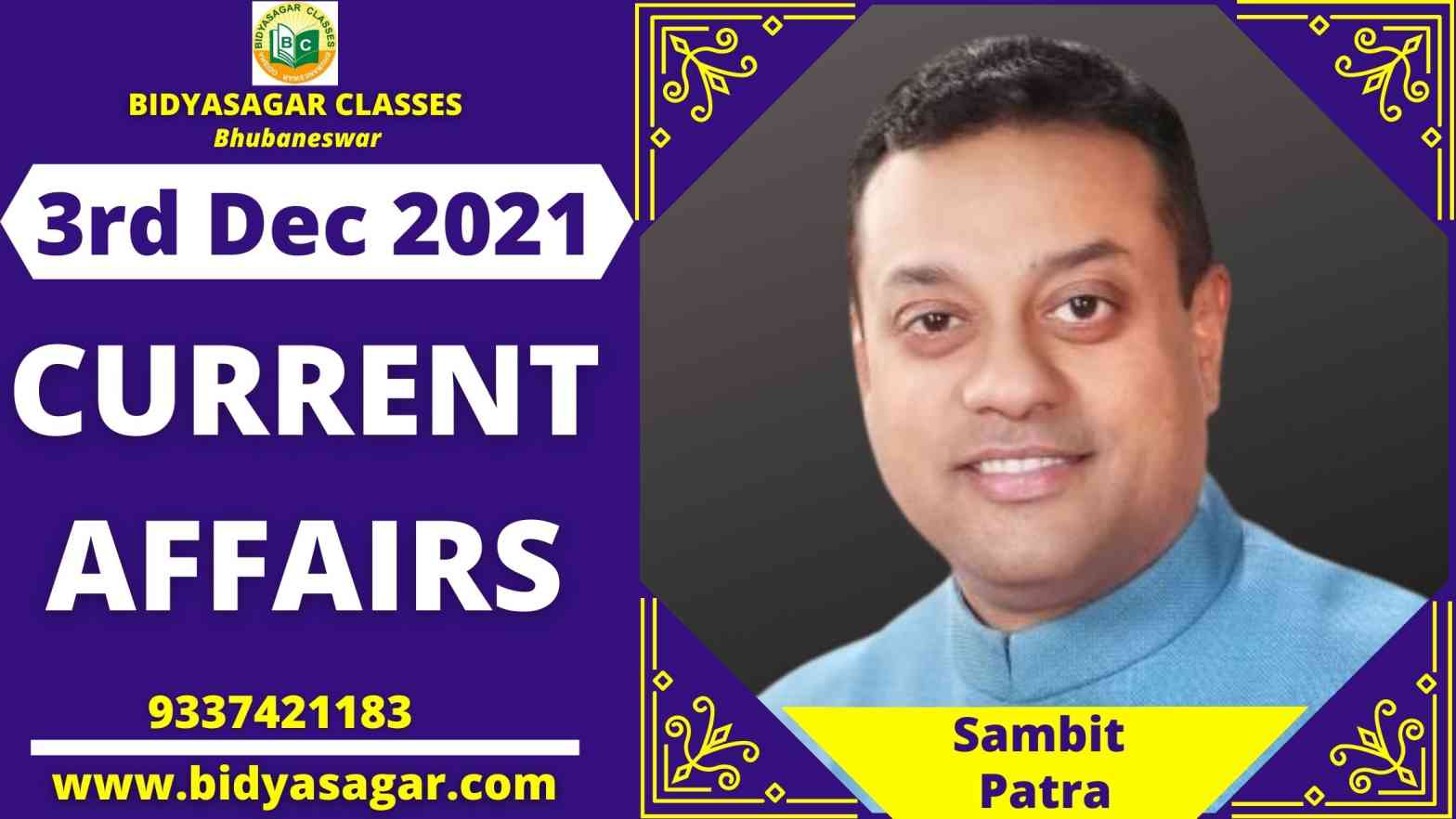 In this article, we will discuss all the important current affairs of 3rd Dcember 2021 in detail.
---
National
---
1. PM Modi launched the 'InFinity Forum' on fintech, which would bring together over 70 countries.
Prime Minister Narendra Modi used a virtual conference to launch a leadership forum on financial technology (FinTech). The summit is in its inaugural year.
The summit was attended by more than 70 countries, with Indonesia, South Africa, and the United Kingdom serving as partner countries.
---
International News
---
2. India has joined the G20's Troika, which also includes Indonesia and Italy.
India became a member of the G20's 'Troika.' India has begun the process of assuming the G20 chairmanship next year with this action.
The term "troika" refers to the G20's highest grouping, which includes the current, prior, and upcoming presidents — Indonesia, Italy, and India.
3. Bangladesh and the United States have begun a bilateral maritime drill. CARAT
In the Bay of Bengal, a nine-day joint maritime exercise between Bangladesh and the United States (US) has begun.
The bilateral exercise, which is part of the 27th annual Cooperation Afloat Readiness and Training (Carat), demonstrates the two countries' capabilities to collaborate in order to preserve a free and open Indo-Pacific.
---
Banking & Finance News
---
4. Federal Bank introduces a new women-only scheme with a variety of benefits.
Federal Bank, a private sector lender, has introduced a feature-rich savings bank product for women.
Mahila Mitra Plus is the name of the savings system, which offers a tailored set of features aimed at making financial planning and investing simple for women.
5. Paytm and the Ministry of Skill Development have signed an agreement to teach young people in fintech.
Paytm, a digital payment business, will teach 6000 people over the course of three years to prepare them for careers in the fintech sector. The Ministry of Skill Development and Entrepreneurship's Directorate of General Training (DGT) and the IT company have signed a Memorandum of Understanding (MoU) to that effect.
Paytm devised the six-month training programme in cooperation with the DGT.
6. For co-lending to farmers, SBI has partnered with Adani Capital.
The State Bank of India (SBI) and Adani Capital Private Ltd (Adani Capital), the Adani Group's NBFC arm, have signed a deal for co-lending to farmers for the purchase of tractors and farm tools.
With this agreement, SBI would be able to reach out to farmers in the country's inner hinterlands who are interested in adopting farm mechanisation to boost crop yield.
7. Worldline has partnered with Kotak Mahindra Bank to provide EMIs on its debit cards.
Kotak Mahindra Bank, a private sector lender, has established a partnership with Worldline, a payment and transactional service provider based in Europe, to enable EMI payments using Kotak debit cards in India.
Over five million qualified Kotak debit card customers will be able to pay for their purchases in convenient instalments using Worldline POS (point of sale) terminals as a result of this.
8. West Bengal has received a $135 million loan from the World Bank to modernise its rural power distribution system.
West Bengal has received a USD 135 million loan from the International Bank for Reconstruction and Development (IBRD) to improve the operational efficiency and reliability of electricity supply in a few areas of the state.
The variable spread loan, also known as a floating interest loan, will have a 17-year maturity with a seven-year grace period, with the goal of strengthening distribution networks, investing in smart-grid technology, and ensuring the state discom's financial viability.
---
Business & Economy News
---
9. India's unemployment rate increased to 9.3% in January-March 2021.
According to a periodic labour force survey conducted by the National Statistical Office, the urban unemployment rate increased to 9.3 percent in January-March 2021 from 9.1 percent the previous year (NSO).
While the current unemployment rate of 9.3% is down than the peak of 20.8 percent in the April-June quarter of last year, it is still higher than pre-Covid levels.
10. According to S&P, India's GDP growth forecast for FY22 remains steady at 9.5 percent.
In a note, S&P Global Ratings said it had left India's economic growth forecast for the fiscal year ending March 2022 steady at 9.5 percent, but upped its forecasts for the next year as the recovery broadens.
As a result of pandemic-related limitations, the Indian economy shrank by 7.3 percent in the fiscal year 2020-21 (April 2020 to March 2021).
---
Appointments News
---
11. ITDC Chairman Sambit Patra, a BJP spokesperson, has been appointed.
Sambit Patra, the BJP's national spokesperson, has been named Chairman of the India Tourism Development Corporation (ITDC).
Dr. Sambit Patra has been appointed as a Part-Time Non Executive Director and Chairman of ITDC for a period of three years, or until further orders, whichever comes first.
12. Naomi Kawase, a film director, has been awarded a UNESCO Goodwill Ambassador.
According to Japan's permanent representative to the United Nations, director Naomi Kawase, who has won multiple Cannes honours, has been elected UNESCO goodwill ambassador, making her the first Japanese woman to hold this position.
Kawase, 52, was chosen for the role because of her cinematic work focusing on the lives of women throughout generations. She is the fifth Japanese to be nominated for the role. She should use this position to advocate for gender equality in the cultural sector.
13. Gita Gopinath, the International Monetary Fund's No. 2 official, is scheduled to succeed Geoffrey Okamoto as the institution's No. 2 official. When a woman holds the first two posts at the International Monetary Fund, it will be a watershed moment in history.
The IMF has made certain adjustments to the top management team's positions and responsibilities. For the first time, they introduced a deputy managing director, and it was given to the first female, Indian-born economist Gita Gopinath..
---
Awards & Honours News
---
14. IFFCO is ranked first among the world's top 300 cooperatives.
The Indian Farmers Fertiliser Cooperative Limited (IFFCO) has been named the "number one Cooperative" among the world's top 300 cooperatives, retaining its status from the previous year.
The ranking is determined by the ratio of turnover to gross domestic product (GDP) per capita, according to the statement. It means that IFFCO is making a major contribution to the country's GDP and economic growth.
15. HP Police is now India's eighth state police force to receive the President's Colour Award.
Himachal Pradesh Police held a 'President's Colour Award' ceremony atop The Ridge, with state governor Rajendra Vishwanath Arlekar as the principal guest and chief minister Jai Ram Thakur as a special guest.
The governor bestowed the 'President's Colour Award' to the state police, which was accepted by HP director general of police Sanjay Kundu.
---
Important Days
---
16. International Day of Persons with Disabilities is celebrated on December 3rd.
Every year on December 3, the International Day of Persons with Disabilities, also known as World Handicapped Day, is observed around the world with the goal of promoting the rights and well-being of people with disabilities in all aspects of society.
The United Nations General Assembly Resolution 47/3 established this annual commemoration in 1992 with the goal of raising awareness of the difficulties faced by people with disabilities in all aspects of political, social, economic, and cultural life.
Bidyasagar Classes Address
Plot No-N-6-325, Biju Patnaik College Road,  Infront of SBI, Jayadev Vihar, Bhubaneswar
Website: www.bidyasagar.com
Opening and closing hours: Monday to Sunday :7AM-9PM
 -Mail : bidyasagar.classes@gmail.com
Contact No. : 8917265768; 9337421183, 8093021183