Important Daily Current Affairs of 3rd November 2021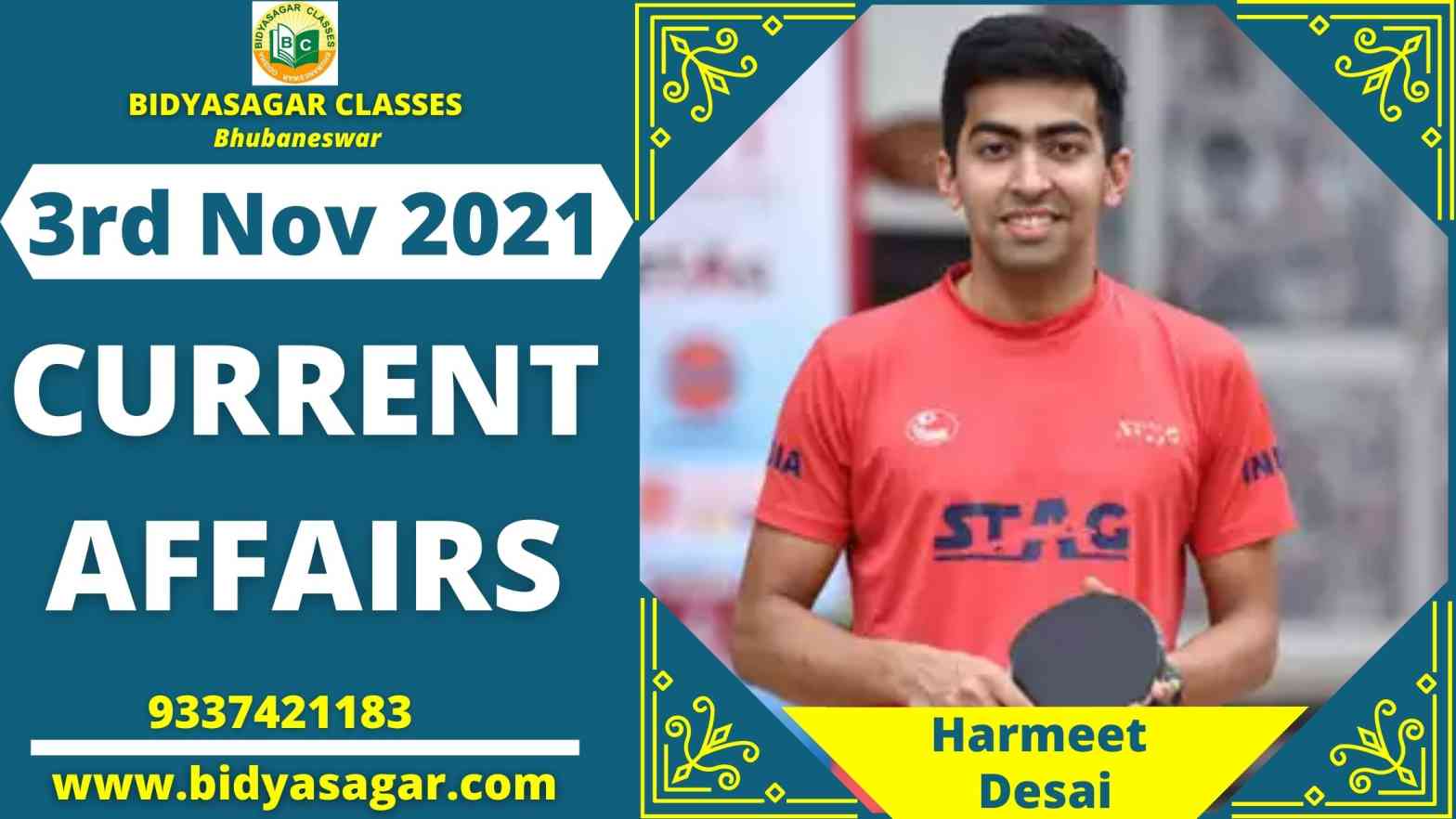 In this article, we will discuss all the important current affairs of 3rd November 2021 in detail.
---
National
---
1. The Edelgive Hurun India Philanthropy List 2021 is topped by Azim Premji.
The EdelGive Hurun India Philanthropy List 2021 was topped by Azim Premji, the founder-chairman of Wipro Ltd.
The 76-year-old philanthropist made the greatest gift of Rs 9,713 crore to philanthropic causes between April 2020 and March 2021, retaining the top spot for the second year in a row.
2. On November 13, 2021, President Ramnath Kovind will present the National Sports Awards.
On November 2, 2021, the Ministry of Youth Affairs and Sports announced the National Sports Awards for the year 2021.
The winners will be honoured by India's President, Shri Ramnath Kovind, on November 13, 2021.
3. The Home Minister has launched the 'Ayushmaan CAPF' health card, which will cover all CAPF employees and their dependents.
In New Delhi, Home Minister Amit Shah introduced the national 'Ayushmaan CAPF' Scheme health cards. The scheme was started by the Home Minister handing over the Ayushmaan card to a member of the staff.
He also presented the Director General, National Security Guard, NSG, with 'Ayushmaan CAPF' Scheme health cards for distribution to NSG personnel.
4. At Kevadiya Railway Station, Indian Railways plans to build an art gallery with a souvenir shop.
Under a Public-Private Partnership, Indian Railways will build an Art Gallery with a Souvenir Shop at Kevadiya Railway Station. This art gallery displays various Gujarati and Indian art and craft genres. The Western Railway's Vadodara Division has been granted the first contract of its sort in Indian Railways for the building of an art gallery with a souvenir shop.
A private entity will create and operate this Art Gallery, which would generate 24.7 lakh rupees in revenue for the Railways and a potential revenue of 2.83 crore rupees.
---
Banking & Finance News
---
5. IREDA launches a "whistleblower" platform to combat fraud and power abuse.
As part of 'Vigilance Awareness Week 2021,' the Indian Renewable Energy Development Agency (IREDA), a PSU under the Ministry of New and Renewable Energy, unveiled a 'whistle-blower Portal' on Tuesday.
Employees of the IREDA can utilise this portal to report concerns about fraud, corruption, and power abuse, among other things. The portal was created by the company's IT department.
6. Bandhan Bank has been approved as a 'agent bank' by the RBI to do government business.
Bandhan Bank has been approved as an agency bank by the Reserve Bank of India (RBI) to conduct government business.
With this, the bank joins a select group of scheduled private sector banks that have been appointed as RBI agency banks.
7. Bank of Baroda signed a Memorandum of Understanding with NCDEX e-Markets.
Bank of Baroda has agreed to become a "clearing bank" for financial transactions in the NeML market place and procurement/auction platform, according to a Memorandum of Understanding (MoU) signed with NCDEX e Markets Ltd (NEML).
Through its extensive network, the bank will collaborate with agriculture marketing federations and other procurement organisations around the country to expand its footprint in agri e-commerce.
8. On YONO, SBI has launched a pre-approved 2-wheeler loan called 'SBI Easy Ride.'
State Bank of India (SBI), the country's largest lender, has announced the launch of a pre-approved 2-wheeler lending scheme called 'SBI Easy Ride' through YONO.
SBI clients who are eligible can apply for end-to-end digital two-wheeler loans through the YONO app instead of visiting a bank branch.
9. ICICI Lombard joins together with Vega Helmets to promote road safety.
To raise road safety awareness and instil the habit of protection, ICICI Lombard General Insurance Company has partnered with Vega Helmets to provide a personal accidental policy with every online purchase of a Vega Helmet.
Individuals will be covered for accidental death through a personal accident insurance policy with a sum insured of 1 lakh INR.
10. The Niti Aayog and the World Bank have teamed up to promote electric vehicle finance.
After high-street banks were lukewarm due to a tiny resale market, greater default probability, and hefty upfront expenses, Niti Aayog and the World Bank teamed up to enable a scheme for faster and easier financing of electric cars (EV).
The two companies are putting together a $300 million 'first loss risk sharing instrument,' with SBI serving as the programme manager. This facility would aim to raise $1.5 billion in funding for electric vehicles.
---
Business & Economy News
---
11. The Ministry of Defence has approved the purchase of weaponry and military equipment for Rs 7,965 crore.
According to an official announcement, the Defence Ministry has authorised the purchase of weaponry and military equipment for Rs 7,965 crore, including 12 light utility helicopters from Hindustan Aeronautics Limited.
The DAC approved the procurement of a Lynx U2 naval gunfire control system from Bharat Electronics Limited, which will improve the tracking and engagement capabilities of navy warships, in addition to authorising the plan to buy 12 helicopters.
12. IOC to build India's first mega-scale Maleic Anhydride Plant at Panipat State-owned Indian Oil Corp (IOC) said it will invest Rs 3,681 crore at its Panipat refinery and petroleum complex (PRPC) in Haryana to build India's first mega-scale Maleic Anhydride Plant to manufacture value-added chemical products.
Maleic Anhydride (MAH) is used to create specialty products such as polyester resins and surface coatings, plasticisers, agrochemicals, and lubricant additives, and the project is expected to have a capacity of 120,000 tonnes per year.
13. The Ministry of Rural Development has signed a Memorandum of Understanding with Flipkart to assist local companies and SHGs.
By incorporating local companies and self-help groups (SHGs), particularly those led by women, into the e-commerce fold, the Ministry of Rural Development has inked an MoU with Flipkart.
The relationship supports the goal of the Deendayal Antyodaya Yojana – National Rural Livelihood Mission (DAY-NRLM), which is to promote rural communities' self-employment and entrepreneurship capacity.
---
Appointments News
---
14. Mr. Arun Chawla has been named as the new Director General of the Federation of Indian Chambers of Commerce and Industry (FICCI). Mr. Arun Chawla will take on the new position immediately.
Mr Chawla became a member of FICCI in 2001 and is now the Deputy Secretary General.
---
Sports News
---
15. G Sathiyan and Harmeet Desai of India win the WTT Contender Tunis men's doubles title.
G.Sathiyan and Harmeet Desai of India won their first international title by winning the men's doubles title at the World Table Tennis Contender Tunis, defeating France's Emmanuel Lebesson and Alexander Cassin 11-9, 4-11, 11-9, 11-6 in the final.
The Indian team won the opening game, but then lost steam, allowing the French team to tie the match.
---
Awards & Honours News
---
16. The National Sports Awards for 2021 have been revealed.
The National Sports Awards 2021 have been announced by the Ministry of Youth Affairs and Sports to recognise and reward excellence in sports.
On November 13, 2021, the honorees will be presented with their awards by the President of India at a specially prepared occasion in the Darbar Hall of Rashtrapati Bhavan.
Important Points to Remember
The Major Dhyan Chand KhelRatna Award will be handed to 12 athletes in 2021.
For exceptional performance in Sports and Games 2021, 35 athletes will win Arjuna Awards.
---
Books & Authors News
---
17. Subhadra Sen Gupta's book "The Story Of The First Civilizations From Mesopotamia To The Aztecs"
Award-winning author Subhadra Sen Gupta, who died this year from Covid-19, wrote a posthumous book that teaches youngsters about ancient civilisations from around the world – Mesopotamia, Egypt, the Indus Valley, China, Greece, Rome, the Americas, and Africa – in an entertaining way.
Speaking Tiger's 'Talking Hub' imprint published "The Story of the First Civilizations: From Mesopotamia to the Aztecs."
---
Obituary News
---
18. Former Afghan Prime Minister Ahmad Shah Ahmadzai has died at the age of 78.
Ahmad Shah Ahmadzai, the former Afghan Prime Minister, has died. He was 78 years old at the time.
From 1995 to 1996, he was the acting Prime Minister of Afghanistan.
Bidyasagar Classes Address
Plot No-N-6-325, Biju Patnaik College Road,  Infront of SBI, Jayadev Vihar, Bhubaneswar
Website: www.bidyasagar.com
Opening and closing hours: Monday to Sunday :7AM-9PM
 -Mail : bidyasagar.classes@gmail.com
Contact No. : 8917265768; 9337421183, 8093021183