Important Daily Current Affairs of 5th Dcember 2021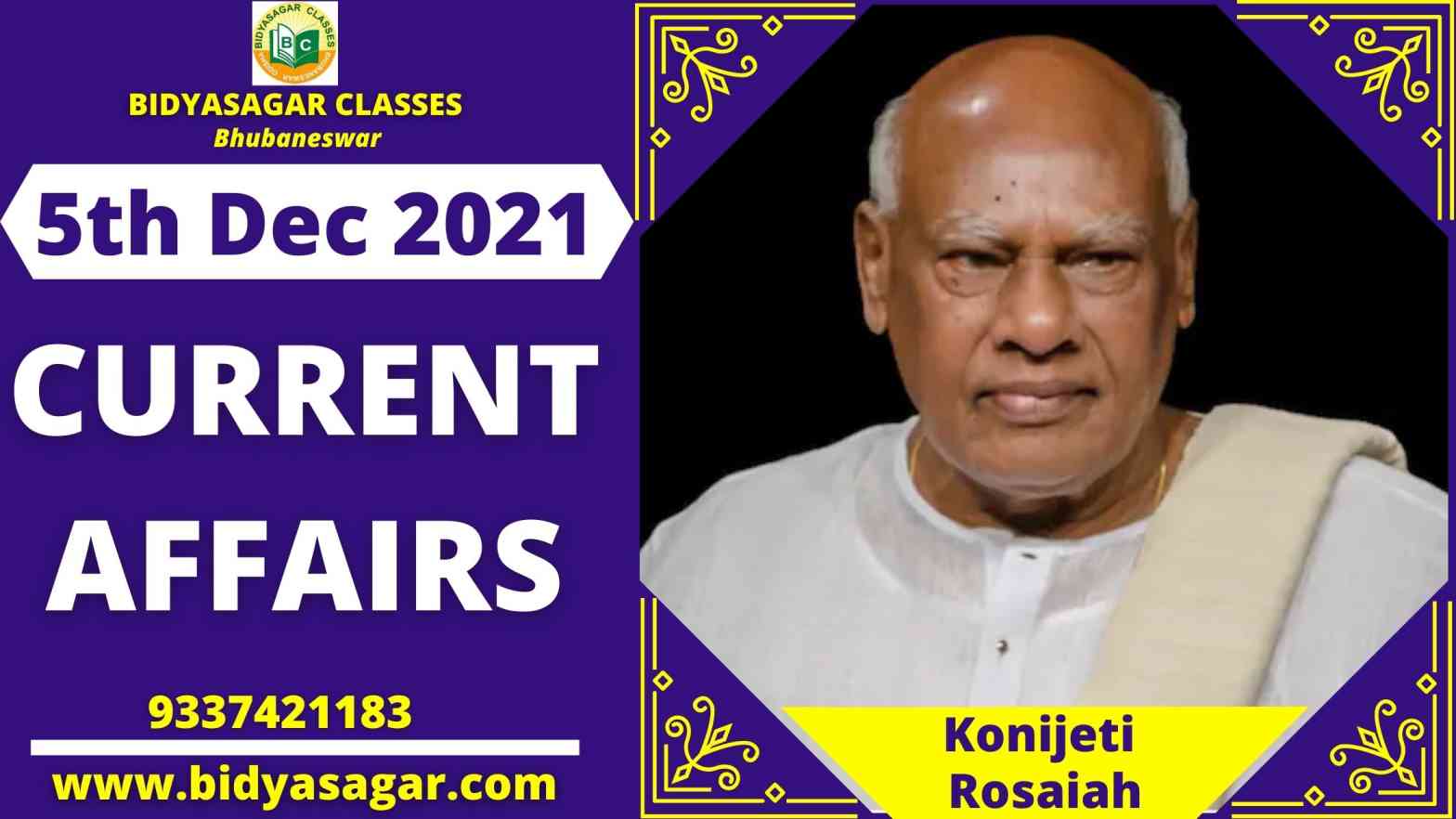 In this article, we will discuss all the important current affairs of 5th Dcember 2021 in detail.
---
National
---
1. The Earth Station of Doordarshan Kendra in Gorakhpur was launched by UP Union Minister of Information and Broadcasting Anurag Singh Thakur and UP Chief Minister Yogi Adityanath.
This will be Doordarshan's second earth station in Uttar Pradesh, and it will cost Rs. 7 crores to construct. Three All India Radio FM stations were also virtually inaugurated on the occasion.
2. The deadline for completing the Smart Cities Mission has been extended to June 2023.
Due to the COVID-19-induced slowness and other circumstances, the Ministry of Housing and Urban Affairs (MoHUA) has extended the deadline for the Smart Cities Mission (SCM) implementation for all 100 participating cities until June 2023.
The Mission was established in the fiscal year 2015-16, with a five-year goal of FY2019-20.
---
International News
---
3. India achieves its goal of 40% non-fossil fuel power generation.
The administration stated it had already achieved 40% of Prime Minister Narendra Modi's target of 500 GW of installed energy capacity from non-fossil fuel sources by 2030, which he announced during the COP26 Climate Conference.
According to the government, the country's installed Renewable Energy (RE) capacity is currently at 150.05 GW, with nuclear energy-based installed capacity at 6.78 GW.
4. India and the European Union have agreed to strengthen their renewable energy and climate cooperation till 2023.
India and the EU have agreed on a detailed work plan to implement the 2016 EU-India Clean Energy and Climate Partnership until 2023, with an emphasis on boosting technical collaboration in the areas of energy efficiency, renewable energy, International Solar Alliance cooperation, and green hydrogen.
India and the EU will conduct additional studies, study visits, and joint workshops as part of their increased partnership, exchanging expertise and best practises in these areas.
---
Banking & Finance News
---
5. Paytm Money has launched a platform for HNI investors called Portfolio Management Services.
Paytm Money, a wholly-owned subsidiary of the digital payments platform Paytm, has established a Portfolio Management Services (PMS) Marketplace for HNI (High Networth Individuals) investors.
The marketplace was developed in collaboration with PMS Bazaar, a PMS advisory firm. The website intends to provide HNI investors with a transparent and thorough analysis of all PMS programmes.
6. The Asian Development Bank has approved a $500 million loan to improve school education quality.
The Asian Development Bank (ADB) has authorised a $500 million loan to India's government to help boost school instruction and minimise the effects of the Covid-19) outbreak on pupils' learning.
The loan will help the Ministry of Education (MOE) implement the Integrated Scheme for School Education (Samagra Shiksha) and the new Exemplar School Initiative to improve education quality by focusing on inclusive and equitable learning outcomes.
7. JFPR awards ADB a Rs 15 crore grant for the use of primary healthcare in India's cities.
The Asian Development Bank (ADB) has received a grant from the Japan Fund for Poverty Reduction (JFPR) worth roughly Rs 15 crore, which will be used to improve access to primary healthcare in India's cities.
A USD 2 million (almost Rs 15 crore) technical assistance (TA) grant has been authorised by the Japan Fund for Poverty Reduction (JFPR) to offer crucial technical support to an ADB-financed programme.
According to the ADB, it intends to strengthen India's comprehensive primary health care (CPHC) system in urban areas.
---
Business & Economy News
---
8. DBS lowers India's GDP prediction for FY2023 by 100 basis points to 7%.
DBS has raised India's growth prediction for FY23 from 6% to 7% year-on-year (y-o-y) (CY2022 6.5%), up from 6% previously.
India's full-year FY22 estimate was kept at 9.5 percent year-on-year by the MNC bank. India's recovery is becoming more broad-based, according to the report, as the number of Covid cases declines.
---
Appointments News
---
9. Pradip Shah, the creator of IndAsia Fund Advisors, has been named chairman of the National Asset Reconstruction Company, while Sanjay Jain has been named IDRCL's new CEO (NARCL).
Shah, a Harvard MBA and chartered accountant, is credited with founding India's first and largest home finance company, HDFC, as well as the credit rating agency Crisil.
10. Sambit Patra, a Bharatiya Janata Party (BJP) spokesperson and leader, has been named as the new Chairman of the India Tourism Development Corporation. The Appointment Committee of Cabinet named Sambit Patra as Chairman and part-time Non-Executive Director of India Tourism Development Corporation (ITDC) for the next three years.
Sambit Patra was previously employed as an independent director of the Oil and Natural Gas Corporation (ONGC).
---
Awards & Honours News
---
11. Ratan Tata will get Assam's highest civilian honour.
Ratan Naval Tata, Olympian Lovlina Borgohain, and a number of other people from other areas will receive the state's highest civilian honours from the Assam government.
Assam Chief Minister Dr. Himanta Biswa Sarma said that the state government has decided to give 19 individuals the Assam Baibhav, Assam Saurav, and Assam Gaurav Awards, 2021, on January 24, 2022.
12. Two UNESCO Asia-Pacific Awards for Cultural Heritage Conservation 2021 were given to Delhi's Nizamuddin Revival Project.
The UNESCO Asia-Pacific Awards for Cultural Heritage Conservation 2021 have awarded the Nizamuddin Revival Project, India's project on the holistic urban revitalisation of the historic Nizamuddin Basti community in New Delhi, under two categories: Award of Excellence and Special Recognition for Sustainable Development.
---
Obituary News
---
13. Konijeti Rosaiah, the former chief minister of Andhra Pradesh, died in Hyderabad.
Konijeti Rosaiah, the former Governor of Tamil Nadu and former Chief Minister of the combined State of Andhra Pradesh, died in Hyderabad at the age of 89.
Rosaiah has served in the legislature as an MLA, MLC, and Lok Sabha member. In the cabinets of Kotla Vijayabhaskhara Reddy, Channa Reddy, and YS Rajasekhara Reddy, he held various major portfolios, including finance, transportation, and energy.
---
Important Days
---
14. World Soil Day is celebrated on December 5th.
Every year on December 5th, World Soil Day (WSD) is commemorated to raise awareness about the importance of healthy soil and to advocate for the long-term management of soil resources.
The FAO Conference unanimously adopted World Soil Day in June 2013. It was also formally adopted at the United Nations General Assembly's 68th session. As a result, World Soil Day was officially observed for the first time on December 5, 2014.
15. International Volunteer Day is celebrated on December 5th.
Every year on December 5th, International Volunteer Day or International Volunteer Day for Economic and Social Development is observed around the world to honour and promote the tireless efforts and contributions of volunteers all over the world.
"Volunteer today for our common future," is the theme for 2021.
Bidyasagar Classes Address
Plot No-N-6-325, Biju Patnaik College Road,  Infront of SBI, Jayadev Vihar, Bhubaneswar
Website: www.bidyasagar.com
Opening and closing hours: Monday to Sunday :7AM-9PM
 -Mail : bidyasagar.classes@gmail.com
Contact No. : 8917265768; 9337421183, 8093021183