Important Daily Current Affairs of 6th Dcember 2021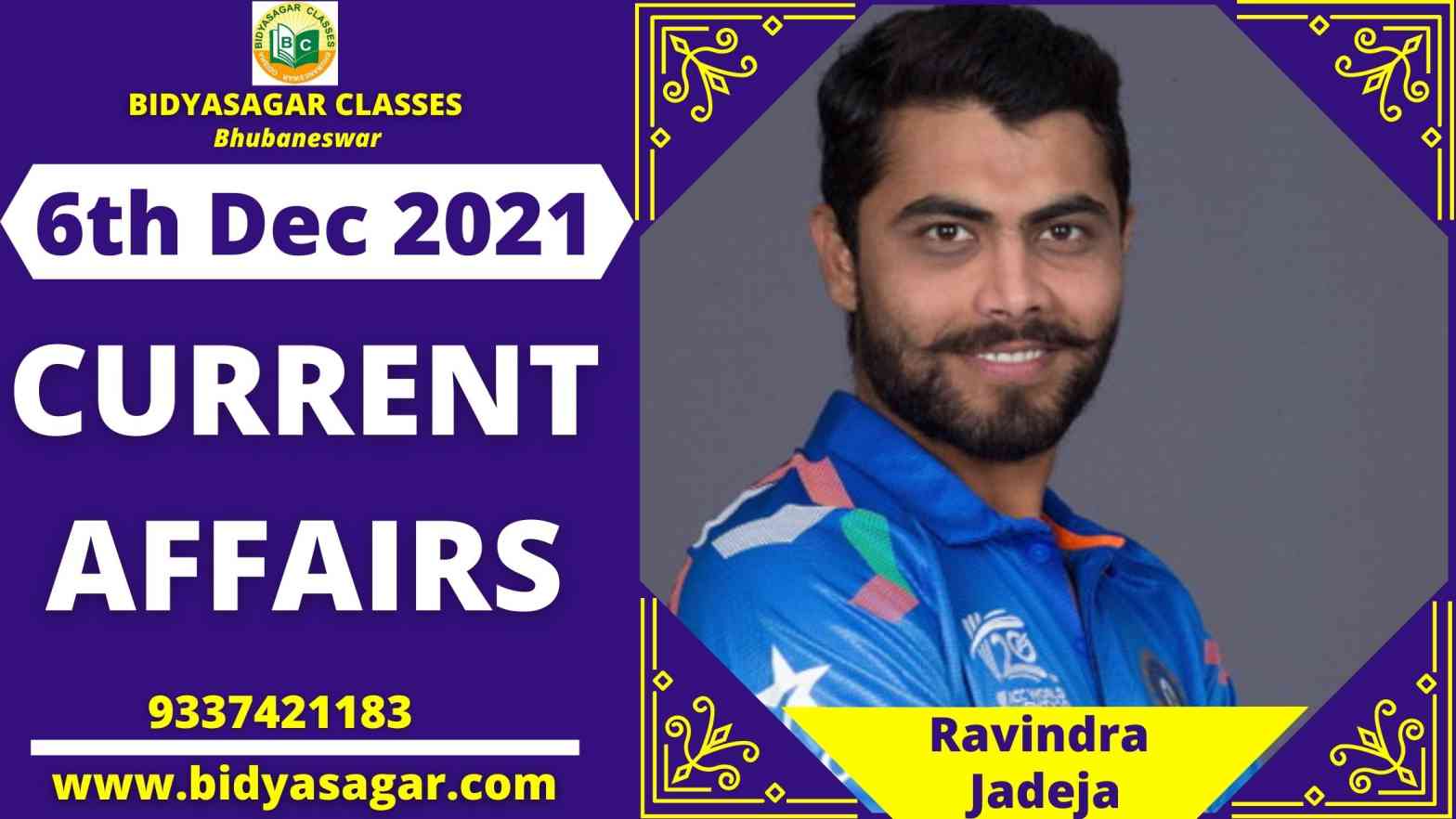 In this article, we will discuss all the important current affairs of 6th Dcember 2021 in detail.
---
National
---
1. Union Agriculture Minister tells that Rs 1 lakh 60 thousand crore has been distributed directly to farmers under the PM-KISAN scheme.
So far, one lakh 60 thousand crore rupees has been deposited directly to farmers' bank accounts under the Pradhan Mantri Kisan Samman Nidhi (PM-KISAN) Scheme, according to Union Agriculture Minister Narendra Singh Tomar.
Mr Tomar said the money has been distributed to the 11 crore 50 million qualified beneficiaries covered by the plan in response to a query in the Rajya Sabha.
2. The Department of Posts has issued a commemorative postage stamp to commemorate the Mahindra Group's 75th anniversary.
Devusinh Chauhan, Minister of State for Communications, presented a special postage stamp commemorating the Mahindra Group's 75th anniversary.
Chauhan asked the group to work with the postal service to improve social service delivery in rural areas.
3. The deadline for implementing the Smart Cities Mission has been extended to June 2023 by the Centre.
Due of the Covid epidemic and other factors, the Union Housing and Urban Affairs Ministry has extended the deadline for implementing the Smart Cities Mission until June 2023.
The communities were supposed to finish their initiatives within five years of being chosen for the Smart Cities Mission, according to an earlier deadline.
4. Sergei Lavrov, the Russian Foreign Minister, is in Delhi.
Sergey Lavrov, the Russian Federation's Minister of Foreign Affairs, arrives in New Delhi for an official visit.
He will meet with S Jaishankar, the Minister of External Affairs. The two ministers will hold a joint press conference later in the day.
5. Defence Minister Rajnath Singh says the government wants to reach a target of Rs 35,000 crore in defence exports by 2024-25.
The government's goal, according to Defence Minister Rajnath Singh, is to reach a defence export target of 35,000 crore rupees by 2024-25.
Mr Singh stated that increasing Indian exports is the government's top objective. India, he argued, should become a net exporter rather than a net importer.
---
International News
---
6. In Abu Dhabi, EAM S Jaishankar speaks at the 5th Indian Ocean Conference.
In a globalised world, External Affairs Minister Dr S Jaishankar has emphasised the need of preserving and promoting freedom of navigation and overflight, as well as unrestricted commerce. He made the remarks while speaking at the sixth Indian Ocean Conference in Abu Dhabi, United Arab Emirates.
"Indian Ocean: Ecology, Economy, Epidemic" is the topic of the Indian Ocean Conference 2021. Senior officials from Indian Ocean littoral countries will discuss regional challenges in pre-conference seminars and plenary sessions over two days, according to the India Foundation.
---
Banking & Finance News
---
7. KreditBee and Mswipe have teamed up to offer 'cardless EMI' at retail establishments.
KreditBee, a fintech loan platform, has partnered with Mswipe to offer totally digital 'cardless EMI' at major retailers. KreditBee hopes to extend its offline presence and enable monthly transactions of more over 5 crore through this cooperation.
KreditBee will offer 'pay later' alternatives for purchases of up to $100,000, which may be turned into EMIs ranging from 3 to 12 months under the 'cardless EMI' programme. Customers can shop from over two lakh Mswipe-affiliated merchant stores.
8. The first Nifty Alpha 50 ETF in India has been launched by Kotak Mahindra Mutual Fund.
The Nifty Alpha 50 Index analyses the performance of 50 stocks with high alphas over the past year, and Kotak Mahindra Asset Management Company Ltd has established India's first exchange-traded fund (ETF) based on it.
Alpha, sometimes known as 'excess return,' is a phrase that refers to a stock's return that is more or lower than the market's demand for its risk class.
---
Business & Economy News
---
9. Gujarat has surpassed Maharashtra as India's most important industrial centre.
According to figures issued by the Reserve Bank of India, Gujarat has pipped Maharashtra to become the country's largest manufacturing hub, with the former's Gross Value Addition (GVA) in manufacturing expanding 15.9% yearly on average between FY12 and FY20 to reach Rs 5.11 lakh crore (RBI).
During this time, Maharashtra's yearly growth rate was 7.5 percent, bringing the state's total manufacturing GVA to Rs 4.34 lakh crore in FY20. It maintains its position as the country's largest services centre.
---
Appointments News
---
10. Ravindra Jadeja joins Kinara Capital as a brand ambassador.
On the occasion of the company's tenth anniversary, Kinara Capital, an innovative fast-growing fintech serving India's MSMEs, announced today that it has hired Ravindra Jadeja, the bright star of the Indian cricket team, as its official brand ambassador.
Kinara hopes to expand its presence in the country's MSME sector with this relationship. Kinara Capital, which now has an AUM of INR 1000 crores, intends to increase 500 percent by 2025.
---
Sports News
---
11. Ajaz Patel of New Zealand makes history by being only the third bowler in Test cricket history to take all ten wickets in an innings.
Left-arm spinner Ajaz Patel made history by capturing all ten wickets in an innings in the second Test between India and New Zealand, becoming only the third bowler to do it after Jim Laker and Anil Kumble.
At Wankhede Stadium, he removed all ten Indian batters in the first innings. As India were bowled out for 325, Patel completed with statistics of 10/119.
12. Ananya Bansal of India takes silver in the Asia Youth Paralympic Games in Bahrain.
At the Asia Youth Paralympic Games in Manama, Bahrain, India's Ananya Bansal earned the country's first silver medal in shotput in the F-20 category.
Ananya Bansal is an athlete with a learning disability. Ananya's performance in the showpiece event was praised by Deepa Malik, the President of the Indian Paralympic Committee.
---
Awards & Honours News
---
13. ESAF Bank is honoured at the 2021 Global SME Finance Awards.
The Kerala-based ESAF Small Finance Bank Limited won an Honorable Mention in the SME Finance Forum's annual awards. In the category of Best Bank for Women Entrepreneurs, ESAF Small Finance Bank won an Honorable Mention.
The Global SME Finance Awards 2021 honour financial institutions and fintech firms that have excelled in providing superior services to small and medium-sized businesses.
14. Two UNESCO heritage awards have been given to the Nizamuddin Basti project.
A project on holistic urban revitalisation of Delhi's historic Nizamuddin Basti community has garnered India honours in two categories at this year's UNESCO Asia-Pacific Awards for Cultural Heritage Conservation, bringing India double joy.
According to the United Nations Educational, Scientific, and Cultural Organization (UNESCO), the initiative received the renowned Prize of Excellence as well as another award in the Special Recognition for Sustainable Development category.
---
Obituary News
---
15. Martin J Sherwin, a Pulitzer Prize-winning American scholar, has died.
Martin J Sherwin, a major atomic weapons expert who questioned support for the US bombing of Japan in A World Destroyed and spent more than two decades researching J. Robert Oppenheimer for the Pulitzer Prize-winning American Prometheus, has died. He was 84 years old when he died.
He was well known for his book American Prometheus, which won the Pulitzer Prize for Biography in 2005.
16. Konijeti Rosaiah, the former chief minister of Andhra Pradesh, has died in Hyderabad.
Konijeti Rosaiah, the former Governor of Tamil Nadu and the previous Chief Minister of the combined State of Andhra Pradesh, died in Hyderabad after a brief illness.
From 2009 to 2010, he was the 15th Chief Minister of Andhra Pradesh. Following the death of incumbent Y S Rajasekhara Reddy on September 3, 2009, Rosaiah was appointed Chief Minister.
17. Vinod Dua, a veteran journalist, died at the age of 67.
Vinod Dua, a veteran journalist, has died. He was 67 years old at the time.
In the mid-'70s, Vinod Dua, a pioneer in Hindi broadcast journalism, worked with Doordarshan to deliver the youth show Yuva Manch, and afterwards with a number of other television news networks. In 2008, he received the Padma Shri award.
---
Important Days
---
18. India and Bangladesh celebrated Maitiri Diwas on December 6th.
India and Bangladesh have chosen to commemorate December 6 as "Maitri Diwas," the day on which India formally acknowledged Bangladesh (Friendship Day).
On December 6, 1971, ten days before Bangladesh's freedom, India recognised Bangladesh. One of the earliest countries to establish diplomatic relations with Bangladesh was India.
19. Mahaparinirvan Diwas is celebrated on December 6th.
Every year on December 6, India commemorates Dr. Bhimrao Ramji Ambedkar's death anniversary, when he battled for the economic and social empowerment of Dalits in the country.
Every year on this day, millions of people visit Dr. Ambedkar's Samadhi in Mumbai, also known as Chaitya Bhoomi, to pay their respects to the father of the Indian Constitution.
Bidyasagar Classes Address
Plot No-N-6-325, Biju Patnaik College Road,  Infront of SBI, Jayadev Vihar, Bhubaneswar
Website: www.bidyasagar.com
Opening and closing hours: Monday to Sunday :7AM-9PM
 -Mail : bidyasagar.classes@gmail.com
Contact No. : 8917265768; 9337421183, 8093021183