Important Daily Current Affairs of 6th January 2022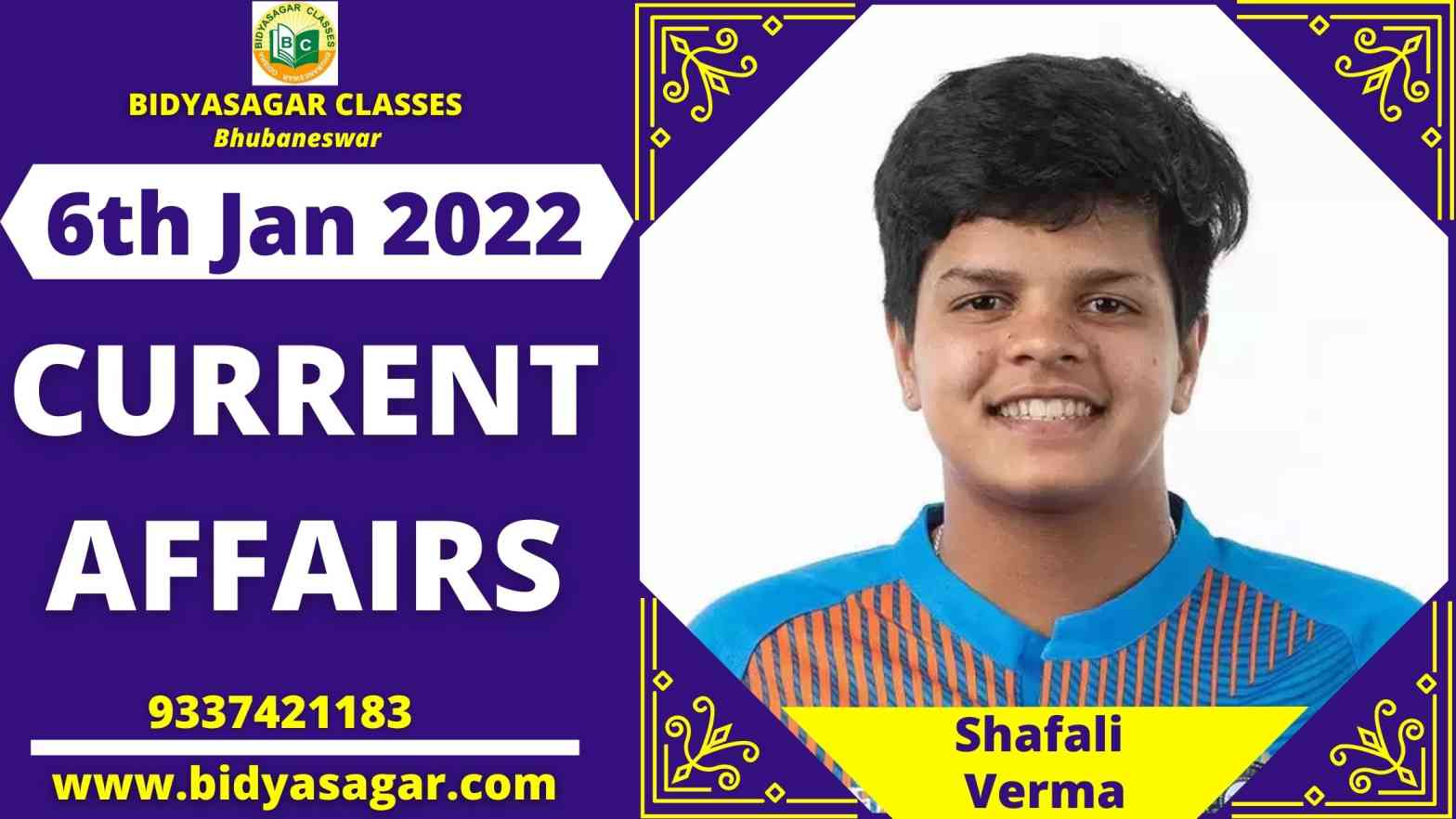 In this article, we will discuss all the important current affairs of 6th January 2022 in detail.
---
National
---
1. In Imphal, Manipur, Prime Minister Narendra Modi inaugurated and lay the foundation stone for development projects valued over Rs. 4800 crores.
Narendra Modi, India's Prime Minister, paid a visit to the states of Manipur and Tripura. In Imphal, Manipur, he inaugurated and laid the foundation stone for 22 development projects costing over 4800 crores.
The PM inaugurated 13 projects worth Rs 1850 crores in Manipur and laid the foundation stone for nine projects worth Rs 2950 crores.
2. Over 36 crores 70 million LEDs have been supplied across the country under the UJALA scheme, which has been running for seven years.
The Power Ministry celebrated 7 years of distributing and selling LED lights under its flagship Unnat Jyoti by Affordable LEDs for All (UJALA) programme on January 5, 2022.
With more than 36.78 crore LEDs supplied across the country, the UJALA effort is the world's largest zero-subsidy residential lighting scheme.
3. The Akshaya Patra Foundation and the World Food Programme collaborated to improve the PM POSHAN Scheme.
The World Food Programme (WFP) has worked with The Akshaya Patra Foundation (TAPF), a non-profit organisation, to improve the efficacy of the Pradhan Mantri – Poshan Shakti Nirman (PM POSHAN) scheme in India (earlier known as National Programme for Mid-Day Meal in Schools).
The partnership's goal is to improve food safety and hygiene projects, as well as the capacity of cooks-cum-assistants and the nutritional quality of school meals.
---
International News
---
4. Antigua and Barbuda become the 102nd member of the International Solar Alliance.
Antigua and Barbuda became the 102nd member of the International Solar Alliance (ISA) after joining the International Solar Alliance Framework Agreement, a worldwide green energy effort sponsored by India.
In the presence of Indian High Commissioner Dr. K. J. Srinivasa, Prime Minister Gaston Browne of Antigua and Barbuda signed a framework agreement to stimulate global energy transition through a solar-led approach.
---
Banking & Finance News
---
5. India's first cryptocurrency index, dubbed 'IC15,' was launched by CryptoWire.
To boost awareness on the cryptocurrency and blockchain ecosystem, CryptoWire, a worldwide crypto super app, published India's first index of cryptocurrencies, dubbed 'IC15.'
Bitcoin, Ethereum, Binance currency, Solana, Cardano, Ripple, Terra, Dogecoin, and Shiba inu will all be monitored.
6. Muthoot Vehicle & Asset Finance and Eko India Financial Services both had their authorisation certificates revoked by the RBI.
The Reserve Bank of India (RBI) has revoked the Certificates of Authorization (CoA) of two Payment System Operators (PSOs), Muthoot Vehicle & Asset Finance and Eko India Financial Services, for failing to meet regulatory standards.
The RBI revoked the CoA on December 31, 2021, using the powers granted to it under the Payment and Settlement Systems Act, 2007.
---
Appointments News
---
7. Shafali Verma has been recruited as a Bank of Baroda Brand Endorser.
Shafali Verma, an Indian women's cricketer, has been named the Bank of Baroda's (BoB) Brand Endorser.
Shafali became the youngest cricketer to play in a Women's Twenty20 International match for India in 2019, at the age of 15. Shafali Verma became the first woman to hit three sixes in a Test match in 2021.
8. The UN Counter-Terrorism Committee has a new chairperson, TS Tirumurti.
India's permanent representative to the United Nations, TS Tirumurti, has been appointed as the next Chair of the UN Counter-Terrorism Committee (CTC).
Tirumurti served as Secretary in the Ministry of External Affairs, handling the Economic Relations portfolio (which included, among other things, the Gulf and the Arab World, Africa, and India's Development Partnership) before taking up his current position as Permanent Representative of India to the United Nations in May 2020.
9. In the Ministry of Jal Shakti, Vini Mahajan was appointed Secretary.
Vini Mahajana was appointed Secretary in the Ministry of Jal Shakti's Drinking Water and Sanitation Department.
She was previously the Punjab Chief Secretary, which she left on June 26, 2020. She was also the Principal Secretary of the Department of Medical Education and Research, as well as the Punjab's Principal Secretary of Finance.
---
Science
---
10. Bharti Airtel and HCIPL have teamed to provide satellite broadband services.
Hughes Communications India Private Limited (HCIPL) and Bharti Airtel Limited have announced a joint venture (JV) to provide satellite broadband services in India.
The joint venture would be owned by HCIPL with a 67 percent stake and Airtel with a 33 percent stake.
---
Awards & Honours News
---
11. The first ever Guinness World Record in Numerology was set by JC Chaudhry.
JC Chaudhry, one of India's top numerologists, has set the first-ever Guinness World Record in Numerology, as well as the first world record for the year 2022, by educating around 6000 numerology enthusiasts from the United States, the United Kingdom, the Middle East, and India about ancient science.
For this achievement, the Guinness World Record London office has created a new category called "Numerology."
12. UiPath Automation Excellence Awards were given to South Indian Bank. 2021
South Indian Bank (SIB) was named Best Automation in the 'Crisis for Business Continuity' category at the UiPath Automation Excellence Awards 2021.
Individuals and organisations from India and South Asia (Sri Lanka, Bangladesh, and Nepal) have been recognised for their contributions to change through transformative automation projects in the 2021 edition of the award.
---
Books & Authors News
---
13. Jayanta Ghosal has written a new book called "Mamata: Beyond 2021."
"Mamata: Beyond 2021," written by political journalist Jayanta Ghosal and translated by Arunava Sinha, will be published by HarperCollins Publishers India.
Mamata Banerjee, the Chief Minister (CM) of West Bengal and the head of the Trinamool Congress (TMC) party, announced the book's release on her birthday, January 5, 2022.
---
Obituary News
---
14. Sindhutai Sapkal, a Padma Shri awardee and social worker, died.
In Pune, Maharashtra, renowned social worker and Padma Shri recipient Sindhutai Sapkal died at the age of 74.
She was dubbed the "mother of orphaned children" by the public. Around 1,500 children have been adopted by 'Maai' or Sindhutai Sapkal, who built the orphanage 'Sanmati Bal Niketan Sanstha'.
---
Important Days
---
15. 6 January is World War Orphans Day.
Every year on January 6th, the World Day of War Orphans is commemorated to raise awareness of the tragedy of children who have lost their parents as a result of violence.
The French organisation SOS Enfants en Detresses created the World Day of War Orphans to support children who have been orphaned by war.
Bidyasagar Classes Address
Plot No-N-6-325, Biju Patnaik College Road,  Infront of SBI, Jayadev Vihar, Bhubaneswar
Website: www.bidyasagar.com
Opening and closing hours: Monday to Sunday :7AM-9PM
 -Mail : bidyasagar.classes@gmail.com
Contact No. : 8917265768; 9337421183, 8093021183