Important Daily Current Affairs of 7th November 2021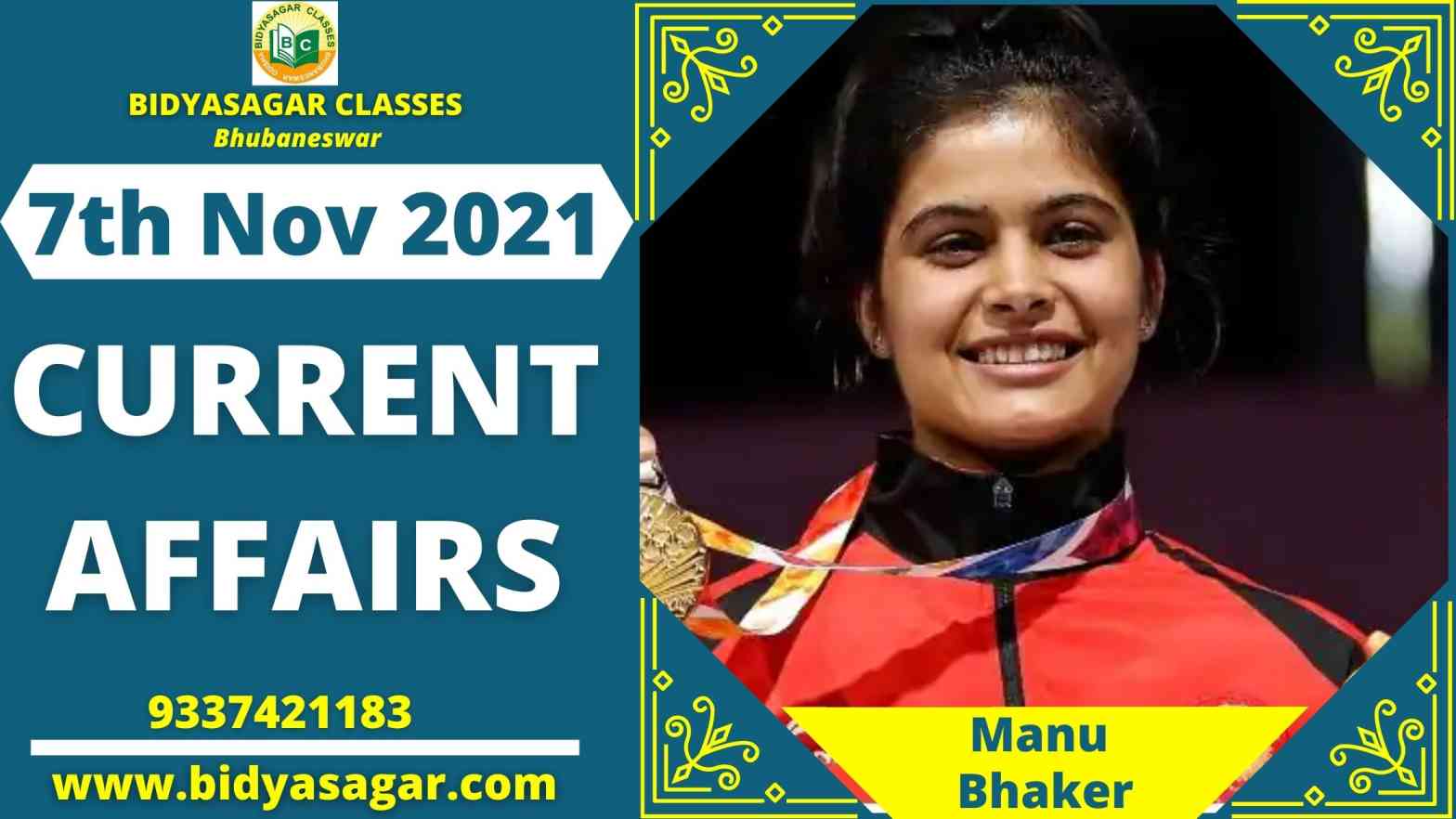 In this article, we will discuss all the important current affairs of 7th November 2021 in detail.
---
National
---
1. The Delhi Cabinet has approved a budget of Rs 1,544 crore to combat Covid-19.
Chief Minister Arvind Kejriwal said the Delhi Cabinet authorised a budget of Rs 1,544 crore under the Emergency COVID-19 Response Package to strengthen health services in preparation for a possible third wave.
The chief minister stated that the Delhi government is working hard to strengthen its health systems and preparation at all levels in anticipation of a probable COVID-19 wave.
---
International News
---
2. India and France have agreed to strengthen their defence and security cooperation.
India and France have committed to improve their defence and security collaboration by improving intelligence and information sharing, strengthening mutual capabilities, extending military drills, and pursuing new initiatives in the marine, space, and cyber sectors, among other things.
At a meeting of the India-France strategic dialogue in Paris, co-chaired by NSA Ajit Doval and Emmanuel Bonne, the French President's Diplomatic Advisor, the two countries agreed to strengthen defence ties.
3. India joins the COP26 Sustainable Agriculture Action Agenda.
At the end of the first week of the COP26 climate summit in Glasgow, India was one of 27 countries to sign up to a sustainable agriculture action plan, laying out new pledges to make farming more sustainable and less polluting.
The Sustainable Agriculture Policy Action Agenda for the Transition to Sustainable Agriculture and the Global Action Agenda for Agriculture Innovation' were among the highlight action pledges made by the participating countries at the United Nations Framework Convention on Climate Change's 26th Conference of Parties (COP26) (UNFCCC).
---
Sports News
---
4. Manika Batra and Archana Kamath of India win the women's doubles title at the WTT Contender tournament in Lasko.
Manika Batra and Archana Girish Kamath of India won the women's doubles title at the WTT Contender tournament in Lasko, Slovenia, in table tennis. The Indian duo defeated the Puerto Rican combo of Melanie Diaz and Adriana Diaz in straight sets, 11-3, 11-8, 12-10, at the Sports Hall Tri Lilije.
Manika Batra was awarded a bronze medal after losing to Wang Yidi of China in the women's singles semi-finals by a score of 2-4. Wang Yidi won 11-7, 7-11, 13-11, 10-12, 11-7, 11-5 vs Manika.
5. Manu Bhaker and Javad Foroughi won air pistol mixed team gold at the President's Cup shooting tournament.
Manu Bhaker won the mixed air pistol gold in the President's Cup shooting event in Wroclaw, Poland, with Olympic champion Javad Foroughi of Iran.
In the gold medal final, the Indo-Iranian team defeated France's Mathilde Lamolle and Russia's Artem Chernousov 16-8.
6. Rashid Khan becomes the youngest bowler in T20 history to take 400 wickets.
During his team's vital Super 12 match against New Zealand in Dubai, Afghanistan leg-spinner Rashid Khan became the youngest bowler to take 400 T20 wickets. In T20 cricket, Martin Guptill became Rashid's 400th victim.
Rashid joined an exclusive group of cricketers as he took his 400th wicket in the present T20 World Cup match between New Zealand and Afghanistan. After Dwayne Bravo (553), Sunil Narine (425), and Imran Tahir, he is the fourth bowler to reach the 400 mark (420).
---
Books & Authors News
---
7. Pradeep Magazine's book "Not Just Cricket: A Reporters Journey"
Pradeep Magazine will publish a book titled "Not only cricket: A Reporters Journey" in December 2021. It contains the journalist Pradeep Magazine's life experiences, social, political, and ups and downs of Indian cricket.
He wrote "Not quite cricket," a book that disclosed the match-fixing scam. Pradeep Magazine is a former sports editor of The Pioneer, India Today e-paper, and Hindustan Times, as well as a cricket writer and columnist.
---
Obituary News
---
8. Tarak Sinha, a well-known cricket coach, has died.
Tarak Sinha, a renowned cricket coach and Dronacharya Awardee, died in New Delhi after a protracted illness. He was 71 years old at the time.
In terms of coaching, he was a father figure who produced some of the country's best cricketers who dominated domestic and international cricket. Manoj Prabhakar, Raman Lamba, Ajay Sharma, Atul Wassan, Surinder Khanna, Sanjiv Sharma, Aakash Chopra, Anjum Chopra, Rumeli Dhar, Ashish Nehra, Shikhar Dhawan, and Rishabh Pant were all tutored by Tarak Sinha.
---
Important Days
---
9. November 7th is National Cancer Awareness Day.
Every year on November 7, India commemorates World Cancer Day to raise awareness about cancer prevention and early detection.
The day was first commemorated in 2014, and it commemorates the famed and recognised scientist Marie Curie's birth day.
Bidyasagar Classes Address
Plot No-N-6-325, Biju Patnaik College Road,  Infront of SBI, Jayadev Vihar, Bhubaneswar
Website: www.bidyasagar.com
Opening and closing hours: Monday to Sunday :7AM-9PM
 -Mail : bidyasagar.classes@gmail.com
Contact No. : 8917265768; 9337421183, 8093021183