Best Online/Offline NEET/Medical Coaching in BBSR
1-year COURSE is now available For Medical NEET/AIIMS Aspirants

New batch starts from 27th May  2022  onwards
Both offline and online classes are available For NEET ASPIRANTS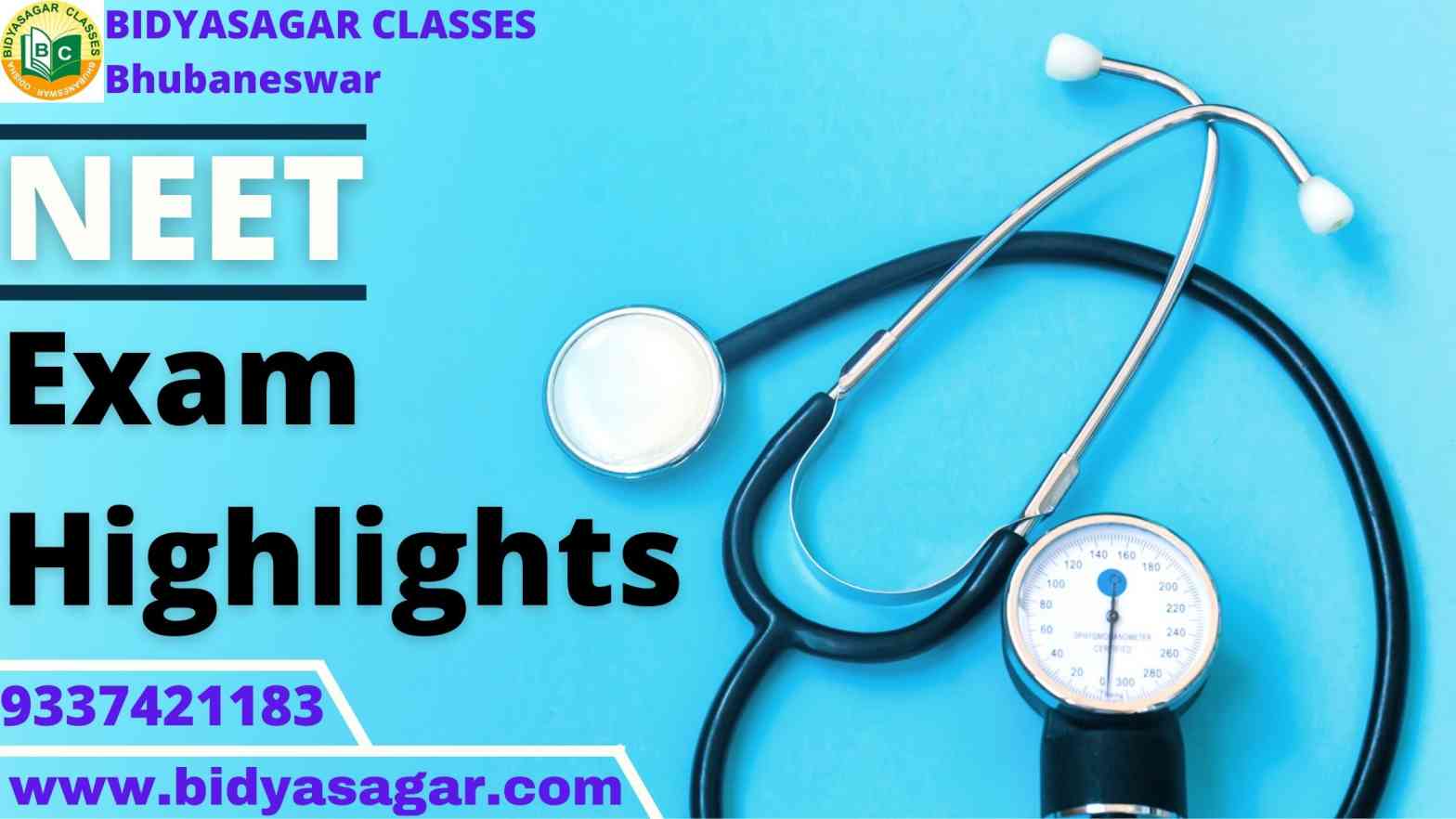 Bidyasagar Classes  is the heaven for students who seek extensive knowledge, targeted practice and perfection in performance in their Entrance preparation. We provide premier coaching to stand ahead in IIT JEE/ AIIMS/ NEET entrances. The guidance and teaching from genius faculty, potential discovery using learning-practice-analysis approach and motivating healthy environment let the aspirants start their sail in best wind.
Bidyasagar Classes  has so much to offer that if an aspirant put his/ her honest & dedicated efforts in entrance exam preparation, there will be no chance to lose.
For admission in NEET/AIIMS Entrance coaching plz contact 9337421183 8917265768
We also provide live online classes so that student can learn at his home anytime anywhere.
Salient features
1) Chapterwise Conceptual clarity (Our focus is not only to solve the problems but also to clear the concept of students)
2) Doubt clearing Class with One to One faculty interaction.
3) Daily Progress report to parent through SMS
4) 280+ Daily practice test
5) 36 Exclusive study materials
6) 20 Parallel set VST
7)Level wise MCQs
Level 1 : Conceptual MCQ
Level 2 : Numerical MCQ
Level 3 : Miscellaneous MCQ
Level 4 : MCQ for Time management Test
New Batches start from
Sept 18 & Sept 28
Special scholarahip for financially backward students .
Feel free to call
9337421183
8917265768
7978078563
NEET is the gateway to become a doctor and NEET Coaching Centres in Bhubaneswar can show the way. It is a long and enduring journey as the syllabus is vast and competition is tough, so efficient mentoring is a must to reach the goal. Bidyasagar Classes with its dedicated team is committed to providing effective guidance to help students reach their goals. Experienced and effective deliverance makes Bidyasagar Classes the Best coaching Institute for Medical entrance. Concepts learnt at this phase are the only ones all that comes later is an application of them. Bidyasagar Classes knows the importance of this and is dedicated to building a strong foundation for students. Compared to other NEET coaching centres in Bhubaneswar Bidyasagar Classes has team which researches and publishes its own material which is of great help to the students.
Bidyasagar Classes can be termed as one of the the Best Medical Coaching Institutes in Bhubaneswar because of the robust planning and system it is into. The entire syllabus is comprehensively segregated and planned to make the best use of the limited time one gets to prepare for the Medical entrances like NEET. A limited number of seats is a striking point Bidyasagar Classes has in its stride towards reaching the ultimate goal. Sooner or later with Education turning out to be a business earning great revenues, Medical Coaching Institutes in Bhubaneswar manoeuvred to aim at quantity rather than quality. This is one aspect that differentiates Bidyasagar Classes from other Medical Coaching Institutes in Bhubaneswar. The days have come where smart work is replacing hard work, so any teaching without incorporating the latest digital technologies in teaching is incomplete. Bidyasagar Classes has come up with all the latest digital technologies that enable to understand the content with ease and in-depth, also helping students to connect with their mentors round the clock, this special feature proves it to be the Best Coaching Institute for Medical in Bhubaneswar
PRE MEDICAL COACHING/NEET  2 YEAR
Integrated Pre MED coaching of 2 years designed for 10th passed students irrespective of boards i.e. SSC, ICSE, CBSE etc. No foundation, no Olympiad and no e-techno orientations are required.
PRE MEDICAL COACHING/NEET 1 YEAR
Integrated Pre MED coaching of 1 year, designed for 11th passed students of CHSE Board.
Bidyasagar Classes academic Strength
At Bidyasagar Classes, we conduct extensive teaching and intensive revision.
At Bidyasagar Classes, there is no micro schedule for teaching. Instead, there is only macro schedule.
Bidyasagar Classes faculties are certainly permanent and that ensures longstanding student-faculty relationship.
At Bidyasagar Classes, all batches are taken care of by the same set of faculties with extensive expertise in their subjects, same study material, and same assignments, same test papers. The basis of batch formation and batch reshuffling is the pace of their learning.
Best NEET classes
Have you chosen medical as your career and appearing for NEET entrance exam? Looking for best coaching institute in Odisha? Then, your search ends here. Bidyasagar Classes Nanded is the best institute for NEET coaching classes in Odisha
NEET is an offline competitive exam that drives admissions to top medical colleges in India. Every year, lakhs of students enroll for the entrance examination but only a few of them are able to crack the exam. Only right NEET preparation, hard work and concentration allow one to clear the exam. Since the competition is colossal, so it is better to study under the guidance of experts in the field.
Bidyasagar Classes is a coaching institute which offers best NEET coaching to the students. The institute is renowned for its unique learning methodology, Bidyasagar Classes principle formulated by Management. The institute helps students in clearing NEET entrance examination by exploiting the simplest learning techniques. Bidyasagar Classes has been coaching the medical students for over 17 years now. Over the years, many alumni have cleared medical examinations.  The experts of Bidyasagar Classes are friendly to the students yet they teach them to learn more in less time. The institute provides comfortable learning conditions to its students. Bidyasagar Classes's experts focus on building basic concepts of the students.
Every student receiving NEET coaching at Bidyasagar Classes  gets his student login credentials which allow him/her to appear for different mock tests. This lets the students test their preparation and know where they stand. Our NEET coaching classes have been a success in recent years as we have introduced our students to the simplest techniques which allow them to gain the maximum knowledge and remember for a longer period.
If you want to carry out your NEET preparation under the guidance of industry experts, then choose Bidyasagar Classes.