National Defence Academy (NDA) is the unified service of the Indian Armed forces, wherein the cadets of three professional uniformed services (the Army, the Navy & the Air Force) drill together with one accord prior to pre-commission training at their academies. For this purpose, we aware our candidates for joining us as a Best NDA Coaching Centres In Bhubaneswar The motto of NDA is "Service Before Self" (Seva Paramo Dharam), those who want to work selflessly and ready to serve their supreme valor for the nation's interest, "COME & JOIN THE MISSION For INDIA – NDA Preparations". Become its part as choosing Bidyasagar Classes Best Coaching Classes for NDA in Bhubaneswar 
For Admission please contact 8093021183/ 9337421183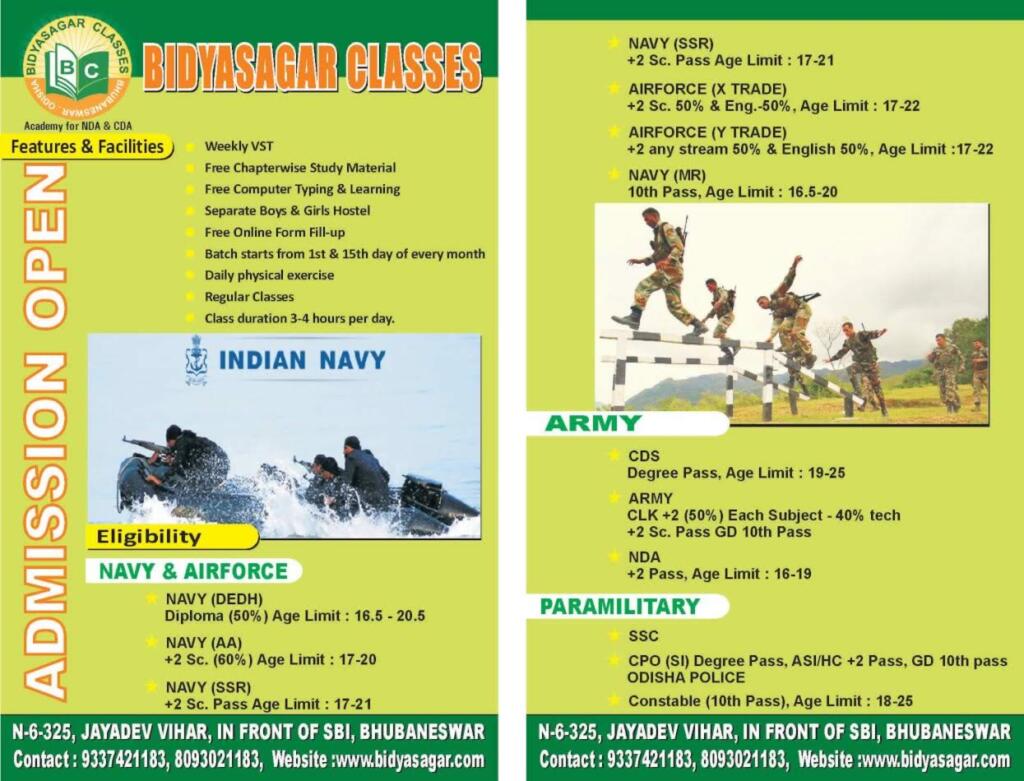 ---
Upcoming NDA Exam 2021 Details As Below:-
NAVAL ACADEMY & NDA EXAM (II) 201
Vacant Posts in Various Departments:
Total No of Vacant Posts: 375 to 425 Approx.
Posts Name: National Defence Academy
There are total 320 Posts
Indian Military: Posts 208
Indian Air Force: Posts 70
For Naval Academy (12th Cadets scheme of Entry):
There are total 55 Posts.
UPSC Recruitment 2021: Apply For NA, NDA 2 Exam

UPSC will hold Naval Academy (NA) Examination (II) and National Defence Academy (NDA), 2016 for admission to the Indian Air Force, Indian Navy and Indian Army wings of the National Defence Academy for the 138th Course, and for the 100th INAC starting from 2nd July 2021. The schedule of Union Public Service Commission NDA NA 2 exam will be held sometimes in September.Eligible people can apply online through UPSC (Union Public Service Commission) Online Portal before 15th July 2016. The NDA 2017 application form can be filled online or offline.

Number of vacancies at NA (Naval Academy): 55 (10+2 Cadet Entry Scheme)

Number of vacancies at NDA (National Defence Academy): 355

How to apply NDA 2021 online form: Eligible people can apply at upsconline.nic.in.

Apply Online Here: https://upsconline.nic.in/mainmenu2.php 



Application Fee: Interested people have to pay Rs.100/- (excluding ST / SC candidates/Sons of OR /NCOs/ JCOs). You can deposit the money at any SBI branch via NEFT or cash facility.




Salient Points Focused By Bidyasagar Classes For Clearing NDA Entrance Examination:–
NDA exam is held twice a year so many candidates get double chance to Clear NDA Exam by Preparation.
Candidates from any stream are eligible who have completed the class 11th exam, are appearing for class 12th, or passed out class 12th exam.
Try before attaining 18 ½ years for NDA Exam
 PCM Candidates of class 11th are eligible for Army, Air Force & Navy.
Non- PCM Candidates of class 11th are eligible for Army only.
While joining NDA, Candidates of any stream must be 12th passed, but below 19 ½ years.
 English, General knowledge& Maths papers
 Period of 3 years entails rigid training with games, sports & one foreign language learning at Government expenses.
Join Best Study for NDA in Bhubaneswar under one roof of Delhi Career Academy.
Examination- NDA-I and NDA-II
Date Period- 25 December to 25 January. & 25 May to 25 June.
Examination  Date- 2nd April on Sunday & Sept. Last Sunday.
Date of SSB- July to October. & January to April.
Joining Date at NDA- January & July
These are the various posts in NDA. With the help of this Entrance Examination; you will get entrance in defense career. As we know the level of competition is high. So you to join a brilliant Coaching Centre for NDA Entrance Exam in Bhubaneswar.
---
ELIGIBILITY CRITERIA For NDA Applicant & Araspirant
Marital Status & Age For NDA Entrance Examination – 2016:-
Unmarried male candidates must be 16 ½  years of age but should not complete the age of 19 years on 1st of Jan. or July 1st of the year succeeding the year of exam.
Educational Qualification:-
Eligibility for Army Wing(National DefenceAcademy)- 12th passed on the basis of 10+2 school education or similar exam taken by the state board or university.
Eligibility for Naval and Air Force Wings(National Defence Academy)& for course at the Naval Academy 10+2 (Executive Branch)–12th passed on the basis of 12th school education or similar with Maths & physics taken by the university or the state board. Note, candidates appearing for class 12th on the basis of a 10+2 school education or equivalent exam are also eligible to apply.
For more information regarding NDA Coaching, visit Bidyasagar Classes Best NDA Coaching Institutes Centre In Bhubaneswar
---
SELECTION PROCEDURE For NDA – 2021 CANDIDATES
Scheme of the Examination– a)Written Exam b) Group tests, intelligence test & obstacles under Service Selection Board(SSB) for written exam qualifiers.
EXAM PATTERN NDA – 2016:-
Mathematics general ability, Duration- 2 ½ hrs. & Max. Marks-300
English, General knowledge & Science, Duration- 2 ½ hrs. & Max. Marks-600
Total marks 900
SSB (Service Selection Board) Interview:
Written test qualifiers will progress for an SSB interview. The main motive is to determine the personality of the candidates.
SSB Training consists-Five days of personality & intelligence test
Day 1: SSB Basic intelligence test will be taken.
Day 2:SSB Psychological test will be taken.
Day 3 & Day 4: SSB Group testing will be taken by Group testing officers ( GTO ).
Day 5: Conference by SSB
* Group discussion ( GD)& Personal interview (PI) can also be taken in between 2-4 day
INTELLIGENCE AND PERSONALITY TEST:
In order to assess basic intelligence,verbal & non- verbal intelligence test is taken for the candidates. Candidates are also supposed to go through group tests, i.e. group discussions(GD), group-planning, outdoor group tasks and to give brief lectures on particular topics. These tests are conducted to examine the mental ability of the candidates.
---
SYLLABUS OF NDA EXAM:-
Paper I (Mathematics) –
Algebra, Matrices and Determinants, Trigonometry, Analytical Geometry of two and three dimensions, Differential Calculus, Integral Calculus and Differential equations, Vector Algebra, Statistics and Probability, Probability
Paper-II- General Ability Test
Part A (English) –Grammar and usage, vocabulary, comprehension and cohesion in extended texts to test the candidate's proficiency in English.
Part B (General Knowledge)–The question paper of General Knowledge will cover all the subjects: Physics, Chemistry, General Science, Social Studies, Geography and Current Events.These topics should not be taken as complete and questions on the same subject not specifically mentioned in the syllabus can be asked as well.
Section A Physics-
Static and Current Electricity: Conductors and Nonconductors. Ohm's Law. Simple Electrical Circuits. Heating, Lighting, and Magnetic effects of Current.Measurement of Electrical Power. Primary and Secondary Cells. Use of X-rays, Natural and Artificial Magnets.
General Principles in the working of the following: Simple Pendulum, Simple Pulleys, Siphon, Levers, Balloon, Pumps, Hydrometer, Pressure Cooker, Thermos Flask, Gramophone, Telegraphs, Telephone, Periscope, Telescope, Microscope, Mariner's, Lightning Conductors & Safety Fuses. Physical Properties and States of MatterMass Weight, Volume, Density and Specific Gravity, Principle of Archimedes, Pressure Barometer,
Motion of Object:
Velocity and Acceleration. Newton's Laws ofMotion. Force and Momentum.Parallelogram of Forces.Stability and Equilibrium of bodies. Gravitation, elementary ideas of Work, Power and Energy., Effects of Heat.
Sound waves and their properties. Simple musical instruments.
Rectilinear propagation of Light. Reflection and refraction.
Spherical mirrors and lenses. Human Eye.
Section B –Chemistry-
Acids, Bases, and Salts.
Carbon-different forms. Fertilizers-Natural and Artificial.
Materials used in the preparation of substances like Soap, Glass, Ink, Paper, Cement, Paints, Safety Matches and Gunpowder.
Elementary ideas about the Structure of Atom, Atomic Equivalent and Molecular Weights & Valency.
Physical and Chemical changes. Elements, Mixtures, and Compounds, Symbols, Formulae and simple Chemical Equations. Law of Chemical Combination [excluding problems). Properties of Air and Water.
Preparation and Properties of Hydrogen, Oxygen, Nitrogen and Carbon dioxide, Oxidation and Reduction.
Section C -General Science
 Elementary knowledge of the human body and its important organs. Common Epidemics, causes, and prevention.Food-Source of energy for man. Constituents of food Balanced diet. Difference between the living and non-living.
Basis of Life-Cells, Protoplasms, and Tissues.
Growth and Reproduction in Plants and Animals.The Solar System, Achievements of Eminent Scientists.
Section D – History, Freedom Movement, etc.
Elementary knowledge of Five-Year Plans of India.
Panchayati Raj, Cooperatives and Community Development.
Bhoodan. Sarvodaya. National Integration and Welfare State.
Basic Teachings of Mahatma Gandhi.
Forces shaping the modern world, A broad survey of Indian History, Culture and Civilization.
Freedom Movement in India.
Elementary study of Indian Constitution and Administration.

Section E –Geography
The Earth, its shape and size. Latitudes and Longitudes. Concept of Time. International Date Line. Movements of Earth & their effects.
Origin of Earth. Rocks &their classification. Weathering Mechanical & Chemical. Earthquakes and Volcanoes. Ocean Currents and Tides. Atmosphere and its composition; Temperature and Atmospheric Pressure; Planetary Winds; Cyclones and Anticyclones; Humidity, Condensation and Precipitation: Types of Climate. Major Natural regions of the World.
Regional Geography of India-Climate, Natural vegetation. Mineral and Power resources; location and distribution of agricultural and industrial activities. Important Sea Ports & Sea; land & air routes of India. Imports and Exports of India.

Section F -Current Events- 
Cultural, Sport, prominent personalities, events in the context of India and world& main events of India happened in recent years.
---
TEACHING STRATEGY For NDA Written Exam Coaching-
Regular classes by our proficient faculty members & seminar by our respected Ret. Officers
Easy course material.
Group Discussion (GD), Grooming sessions for SSB & Interview Preparation
Personality Development session
Weekly & Regular-Mock tests
Highly Motivational session on serving the nation
For admission plz contact 9337421183 8093021183