New batch starts from3rd October onwards.
PG entrance is given for following subjects
PHYSICS
CHEMESTRY
BOTANY
ZOOLOGY
ENGLISH
 Boost your chances of qualification in MSC/PG Entrance by joining live online/offline  Classes of Bidyasagar Classes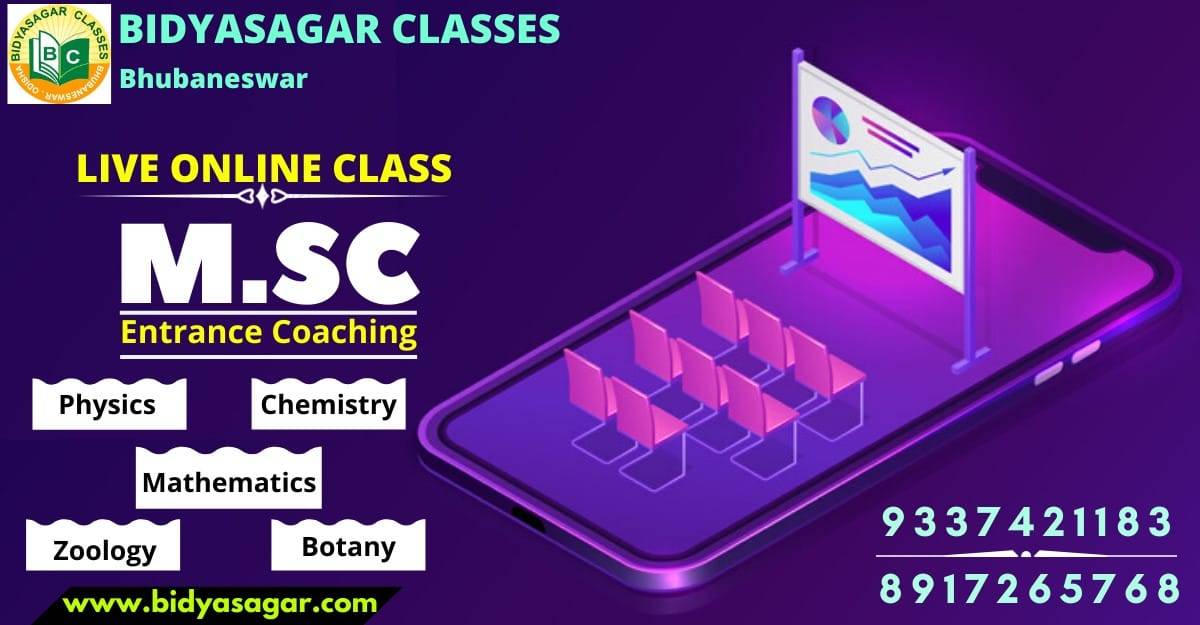 On the wake of present crisis we have decided to provide live online classes along with regular classroom coaching so that students can avail our quality M.SC/PG Entrance coaching in their home.For online live classes plz contact 9337421183 8917265768.
BRANCHES :

CHEMISTRY || PHYSICS || MATHEMATICS || BOTANY || ZOOLOGY || ENGLISH
https://www.bidyasagar.com/b-ed-entrance-coaching-in-bbsr
https://www.bidyasagar.com/best-b-ed-entrance-coaching-institutein-bhubaneswar
For Course Fee & Details
Bhubaneswar Branch
9337421183; 8917265768 ;  
Both Crash course as well as 1 year course available.
MORE THAN 100 SUCCESSFUL CANDIDATES 
Morning Time : 6 AM – 9 AM
Noon Time : 9 AM – 12 AM
Noon Time : 11 AM – 2 PM
Evening Time : 4 PM – 7 PM
Salient Features of Bidyasagar Classes
Highest Success Rate (More than 70%)
Shortcuts & Tricks
 Excellent Faculty
 Exam Oriented Coaching
Special Trigonometry & Geometry Classes
 Small Batch Size
Personal Attention
 Unlimited Doubt Sessions
Comprehensive Study Material
Performance Tracking
Full Course Coverage
 Regular Exam Updates
 Convenient Location of Coaching Centres (Near Jayadev Vihar,Bhubaneswar)
Bhubaneswar Address
Plot No-N-5-36-E, ,  In front of Hotel Richie Richie Regency
Opening and closing hours: Monday to Sunday :7AM-9PM
e-Mail : bidyasagar.classes@gmail.com
Contact No. : 8917265768; 9337421183, 8093021183 ;
https://www.bidyasagar.com/top-msc-pg-entrance-coaching-in-bhubaneswar
https://www.bidyasagar.com/crash-course-for-medical-2021-in-bhubaneswar