Important Daily Current Affairs of 10th November 2021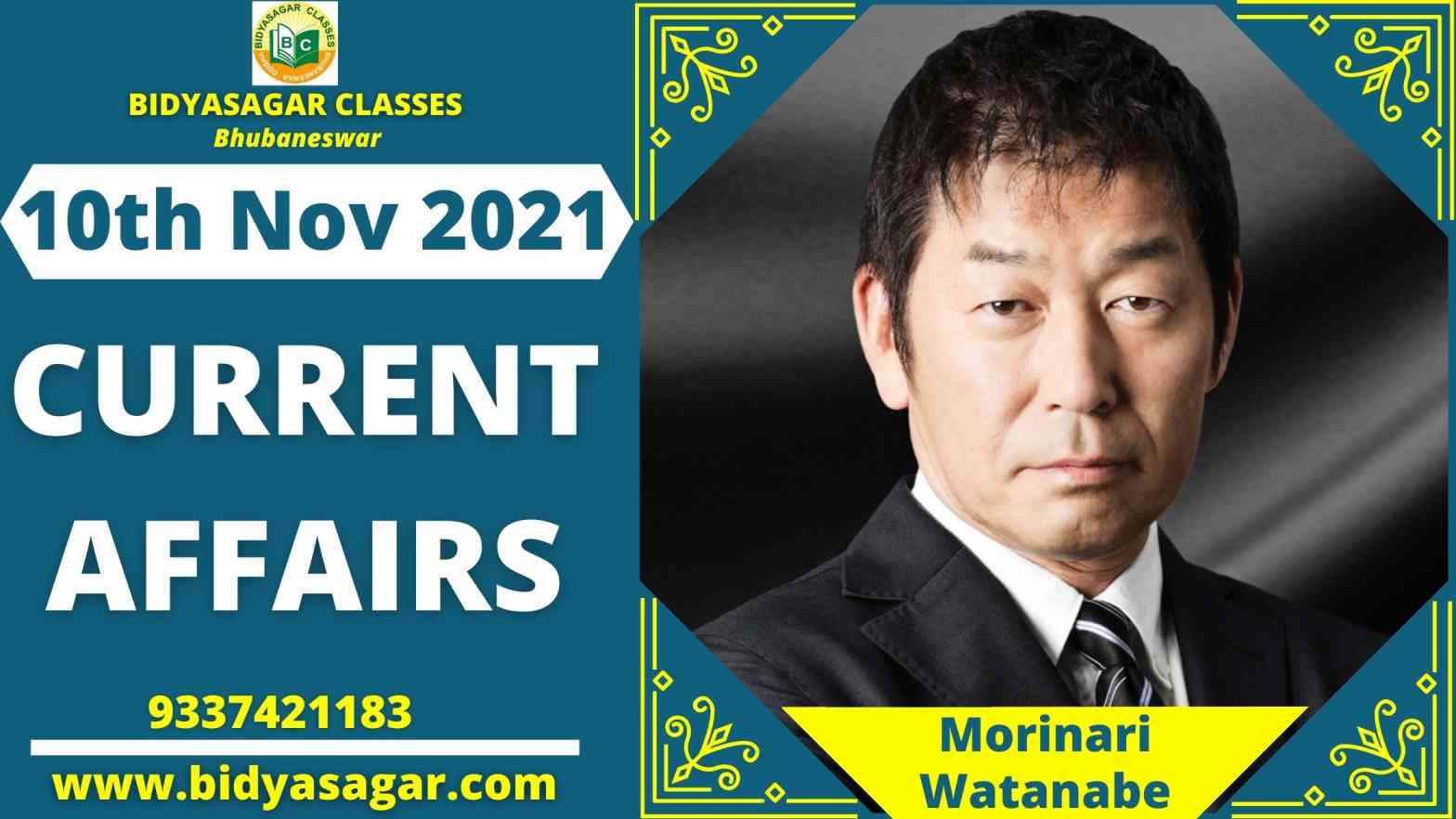 In this article, we will discuss all the important current affairs of 10th November 2021 in detail.
---
National
---
1. Tissue Culture-Based Seed Potato Rules were approved for the first time in India by Punjab.
Punjab's Cabinet, led by Chief Minister Charanjit Singh Channi, has approved the 'Punjab Tissue Culture Based Seed Potato Rules-2021', which would help the state become a standard potato seed centre. With this move, Punjab has become the first Indian state to offer tissue culture-based certification, paving the way for the development of Punjab's Jalandhar-Kapurthala area as a potato export hub.
2. India is placed 18th on the Global Drug Policy Index for 2021.
In November 2021, the Harm Reduction Consortium announced the first edition of the Global Drug Policy Index, which placed India 18th out of 30 countries.
Norway, New Zealand, Portugal, the United Kingdom (UK), and Australia were ranked first through fifth in the index for compassionate and health-driven drug policies.
3. The National Logistics Index for 2021 has been issued.
The Ministry of Commerce and Industry recently released the Logistics Ease Across Different States 2021 Index. The Index is now in its third edition.
Gujarat, Haryana, and Punjab ranked first, second, and third, respectively, in terms of goods mobility and logistics chain efficiency, according to the report. This index assigns states a ranking based on their logistics infrastructure.
4. Srinagar has been accepted into the UNESCO network of innovative cities.
Srinagar, the summer capital of Jammu and Kashmir, is one of 49 cities from around the world to be accepted into the UNESCO creative cities network (UCCN).
Prime Minister Narendra Modi praised the inclusion as "appropriate recognition" of the historic city's robust cultural heritage. UNESCO has recognised it as a creative city of craft and folk art.
---
International News
---
5. Wang Yaping is the first woman from China to walk in space.
On October 16, China launched the Shenzhou-13 spacecraft, which carried three astronauts on a six-month journey to the still-under-construction space station, which was anticipated to be operational by next year.
Wang Yaping, along with her male colleague Zhai Zhigang, became the first Chinese woman astronaut to walk in space when she moved out of the under-construction space station and participated in extravehicular exercises for nearly six hours.
---
Banking & Finance News
---
6. HARBINGER 2021 is the name of the first global hackathon organised by RBI.
The Reserve Bank of India has launched "HARBINGER 2021 – Innovation for Transformation," its first worldwide hackathon. 'Smarter Digital Payments' is the subject of HARBINGER 2021.
The Hackathon challenges participants to find and build solutions that have the potential to make digital payments more accessible to the underserved, improve payment convenience and user experience, while also increasing digital payment security and promoting client protection.
---
Business & Economy News
---
7. Junio partners with RuPay to offer a debit card to pre-teens and teenagers.
Junio, a children-focused fintech, has introduced a smart multifunctional card on the RuPay platform for pre-teens and teenagers. The Junio RuPay Card is a debit card developed for children that can be used for both online and offline shopping.
Kids and parents can use virtual Junio smart cards with no annual fees by signing up on the Junio app. Junio Smart Card will make it simple for children to make online and offline payments.
---
Appointments News
---
8. Daniel del Valle is named as the IHRF's High Representative for Youth.
Due to his achievements in the theme area of youth empowerment and involvement for the United Nations, the International Human Rights Foundation (IHRF) has named Spaniard Daniel del Valle as the High Representative for Youth. IHRF is a non-profit and non-governmental organisation.
Daniel del Valle brings his continuous experience as a Policy Advisor to the Ambassador and Permanent Representative of the Slovak Republic to the United Nations in New York to the International Human Rights Foundation.
9. FIG President Morinari Watanabe is re-elected.
Morinari Watanabe has been re-elected for a three-year term as President of the International Gymnastics Federation, or Fédération Internationale de Gymnastique (FIG).
In the FIG President election held during a conference in Turkey, Morinari Watanabe defeated Azerbaijan's candidate Farid Gayibov. He was previously elected President of FIG for a four-year term in 2016.
---
Sports News
---
10. Rohit Sharma became the third cricketer in men's T20I history to reach 3,000 runs.
Rohit Sharma, an Indian batsman, has reached 3000 T20I runs, making him only the third player in the world to do so. In the ICC men's T20 World Cup match against Namibia, Rohit scored 3000 runs.
Virat Kohli leads the way with 3227 runs, followed by Martin Guptill of New Zealand and Rohit Sharma of India, who each have 3115 and 3008 runs.
11. The October ICC Players of the Month have been revealed.
Asif Ali of Pakistan and Laura Delany of Ireland have been named ICC Players of the Month for October.
Ali won the men's trophy over Bangladesh's Shakib Al Hasan and Namibia's David Wiese, while Delany won the women's prize over teammate Gaby Lewis and Zimbabwe's Mary-Anne Musonda.
---
Books & Authors News
---
12. Poonam Dalal Dahiya's book "MODERN INDIA: For Civil Services and Other Competitive Examinations"
The book "MODERN INDIA: For Civil Services and Other Competitive Examinations," penned by Poonam Dalal Dahiya, Assistant Superintendent of Police (ASP), Gurugram, was released by Manohar Lal Khattar, Chief Minister (CM) of Haryana.
Poonam Dalal Dahiya presented CM Manohar Lal Khatta with the first copy of the book during the launch event. The book provides in-depth information on modern India's history.
---
Important Days
---
13. 10 November is World Science Day for Peace and Development.
Every year on November 10th, the World Science Day for Peace and Development is commemorated. This day is commemorated to emphasise the importance of science in society and the necessity to involve the general people in discussions about rising scientific challenges.
World Science Day for Peace and Development will be held for the 20th time in 2021. This year's commemoration will emphasise the need of "Building Climate-Ready Communities," as climate change has become a severe danger to the lives of billions of people and the planet.
Bidyasagar Classes Address
Plot No-N-6-325, Biju Patnaik College Road,  Infront of SBI, Jayadev Vihar, Bhubaneswar
Website: www.bidyasagar.com
Opening and closing hours: Monday to Sunday :7AM-9PM
 -Mail : bidyasagar.classes@gmail.com
Contact No. : 8917265768; 9337421183, 8093021183