Important Daily Current Affairs of 11th July 2021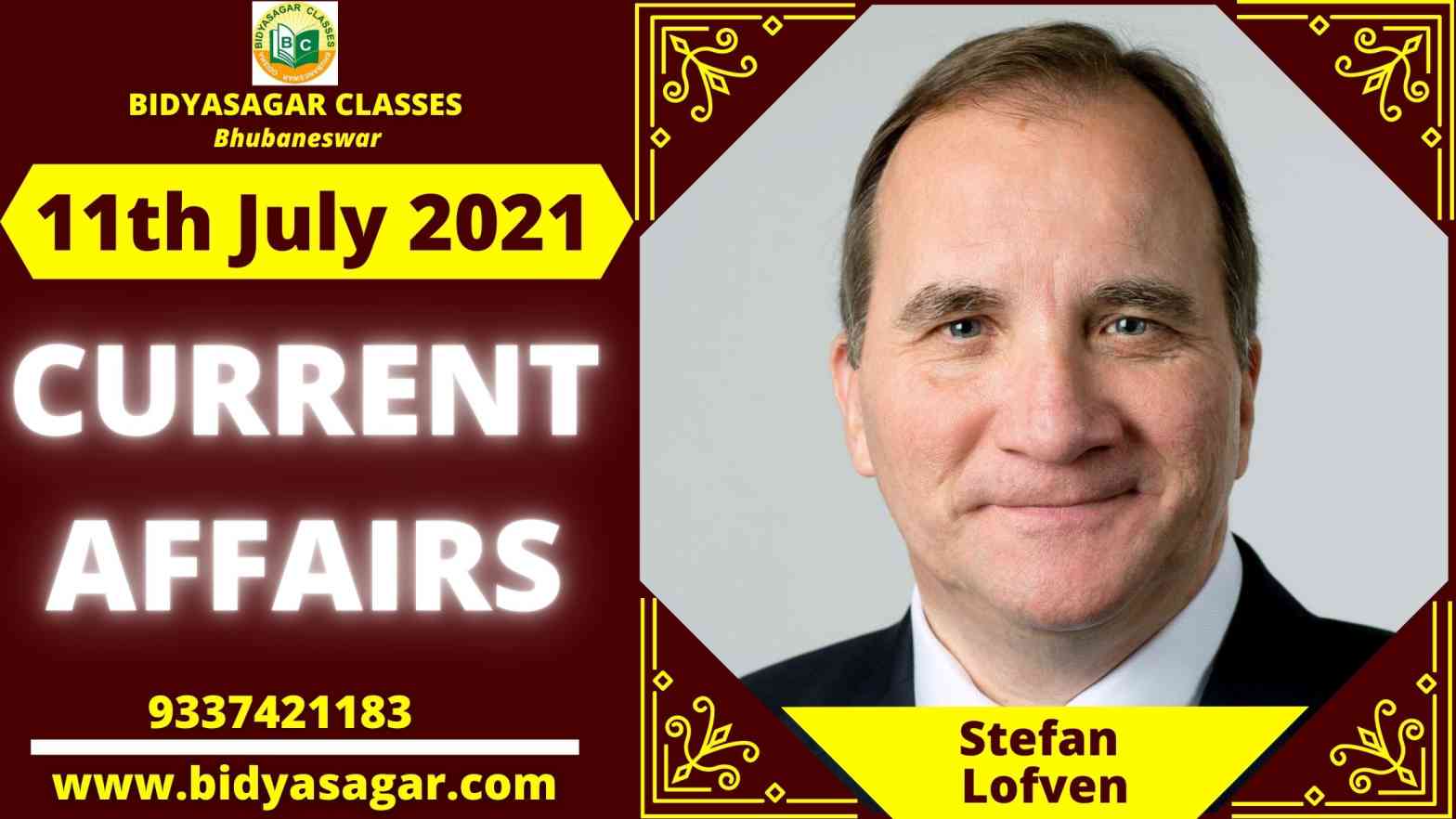 In this article, we will discuss all the important current affairs of 11th July 2021 in detail.
---
National
---
1. The IAF receives the final Apache and Chinook helicopters from Boeing.
The Indian Air Force (IAF) has received the final of five AH-64E Apache attack helicopters from Boeing India at Hindan Air Force Station.
The Indian Air Force has received all 22 new AH-64E Apache helicopters from Boeing (IAF).
---
Banking & Finance News
---
2. To enable a seamless journey for Mumbaikars, Mastercard, Mumbai Metro, and Axis Bank have launched the 'One Mumbai Metro Card.'
The launch of the 'One Mumbai Metro Card' by Mastercard, Mumbai Metro, and Axis Bank ensures contactless and cashless travel for Mumbai residents.
It's a prepaid, open loop contactless card that may be used with only a tap as part of your everyday transit commute. Mastercard has continuing to contribute to transforming the way India commutes and assisting the transit eco-system in becoming entirely digital with this solution.
3. Axis Bank and NIIT have teamed up to develop a digital banking academy.
A fintech professional programme has been created by NIIT Institute of Finance Banking and Insurance (NIIT IFBI) with Axis Bank to develop future-ready professionals for the private sector lender.
Graduates with zero to three years of experience can apply for a position as a deputy manager at Axis Bank through this programme (IT).
Graduates with zero to three years of experience can apply for a position as a deputy manager at Axis Bank through this programme (IT).
4. IndusInd Bank has partnered with TPCODL to establish Odisha's first fully digital payment network.
IndusInd Bank has announced a partnership with TP Central Odisha Distribution Limited (TPCODL), a joint venture between Tata Power and the Government of Odisha, to develop a fully digital network for electricity bill payment across the state.
The bank would enable almost 30 lakh TPCODL customers living in semi-urban and rural areas of the state to pay their bills easily through its wide network of 'Bharat Money Stores,' a proposition by Bharat Financial Inclusion Limited, which is a 100 percent subsidiary.
5. 'Arogya Supreme Health Insurance' is a new product from SBI General Insurance.
SBI General Insurance, one of India's largest general insurers, has announced the launch of 'Arogya Supreme,' a complete health insurance plan.
This plan is meant to provide clients with comprehensive health insurance coverage, offering 20 basic and optional coverage options.
---
Business & Economy News
---
6.Flipkart has partnered with the Karnataka government to encourage art and craft.
Flipkart has inked a Memorandum of Understanding (MoU) with the Government of Karnataka's Department of Micro, Small and Medium Enterprises (MSME) and Mines to develop the state's arts, crafts, and handloom industry.
This MoU would bring the Flipkart Samarth Program together with Karnataka-based brands such as Cauvery and Priyadarshini Handlooms, both of which are owned by the Karnataka Handlooms Development Corporations.
7. In Bellary, Epsilon instals a 550-cr carbon black complex.
Epsilon Carbon, a coal tar derivatives company, has built India's first integrated carbon black complex in Bellary, Karnataka, with a 550 crore investment. The carbon black unit, which has a capacity of 115,000 tonnes per annum (tpa), is already nearly filled.
Epsilon would invest a further 350 million in phase two to increase capacity by 65,000 tpa, bringing the total expenditure to close to 900 crore.
---
Appointments News
---
8. Lofven was re-elected as Prime Minister of Sweden.
Following his re-election, Swedish Prime Minister Stefan Lofven reappointed his former cabinet of Social Democrats and Greens.
After losing a no-confidence vote last month, Lofven resigned, but was re-elected by parliament on Wednesday. He reappointed Social Democrats Magdalena Andersson and Ann Linde as finance and foreign ministers, respectively.
9. Manipur's Gyanendro Ningombam is the next Officiating President of Hockey India.
Mohd Mushtaque Ahmad will be replaced by him. This was in response to Mohd Mushtaque Ahmad's resignation letter, which was received by Hockey India on July 7, 2020, due to personal and family obligations.
---
Sports News
---
10. Kanchan Ugursandi has completed the world's first solo motorbike adventure, which took him through 18 Himalayan passes.
Kanchan Ugursandi, a mountain biker, completed the world's first solo motorcycle adventure in New Delhi, spanning 18 hazardous passes in the northern Himalayan mountain ranges.
Miss Ugursandi is the first solo woman biker to climb the Umlingla Pass, the first woman to cross all 18 passes in one go, and the first woman to travel 3,187 kilometres from New Delhi to Manali, Leh, Umlingla, and Delhi.
---
Awards & Honours
---
11. The United Kingdom's Government Honors a Social Activist For Feeding 1,500 People Everyday
For his project "Hunger Has No Religion," Syed Osman Azhar Maqsusi, a social activist from Hyderabad, was recently awarded the coveted Commonwealth Points of Light Award by the United Kingdom. Every day, the hunger campaign feeds over 1,500 individuals in five locations across the country.
The award is granted by the British government to outstanding individual volunteers who make a positive influence in their communities via their contributions.
12. UNIFIL's environment award goes to an Indian battalion.
The Indian battalion (INDBATT) serving with the UN Interim Force in Lebanon (UNIFIL) has won an environmental prize for a project that aims to reduce waste generation, reuse plastic, and construct greenhouses and compost pits.
The Mission's Sector West Headquarters shared second place with the Irish-Polish Battalion (IRISHPOLBATT) for its project in aiding the host communities by decreasing environmental dangers and the Sector West Infrastructure Management Centre (IMC) for the generation of compost from food waste.
---
Books & Authors News
---
13. In 2020, a biography of the Dalai Lama will be published.
In 2020, a book called "His Holiness the Fourteenth Dalai Lama: An Illustrated Biography" will be published.
Roli Books is the publisher of the book. Tenzin Geyche Tethong, one of the Dalai Lama's closest aides and advisors for over 40 years, wrote the book.
---
Obituary News
---
14. Actor and film critic Mahesh Kathi has died.
Mahesh Kathi, a well-known Telugu film critic and actor, died recently. He was 44 years old at the time. He was involved in an accident at Chandrasekharapuram village in Nellore district's Kodavalur Mandal last month.
He was recognized for films such as Nene Raju Nene Mantri, Hrudaya Kaleyam, Amma Rajyam Lo Kadapa Biddalu, and Krack, which came out in January of this year. In 2015, he also directed the film Pesaratu.
---
Important Days
---
15. The 11th of July is World Population Day.
This day is marked to increase public awareness of the effects of population growth, as well as problems such as gender equality, the significance of family planning, poverty, maternal health, and human rights.
Putting the brakes on COVID-19: Protecting the health and rights of women and girls is the theme for World Population Day 2020.
---
Bidyasagar Classes Address
Plot No-N-6-325, Biju Patnaik College Road,  Infront of SBI, Jayadev Vihar, Bhubaneswar
Website: www.bidyasagar.com
Opening and closing hours: Monday to Sunday :7AM-9PM
 -Mail : bidyasagar.classes@gmail.com
Contact No. : 8917265768; 9337421183, 8093021183