Important Daily Current Affairs of 12th January 2022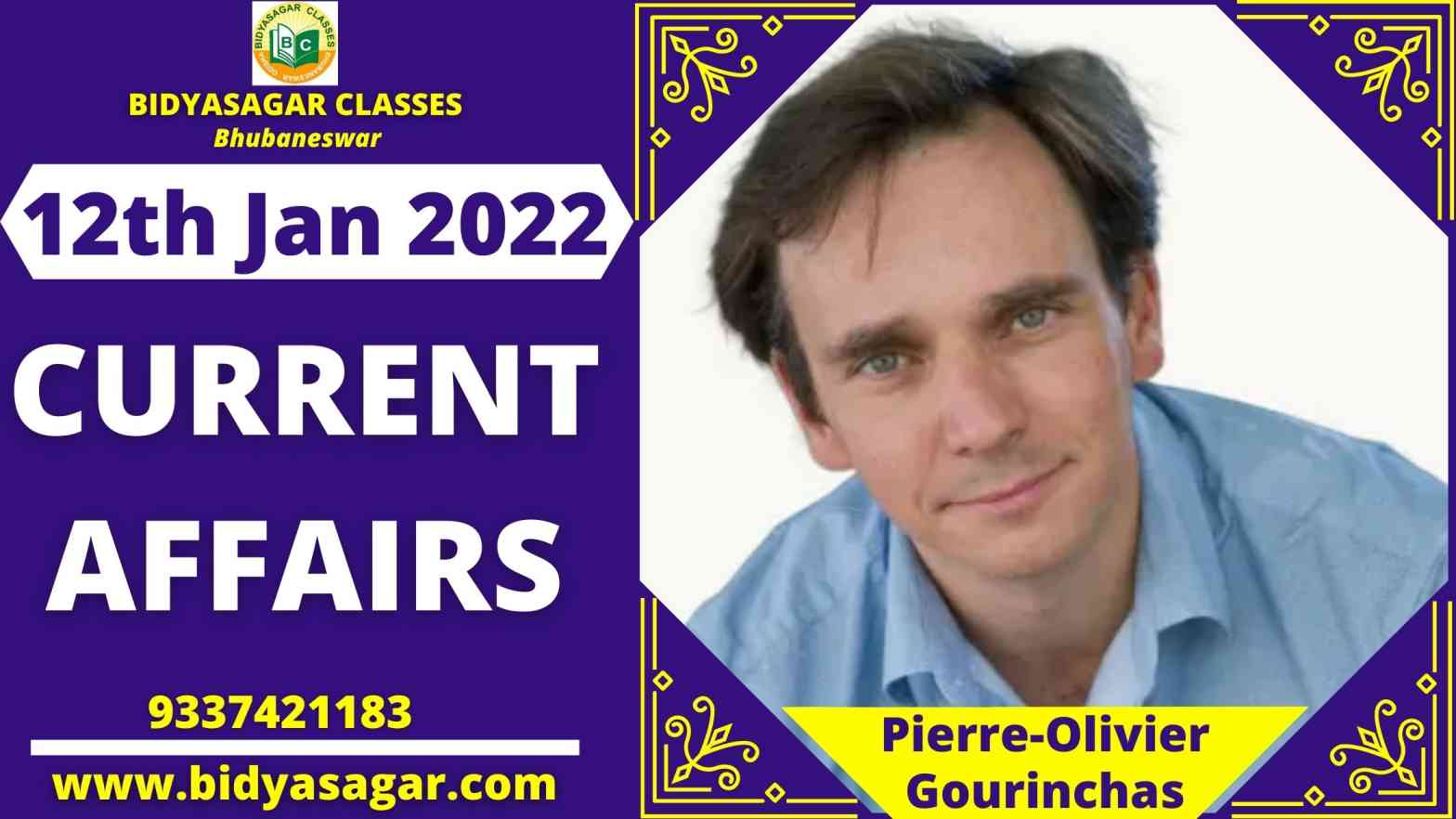 In this article, we will discuss all the important current affairs of 12th January 2022 in detail.
---
National
---
1. Kazakhstan's next Prime Minister has been named Alikhan Smailov.
President Kassym-Jomart Tokayev nominated Alikhan Smailov for Prime Minister of Kazakhstan, and the lower house of parliament voted in his favour during a live-streamed session.
Following the departure of the Askar Mamin Cabinet during the ongoing violent 2022 Kazakh riots, Alikhan Smailov was chosen as acting Prime Minister on January 5, 2022.
2. India is ranked 83rd in the Henley Passport Index 2022, while Japan and Singapore are at the top.
The Henley Passport Index 2022 was recently published. According to the Index, India's passport power improved in the first quarter of 2022. India is now rated 83rd, up seven places.
It was ranked 90th in the world in 2021. India now offers visa-free travel to more than 60 nations.
---
Banking & Finance News
---
3. In the form of equity, the Government of India will own 35.8% of Vodafone Idea.
The Government of India is likely to become Vodafone Idea's largest stakeholder. The company's board of directors approved the conversion of interest of Rs 16,000 crores into equity.
The interest on the spectrum and AGR dues have been approved into government equity by India's third-largest network, Vi or Vodafone Idea Limited (VIL).
4. In its 'Global Economic Prospects' Report, the World Bank predicted that India's economy would grow at 8.3% in FY22.
Global economic growth would drop drastically to 4.1 percent in 2022 and 3.2 percent in 2023, according to the World Bank's Global Economic Prospects Report, from 5.5 percent in 2021.
It predicted that India's annual growth will be 8.3% in fiscal year 2021-2022, 8.7% in fiscal year 2022-23, and 6.8% in fiscal year 2023-24.
5. Axis Bank has granted the first letter of credit under the government-backed Secured Logistics Document Exchange Platform.
On the Secured Logistics Document Exchange (SLDE), a government-backed blockchain-enabled platform, Axis Bank issued the industry's first letter of credit (LC).
ArcelorMittal Nippon and Lalit Pipes & Pipes Limited (LPPL) (Axis bank's client) were involved in the sale, which was completed digitally on the SLDE platform. On behalf of LPPL, the bank issued a letter of credit.
---
Appointments News
---
6. IMF's Chief Economist, Pierre-Olivier Gourinchas, has been appointed.
Pierre-Olivier Gourinchas, a French-born economist, has been named the next chief economist of the International Monetary Fund (IMF).
He will succeed Gita Gopinath, the Fund's first female head economist. From January 21, 2022, Gita Gopinath will be the IMF's first deputy managing director.
7. RenewBuy has named RajKummar Rao as their brand ambassador.
RajKummar Rao has been named as the brand ambassador for RenewBuy's first 360-degree consumer commercial campaign, which addresses consumers' insurance needs.
Havas Worldwide India created and conceptualised the campaign. The campaign's slogan is "Smart Tech, Right Advice."
---
Sports News
---
8. Ajaz Patel has been named the International Cricket Council's Player of the Month for December 2021.
Following his magnificent 10-wicket haul against Virat Kohli and Co. in the second Test in Mumbai, India-born New Zealand cricketer Ajaz Patel has been named the ICC Player of the Month for December.
Ajaz took 14 wickets in the Mumbai Test against India in early December, including all ten in the first innings, to become only the third player in Test history to do so, behind Jim Laker and Anil Kumble.
9. In 2023, Karnataka will host the Khelo India Games.
K.C. Narayana Gowda, Karnataka's Minister for Youth Empowerment and Sports, declared that the next Khelo India Games will be held in 2023.
He also said that the state is training around 75 sports students to compete in the 2020 Olympics.
---
Awards & Honours News
---
10. Harshaali Malhotra has been given the Bharat Ratna Dr. Ambedkar Award for the year 2022.
For her role in the 2015 film Bajrangi Bhaijaan, actress Harshaali Malhotra has been given the 12th Bharat Ratna Dr Ambedkar Award 2022.
Governor of Maharashtra Bhagat Singh Koshyari presented her with the honour. In the Salman Khan film Bajrangi Bhaijaan, she plays Munni, a mute little girl from Pakistan.
---
Books & Authors News
---
11. Arundhati Bhattacharya's autobiography "Indomitable: A Working Woman's Notes on Life, Work, and Leadership" was published.
Arundhati Bhattacharya, a retired Indian banker and former first-ever woman Chairperson of the State Bank of India, will publish her autobiography "Indomitable: A Working Woman's Notes on Life, Work, and Leadership" with HarperCollins.
The film Indomitable tells the narrative of Arundhati Bhattacharya's career as a banker and the challenges she experienced working in a male-dominated
---
Obituary News
---
12. European Parliament President David Sassoli has died.
David Sassoli, the President of the European Parliament, died in Aviano, Italy.
He was a member of the Progressive Alliance of Socialists and Democrats, a center-left political party. For nearly three decades, he has worked as a journalist and television anchor.
13. Known Kannada author Professor Chandrashekhar Patil was killed in a car accident.
Professor Chandrashekhar Patil, a well-known Kannada writer and activist, died in Bengaluru from an age-related ailment.
He was a renowned 'Bandaya sahithi' in Kannada literary school of thought and a significant voice in Karnataka public discourse for nearly half a century.
---
Important Days
---
14. National Youth Day is celebrated on January 12th.
Every year on January 12th, India commemorates Swami Vivekananda's birth anniversary with National Youth Day.
Swami Vivekananda's birthday, January 12, was named National Youth Day by the Indian government in 1985 in honour of the famous philosopher and monk.
Bidyasagar Classes Address
Plot No-N-6-325, Biju Patnaik College Road,  Infront of SBI, Jayadev Vihar, Bhubaneswar
Website: www.bidyasagar.com
Opening and closing hours: Monday to Sunday :7AM-9PM
 -Mail : bidyasagar.classes@gmail.com
Contact No. : 8917265768; 9337421183, 8093021183