Important Daily Current Affairs of 12th November 2021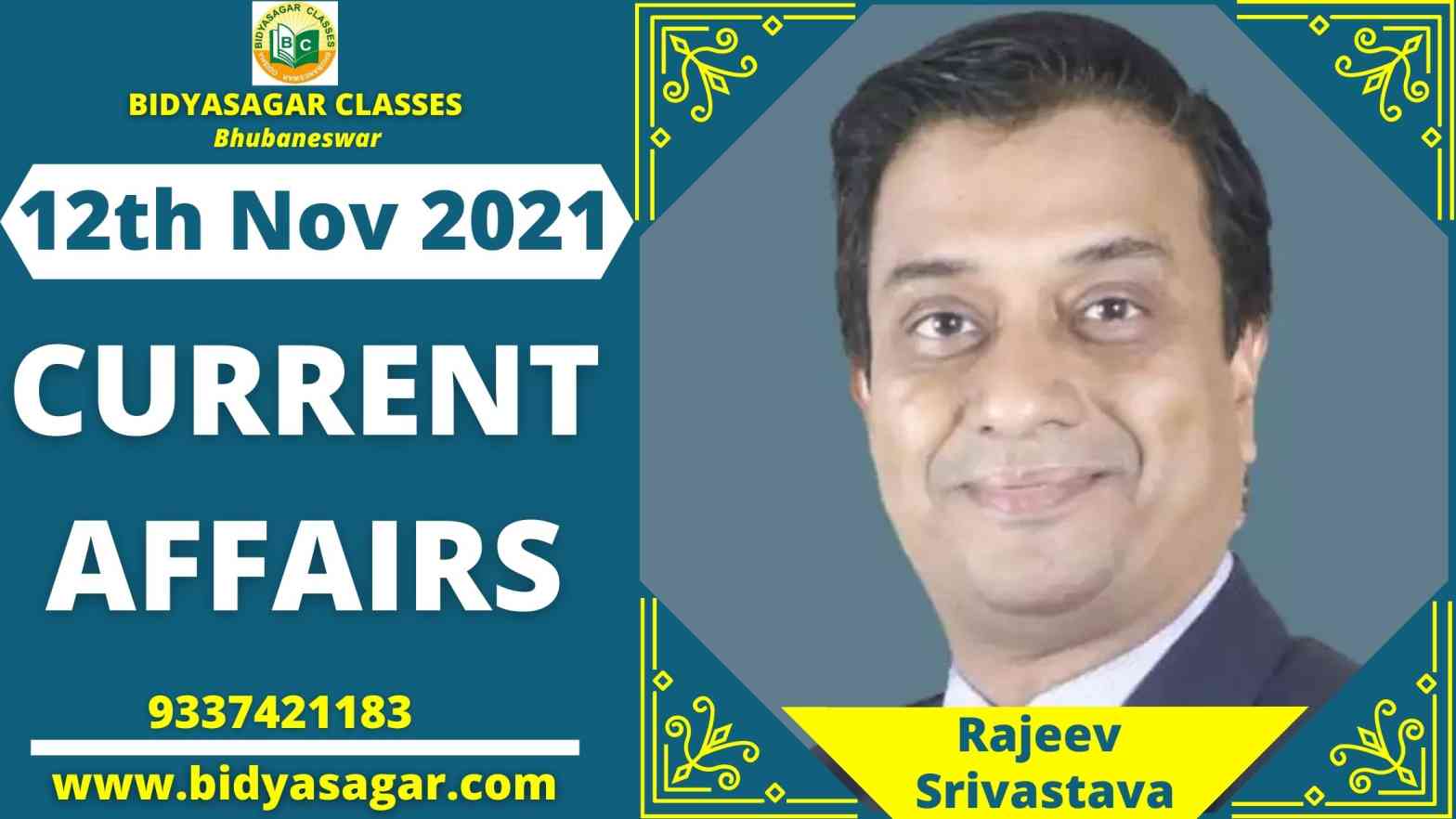 In this article, we will discuss all the important current affairs of 12th November 2021 in detail.
---
National
---
1. President Ramnath Kovind speaks at the 51st Conference of Governors and Lieutenant Governors in New Delhi.
During Rashtrapati Bhavan in New Delhi, India's President Shri Ram Nath Kovind spoke at the 51st Conference of Governors and Lieutenant Governors.
President Ram Nath Kovind is presiding over his fourth conference.
2. The Odisha government has launched the 'Rakshak' road safety initiative.
Odisha's state government has started Rakshak, a first-of-its-kind road safety initiative, to train first responders in traffic accidents.
300 master trainers will instruct 30,000 locals who will be staying or working at eateries and other businesses near accident-prone areas as part of the initiative.
---
International News
---
3. The Indian-origin astronaut Raja Chari leads the Crew 3 mission to the International Space Station for SpaceX.
On November 10, 2021, the US Space Agency NASA and Elon Musk's commercial rocket business SpaceX launched the "Crew 3" mission.
Four astronauts have been dispatched to the International Space Station (ISS) for a six-month science mission that will last until April 2022.
---
Business & Economy News
---
4. Falguni Nayar, the CEO of Nykaa, has become India's richest self-made woman.
Falguni Nayar, the CEO and founder of Nykaa, a cosmetics and fashion eCommerce platform, has amassed the title of India's wealthiest self-made woman. Nykaa was started by her in 2012.
She has a net worth of USD 7.48 billion and owns 53.5 percent of Nykaa.
---
Appointments News
---
5. Srivastava, Rajeev Standard Chartered Securities has a new CEO.
Standard Chartered Securities has named Rajeev Srivastava as its new chief executive officer (CEO) for its India operations.
Regulatory approvals are pending for his appointment.
---
Sports News
---
6. In Bhubaneswar, India's first National Yogasana Sports Championships were held.
From November 11 to 13, 2021, the first Physical National Yogasana Championships in India will be held in Bhubaneswar, Odisha.
The National Yogasana Sports Federation (NYSF) has partnered with the state of Odisha to host the National Yogasana Sports Championships 2021-22.
7. The 2021 Paris Masters was won by Novak Djokovic over Daniil Medvedev.
On November 7, in Bercy, Novak Djokovic defeated Daniil Medvedev 4-6, 6-3, 6-3 to win the 2021 Rolex Paris Masters final.
This is Djokovic's sixth Paris Masters triumph and his 37th ATP Masters 1000 championship overall.
8. Dwayne Bravo, a West Indies all-rounder, has announced his retirement from international cricket.
Dwayne Bravo of the West Indies has declared his retirement from international cricket on November 6, 2021.
The 38-year-old has already stated his intention to retire from international cricket after the 2021 ICC Men's T20 World Cup.
---
Obituary News
---
9. FW de Klerk, a Nobel Laureate and former South African President, has died at the age of 85.
FW (Frederik Willem) de Klerk, the former president of South Africa and the country's last white leader, has died of cancer.
Between September 1989 to May 1994, De Klerk served as President of South Africa.
---
Important Days
---
10. On November 2, 2021, India will celebrate Ayurveda Day.
Every year on the day of Dhanwantari Jayanti, India celebrates 'Ayurveda Day' (Dhanteras). Dhanvantari is a Hindu god who is associated with medicine.
The Ministry of AYUSH established the day in 2016 to highlight the benefits of Ayurveda and its unique therapeutic concepts.
11. 12 November is World Pneumonia Day.
Every year on November 12th, the globe commemorates World Pneumonia Day to raise awareness, encourage prevention and treatment, and spur action to combat the disease.
The first World Pneumonia Day was held in 2009, and it is now an annual event.
12. 12 November is National Public Service Broadcasting Day.
Every year on November 12th, Public Service Broadcasting Day is observed to honour Mahatma Gandhi's first and only visit to the studios of All India Radio in Delhi in 1947.
Following partition, Mahatma Gandhi addressed the displaced people (refugees from Pakistan) who had temporarily settled in Kurukshetra, Haryana.
Bidyasagar Classes Address
Plot No-N-6-325, Biju Patnaik College Road,  Infront of SBI, Jayadev Vihar, Bhubaneswar
Website: www.bidyasagar.com
Opening and closing hours: Monday to Sunday :7AM-9PM
 -Mail : bidyasagar.classes@gmail.com
Contact No. : 8917265768; 9337421183, 8093021183