Important Daily Current Affairs of 13th Dcember 2021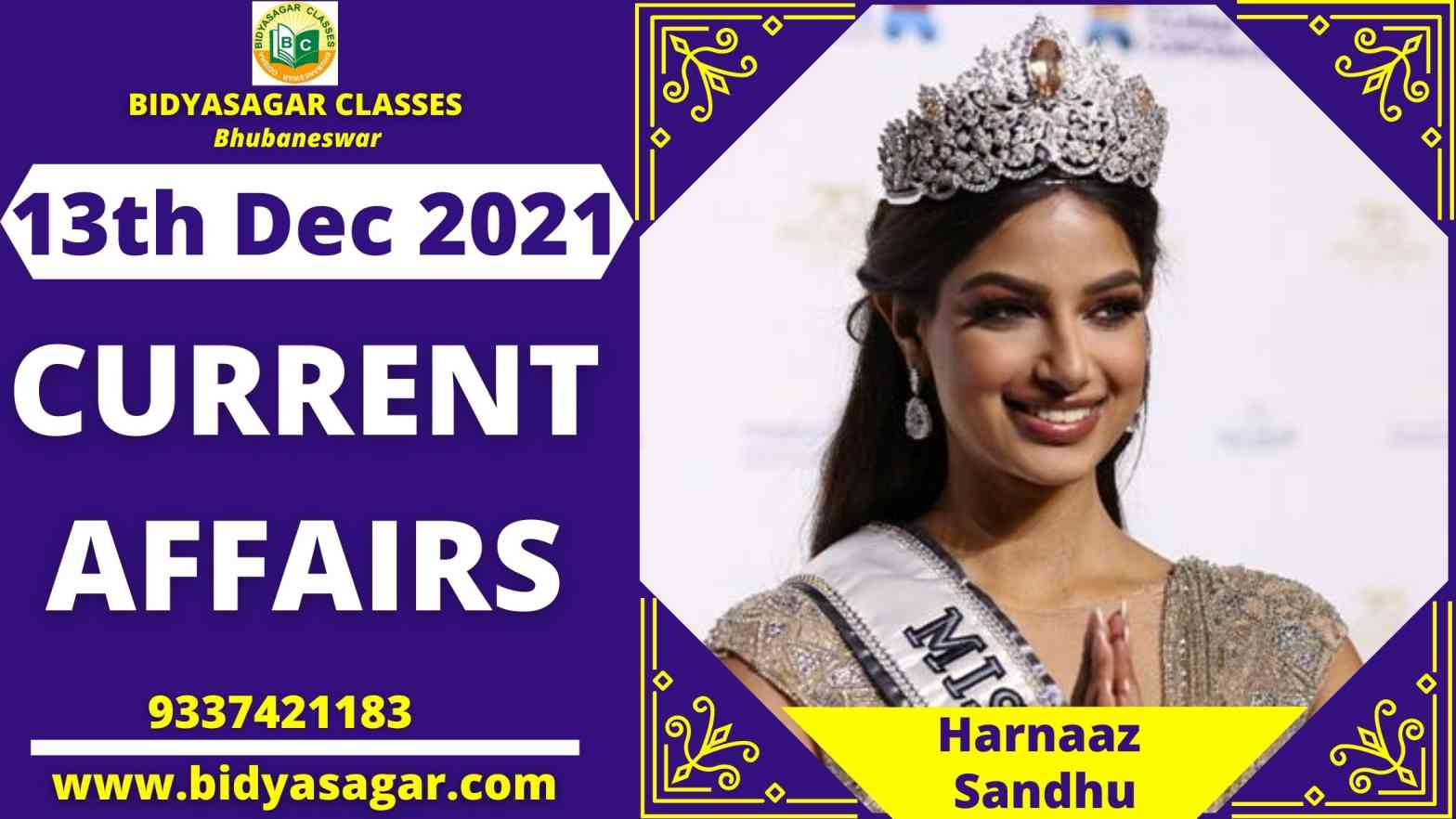 In this article, we will discuss all the important current affairs of 13th Dcember 2021 in detail.
---
National
---
1. The government of Himachal Pradesh established the General Category Commission (Samanya Varg Aayog)
The government of Himachal Pradesh has announced the formation of an upper caste commission, similar to that of Madhya Pradesh.
In three months, the Commission, which will be known as the 'Samanya Varg Aayog,' will be formalised through a legislative enactment.
2. As part of 'Code-Unnati,' Karnataka and the UNDP inked a Memorandum of Understanding to promote entrepreneurship and youth employment.
As part of the State-level initiative 'Code-Unnati,' the Department of Youth Empowerment and Sports of the Government of Karnataka has signed a Letter of Understanding (LoU) with the United Nations Development Programme (UNDP) to improve access to entrepreneurship and employment opportunities for youths, including women.
The initiative will be conducted in four districts: Bengaluru Rural, Ramanagara, Dakshina Kannada, and Raichuru, and it will be backed by SAP India Lab's CSR Strategies.
3. According to the Ministry of Road Transport and Highways, Uttar Pradesh has the most registered electric vehicles in India.
Nitin Gadkari, Union Minister of Road Transport and Highways, briefed the Rajya Sabha on the situation of electric vehicles (EV) in India during the Winter Session of Parliament.
According to the data, India has a total of 870,141 registered electric vehicles, with Uttar Pradesh (UP) leading the way with 255,700. Delhi (125,347), Karnataka (72,544), Bihar (58,014), and Maharashtra (52,506) are in order of importance.
---
International News
---
4. India is placed 66th in the Global Health Security Index for 2021, whereas the United States is ranked first.
The world's average overall GHS Index score was dropped to 38.9 (out of 100) in 2021, according to the Global Health Security (GHS) Index 2021, from 40.2 in 2019.
With an overall Index score of 42.8 and a change of -0.8 from 2019, India was ranked 66th out of 195 countries. With a score of 75.9, the United States of America (USA) came in first, followed by Australia and Finland.
5. India has been re-elected to the Council of the International Maritime Organization for the period 2022-2023.
India was re-elected to the International Maritime Organization (IMO) Council under category B states for the 2022-2023 biennium.
The Members of the International Maritime Organization's Council for the biennium 2022-2023 were elected by the Assembly of the International Maritime Organization. The Council is the IMO's executive body, and it is in charge of overseeing the organization's activity, reporting to the Assembly.
6. UAE was the first country to implement a four-and-a-half-day work week.
The United Arab Emirates (UAE) has stated that, beginning January 1, 2022, it will convert its 5-day workweek to a 4-and-a-half-day schedule, making it the first country to do so as part of its attempts to promote productivity and work-life balance.
The government's action is intended to bring it closer to the timings of the United States, the United Kingdom, and Europe, promoting trade. The four-and-a-half-day workweek has already been proclaimed by the Emirati governments of Dubai and Abu Dhabi.
---
Banking & Finance News
---
7. For the Doorstep Bill Payments Service, IPPB and NPCI Bharat BillPay Limited collaborated.
IPPB and NPCI Bharat BillPay Limited (NBBL) have teamed to provide IPPB and non-IPPB clients with a pan-India doorstep bill payment solution.
National Payments Corporation of India has a wholly-owned subsidiary, NBBL (NPCI). Customers can use the site to pay bills for utilities and other regular services.
---
Appointments News
---
8. Harnaaz Sandhu of India has been crowned Miss Universe 2021.
India was crowned Miss Universe for the 21st time after 21-year-old The 70th Miss Universe pageant was won by Harnaaz Sandhu of Chandigarh, with Paraguay's Nadia Ferreira as first runner-up and South Africa's Lalela Mswane as second runner-up.
---
Sports News
---
9. Magnus Carlsen wins his fifth World Chess Championship in 2021.
Magnus Carlsen of Norway, the reigning champion, won his fifth World Chess Championship after defeating Russia's Ian Nepomniachtchi in the 2021 World Chess Championship, which was held in Dubai, United Arab Emirates, and governed by FIDE (the International Chess Federation).
Magnus Carlsen has won the World Championship four times: in 2013, 2014, 2016, and 2018. Since 2013, when he defeated India's Viswanathan Anand in the 2013 Championship finals, he has held the title.
10. By winning the Abu Dhabi Grand Prix 2021, Max Verstappen won the 2021 Formula One Drivers' Championship.
Max Verstappen of Red Bull won his first Formula One Drivers' Championship by defeating Mercedes' Lewis Hamilton in the season-ending Abu Dhabi GP 2021.
Mercedes won the World Constructors Championship for the second year in a row, although they were denied the double they craved.
11. At the Asian Rowing Championships, India won a total of six medals.
At the Asian Rowing Championship in Thailand, India won a total of six medals, including two gold and four silver.
Arvind Singh, a senior rower, won gold in the lightweight Men's single sculls event, while his countrymen took home three silver medals. Men's Lightweight Double Sculls, Men's Quadrapul Sculls, and Men's Coxless Four were all silver medalists for India.
---
Books & Authors News
---
12. Mriduala Ramesh has written a new book named "Watershed: How We Destroyed India's Water And How We Can Save It."
Mriduala Ramesh, the founder of Sundaram Climate Institute, which focuses on water and waste solutions, as well as an angel investor in cleantech start-ups, has written a new book titled "Watershed: How We Destroyed India's Water And How We Can Save It."
Mriduala Ramesh is the author of "The Climate Solution" and a regular contributor to environmental publications.
---
Important Days
---
13. The International Day of Neutrality is celebrated on December 12th.
Every year on December 12th, the United Nations recognises International Day of Neutrality to enhance public awareness of the need of neutrality in international affairs.
It was announced by a UN General Assembly resolution in February 2017 and observed for the first time on December 12, 2017.
Bidyasagar Classes Address
Plot No-N-6-325, Biju Patnaik College Road,  Infront of SBI, Jayadev Vihar, Bhubaneswar
Website: www.bidyasagar.com
Opening and closing hours: Monday to Sunday :7AM-9PM
 -Mail : bidyasagar.classes@gmail.com
Contact No. : 8917265768; 9337421183, 8093021183