Important Daily Current Affairs of 13th January 2022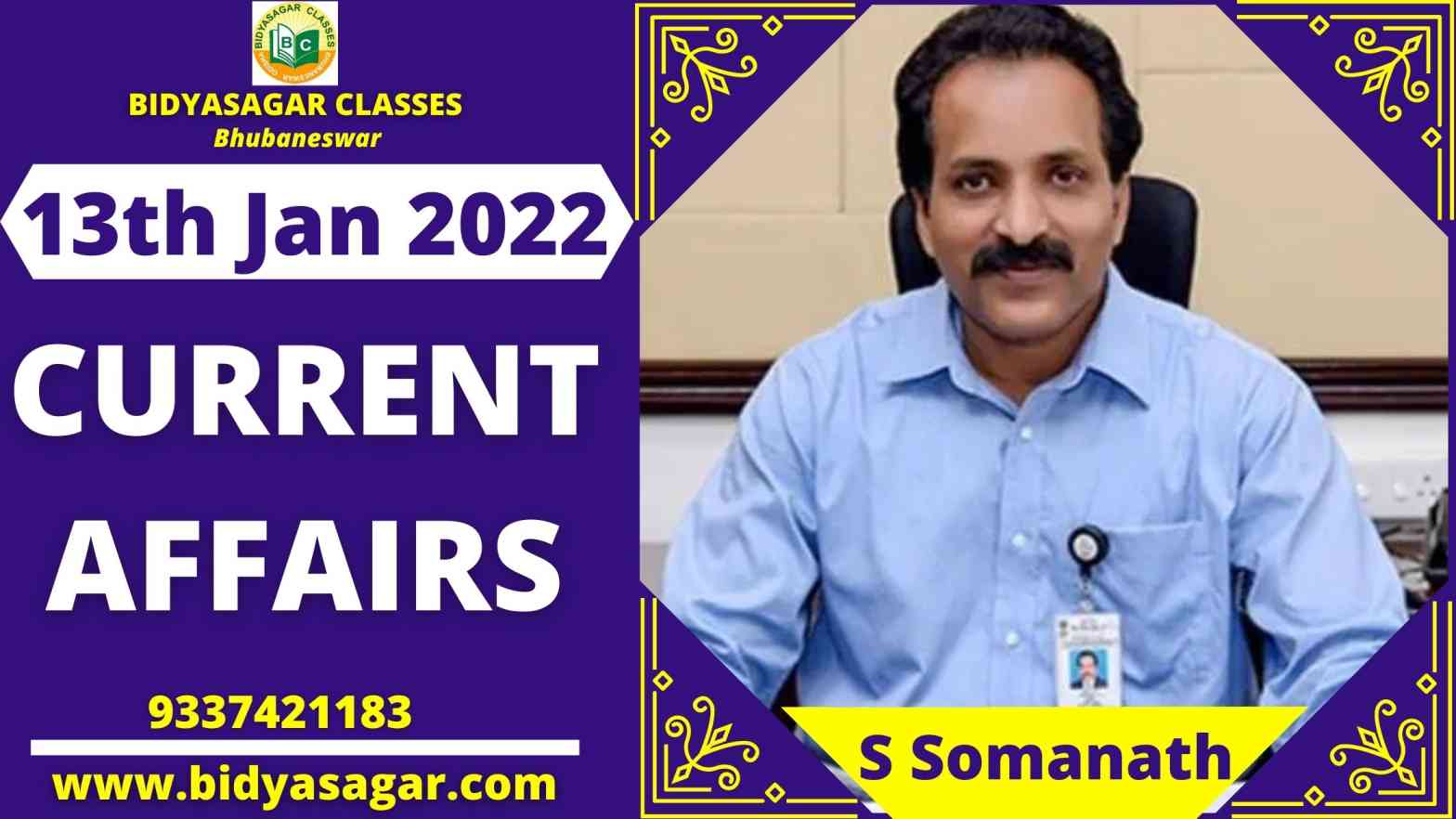 In this article, we will discuss all the important current affairs of 13th January 2022 in detail.
---
National
---
1. In Puducherry, Prime Minister Narendra Modi inaugurated the MSME Technology Centre and the Perunthalaivar Kamarajar Manimandapam.
Prime Minister Narendra Modi virtually launched a 'MSME Technology Centre' in Puducherry on the occasion of National Youth Day 2022, which will be run by the Union Ministry of Micro, Small and Medium Enterprises (MSME).
The Rs 122 crore technological hub was established with an emphasis on the Electronic System Design and Manufacturing (ESDM) sector. The centre was officially opened at the 25th National Youth Festival in Puducherry (12th and 13th January 2022).
2. 'Gulabo,' India's oldest sloth bear, died at Bhopal's Van Vihar National Park.
Gulabo, India's oldest female sloth bear, died in Bhopal, Madhya Pradesh's Van Vihar National Park and Zoo.
Gulabo was the country's oldest sloth bear. She died when she was 40 years old. She was 25 years old when she was rescued from a street performer (Madaari).
3. The Supreme Court has appointed a high-level committee to investigate the Prime Minister's security breach in Punjab; it will be led by Indu Malhotra. The Supreme Court has appointed a high-level committee to investigate the Prime Minister's alleged security breach during his visit to Punjab.
The five-member committee will investigate the alleged security lapse during Prime Minister Narendra Modi's visit to Punjab on January 5th of this year.
4. Gurugram, Haryana, will host India's first heliport.
Haryana's government, in partnership with India's Ministry of Civil Aviation, is planning to build India's first-ever heliport in Gurugram.
The first of its kind heli-hub in Gurugram is meant to provide all heli-related services in one location.
5. "Mission Amanat" has been started by Indian Railways to assist passengers in tracking down their misplaced things.
The Railway Protection Force (RPF) of Indian Railways' Western Railways zone has launched a new effort dubbed "Mission Amanat" to help travellers recover their misplaced luggage.
The details of lost luggage and valuables, as well as images, will be posted on the zonal railway's official website, https://wr. indianrailways. gov. in/, as part of Mission Amanat.
---
International News
---
6. In terms of 'On-Time Performance,' Chennai International Airport is placed 8th in the world.
According to Cirium's 'the On-Time Performance Review 2021 Airlines and Airports,' Chennai International Airport is placed 8th in the world in the big airports category, and is the only Indian airport to make the top ten.
Itami Airport in the United States, Fukuoka Airport in Japan, and Haneda Airport in Japan have all taken the first three spots.
---
Banking & Finance News
---
7. According to the World Economic Forum's Global Risks Report 2022, the global economy will contract by 2.3 percent by 2024.
The Global Risks Report 2022 was recently released by the World Economic Forum. Cybersecurity, pandemics, climate change, and space exploration are all new threats to the global economy.
By 2024, the world economy is expected to contract by 2.3 percent. In underdeveloped countries, however, the figure will be 5.5 percent. It will be 0.9 percent in wealthy countries.
8. India's GDP growth is expected to be 9.1% in FY22, according to UBS Securities.
Due to a large spike in Omicron infections, Swiss firm UBS Securities has decreased the Indian economy's growth prediction for the current financial year, FY22, to 9.1%.
This was previously projected at 9.5 percent. UBS Securities, on the other hand, has raised India's real GDP prediction for FY23 to 8.2%. This was previously forecasted at 7.7%.
9. LazyPay and SBM Bank India cooperated to launch the LazyCard for Easy Credit.
PayU Finance's LazyPay, a Buy Now Pay Later (BNPL) service, has partnered with SBM Bank India to introduce LazyCard, a prepaid payment instrument backed by a credit line that works on the Visa payment network.
Aim: To provide easy access to credit to financially challenged Indians, whose credit cards have restricted credit possibilities.
10. For biometric-based financial payments, Axis Bank has teamed with MinkasuPay.
Without the need for usernames, passwords, or One-Time Passwords, Axis Bank has teamed with MinkasuPay to offer a biometric authentication solution for net banking payments in merchant apps utilising Fingerprint or Face ID (OTPs).
This solution will cut payment time in half, from 50-60 seconds to just 2-3 seconds, while also improving transaction success rates.
---
Appointments News
---
11. ISRO's new chairman, S Somanath, has been named.
Eminent S Somanath, a senior rocket scientist, has been named the Indian Space Research Organisation's (ISRO) 10th Chairman and Secretary of the Department of Space (DoS).
He will succeed K Sivan, who will finish his term on January 14th. Somanath is the director of the Vikram Sarabhai Space Centre at the moment (VSSC).
---
Sports News
---
12. For the 2022 and 2023 seasons, the Tata Group has taken over as the IPL's title sponsor, replacing Vivo.
The Board of Control for Cricket in India (BCCI) has announced that Tata Group has taken over as title sponsor of the Indian Premier League (IPL) for the 2022 and 2023 seasons, replacing Chinese mobile phone maker Vivo.
For the next two seasons, the multinational company will pay Rs. 300 crore as the IPL's headline sponsor. This is almost 60% less what Vivo would have paid.
---
Awards & Honours News
---
13. At the Global Private Banking Awards 2021, HDFC Bank was crowned Best Private Bank in India.
At the 'Global Private Banking Awards 2021,' organised by Professional Wealth Management (PWM) in a virtual ceremony, HDFC Bank was voted the 'Best Private Bank' in India.
The Financial Times Group publishes PWM, a wealth management magazine.
The prize was presented for assisting in the acceleration of major trends, such as digitisation, communication, and investment in ESG initiatives (environmental, social, and governance).
---
Obituary News
---
14. Deon Lendore, an Olympic medalist, passed dead.
Deon Lendore, an Olympic athlete who competed in the 400 metres race at the 2020 Olympics, died in a catastrophic car accident in Texas, United States, at the age of 29. (US).
Deon Lendore, a 400 metres champion, was born on October 28, 1992, in Trinidad and Tobago (the Caribbean Islands, South America).
Bidyasagar Classes Address
Plot No-N-6-325, Biju Patnaik College Road,  Infront of SBI, Jayadev Vihar, Bhubaneswar
Website: www.bidyasagar.com
Opening and closing hours: Monday to Sunday :7AM-9PM
 -Mail : bidyasagar.classes@gmail.com
Contact No. : 8917265768; 9337421183, 8093021183