Important Daily Current Affairs of 15th Dcember 2021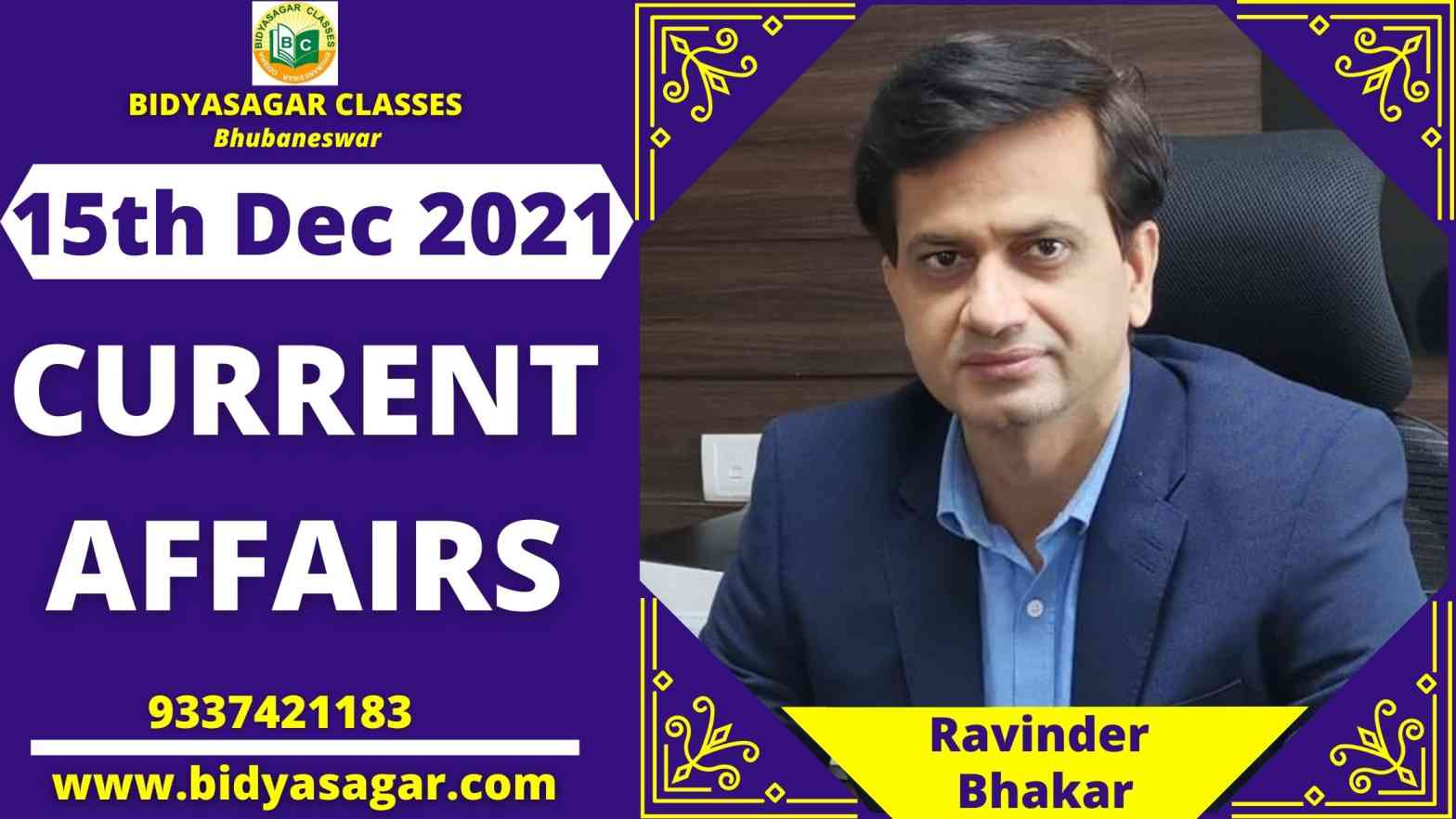 In this article, we will discuss all the important current affairs of 15th Dcember 2021 in detail.
---
National
---
1. The country's first Drone Mela was held at Gwalior, Madhya Pradesh.
The first drone fair in the country was held in Gwalior, Madhya Pradesh.
The Ministry of Civil Aviation, the Government of India, the Government of Madhya Pradesh, and the Federation of Indian Chambers of Commerce and Industry collaborated to put on the Gwalior Drone Mela (FICCI).
2. In Ahmedabad, Gujarat Union, the government lay the foundation stone for the Maa Umiya Dham Development Project. At Umiya Campus in Sola, Ahmedabad, Gujarat, Home Minister Amit Shah lay the foundation stone for the Umiya Mata Dham temple and temple grounds as part of the Maa Umiya Dham Development Project, which also includes a railway bridge.
On the 13th of December 2021, Prime Minister Narendra Modi virtually attended and spoke at the project's foundation stone laying ceremony. He cited the project as an illustration of the 'SabkaPrayas' concept (Efforts of everyone).
3. Odisha has signed a deal with the UNCDF to launch "Mission Shakti Living Lab" for women's financial empowerment.
The state government of Odisha and the United Nations Capital Development Fund (UNCDF), a Global Centre for Financial Health, have signed an agreement to develop Mission Shakti Living Lab, which would empower women economically and promote gender equality.
By assisting women, self-help groups (SHGs), and households in the factors of plan, save, borrow, and spend better, digital technologies and e-commerce will boost their income and financial well-being.
4. Uttarakhand's Askot Wildlife Sanctuary has been designated as an Eco-Sensitive Zone.
The Askot Wildlife Sanctuary Eco-sensitive Zone has been proclaimed outside the boundaries of the Askot Wildlife Sanctuary in the Pithoragarh district of Uttarakhand, according to the Indian gazette released by the Ministry of Environment, Forest and Climate Change (MoEF&CC) (ESZ).
Around the Askot Wildlife Sanctuary, the designated area is from 0 to 22 kilometres.
---
Banking & Finance News
---
5. India's growth is expected to be 9.7% in 2021-2022, while emerging Asia's is expected to be 7%.
The Asian Development Bank (ADB) has lowered its growth predictions for developing Asia for 2021-2022 in its Asian Development Outlook Supplement Report of December 2021 to reflect the economic effect and uncertainties induced by the new Omicron COVID -19 variant.
The Asian Development Bank has lowered its growth projections for developing Asia to 7% in 2021, down from 7.1 percent in September 2021, and to 5.3 percent in 2022, down from 5.4 percent.
6. Axis Bank and Swift have partnered to develop a digital banking solution.
Axis Bank is collaborating with Swift on new digital offerings to offer clients a complete digital solution.
To provide an end-to-end service to corporate clients, the bank is integrating with various digitization projects by government organisations and service suppliers.
7. BoB teamed up with NPCI to launch the "bob World Wave" wearable payment solution.
bob World Wave, a wearable line of payment products integrated with a complete health ecosystem, was launched by Bank of Baroda in collaboration with National Payments Corporations of India (NPCI).
Customers can monitor their Saturation of Peripheral Oxygen (SpO2), body temperature, heart rate, and blood pressure with a bob World Wave wearable device.
---
Appointments News
---
8. Ravinder Bhakar was appointed to lead the NFDC's film division and the CFSI.
Ravinder Bhakar, the CEO of the Central Board of Film Certification (CBFC), has taken over the National Film Development Corporation's (NFDC) Films Division and the Children Films Society of India (CFSI).
He is an Indian Railway Stores Service officer from the 1999 batch (IRSS). In addition to his current duties as CEO of the film certifying authority, he has been given following responsibilities.
---
Sports News
---
9. To ensure boxing's Olympic future, AIBA relaunched as IBA.
The International Boxing Association has changed its name from AIBA to IBA and pledged to implement a set of governance reforms in order to keep the sport in the 2028 Olympics.
Boxing has made it onto the tentative Olympic roster for the 2024 Paris Games, but has been dropped from the 2028 Games.
---
Defence
---
10. IIT-Delhi has signed an agreement with the Indian Air Force to improve indigenization efforts.
The Indian Air Force (IAF) and IIT-Delhi signed a Memorandum of Understanding (MoU) to support requirements for indigenous solutions in various weapon systems.
The IAF has selected key focus areas under the MoU, including technology development and indigenous solutions for the maintenance of various armament systems.
11. The Supersonic Missile Assisted Torpedo System was successfully tested by the DRDO (SMART)
From Abdul Kalam Island off the coast of Odisha, the DRDO successfully launched a long-range Supersonic Missile Assisted Release of Torpedo (SMART) System.
SMART was created to improve anti-submarine warfare capability considerably beyond the range of conventional torpedoes.
---
Books & Authors News
---
12. Dr. Shashi Tharoor published a book titled "Pride, Prejudice, and Punditry."
Dr. Shashi Tharoor, a former union minister and Lok Sabha Member of Parliament, has released his 23rd book, titled "Pride, Prejudice, and Punditry," in Hyderabad, Telangana.
This book is divided into ten sections, each devoted to a different topic such as modern Indian history, Indian politics, and so on.
---
Obituary News
---
13. Group Captain Varun Singh, a survivor of the Coonoor chopper tragedy, has died.
Group Captain Varun Singh died after being rescued from a chopper crash that killed Chief of Defence Staff General Bipin Rawat and 12 others.
After being transferred from Wellington in Tamil Nadu's Coonoor, he was treated for severe burns in a Bengaluru military hospital.
---
Important Days
---
14. International Tea Day is celebrated on December 15th.
Every year on December 15, countries such as Bangladesh, Sri Lanka, Nepal, Vietnam, Indonesia, Kenya, Malawi, Malaysia, Uganda, India, and Tanzania commemorate International Tea Day.
It was originally noticed in India's New Delhi in 2005. The United Nations has designated May 21 as International Tea Day because the tea harvesting season begins in May in most tea-producing countries.
Bidyasagar Classes Address
Plot No-N-6-325, Biju Patnaik College Road,  Infront of SBI, Jayadev Vihar, Bhubaneswar
Website: www.bidyasagar.com
Opening and closing hours: Monday to Sunday :7AM-9PM
 -Mail : bidyasagar.classes@gmail.com
Contact No. : 8917265768; 9337421183, 8093021183