Important Daily Current Affairs of 15th July 2021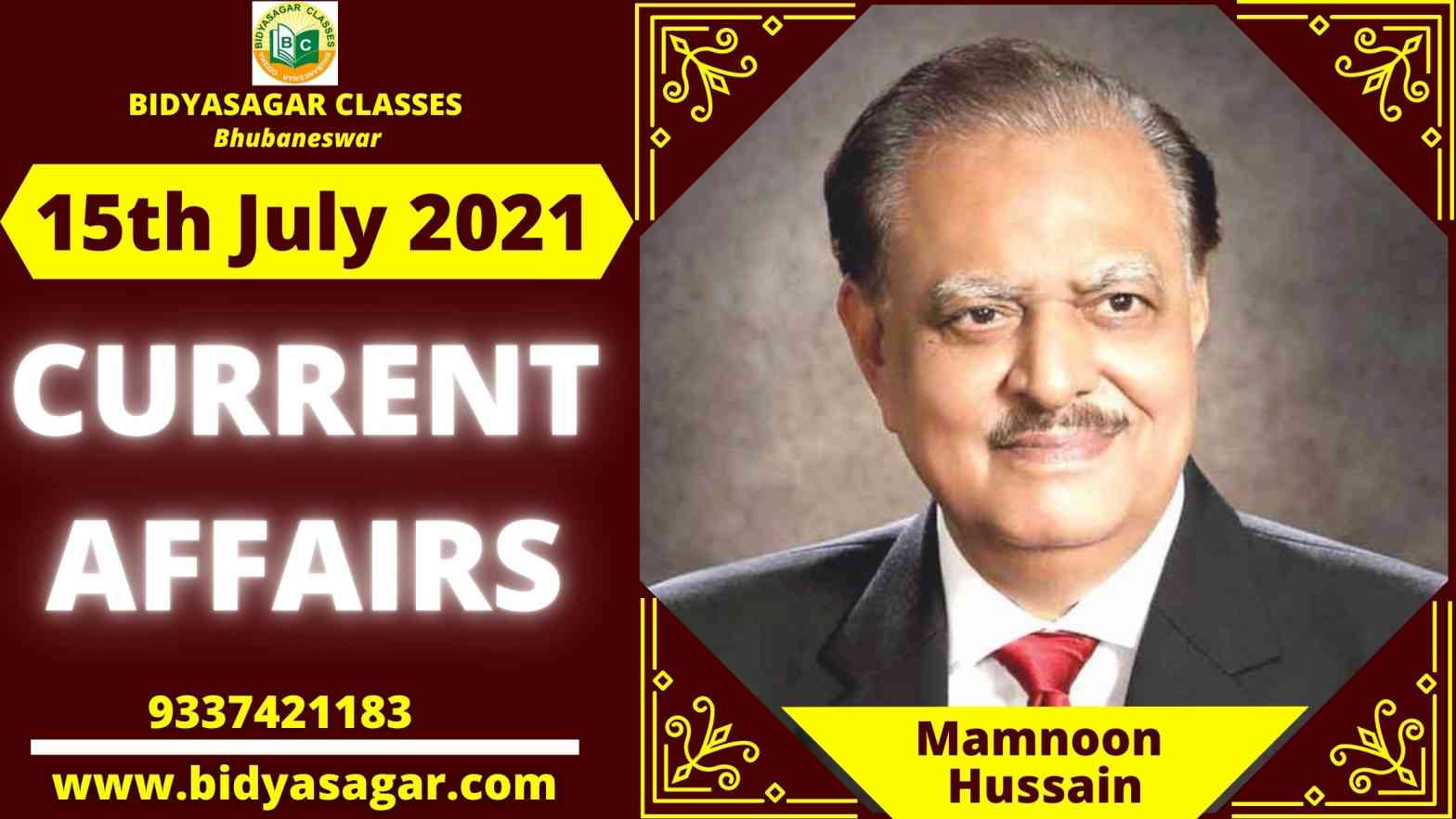 In this article, we will discuss all the important current affairs of 15th July 2021 in detail.
---
National
---
1. Cabinet endorses the National AYUSH Mission's continuation as a centrally-sponsored scheme.
The Union Cabinet has approved the continuance of the National AYUSH Mission as a Centrally Sponsored Scheme from April 1, 2021 to March 31, 2026, with a budget of about Rs 4,607 crore.
The central share will be three thousand crore rupees, while the state share would be 1,607 crore rupees. On September 15, 2014, the Mission was officially launched.
2. The CCEA has given its approval to the implementation of a special livestock sector package.
The Cabinet Committee on Economic Affairs has approved the implementation of a special livestock sector package consisting of multiple activities over the next five years, beginning in 2021-22, by updating and realigning key components of the Government of India's programmes.
The move will help the livestock sector's growth, making animal husbandry more profitable for the 10 million farmers who work in the industry.
3. The Punjab government has announced the cancellation of Rs 590 crore in loans to labourers and landless farmers.
The Punjab government announced the cancellation of Rs 590 crore in loans for labourers and landless farmers under the farm debt waiver plan.
According to Chief Minister Amarinder Singh, the Punjab government will pay off loans of Rs 520 crore to 2,85,325 members of the Primary Agricultural Cooperative Societies (PACS), resulting in a relief of Rs 20,000 per member.
4. The Union Cabinet has increased the DA for central government employees to 28%.
Prime Minister Narendra Modi's Union Cabinet has approved a raise in the Dearness Allowance for Central Government employees and Dearness Relief for pensioners from 17 percent to 28 percent of basic pay and pension. It will go into effect on the first of this month.
The Union Cabinet also agreed to keep the Rebate of State and Central Taxes and Levies (RoSCTL) on apparel, garments, and made-ups exports in place. Mr Anurag Tahakur stated that the scheme will run until March 31, 2024, adding that it will increase exports in worldwide markets.
5. Assam has launched a scheme to let Covid widows receive $2.5 lakh in aid.
Himanta Biswa Sarma, the Chief Minister of Assam, has introduced a scheme to provide social and financial protection to women who have lost their husbands to the coronavirus sickness.
Women whose family income is less than 5 lakh would receive a one-time assistance of 2.5 lakh each under the 'Chief Minister's COVID-19 Widows Support Scheme.'
The 'Chief Minister's COVID-19 Widows Support Scheme' provides one-time financial assistance to beneficiaries of the 'Orunodoi' and 'Widow Pension' programmes.
---
International News
---
6. Mahatma Gandhi's statue is unveiled in Georgia by EAM Jaishankar.
S Jaishankar, Georgia's External Affairs Minister, inaugurated a statue of Mahatma Gandhi in a famous park.
During his two-day visit to Georgia, a strategically important country at the crossroads of Eastern Europe and Western Asia, Jaishankar met with the country's top officials and handed over the relics of St. Queen Ketevan to the Georgian government and people during a ceremony in Tbilisi.
7. Report on the World's Food Security and Nutrition in 2021.
According to the annual UN-FAO study "The State of Food Security and Nutrition in the World 2021," between 720 and 811 million people worldwide suffered hunger in 2020, up from 161 million in 2019.
The UN Food and Agriculture Organization (FAO), the International Fund for Agricultural Development (IFAD), the United Nations Children's Fund (UNICEF), the World Food Programme (WFP), and the World Health Organization collaborated on the report (WHO).
The report's main points are as follows:
Asia has 418 million people (More than half of world hunger population)
282 million people live in Africa (One-third)
60 million people live in Latin America and the Caribbean.
In 2020, about 2.37 billion people lacked appropriate food, an increase of 320 million people from 2019.
Stunting affects 22.0 percent of children under the age of five (low height for age) (149.2 million)
6.7 percent of children under the age of five suffer from wasting (poor weight-for-height) (45.4 million)
Overweight children under the age of five (high weight-for-height ratio): 5.7% (38.9 million)
Anemia affects 29.9% of all women of reproductive age.
44 percent of infants under the age of six months were exclusively breastfed.
---
Banking & Finance News
---
8. Individuals can now invest in government securities under the RBI Retail Direct scheme.
Individual investors can now buy in government assets through the Reserve Bank's 'RBI Retail Direct' initiative, which is a one-stop shop.
The RBI will not charge a fee for opening and maintaining a "Retail Direct Gilt account." However, the registered investor will be responsible for any payment gateway fees that may apply.
9. Bhutan is the first country in the region to implement BHIM UPI.
Finance Minister Nirmala Sitharaman and her Bhutanese counterpart Lyonpo Namgay Tshering held a virtual ceremony to launch BHIM UPI, the Indian government's digital payment software.
Bhutan is the first country in India's immediate neighbourhood to use the BHIM software for mobile payments and "implement UPI standards for QR distribution." The services began in Bhutan as part of India's "neighbourhood first" policy, and India is proud of its accomplishment and delighted to share it with our valued neighbour.
10. Equitas SFB receives RBI approval to file for promoter amalgamation.
The promoter of Equitas Small Finance Bank (SFB), Equitas Holdings, said that the bank has received approval from the Reserve Bank of India (RBI) to file for amalgamation of the promoter into itself.
According to RBI's SFB licencing rules, following the necessary initial lock-in period of five years (initial promoter lock-in), a promoter of SFB can exit or cease to be a promoter based on RBI's regulatory and supervisory comfort and SEBI laws at the time.
11. From July 22, the Reserve Bank of India will prohibit Mastercard from acquiring new customers in India.
Because it failed to comply with data storage rules, the Reserve Bank stopped Mastercard Asia Pacific from onboarding new credit, debit, and prepaid card clients as of July 22.
The Reserve Bank of India (RBI) stated that the supervisory action will have no effect on existing Mastercard users.
12. Exim Bank lends $35.26 million to Kalpataru for a Senegal power project.
The Export-Import Bank of India has announced that it has provided a USD 35.26 million credit to Kalpataru Power Transmission in Senegal for a power transmission project.
The buyer's credit facility was provided through the National Export Insurance Account (NEIA) plan, which offers Indian project exporters a safe means of financing backed by NEIA Trust coverage. The bank signed a financing arrangement with Senegal's Ministry of Economy, Planning, and Cooperation for the building and installation of a 225 kV overhead transmission line from Tanaff to Ziguinchor (a distance of approximately 92 kilometres) as well as bay extensions in Tanaff and Ziguinchor.
---
Business & Economy News
---
13. The Delhi government has teamed up with Google to provide commuters with real-time bus information.
The Delhi government has teamed up with Google to provide commuters with real-time bus information and make public transportation in the national capital more user-friendly.
With this collaboration with Google Maps, Delhi joins a select group of worldwide cities that deliver seamless, real-time public transportation information.
---
Appointments News
---
14. Vietnam appoints India's first honorary Consul General.
N.S. Srinivasa Murthy, a Bengaluru-based industrialist, has been named Honorary Consul General of Vietnam for Karnataka.
He is Vietnam's first honorary consul general from India, and the world's 19th. He is the third Consul General in the world to be appointed this year.
---
Sports News
---
15. The song "Hindustani Way," written by AR Rahman and Ananya Birla, will be used to promote the Tokyo Olympics.
Ananya Birla has collaborated with music master AR Rahman to release a cheer song for Indian athletes as they prepare for the Tokyo Olympics. The song, titled "Hindustani Way," was written by Rahman and sung by Ananya.
The song's video follows a family from 1996 to the present day as they support Indian athletes during various Olympic seasons. Archival footage from Atlanta (1996), Athens (2004), Beijing (2008), London (2012), Rio (2016), and some exclusive training footage from this year's contingent are included in the movie.
---
Books & Authors News
---
16. The book 'Palleku Pattabhishekam' by VP Venkaiah Naidu about rural India and agriculture is released.
Vice President M Venkaiah Naidu has released a book about rural India and agriculture called "Palleku Pattabhishekam."
Former MP Shri Yalamanchili Sivaji penned the book.
17. 'The Great Big Lion,' a book written by a three-year-old Canadian girl, has been published in India.
The Great Big Lion is a fable about a lion and two children, written and illustrated by child prodigy Chryseis Knight. It discusses friendship, acceptance, animal protection, and the world of fantasy.
The book was previously published separately in other countries, however it was published in India for the first time under Penguin Random House India's "Puffin" imprint.
---
Obituary News
---
18. Mamnoon Hussain, the former President of Pakistan, has died.
Mamnoon Hussain, Pakistan's former president, died after a protracted illness. He was 80 years old.
Hussain, who was born in Agra in 1940 and immigrated to Pakistan with his parents in 1947, served as Pakistan's 12th President from September 2013 to September 2018.
---
Important Days
---
19. World Youth Skills Day : 15th July
World Youth Skills Day is a celebration of young people's abilities. The importance of equipping young people with skills for employment, decent labour, and entrepreneurship is highlighted on World Youth Skills Day, which takes place every year on July 15th.
Reimagining Youth Skills Post-Pandemic is the subject of World Youth Skills Day 2021.
---
Bidyasagar Classes Address
Plot No-N-6-325, Biju Patnaik College Road,  Infront of SBI, Jayadev Vihar, Bhubaneswar
Website: www.bidyasagar.com
Opening and closing hours: Monday to Sunday :7AM-9PM
 -Mail : bidyasagar.classes@gmail.com
Contact No. : 8917265768; 9337421183, 8093021183