Important Daily Current Affairs of 15th November 2021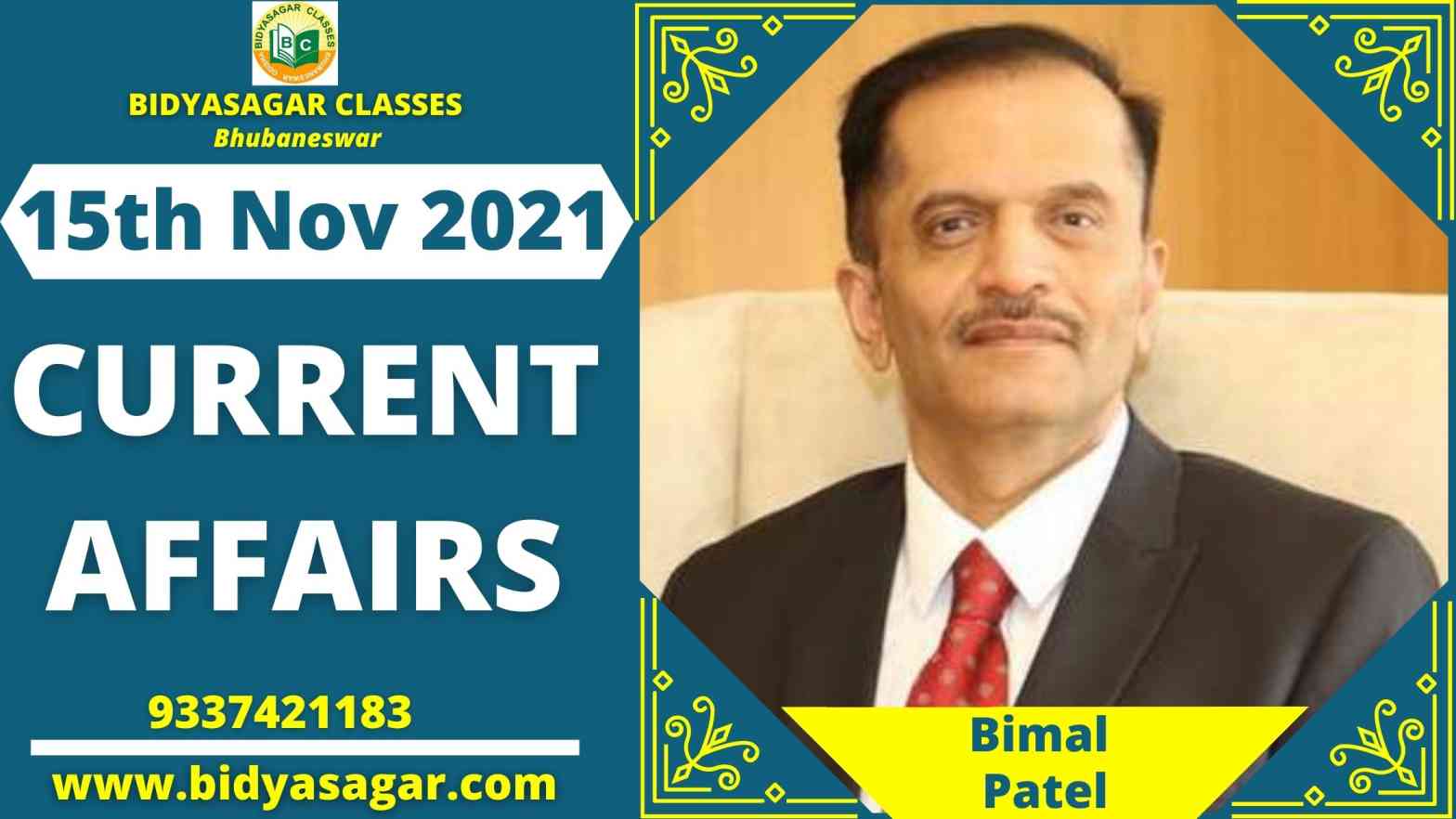 In this article, we will discuss all the important current affairs of 15th November 2021 in detail.
---
National
---
1. Niramay Yojana is a scheme launched by the Gujarat government.
The Gujarat government created the 'Niramay Gujarat Yojana' to screen and safeguard adults over the age of 30 from noncommunicable diseases.
Every Friday — also known as Mamta Divas — persons over 30 years of age are screened for such diseases at primary health centres and community health centres.
2. The Ministry of Tourist has signed an agreement with the IRCTC to strengthen the hospitality and tourism industries.
The Ministry of Tourism has inked a Memorandum of Understanding (MoU) with the Indian Railway Catering and Tourism Corporation as part of its continuous efforts to enhance the hospitality and tourism industry (IRCTC).
The main goal of this MOU is to give lodging units who have self-certified on SAATHI (System for Assessment, Awareness, and Training for the Hospitality Industry) on the OTA platform a lot of attention.
---
Banking & Finance News
---
3. The government's e-NAM platform has been integrated by HDFC Bank.
HDFC Bank has announced its connection with the government's National Agriculture Market (eNAM), which will allow for digital collections and settlement of cash to various e-NAM beneficiaries.
HDFC Bank said that it has partnered with the SFAC to enhance the simplicity of doing business on the e-NAM platform by providing collecting options including as multi-net banking, debit card, NEFT/RTGS, and UPI/IMPS.
4. The Reserve Bank of India has imposed a Rs 1000 withdrawal limit on Laxmi Cooperative Bank.
Due to deterioration in its financial status, the Reserve Bank of India (RBI) imposed severe limitations on Laxmi Cooperative Bank Ltd, Solapur, including a Rs 1,000 cap on customer withdrawals.
The RBI stated in a statement that the limits imposed under the Banking Regulation Act of 1949 will be in effect for six months from the close of business on November 12, 2021, and will be reviewed.
---
Business & Economy News
---
5. NTPC joins forces with Indian Oil to work on renewable energy.
The state-owned Indian Oil Corporation and NTPC have agreed to work together on renewable energy.
This is a one-of-a-kind creative project by two of India's biggest national energy companies to help the country's commitment to meeting renewable energy targets and reducing greenhouse gas emissions.
6. Oil India Limited and IIT-Guwahati will collaborate to advance technology in the energy sector.
Oil India Limited (OIL) and the Indian Institute of Technology-Guwahati (IIT-Guwahati) will work on the development and introduction of new technologies in the energy and associated sectors.
The partnership will also focus on cooperation in the areas of existing technology transfer, knowledge up-gradation and innovation, training and skill development, and other mutually agreed-upon areas.
7. Bags from Tata Projects Bangladesh has placed a $120 million order for a power transmission project.
The Power Grid Company of Bangladesh Limited has placed an order with Tata Projects Limited for a 400kV double circuit transmission line project worth over $120 million (around 900 crores) (PGCB).
This 120-kilometer project has been secured on a turnkey basis from Barapukuria to Bogura.
8. In October, India's retail inflation rate increased slightly to 4.48 percent.
According to data issued by the Ministry of Statistics and Programme Implementation (MoSPI), India's retail inflation rate, as measured by the Consumer Price Index (CPI), increased to 4.48 percent in October 2021.
According to government figures, retail inflation increased marginally in October due to an increase in food prices. In September 2021, CPI-based inflation was 4.35 percent, while in October 2020, it was 7.61 percent.
---
Appointments News
---
9. According to reports, VVS Laxman will be the next head of the National Cricket Academy.
A senior BCCI official stated that former India batsman VVS Laxman will be the new head of the National Cricket Academy (NCA).
Laxman will succeed Rahul Dravid, his former batting partner who was recently selected as India's new chief coach after Ravi Shastri's term came to an end.
10. Professor Bimal Patel has been elected to the United Nations' International Law Commission for a five-year term.
In a close election at the United Nations, Professor Bimal Patel, Vice-Chancellor of Rashtriya Raksha University and Member of India's National Security Advisory Board, was elected to the International Law Commission for a five-year term beginning January 1, 2023.
Patel received 163 votes out of 192 votes cast in the UN General Assembly, winning the Asia-Pacific group, which included candidates from China, South Korea, and Japan.
11. Rahul Dravid has been selected as a brand ambassador for a children's footwear company. Plaeto Plaeto, a children's footwear manufacturer, has signed Rahul Dravid as a brand ambassador and mentor. The collaboration was introduced alongside an ad featuring Dravid.
People Design and Communication, based in Bangalore, collaborated with team Plaeto to create the campaign.
12. Ravi Shastri will serve as Commissioner of the upcoming Legends League.
Former cricketer Ravi Shastri has joined Legends League Cricket (LLC) as commissioner after retiring as Men In Blue's Head Coach.
The LLC is a professional event for retired cricketers that will begin next year, with the first season expected to take place in the Gulf in January.
---
Sports News
---
13. After defeating New Zealand, Australia wins their first T20 World Cup.
After defeating New Zealand by 8 wickets in the 2021 ICC T20 Global Cup final at the Dubai International Cricket Stadium, Australia has been crowned the new world champions.
This is Australia's first World T20 victory since the competition began in 2007. The Men in Yellow had never won a T20 World Cup before.
14. Alexander Zverev defeats Frances Tiafoe to win fifth ATP title in 2021 Alexander Zverev defeated American qualifier Frances Tiafoe 7-5, 6-4 at the Erste Bank Open to capture his fifth ATP title of the season and 18th overall.
The fourth-ranked German rose to 5-0 in finals this season, becoming the second player in 2021 to win five tournaments, following Norwegian Casper Ruud.
15. In 2021, Erik Kynard will win the Olympic high jump gold medal he won in 2012.
American After original gold champion Ivan Ukhov of Russia was previously stripped for doping, Erik Kynard was elevated to a 2012 Olympic high jump gold medal, the IOC confirmed.
Kynard finished second with a leap of 2.33 metres, trailing only Ivan Ukhov, who was later found to have participated in a Russian state-sponsored steroid doping programme.
16. Wahab Riaz, a Pakistani pacer, intends to retire after the 2023 World Cup. Wahab Riaz, a fast bowler from Pakistan, has announced that he will retire from international cricket after the 2023 World Cup in India.
The 36-year-old pacer, who has played 27 Tests, 91 ODIs, and 36 T20Is for Pakistan, has been out of the team for some time and was also left out of the T20 World Cup.
---
Awards & Honours News
---
17. The ICC Hall of Fame will induct Mahela Jayawardena, Shaun Pollock, and Janette Brittin.
Before the T20 World Cup final begins, Sri Lankan legend Mahela Jayawardena, former South African all-rounder Shaun Pollock, and ex-England batter Janette Brittin will be inducted into the ICC Hall of Fame.
The ICC Hall of Fame honours the accomplishments of cricket's legends throughout the game's long and distinguished history. Since its inception in 2009, 106 players have been honoured, with Brittin, Jayawardena, and Pollock being the most recent inductees.
18. Skoch Award Gold for Bengal's Education and Tourism Departments
The Skoch award was given to West Bengal's school, higher education, and tourist departments.
Both the GoWB School Education Department and the Higher Education Department have received the renowned SKOCH GOLD award.
---
Obituary News
---
19. Babasaheb Purandare, a historian and Padma Vibhushan Awardee, has died.
Balwant Moreshwar Purandare, often known as Babasaheb Purandare, a noted historian and Padma Vibhushan awardee, died at a Pune hospital after a brief illness. He was 99 years old at the time.
Purandare, also known as 'Shiv Shahir' (literally, Shivaji's bard), was regarded as one of the foremost authorities on Chhatrapati Shivaji Maharaj. In 2019, he received the Padma Vibhushan, India's second highest civilian honour.
Bidyasagar Classes Address
Plot No-N-6-325, Biju Patnaik College Road,  Infront of SBI, Jayadev Vihar, Bhubaneswar
Website: www.bidyasagar.com
Opening and closing hours: Monday to Sunday :7AM-9PM
 -Mail : bidyasagar.classes@gmail.com
Contact No. : 8917265768; 9337421183, 8093021183