Important Daily Current Affairs of 19th Dcember 2021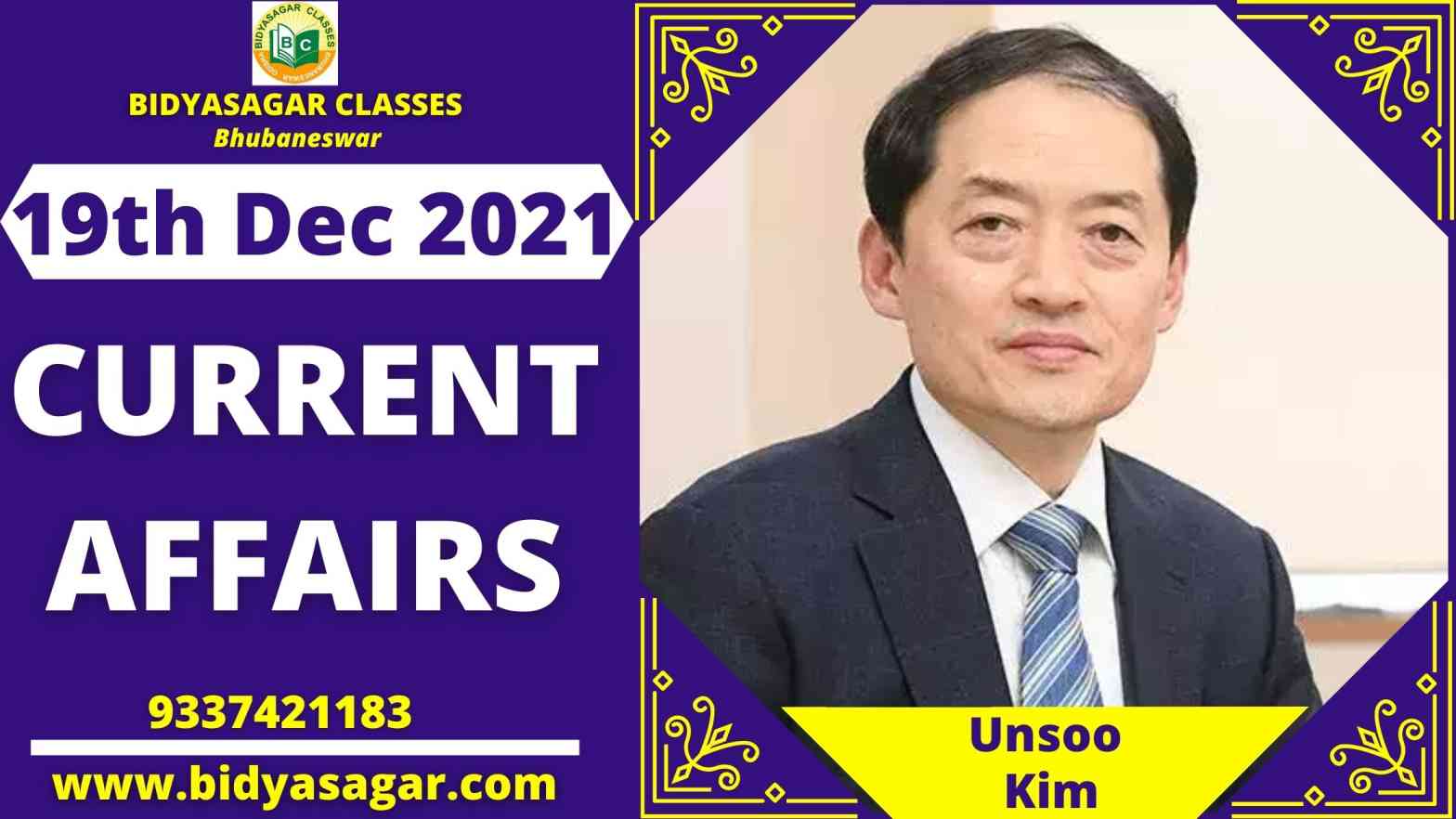 In this article, we will discuss all the important current affairs of 19th Dcember 2021 in detail.
---
National
---
1. Haryana's 'Khel Nursery Scheme 2022-23' was created to promote sports.
Sandeep Singh, the Haryana Minister of State for Sports and Youth Affairs, announced the 'Khel Nursery Scheme 2022-23' to encourage sports in the state.
The programme encourages the establishment of sports nurseries in government, private educational institutions, and private sports facilities.
2. The Centre has given its approval in principle for six nuclear reactors in Jaitapur, Maharashtra.
Dr. Jitendra Singh, Union Minister of State (Independent Charge) for Science and Technology, has given 'In-Principle' approval for the construction of six nuclear reactors in Jaitapur, Maharashtra.
The approval is for the construction of six nuclear power reactors with a total capacity of 9900 MW, becoming Jaitapur India's largest nuclear power generating plant.
3. The proposal to raise the marriage age for women from 18 to 21 years old was approved by the Cabinet.
The Union Cabinet, led by Prime Minister Narendra Modi, has approved a proposal to harmonise the minimum age of marriage for men and women, raising the legal age of marriage for women from 18 to 21 years. For men, the legal age to marry is 21.
In this context, during the current winter session of Parliament, a Bill will be introduced to alter the Prohibition of Child Marriage Act (PCMA), 2006, Special Marriage Act, 1954, and personal legislation such as the Hindu Marriage Act 1955. (November 29- December 23, 2021).
4. For rankings of States/UTs in Land Acquisition Projects, the Rural Development Minister developed the 'Vikas Online' Management Information System portal.
Union Minister Giriraj Singh of the Ministry of Rural Development (MoRD) launched the 'Vikas Portal' Management Information System (MIS) portal for rankings of States/Union Territories (UTs) in Land Acquisition Projects under the RFCTLARR Act, 2013, in line with the Central Government's Gati Shakti Mission.
It was created for free by the National Informatics Centre (NIC) team of the Ministry of Rural Development's Department of Land Resources (DoLR).
---
International News
---
5. India and Vietnam have inked an agreement to form a relationship in the fields of digital media and information technology.
The Government of India and the Government of Vietnam signed a Letter of Intent (LoI) to facilitate collaboration in the sphere of digital media and boost the bilateral relationship.
The letter of intent anticipates the exchange of information and expertise in the development of policies and regulatory frameworks for digital media and social media.
6. PM Modi was ranked eighth on the list of the World's Most Admired Men in 2021.
On Yougov's annual list of the world's top 20 most admired men, Prime Minister Narendra Modi is ranked eighth.
Shah Rukh Khan, Amitabh Bachchan, and Virat Kohli are all ahead of PM Modi. The list was developed with the help of 42,000 people from 38 different nations.
---
Banking & Finance News
---
7. The Reserve Bank of India (RBI), in conjunction with the Ministry of Finance's Department of Financial Services (DFS), has decided to allow scheduled payments banks and scheduled small finance banks (SFBs) to perform government agency business.
RBI changed its existing guidelines on 'Appointment of Scheduled Private Sector Banks as Agency Banks of RBI' on May 10, 2021, to allow Scheduled Private Sector Banks to do government business (both central and state).
8. PNB and ICICI Bank were fined Rs 1.8 crores and Rs 30 lakhs by the RBI.
Punjab National Bank (PNB) has been fined Rs 1.8 crore by the Reserve Bank of India (RBI), while ICICI Bank has been fined Rs 30 lakh for regulatory violations.
PNB was found guilty of violating sections of the Banking Regulation Act, 1949, pertaining to its commitment of shares, according to a statement released by the central bank.
9. ICICI Prudential Life Insurance Business Limited is the first Indian insurance company to sign the United Nations' Principles for Responsible Investment.
To demonstrate commitment to environmental, social, and governance (ESG) issues, ICICI Prudential Life Insurance became the first Indian insurance business to adopt the United Nations-backed Principles for Responsible Investment (UNPRI).
IPRULIFE is incorporating ESG criteria into their investment management strategy to enhance sustainability.
10. Home loans are available through a partnership between Union Bank of India and Home First Finance.
Home First Finance Company India Ltd (HomeFirst) and Union Bank of India have formed a strategic co-lending agreement to provide consumers with home loans at low interest rates.
HomeFirst will keep a minimum of 20% of the loan, while UBI will keep the remaining 80%.
11. TVS Motor and BMW Motorrad have teamed up to develop electric vehicles.
TVS Motor Company and BMW Motorrad, the world's largest automaker, have increased their collaboration in the electric car area.
In India, TVS Motor Company will collaborate with BMW's Motorrad brand to produce electric cars (EVs). The first product to emerge from the enhanced collaboration, an electric model designed for urban environments, is scheduled to hit the market within the next 24 months.
---
Appointments News
---
12. Arvind Kumar has been named the Director General of India's Software Technology Parks.
Arvind Kumar has been appointed Director General of India's Software Technology Parks (STPI). STPI is a government of India agency under the Ministry of Electronics and Information Technology (MeitY).
STPI-registered units have now surpassed Rs. 5 lakh crores in IT/ITeS/ESDM exports. With a total size of approximately 13 lakh square feet scattered throughout multiple Tier 1/2/3 cities, STPI is one of India's largest tech incubators.
13. Hyundai Motor India Limited has named Unsoo Kim as its new managing director.
Unsoo Kim has been appointed as the Managing Director (MD) of Hyundai Motor India Limited (HMIL) with effect from January 1, 2022.
He will succeed Seon Seob Kim (SS Kim), who will manage Hyundai's Global Operations Division in Seoul, South Korea.
---
Awards & Honours News
---
14. PM Modi was honoured with Bhutan's highest civilian honour.
On the occasion of Bhutan's 114th National Day, Prime Minister Narendra Modi received Bhutan's highest civilian award, the Ngadag Pel gi Khorlo, popularly known as the Order of the Dragon King (Druk Gyalpo) (17th December 2021).
PM Modi is the first foreigner to get the prestigious honour. The award is in recognition of India's welcoming attitude toward Bhutan under Prime Minister Modi's leadership.
15. At the 2021 Paralympic Sport Awards, Avani Lekhara was named "Best Female Debut."
Avani Lekhara, an Indian shooter who made history by becoming the first Indian woman to win a gold medal in shooting at the 2020 Tokyo Paralympics, was named "Best Female Debut" at the 2021 Paralympic Sport Awards.
The International Paralympic Committee declared the winners.
---
Books & Authors News
---
16. A book on Yogi Adityanath "The Monk Who Transformed Uttar Pradesh"; authored by Shantanu Gupta
The book titled "The Monk Who Transformed Uttar Pradesh: How Yogi Aditynath Changed UP Waala Bhaiya' abuse to a Badge of Honour", authored by Shantanu Gupta.
The book underlines the journey of Uttar Pradesh Chief Minister Yogi Adityanath, from being born in Uttarakhand to becoming a Nath Panthi saint, to CM of Uttar Pradesh.
17. Yarlagadda Lakshmi Prasad's Telugu novel 'Gandhi Topi Governor' was released by Venkaiah Naidu.
India's Vice President M Padma Awardee Dr Yarlagadda Lakshmi Prasad, Chairman, Official Language Commission, Andhra Pradesh, released the Telugu book 'Gandhi Topi Governor' by Venkaiah Naidu.
Barrister Idpuganti Raghavendra Rao's life is chronicled in this book. I R Rao was a famous freedom fighter, legislator, and Governor of the British Administration's Central Provinces.
---
Important Days
---
18. Goa Liberation Day is celebrated on December 19th.
Every year on December 19, India commemorates Goa Liberation Day. Goa will celebrate 60 years of independence in 2021.
Every year on December 19, Goa Liberation Day commemorates the triumph of the Indian Armed Forces' 'Operation Vijay,' which liberated Goa from Portuguese dominion on December 19, 1961.
Bidyasagar Classes Address
Plot No-N-6-325, Biju Patnaik College Road,  Infront of SBI, Jayadev Vihar, Bhubaneswar
Website: www.bidyasagar.com
Opening and closing hours: Monday to Sunday :7AM-9PM
 -Mail : bidyasagar.classes@gmail.com
Contact No. : 8917265768; 9337421183, 8093021183