Important Daily Current Affairs of 21st Dcember 2021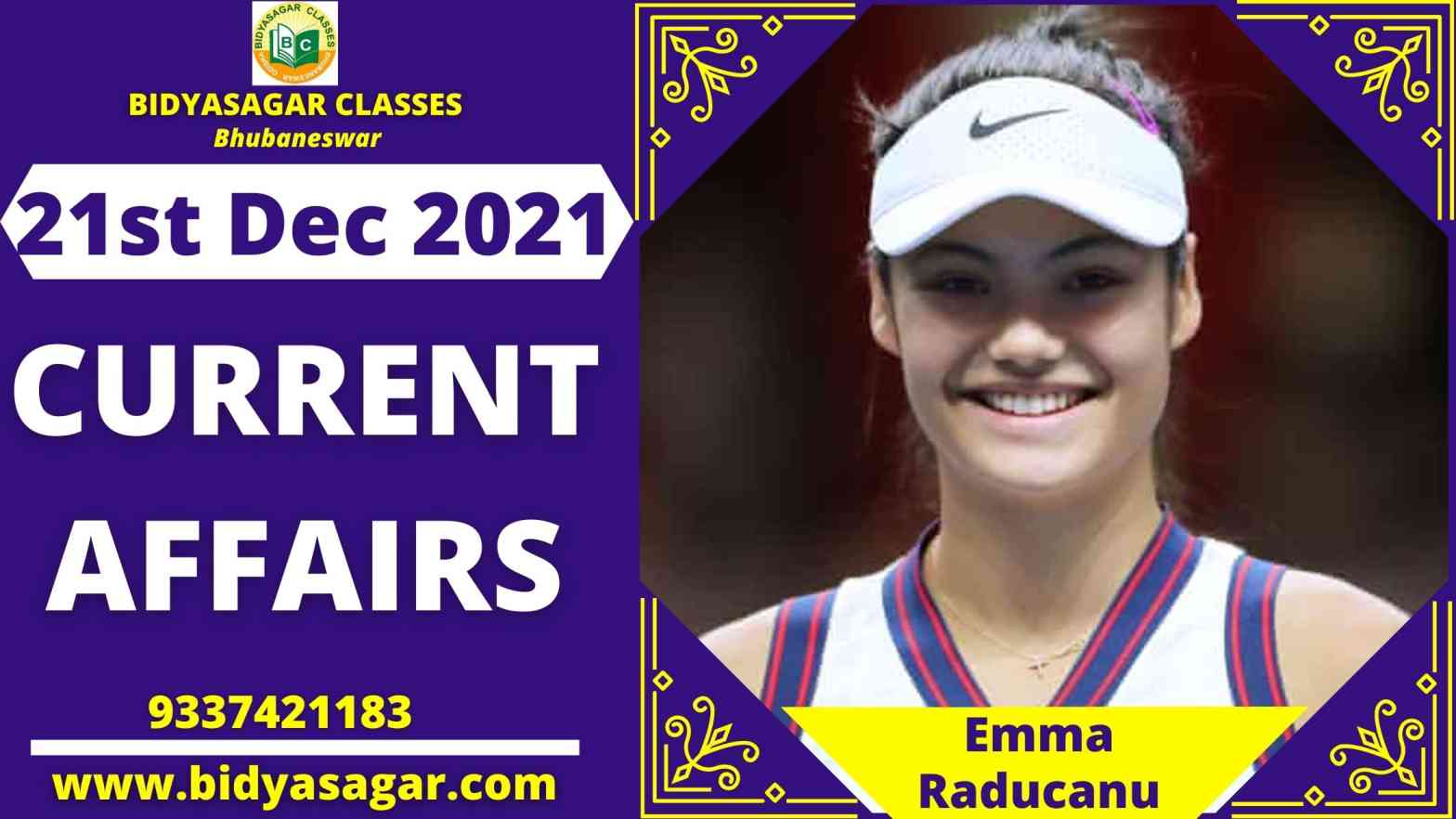 In this article, we will discuss all the important current affairs of 21st Dcember 2021 in detail.
---
National
---
1. In Goa, Prime Minister Narendra Modi unveiled development projects of Rs 650 crores.
During the Goa Liberation Day celebrations at Shyamaprasad Mukherjee Stadium in Taleigao, Goa, Prime Minister Narendra Modi inaugurated and lay the foundation stone for many development projects costing over 650 crores rupees.
Modi will dedicate the redevelopment of the Aguada Fort Jail Museum, which will cost over Rs 28 crore, as well as a super specialty block at the Goa Medical College and Hospital.
2. Mukhyamantri Vayu Swasthya Seva was inaugurated by the Odisha Chief Minister for remote tribal districts.
The Mukhyamantri Vayu Swasthya Seva (Air Health Services) was launched by Odisha Chief Minister Naveen Patnaik at the Biju Patnaik International Airport in Bhubaneswar, and the first aircraft to Malkangiri District with a medical team was flagged off.
Specialist doctors would be flown to rural districts of Odisha to treat patients suffering from serious ailments under this scheme.
3. The state festival "Krishna Balram Jagannath Rath Yatra" has been declared by Punjab's chief minister.
Lord Krishna Balram Jagannath Rath Yatra has been proclaimed an annual state festival by Punjab Chief Minister Charanjit Singh Channi.
The news was made during the 25th Shri Lord Krishna Balram Jagannath Rath Yatra's flag-off ceremony. In addition, he made a Rs 2.51 crore donation to the Iskcon Temple in Ludhiana, Punjab.
4. Nagaland established three new districts. Tseminyu, Chumukedima, and Nuiland
Nagaland's State Government has created three new districts, Tseminyu, Nuiland, and Chumukedima, bringing the total number of districts in the state to 15.
Tseminyu was designated as the 13th district, followed by Nuiland and Chumukedima, which were designated as the 14th and 15th districts, respectively.
---
International News
---
5. Chile's President, Gabriel Boric, has been elected.
Gabriel Boric, 35, won Chile's presidential elections, becoming the country's youngest-ever President-elect.
In the elections, he defeated his opponent, Jose Antonio Kast. Gabriel Boric will become Chile's youngest president when he takes office in March 2022.
6. India is ranked fourth in Truecaller's Global Spam & Scam Report 2021, while Brazil is first.
Due to a large increase in sales and telemarketing calls, India has moved up in the rankings from 9th in 2020 to 4th in 2021, according to Truecallers' 5th "Global Spam & Scam Report," which covers the Top 20 Countries Affected by Spam Calls in 2021.
One of the most popular types of spam in the country is KYC (know your customer) spam. In October, the average number of spam calls per user per month was 16.8.
---
Banking & Finance News
---
7. The Government of India and the German Development Bank (KfW) have agreed to a loan of EUR 442.26 million for the Surat Metro Rail Project.
The Government of India and the KfW (Kreditanstalt für Wiederaufbau) of Germany signed a credit agreement for a 40.35-kilometer Surat Metro Rail project in Gujarat.
The project's entire cost is Euro 1.50 billion, with KfW contributing Euro 442.26 million.
8. Equitas Small Finance Bank has been appointed as the state government of Maharashtra's banking partner, with the goal of providing financial services to state government employees.
The government has entrusted the distribution of salaries and allowances to the Bandhan Bank, Karur Vysya Bank, and the South Indian Bank.
9. Edelweiss General Insurance teamed up with PhonePe to provide digital car insurance.
Edelweiss General Insurance has teamed with PhonePe, a fintech company in the digital payments area, to provide all of its customers with quick and easy digital motor insurance solutions.
Customers of PhonePe will benefit from simple, end-to-end digital solutions in the motor insurance industry as a result of the relationship.
---
Appointments News
---
10. Rishabh Pant has been named 'State Brand Ambassador' by Uttarakhand.
Uttarakhand Chief Minister Pushkar Singh Dhami named Indian cricketer Rishabh Pant as the state's 'State Brand Ambassador,' with the goal of encouraging the state's young to participate in sports and improve their health.
Rishabh Rajendra Pant, a 24-year-old cricketer from Uttarakhand, was born in Roorkee. He is an Indian cricketer who represents India, Delhi, and the Delhi Capitals in the Indian Premier League as a middle-order wicket-keeper batsman (IPL).
11. The Indian Newspaper Society has named Mohit Jain as its next president.
The Indian Newspaper Society (INS) has elected Mohit Jain as its president for the years 2021-22.
He succeeds Health & The Antiseptic's Lakshmipathy Adimoolam. K Raja Prasad Reddy (Sakshi) was chosen the Deputy President, Rakesh Sharma (Aaj Samaj) as the Vice President, and Tanmay Maheshwari (Amar Ujala) as the Honorary Treasurer of the Society for 2021-22.
---
Awards & Honours News
---
12. Emma Raducanu has been named BBC Sports Personality of the Year for the year 2021.
Emma Raducanu, a tennis player, was named BBC Sports Personality of the Year for 2021.
Tom Daley (diver) and Adam Peaty (swimmer) finished second and third, respectively. The BBC picked England's men's football squad as team of the year, with Gareth Southgate as coach of the year.
---
Defence
---
13. The Indian Navy's second indigenous stealth destroyer, the 'Mormugao,' has set sail for its first sea trials.
The indigenous Indian Navy stealth guided-missile destroyer 'Mormugao' has completed her first sea testing. The Project 15 B (P15B) class's second indigenous stealth destroyer is scheduled to be commissioned in mid-2022.
Mormugao is a Project 15B destroyer being built at Mazagon Dock Shipbuilders Ltd, and it combines various indigenous technologies.
---
Obituary News
---
14. Justice GT Nanavati, a former Supreme Court judge, died.
Justice Girish Thakorlal Nanavati, a former Supreme Court judge who oversaw two inquiry panels into the 2002 Godhra Riots and the 1984 Anti-Sikh Riots, has died.
In March 1995, he was elevated to the Supreme Court of India as a Judge, and he retired as a SC Judge in February 2000.
Bidyasagar Classes Address
Plot No-N-6-325, Biju Patnaik College Road,  Infront of SBI, Jayadev Vihar, Bhubaneswar
Website: www.bidyasagar.com
Opening and closing hours: Monday to Sunday :7AM-9PM
 -Mail : bidyasagar.classes@gmail.com
Contact No. : 8917265768; 9337421183, 8093021183