Important Daily Current Affairs of 22nd November 2021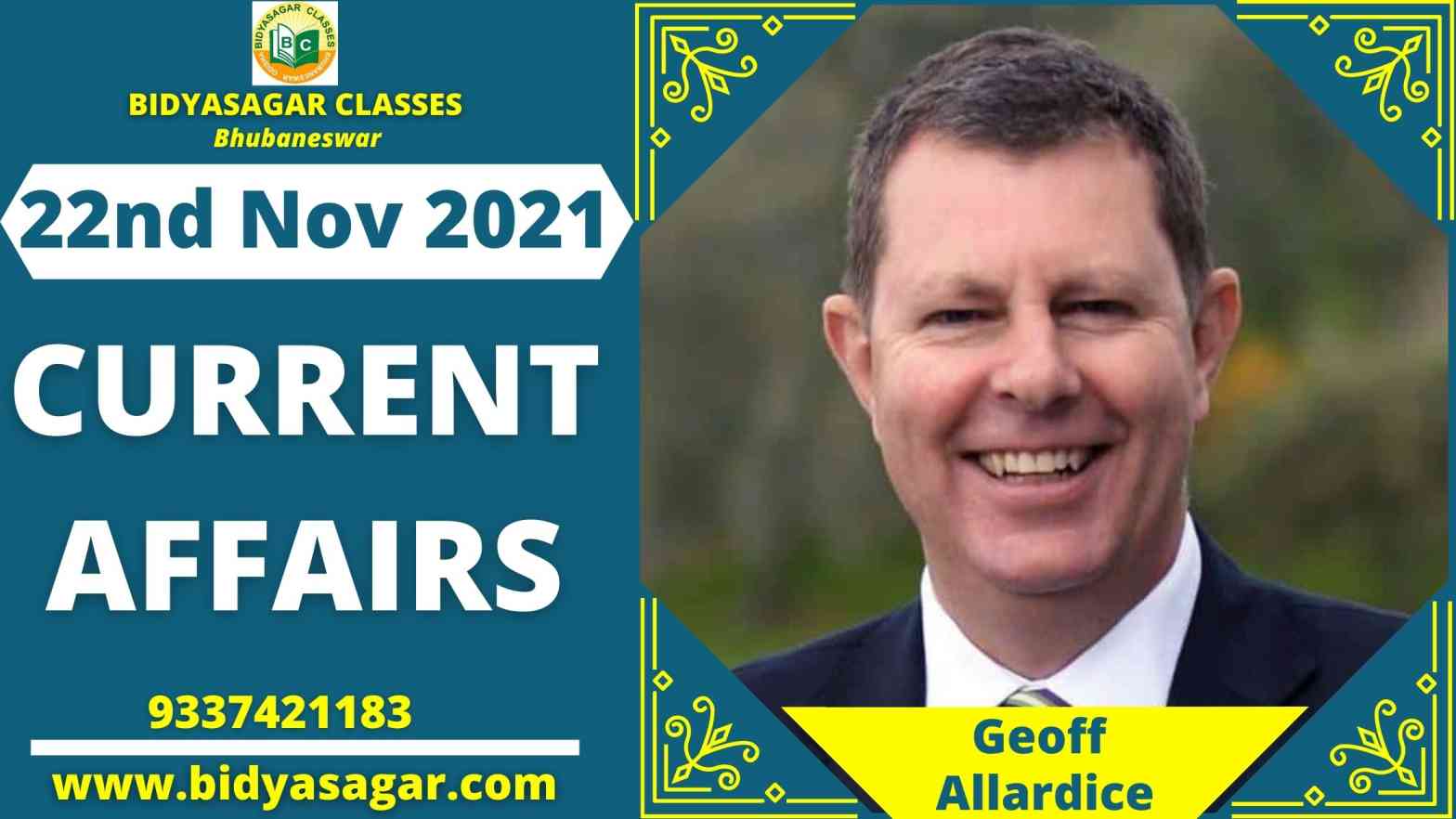 In this article, we will discuss all the important current affairs of 22nd November 2021 in detail.
---
National
---
1. On Karthika Purnima, which is also known as Boita Bandana, Odisha celebrated the 'Boita Bandana' Festival at various water bodies throughout the state.
The event is a maritime ritual that is observed as a tribute to Kalinga's maritime trading history. Sadhabas, or businessmen and sailors, travelled on boitas (boats) to trade with faraway island nations such as Indonesia, Java, Sumatra, and Bali, which share borders with the Bay of Bengal.
2. Sarbananda Sonowal, Minister of AYUSH, has announced the expansion of the NEIAFMR in Arunachal Pradesh.
Sarbananda Sonowal, the Union Minister of Ports, Shipping and Waterways, has declared that the North Eastern Institute of Ayurveda and Folk Medicine Research (NEIAFMR) in Pasighat, Arunachal Pradesh, will be expanded by building additional facilities on campus.
The effort is in accordance with the state's and the northeast region's goals to grow the AYUSH industry.
3. The Indian Navy has commissioned the INS Visakhapatnam.
On November 21, 2021, the Indian Navy commissioned the INS Visakhapatnam, a P15B stealth guided missile destroyer, at the Naval Dockyard in Mumbai.
This is the first of four destroyers of the 'Visakhapatnam' class. It was designed in-house by the Indian Navy's Directorate of Naval Design and built by Mazagon Dock Shipbuilders Limited in Mumbai.
4. Sadar Bazar police station in Delhi has been named the best police station in India for 2021 by the Ministry of Home Affairs.
The Ministry of Home Affairs has named the Sadar Bazar police station in Delhi as India's best police station for the year 2021.
The Ministry of Home Affairs publishes a list of the top 10 police stations in India every year to rank the stations according to the services and facilities they provide.
---
Banking & Finance News
---
5. RBL Bank has been permitted by the RBI to collect direct taxes.
On the suggestion of the Controller General of Accounts, Ministry of Finance and Government of India, the Reserve Bank of India (RBI) approved RBL Bank to collect direct taxes on behalf of the Central Board of Direct Taxes (CBDT).
RBL Bank customers can now pay their direct taxes through the bank's mobile banking or net banking systems, as well as branch banking networks.
6. HPCL and IDFC First Bank collaborated on fuel payments using FASTags.
IDFC First Bank and Hindustan Petroleum Corporation Ltd (HPCL) have teamed to allow bank's FASTag clients to make gasoline payments for passenger vehicles at HPCL's retail outlets using the bank's FASTags via the HP PAY app.
Passengers can also purchase, recharge, and replace FASTags from IDFC First Bank at various HPCL retail locations.
---
Appointments News
---
7. Geoff Allardice has been named as the ICC's next permanent CEO.
The International Cricket Council (ICC) has named Geoff Allardice as the new permanent CEO of the sport's governing body. For eight years, Allardice, a former Australian first-class cricketer and administrator, served as the ICC General Manager, Cricket.
For more than eight months, he served as interim CEO. He took over for Manu Sawhney, who resigned from his post in July 2021.
---
Sports News
---
8. Lewis Hamilton wins the Qatar Grand Prix in 2021.
The 2021 F1 Qatar Grand Prix was won by Lewis Hamilton (Mercedes-Great Britain) on November 21, 2021.
Max Verstappen (Red Bull – Netherlands) finished second, followed by Fernando Alonso (Alpine – Spain).
9. The International Cricket Council has named Geoff Allardice as its permanent CEO.
On November 21, 2021, the International Cricket Council (ICC) nominated Geoff Allardice as the permanent CEO of the International Cricket governing body.
For more than eight months, Allardice served as interim CEO.
10. India wins seven medals at the Asian Archery Championships in Dhaka in 2021.
From November 14, 2021, to November 19, 2021, the Asian Archery Championships were held in Dhaka, Bangladesh.
Indian archers took home seven medals at the competition, placing them second in the medal table. One gold, four silver, and two bronze medals were awarded.
---
Awards & Honours News
---
11. Pratham was awarded the Indira Gandhi Peace Prize in 2021 for educational activities.
The Indira Gandhi Peace Prize for 2021 has been presented to Pratham. Pratham is committed to raising educational standards for poor children in India and around the world.
Dr Madhav Chavan and Farida Lambay founded it in Mumbai in 1995. In 1986, a trust in Indira Gandhi's name established the Indira Gandhi Prize for Peace, Disarmament, and Development in her honour. It includes a monetary award of Rs. 25 lakh as well as a citation.
---
Obituary News
---
12. Gurmeet Bawa, a veteran Punjabi folk singer, died at the age of 77.
Gurmeet Bawa, a well-known Punjabi folk musician, has died after a protracted illness. She was 77 years old at the time.
Gurmeet was most known for her 45-second lengthy 'hek' (the breathless introduction of a Punjabi folk song calling "ho" to generate a lovely voice with an unbroken wave).
Bidyasagar Classes Address
Plot No-N-6-325, Biju Patnaik College Road,  Infront of SBI, Jayadev Vihar, Bhubaneswar
Website: www.bidyasagar.com
Opening and closing hours: Monday to Sunday :7AM-9PM
 -Mail : bidyasagar.classes@gmail.com
Contact No. : 8917265768; 9337421183, 8093021183