Important Daily Current Affairs of 23rd November 2021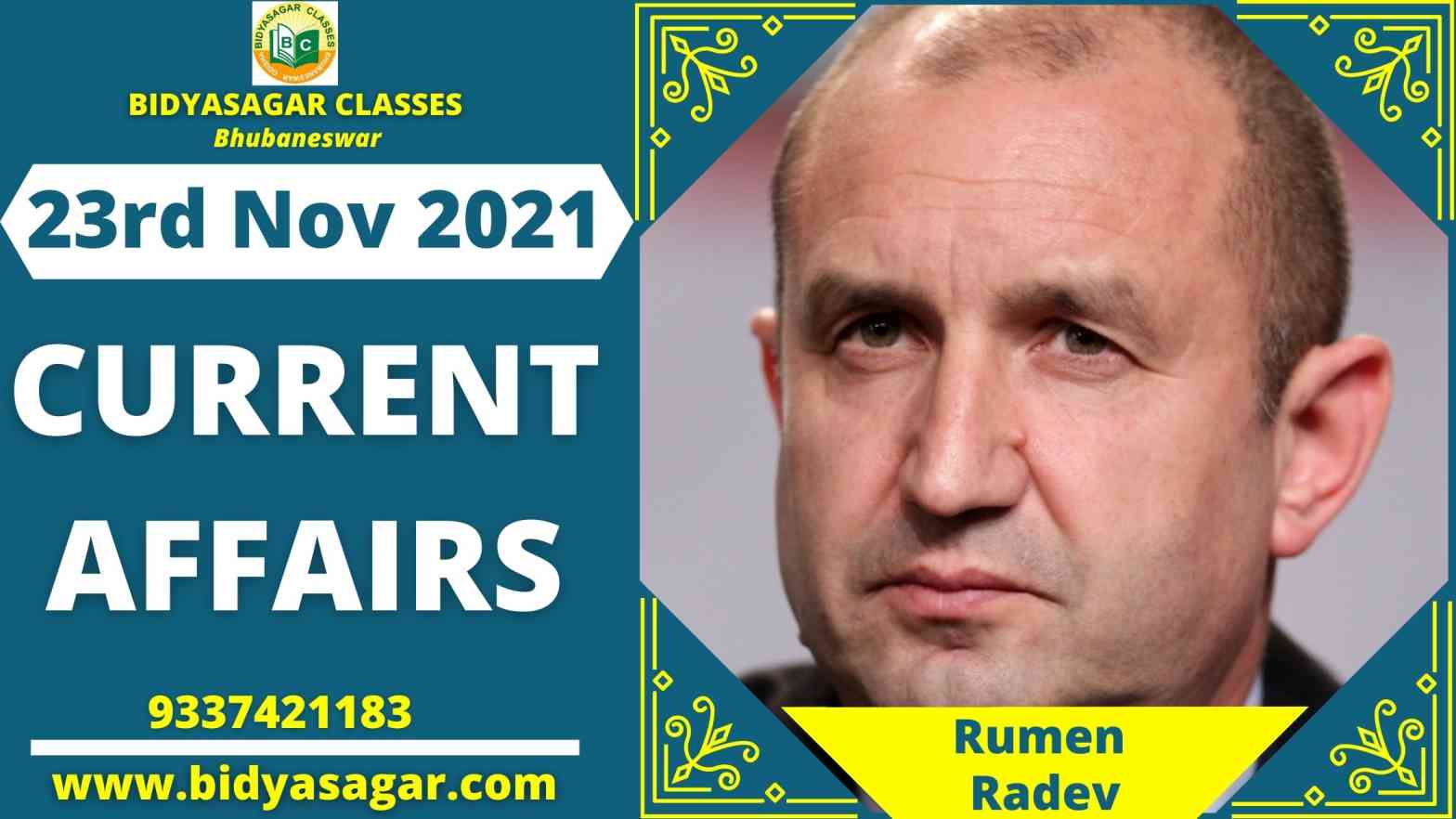 In this article, we will discuss all the important current affairs of 23rd November 2021 in detail.
---
National
---
1. Andhra Pradesh wins the award for Best Marine State.
The Department of Fisheries has rated Andhra Pradesh the greatest marine state in the country.
On the occasion of 'World Fisheries Day' on November 21, 2021, the Department of Fisheries, under the Ministry of Fisheries, Animal Husbandry, and Dairying, awarded best performing States for 2021-22, to recognise their accomplishments in the area and commitment to the sector's growth.
2. At IIT Guwahati, Education Minister Dharmendra Pradhan inaugurates the Centres for Nanotechnology and the Centre for Indian Knowledge System.
On November 21, 2021, Union Education Minister Dharmendra Pradhan opened two new state-of-the-art centres at IIT Guwahati in Assam. The Centre for Nanotechnology (CNT) and the Centre for Indian Knowledge System (CIKS) are two among them (CIKS).
The CNT will aim to address future challenges and strengthen academic-industry collaboration in Nanotechnology.
3. In Chennai, the CII will host the 20th edition of 'Connect 2021.'
The Confederation of Indian Industry (CII) will hold its flagship event, Connect 2021, in Chennai, Tamil Nadu, from November 26 to 27.
Connect is an international information and communication technology conference and exhibition (ICT).
4. At Mumbai Central Station, Indian Railways receives its first pod hotel.
Passengers on Indian Railways, as well as the general public, can now take use of sophisticated resting amenities at a lower cost owing to the first-of-its-kind pod hotel that has opened at Mumbai Central Station.
According to a senior Western Railway (WR) official, staying in this pod hotel will cost 999 for 12 hours and 1,999 for 24 hours, and will include amenities such as WiFi, TV, a small locker, adjustable mirror, and reading lighting, among others.
---
International News
---
5. El Salvador intends to construct the world's first "Bitcoin City."
President Nayib Bukele of El Salvador has claimed that the government will establish the world's first "Bitcoin City."
The new city will be built in La Union's eastern section and will be first funded by bitcoin-backed bonds.
6. Russia successfully test-fired the 'Zircon' hypersonic cruise missile.
Recently, the Russian military successfully test-fired its Zircon hypersonic cruise missile.
The missile was fired from the Admiral Gorshkov cruiser and was aimed at a test target in the White Sea's Arctic waters in northern Russia.
7. The Guinness World Record for the world's largest orchestra was set by 8,573 Venezuelan musicians.
With 8,573 members playing together for more than five minutes, Venezuela has achieved a new Guinness World Record for the largest orchestra.
The record was set by "El Sistema," the country's National System of Youth and Children's Orchestras.
---
Banking & Finance News
---
8. According to the SBI Ecowrap research, India's GDP will grow between 9.3% and 9.6% in FY22.
The economists of the State Bank of India (SBI) have revised upwards the GDP growth prediction for India in their research paper – Ecowrap – to a range of 9.3 percent to 9.6 percent for FY22 (2021-22).
This was previously predicted to be in the range of 8.5 percent to 9%.
9. EPFO intends to invest 5% of annual deposits in InvITs (alternative investment trusts).
The Employees' Provident Fund Organisation's (EPFO) central board has approved investing up to 5% of yearly deposits in alternative investment funds (AIFs), which include infrastructure investment trusts (InvITs).
To make EPFO a more user-friendly organisation, the central board also approved the formation of four subcommittees on employee pensions, social security, and digital capacity expansion.
---
Business & Economy News
---
10. SBI Research has raised its forecast for India's GDP growth in fiscal year 2022.
SBI Research has upgraded India's GDP growth projection for financial year 2022 to the range of 9.3%-9.6% from its earlier estimates of 8.5%-9%.
SBI Research's revised GDP estimate is in line with the RBI's forecast of 9.5 percent GDP growth for the current fiscal year.
---
Appointments News
---
11. Rumen Radev, the President of Bulgaria, has been re-elected.
Bulgaria's presidential run-off appears to have been won by incumbent Rumen Radev, according to exit polls.
He received 66.7 percent of the second-round vote over conservative contender Anastas Gerdzikov, according to a partial official result.
12. Geoff Allardice is named permanent CEO of the ICC.
The International Cricket Council has named Australian Geoff Allardice as its permanent CEO after serving in the job on an interim basis for more than eight months, according to the game's governing body.
Manu Sawhney, who had resigned from his job in July, was therefore succeeded by Allardice.
---
Sports News
---
13. The 2021 Indonesia Masters Badminton Tournament is won by Kento Momota and An Seyoung.
Top-seeded Kento Momota of Japan won the men's singles title at the 2021 Indonesia Masters Super 750 badminton tournament by defeating Anders Antonsen of Denmark 21-17, 21-11.
From November 16 to 21, 2021, the US$600,000 tournament was held in Bali, Indonesia.
14. Tamil Nadu defeats Karnataka to win the Syed Mushtaq Ali Trophy.
In a thrilling four-wicket win over Karnataka in the summit encounter, M Shahrukh Khan hit a spectacular last-ball six to help Tamil Nadu defend the Syed Mushtaq Ali Trophy T20 championship.
With 16 runs needed off Prateek Jain's final over, power-hitter Khan kept his cool under pressure to bludgeon the penultimate delivery over deep-square leg to lead Tamil Nadu to 153 for 6 and seal a memorable victory.
---
Awards & Honours News
---
15. Anita Desai has been awarded the Tata Literature Live! Lifetime Achievement Award for 2021.
Anita Desai, one of India's best-selling authors, has been awarded the Tata Literature Live! Lifetime Achievement Award for 2021 in recognition of her 50-year literary career.
Meanwhile, Adil Jussawala, an Indian poet, has been named Poet Laureate for 2021.
---
Obituary News
---
16. Gurmeet Bawa, a Punjabi folk singer, has died.
Gurmeet Bawa, a well-known Punjabi folk singer known as 'Lambi hek di malika' (the queen of singing in a long breath), has died. She was 77 years old at the time.
She was famed for her extended 'heks,' or single-breath singing, which she could maintain for a record 45 seconds.
She was the first Punjabi female singer to sing on Doordarshan and was one of the artists known for singing 'Jugni' after Alam Lohar.
Bidyasagar Classes Address
Plot No-N-6-325, Biju Patnaik College Road,  Infront of SBI, Jayadev Vihar, Bhubaneswar
Website: www.bidyasagar.com
Opening and closing hours: Monday to Sunday :7AM-9PM
 -Mail : bidyasagar.classes@gmail.com
Contact No. : 8917265768; 9337421183, 8093021183