Important Daily Current Affairs of 24th November 2021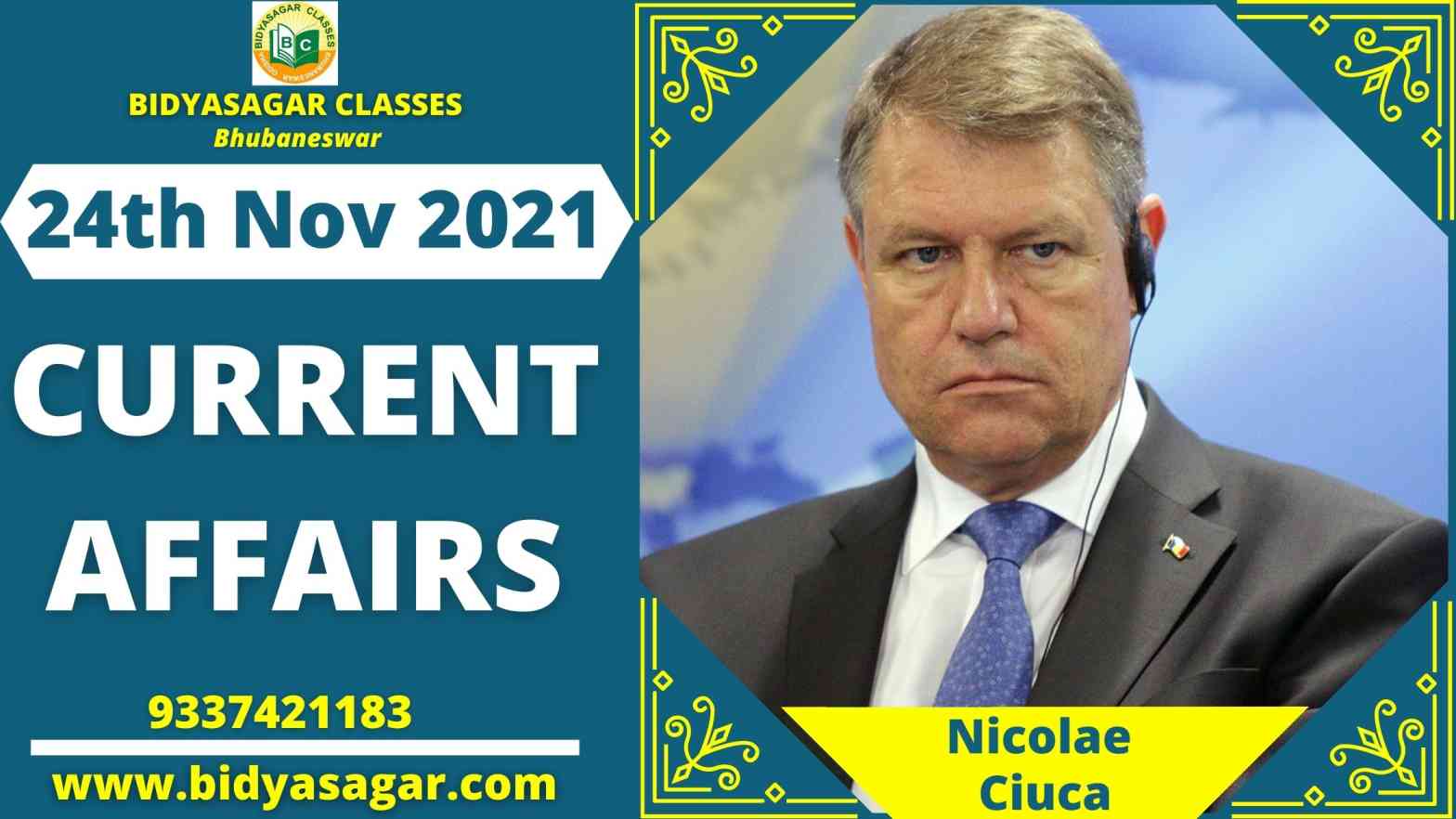 In this article, we will discuss all the important current affairs of 24th November 2021 in detail.
---
National
---
1. In Manipur Union, Home Minister Amit Shah lays the foundation for the 'Rani Gaidinliu Tribal Freedom Fighters Museum.' On November 22, 2021, Home Minister Amit Shah used video conferencing to lay the cornerstone for the 'Rani Gaidinliu Tribal Freedom Fighters Museum' in Manipur.
The museum will be built in Luangkao village, Tamenglong district, Manipur, where freedom fighter Rani Gaidinliu was born.
2. Odisha celebrates Boita Bandana with zeal.
On November 19, 2021, the traditional Odia celebration Boita Bandana was widely observed across Odisha.
On Kartika Purnima, or the full moon day of the Kartika month in the Hindu calendar, the event is commemorated.
3. Cabinet approves a four-month extension of the Pradhan Mantri Garib Kalyan Ann Yojana and completes the legalities to abolish three farm laws.
The Pradhan Mantri Garib Kalyan Ann Yojana has been extended for another four months by the Union Cabinet.
The 5th Phase of this scheme has been extended from December 2021 to March 2022, according to Information and Broadcasting Minister Anurag Thakur.
4. Dr. Jitendra Singh has announced the establishment of 30 Science, Technology, and Innovation (STI) Hubs for STs. Dr Jitendra Singh, Union Minister of State (Independent Charge) Science & Technology; Minister of State (Independent Charge) Earth Sciences; MoS PMO, Personnel, Public Grievances, Pensions, Atomic Energy and Space, inaugurated "Tech NEEV/ @75" as part of Azadi ka Amrit Mahotsav and interacted with successful start-ups including those from tribal communities on the occasion of Janjatiya Gaurav Diwas by the end of
Dr. Jitendra Singh stated that the government plans to establish 30 Science, Technology, and Innovation (STI) Hubs for Scheduled Tribes (STs) in various parts of the country by the end of 2022 in order to promote scientific talent among tribal communities and their overall socio-economic development.
5. Tantya Bhil, a tribal figure, would be honoured with a railway station named after him, according to MP CM Patalpani.
Madhya Pradesh Chief Minister Shivraj Singh Chouhan announced the naming of Patalpani railway station near Indore and two other sites in that city after tribal legend Tantya Bhil, accusing Congress of honouring only one family with attaining independence.
Bhopal's Habibganj railway station, for example, was recently renamed after tribal ruler Rani Kamalapati.
---
International News
---
6. The United States, Australia, and the United Kingdom have signed a vital agreement in the Nuclear Sub Alliance.
Australia has formally begun a contentious programme to equip its naval forces with nuclear submarines, thanks to a newly created defence partnership with the United Kingdom and the United States.
The pact is the first to be inked in public since the three countries announced the formation of AUKUS, a defence alliance, in September to address geopolitical tensions in the Pacific between China and the United States.
7. Wood-based products can help combat climate change, according to the FAO.
According to a new analysis from the United Nations' Food and Agriculture Organization (FAO), renewable wood-based goods can help prevent climate change and fulfil the Sustainable Development Goals.
Forest Products in the Global Bioeconomy: Enabling Substitution by Wood-Based Products and Contributing to the Sustainable Development Goals compiles the most up-to-date information on forest products' role in the global bioeconomy.
---
Banking & Finance News
---
8. The Reserve Bank of India (RBI) has released the report of a working group on digital lending.
The Reserve Bank of India has submitted its report on digital lending using online platforms and mobile apps, which was chaired by Jayant Kumar Dash, Executive Director, RBI.
The goal of this paper is to improve customer safety and make the digital lending ecosystem more secure while also fostering innovation.
9. India and the Asian Development Bank (ADB) have agreed to a $300 million loan to enhance and expand basic health care in 13 states' metropolitan areas.
A $300 million loan has been negotiated between India and the Asian Development Bank to reinforce and expand access to comprehensive primary health care in 13 states' metropolitan areas.
Andhra Pradesh, Assam, Chhattisgarh, Gujarat, Haryana, Jharkhand, Karnataka, Madhya Pradesh, Maharashtra, Rajasthan, Tamil Nadu, Telangana, and West Bengal are among the states involved.
10. ICICI Bank has launched a platform for Indian exporters and importers called "Trade Emerge."
ICICI Bank has announced the introduction of its online platform, 'Trade Emerge,' which would provide exporters and importers across India with full digital banking and value-added services.
This platform will make cross-border trading easier, faster, and more convenient because it brings together a variety of services in one place, removing the need for enterprises to coordinate with several touchpoints.
---
Appointments News
---
11. Usman Shinwari has announced that he will no longer play red-ball cricket.
Usman Khan Shinwari, a Pakistani bowler, has declared his retirement from the longest format in order to "prolong his cricket career."
Shinwari, who has only played one Test and 17 ODIs for Pakistan, has stated that he is fully fit following treatment for back ailments.
12. Nicolae Ciuca is Romania's designate Prime Minister.
Defense Minister Nicolae Ciuca has been selected by Romanian President Klaus Iohannis to lead a new administration as Prime Minister.
Ciuca, a 54-year-old Liberal who is presently the interim defence minister, has served in US-led combat battles in Iraq and Afghanistan.
---
Awards & Honours News
---
13. Pratham, a Mumbai-based NGO, has been awarded the Indira Gandhi Prize for Peace for the year 2021.
The Indira Gandhi Memorial Trust has awarded Pratham, a Mumbai-based civil society organisation, the prestigious Indira Gandhi Prize for Peace, Disarmament, and Development for 2021.
Pratham is one of India's major non-governmental organisations (NGOs) dedicated to improving the quality of education for poor children around the world.
14. 2021 International Emmy Awards
The 49th edition of the annual ceremony, held on November 22, 2021 in New York City, was the 2021 International Emmy Awards.
Between January 1, 2020, and December 31, 2020, the award recognised excellence in television shows produced and shown outside the United States, as well as non-English language US primetime programmes.
---
Books & Authors News
---
15. Syed Akbaruddin's book India Vs. the United Kingdom: The Story of an Unprecedented Diplomatic Victory
Former India's Permanent Representative to the United Nations, Syed Akbaruddin, has published a book titled "India Vs UK: The Story of an Unprecedented Diplomatic Win."
This book provides a behind-the-scenes look at India's triumph at the United Nations' International Court of Justice in the 2017 elections, in a tight race with the United Kingdom.
---
Important Days
---
16. The 24th of November is Guru Tegh Bahadur's Martyrdom Day.
The Martyrdom Day of Guru Tegh Bahadur, the ninth Guru of Sikhs, is commemorated every year on November 24.
The day is known as Guru Tegh Bahadur's Shaheedi Divas all over the country.
Bidyasagar Classes Address
Plot No-N-6-325, Biju Patnaik College Road,  Infront of SBI, Jayadev Vihar, Bhubaneswar
Website: www.bidyasagar.com
Opening and closing hours: Monday to Sunday :7AM-9PM
 -Mail : bidyasagar.classes@gmail.com
Contact No. : 8917265768; 9337421183, 8093021183