Important Daily Current Affairs of 28th October 2021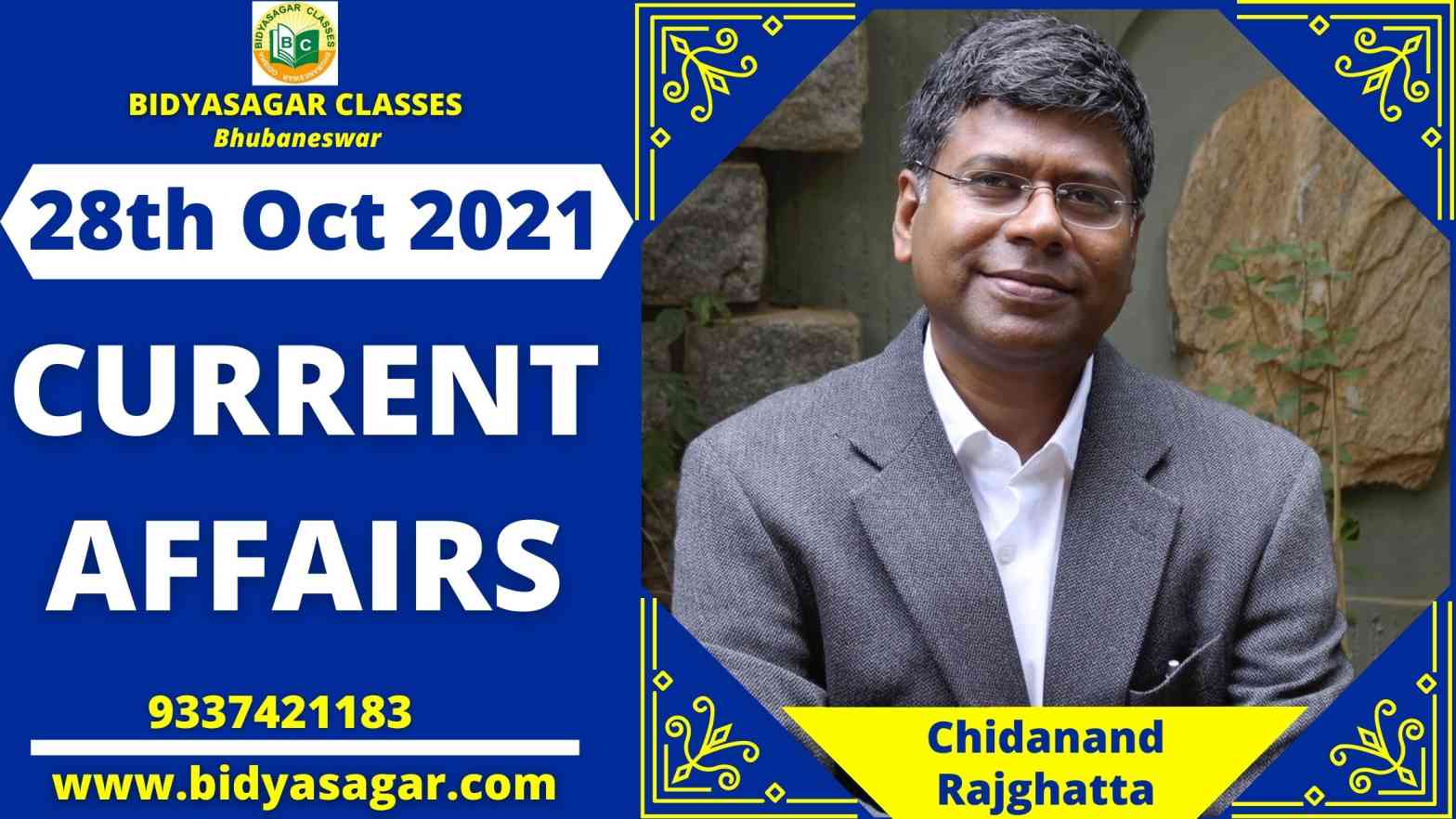 In this article, we will discuss all the important current affairs of 28th October 2021 in detail.
---
National
---
1. PM Modi delivers a speech during the 16th East Asia Summit. virtually
On October 27, 2021, Prime Minister Narendra Modi attended the 16th East Asia Summit (EAS) via video conference, during which he reaffirmed India's commitment to a free, open, and inclusive Indo-Pacific, as well as the principle of ASEAN Centrality in the region.
Brunei served as the host country for the 16th EAS.
2. In Delhi and Chennai, the Centre plans to build two container-based mobile hospitals with 100 beds each.
Under the PM Ayushman Bharat Health Infrastructure Mission, Union Health Minister Mansukh Mandaviya has announced that up to two container-based mobile hospitals with all healthcare services will be set up.
The hospital will be Asia's first of its sort. The hospitals' distinguishing characteristic will be their ability to be rushed to any location, by rail or air, in the event of a medical emergency.
3. India is the first significant power market in the world to establish the Green Day Ahead Market, which is dedicated solely to renewable energy.
On October 25, 2021, Union Minister of Power, New and Renewable Energy, Shri R K Singh, announced a new market sector called "Green Day Ahead Market (GDAM)."
As a result, India is the world's only big electrical market to deploy a GDAM just for renewable energy.
4. The MSME Ministry has launched the "SAMBHAV" National Level Awareness Program, which will run until 2021.
The Ministry of Micro, Small and Medium Enterprises (MSME) has established the "SAMBHAV" e-National Level Awareness Program to encourage young participation in entrepreneurship.
On October 27, 2021, Union Minister of MSME Shri Narayan Rane launched the e-National Level Awareness Programme 2021 'SAMBHAV' in New Delhi.
5. The surface-to-surface ballistic missile Agni-5 was successfully test-fired by India.
On October 27, 2021, the Defence Research and Development Organization (DRDO) successfully test-fired the surface-to-surface ballistic missile Agni-5 from APJ Abdul Kalam Island in Odisha.
Agni-5 is a three-stage solid-fuelled intercontinental ballistic missile (ICBM) with nuclear capability.
6. Nagpur's Expenditure Finance Committee has approved a Rs 2,117 crore project to revitalise the Nag River.
The Nag River restoration project has been approved by the Expenditure Finance Committee (EFC) of the Department of Expenditure, which is part of the Ministry of Finance.
Nitin Gadkari, the Union Minister for Road Transport and Highways, designed the project for Nagpur, Maharashtra.
7. Microsoft has launched an initiative called AI Innovate to help Indian companies.
Microsoft has announced the introduction of a new programme aimed at assisting India's startup environment.
The "Microsoft AI Innovate" programme is a 10-week effort that will help companies in India scale operations, promote innovation, and develop industry expertise by applying Artificial Intelligence (AI).
---
Banking & Finance News
---
8. HDFC Bank's purchase of a 4.99 percent stake in HDFC ERGO is approved by CCI.
The Competition Commission of India (CCI) has authorised private sector lender HDFC Bank's acquisition of 4.99 percent of the outstanding equity share capital of HDFC ERGO General Insurance Company.
HDFC Bank would pay Rs 1,906 crore to the parent business Housing Development Finance Corporation for 3.56 crore shares, or a 4.99 percent ownership (HDFC).
---
Business & Economy News
---
9. In Chennai, the Asian Development Bank and India signed a financing agreement for $251 million for Integrated Urban Flood Management.
To increase Chennai's flood resilience, the Indian government and the Asian Development Bank (ADB) have agreed a $251-million loan for climate-resilient, integrated urban flood control and management in the Chennai–Kosasthalaiyar basin.
Building disaster-resistant infrastructure will aid residents of the Chennai–Kosasthalaiyar basin in dealing with increasing rainfall, rising sea levels, and storm surges caused by cyclones, while also protecting lives, the economy, and the environment.
---
Books & Authors News
---
10. Chidanand Rajghatta's biography "Kamala Harris: Phenomenal Woman" was published.
Chidanand Rajghatta, an Indian journalist and novelist based in the United States, has written a biography of US Vice President Kamala Harris titled "Kamala Harris: Phenomenal Woman."
HarperCollins Publishers India has published the biography.
---
Important Days
---
11. In 2021, the Indian Army will commemorate its 75th Infantry Day.
The Indian Army observes Infantry Day every year on October 27 to commemorate the supreme sacrifice made by valiant soldiers in the struggle against Pakistani invaders in Jammu and Kashmir in 1947.
On October 27, 2021, the 75th Infantry Day will be commemorated.
12. The 28th of October is International Animation Day.
Every year on October 28, the International Animation Day is commemorated to honour the art of animation as well as the animators, scientists, and technicians who make it possible.
The day was established in 2002 by ASIFA, a UNESCO-affiliated International Animated Film Association.
Bidyasagar Classes Address
Plot No-N-6-325, Biju Patnaik College Road,  Infront of SBI, Jayadev Vihar, Bhubaneswar
Website: www.bidyasagar.com
Opening and closing hours: Monday to Sunday :7AM-9PM
 -Mail : bidyasagar.classes@gmail.com
Contact No. : 8917265768; 9337421183, 8093021183