Important Daily Current Affairs of 2nd October 2021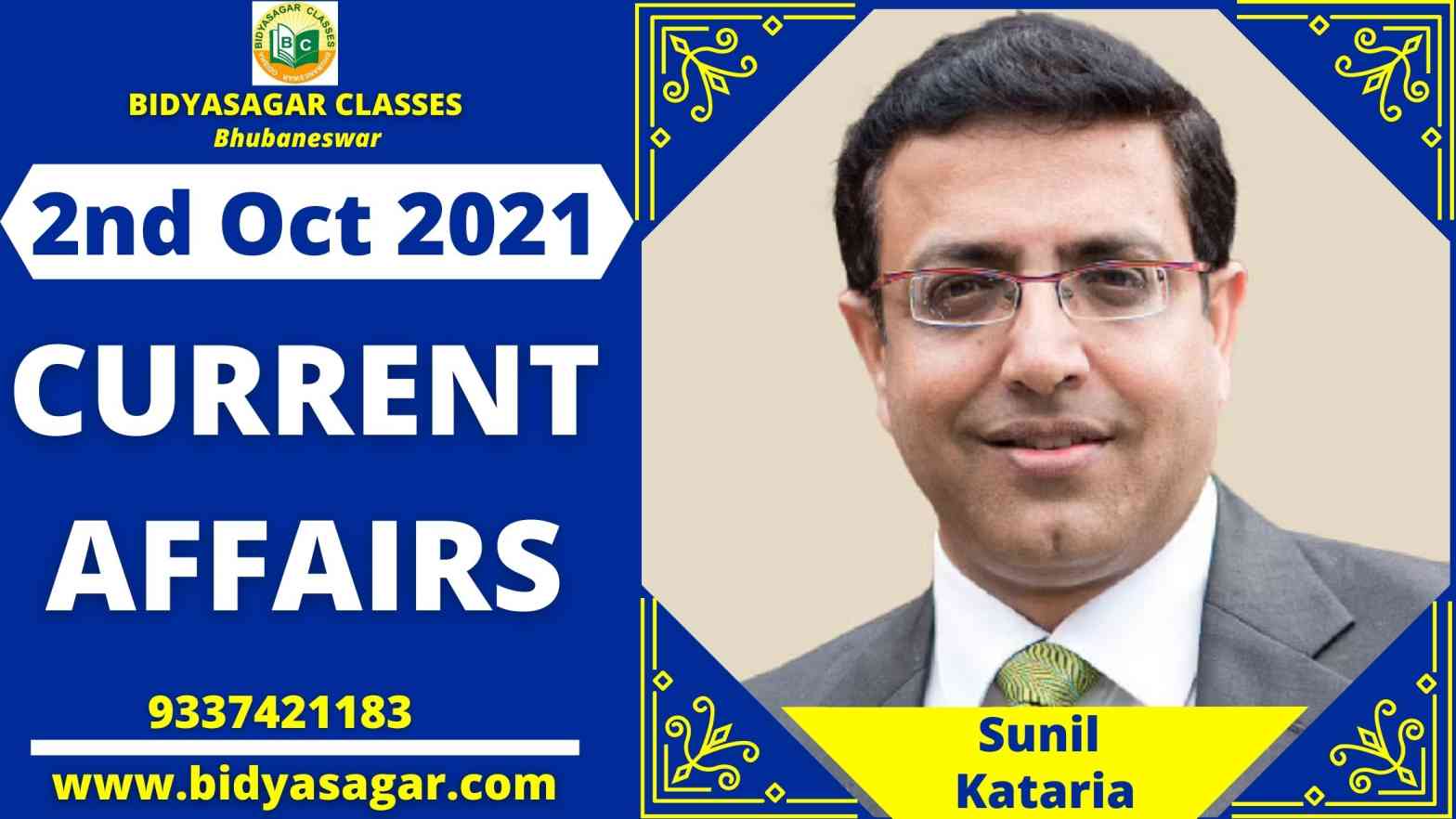 In this article, we will discuss all the important current affairs of 2nd October 2021 in detail.
---
National
---
1. Ajit Pawar has launched a mobile app that allows citizens to access citizen-centric services.
Ajit Pawar, Maharashtra's Deputy Chief Minister, has unveiled a smartphone application that will enable inhabitants of Baramati town in Pune district with all citizen-centric services with a single click.
The Digital Baramati Umbrella App is a set of software programmes designed to meet a variety of requirements. It includes telemedicine, property management, QR-code based asset management, GIS tagging, and a grievance redressal system among its local governance, administration, and citizen-centric mobile applications.
2. Mukhyamantri Paryatan Udyog Sambal Yojana is launched by CM Gehlot.
The 'Mukhyamantri Paryatan Udyog Sambal Yojana-2021′ was announced by Rajasthan Chief Minister Ashok Gehlot to help tourism and hospitality entrepreneurs affected by the COVID-19 pandemic.
In addition, the Chief Minister introduced the 'Rajasthan Tourism Official' smartphone app, which is aimed to assist tourists planning their trips to Rajasthan.
3. According to Union Minister Gadkari, Delhi would be free of air, water, and noise pollution in three years.
In the next three years, the government plans to make the national capital pollution-free in terms of air, water, and noise, according to Union Minister Nitin Gadkari.
According to the road transport minister, his ministry has invested Rs 60,000 crore on road infrastructure improvement, which has helped to reduce Delhi's air pollution.
4. PM Modi hosts the 38th PRAGATI meeting, which examines eight projects worth Rs 50,000 crore.
Prime Minister Narendra Modi presided over the 38th PRAGATI summit, an ICT-based multi-modal platform for proactive governance and prompt execution that brings together the Centre and State governments.
According to a press statement from the Prime Minister's office, eight projects were reviewed during the meeting.
The Ministry of Railways was responsible for four of the projects, the Ministry of Power for two, and the Ministry of Road Transport and Highways and the Ministry of Civil Aviation for one each.
5. Namami Gange's mascot was created by Chacha Chaudhary.
Chacha Chaudhary, an Indian comic book character, has been named the mascot of the government's Namami Gange Program, which aims to transform children's attitudes toward the Ganga and other rivers.
The National Mission for Clean Ganga (NMCG), which has been focused on youth as part of its outreach and public relations efforts because they are the change agents, has partnered with Diamond Toons to create and distribute comics, e-comics, and animated movies.
6. Nagaland will hold a Hornbill Festival.
The Nagaland government is preparing to host the Hornbill Festival this year, which will begin on December 1st, despite a decrease in COVID-19 cases.
The Hornbill Festival is an annual Nagaland government tourism promotion event hosted by the departments of Tourism and Art & Culture at the Naga Heritage Village in Kisama, about 12 kilometres from the state capital, displaying the rich Naga heritage and culture.
---
International News
---
7. On the Digital Quality of Life index, India drops two places to 59th place.
According to a global research conducted by the British Virgin Islands-based cybersecurity firm Surfshark, India is placed 59th out of 110 countries in the Digital Quality of Life Index.
While India has dropped from 57th to 59th place in the rankings since last year, it now ranks 17th in Asia and first in South Asia. Its e-security has also improved, with the country currently ranking 36th (up from 57th in 2020), ahead of China, which is ranked 72nd. According to the ranking, India is ranked 67th in terms of internet quality.
---
Banking & Finance News
---
8. Indian Bank has been appointed as a partner bank for the collection of treasury public sector funds both physically and online. Indian Bank has been named the official partner bank for the Integrated Financial and Human Resources Management System's offline and online treasury collection.
The Integrated Financial and Human Resources Management System is a portal created by the Tamil Nadu government to integrate human resources and finance-related services into a single management system.
The general public, via the portastatement.
9. Suryoday Small Finance Bank will shut down its ATMs on October 1st. Suryoday Small Finance Bank has told its customers that its automated teller machines would be shut down on October 1st (ATMs).
Users will be able to use their debit cards at ATMs owned by other banks, according to the bank. From October 1, the bank's ATMs will be closed.
---
Business & Economy News
---
10. In India, Amazon launched a global computer science education effort.
Amazon India has announced the commencement of Amazon Future Engineer, the company's global computer science education programme.
According to the corporation, the programme will provide students from underrepresented and underserved communities with access to high-quality computer science education and job possibilities.
11. In India, Facebook has launched a Creator Education Program. To Assist Creators in Their Development
In India, Facebook launched its largest creator education and enablement initiative, giving content producers on Facebook and Instagram the chance to study, earn, and develop their networks.
This is the latest step in the company's 'Born on Instagram' programme, which began in 2019 and now allows creators all around India to learn through a self-paced e-learning course. They will also receive a course completion letter at the end of the course.
---
Appointments News
---
12. Sunil Kataria was re-elected as ISA Chairman for the sixth time in a row.
Sunil Kataria, Chief Executive Officer, India and SAARC, Godrej Consumer Products Limited, has been voted Chairman of the Indian Society of Advertisers (ISA) by the newly elected Executive Council.
Sunil has taken the Society to greater heights during the last five years, with the help of fellow Executive Council members, ISA members, and other industry organisations.
13. ASDC's new president is Vinod Aggarwal.
Vinod Aggarwal, a veteran of the automotive sector, has been named president of the Automotive Skills Development Council (ASDC).
Nikunj Sanghi, who will depart ASDC after four years, will be replaced by Aggarwal, who is currently the managing director and CEO of VE Commercial Vehicles Ltd (VECV).
14. Padmaja Chunduru has been named NSDL's new MD and CEO.
Padmaja Chunduru has been named managing director and chief executive officer of the National Securities Depository Limited (NSDL). She will take over from GV Nageswara Rao.
Chunduru previously served as the CEO and MD of Indian Bank. In August, her three-year reign came to an end.
---
Sports News
---
15. After a loss to Korea, India's men finish third in the Asian Table Tennis Championships.
The Indian men's table tennis team finished third at the Asian Championships after losing 0-3 against South Korea in the semifinals in Dubai, United Arab Emirates.
After defeating Iran 3-1 in the quarterfinals, the Indian team was assured of a medal. Both semifinalists receive bronze medals.
16. Birendra Lakra, the star of the Tokyo Olympics, has retired from international hockey.
Rupinder Pal and Birendra Lakra, both of the Tokyo Olympics, have announced their retirement from international hockey. The defenders who starred when India's hockey team earned bronze in the Tokyo Olympics in August, the country's first medal in 41 years, have retired from international competition.
Rupinder, who made his international debut in 2010, was India's second highest scorer after teammate drag-flicker Harmanpreet Singh, with four goals in the team's Tokyo 2020 medal win.
17. Manu Bhaker wins gold at the ISSF Junior World Championships, while Esha Singh takes silver.
Young Manu Bhaker won gold in the women's 10m air pistol event at the ISSF junior world championships, making a strong comeback following her Olympic setback.
In a one-two finish for India, Esha Singh, 16, took silver, while Rhythm finished fourth in the finals, just missing out on a podium spot by.2 points.
---
Awards & Honours News
---
18. LIFE is the winner of the Right Livelihood Award for 2021.
The Legal Initiative for Forest and Environment (LIFE), a Delhi-based environmental organisation, has won the Right Livelihood Award for its "grassroots method of enabling vulnerable communities to safeguard their livelihoods and claim their right to a clean environment" in 2021. Sweden's alternative Nobel Prize is known as this honour.
Marthe Wandou, a Cameroonian women's rights campaigner, Vladimir Slivyak, a Russian environmental activist, and Freda Huson, a Canadian Indigenous rights advocate, are among the other honorees.
---
Obituary News
---
19. Roger Hunt, a World Cup winner for England, has died.
Roger Hunt, England's World Cup-winning striker, died at the age of 83 after a protracted illness, according to his former club.
Hunt was Liverpool's top scorer with 285 goals in 492 appearances until Ian Rush broke the record in 1992. Hunt scored three goals during England's winning World Cup campaign on home soil in 1966.
---
Important Days
---
20. Gandhi Jayanti is the birthday of Mahatma Gandhi.
Every year on October 2nd, Gandhi Jayanti is commemorated and celebrated to honour Mohandas Karamchand Gandhi's birth anniversary.
Mahatma Gandhi and the Father of the Nation were his popular names. On this day, the country usually celebrates a national holiday. Meanwhile, the entire world commemorates Gandhi Jayanti on this day.
21. Tuesday, October 2nd is World Day for Farmed Animals.
Every year on October 2nd, the World Day for Farmed Animals (WDFA), which commemorates Mahatma Gandhi's birth anniversary, since 1983, the World Day for Farmed Animals (WDFA) has been observed.
The International Animal Care Organization, World Animal Protection, and the Asia for Animals coalition are hosting the event to highlight the importance and urgency of farm animal welfare.
Bidyasagar Classes Address
Plot No-N-6-325, Biju Patnaik College Road,  Infront of SBI, Jayadev Vihar, Bhubaneswar
Website: www.bidyasagar.com
Opening and closing hours: Monday to Sunday :7AM-9PM
 -Mail : bidyasagar.classes@gmail.com
Contact No. : 8917265768; 9337421183, 8093021183