Important Daily Current Affairs of 30th November 2021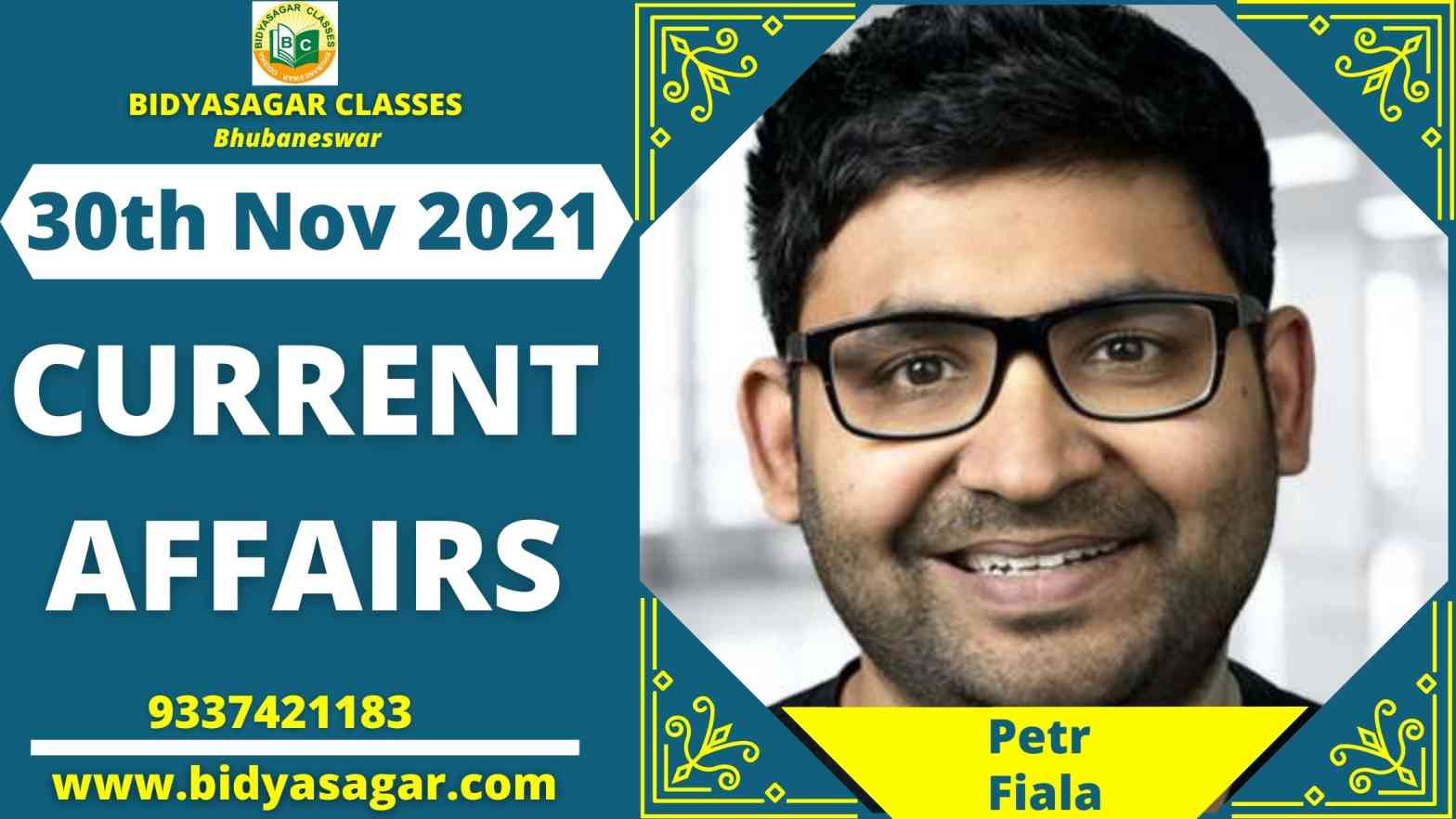 In this article, we will discuss all the important current affairs of 30th November 2021 in detail.
---
National
---
1. Varanasi will be the first Indian city to offer public ropeway transportation.
The constituency of Prime Minister Narendra Modi Varanasi will be the first Indian city to offer ropeway service as a means of public transportation in the near future. To relieve traffic congestion, a ropeway will be built between Cantt Railway Station (Varanasi Junction) and Church Square (Godauliya).
The project is estimated to cost over 400 crore and cover a 3.45km aerial distance.
2. Meghalaya will host the Cherry Blossom Festival in 2021.
Conrad K Sangma, the Chief Minister of Meghalaya, and Satoshi Suzuki, the Ambassador of Japan to India, jointly launched the three-day Shillong Cherry Blossom Festival 2021. It was observed from November 25 to November 27.
Ward's Lake and the Polo Grounds in Meghalaya were the settings for the festival.
3. In Manipur, the world's tallest railway bridge pier will be built.
In Manipur, the Indian Railways is building the world's highest bridge pier as part of the 111-kilometer Jiribam-Imphal railway project.
The bridge, which will have a pier height of 141 metres, will break the European record of 139 metres set by the Mala – Rijeka viaduct in Montenegro.
The bridge is expected to cost Rs 374 crore in total.
---
International News
---
4. Conclave between India, the Maldives, and Sri Lanka to improve maritime security
The Indian Navy, along with Sri Lanka and the Maldives, took part in the first-ever Colombo Security Conclave (CSC) Focused Operation to boost maritime security in the Indian Ocean area, according to a statement from the Indian Navy.
Exercises were held between India's, the Maldives', and Sri Lanka's major maritime security agencies in the Indian Ocean region during the summit.
---
Banking & Finance News
---
5. The RBI has given LIC permission to grow its stake in Kotak Mahindra Bank to 9.99 percent.
The RBI has given Life Insurance Corporation of India permission to increase its ownership in Kotak Mahindra Bank to up to 9.99 percent, the bank said to the stock exchanges. As of September 30, 2021, LIC owned 4.96 percent of the private lender.
Prior RBI approval is required to increase stakes in private banks over 5%, according to central bank regulations.
6. The 'Paytm Transit card' is now available from Paytm Payments Bank.
Paytm Payments Bank Limited has announced the launch of the Paytm Transit Card, with the goal of having one card for the entire country.
The card will cover all of the user's daily necessities, including metro, train, and state-owned bus transit, as well as toll and parking fees, as well as payments at offline merchant stores, internet purchasing, and more.
7. Fedo and neo bank have partnered to offer a "Health Savings Account." Fedo, a health-tech business, has launched a 'Health Savings Account,' called Fedo HSA, in partnership with new bank Open.
Fedo HSA will offer a combined account that combines smart savings, insurance, and a line of credit, all packed into a powerful savings account that comes with a health credit/debit card with health benefit features and rewards, to assist users fulfil their needed spending.
---
Business & Economy News
---
8. India's foreign reserves have increased by $289 million to $640.40 billion.
The Reserve Bank of India said that India's foreign exchange reserves climbed by USD 289 million to USD 640.401 billion for the week ending November 19.
In the preceding reporting week, global reserves fell by USD 763 million to USD 640.112 billion. In the week ending September 3, 2021, they reached a new all-time high of USD 642.453 billion.
9. GDP expected to expand at 8.3% in Q2 and 9.4% for the entire year: Report
India Ratings, a leading rating agency, forecasts the economy to grow 8.3% in Q2 and 9.4% in FY'22, which is 10 basis points lower than the consensus prediction.
The agency attributes the greater growth to nine consecutive quarters of over 3% agriculture growth, which has boosted consumer spending and led to an increase in private final consumption expenditure, which is expected to reach about 10% in the current fiscal's September quarter.
10. In October, FASTag toll collection reached a new high of Rs 3,356 crore.
In October, FASTag achieved an all-time high of 214.23 million (about Rs 21.42 crore) transactions worth Rs 3,356 crore, showing increased economic and transportation-related activity, especially during the festive season.
Toll collection by FASTag recorded 193.6 million transactions worth Rs 3,000 crore in September, compared to 201.2 million transactions for Rs 3,076.56 crore in August, according to government data.
---
Appointments News
---
11. Parag Agrawal, a man of Indian ancestry, has been named the new CEO of Twitter.
Twitter's co-founder and CEO, Jack Dorsey, stepped down, allowing Indian-origin Parag Agrawal to take over as CEO.
With his promotion, Twitter's former CTO joined a growing number of Indian-American CEOs in the United States.
12. As the 25th Chief of Naval Staff, Admiral R Hari Kumar assumes command.
As the 25th Chief of the Naval Staff, Admiral R. Hari Kumar assumed command. As the new Chief of Naval Staff, he was greeted with a guard of honour on the South Block grounds in New Delhi.
Admiral Hari Kumar takes over from Admiral Karambir Singh, who retired on November 30, 2021.
13. Rajnish Kumar, the former chairman of the State Bank of India, has joined Hero MotoCorp as an independent director.
Rajnish Kumar, the former chairman of State Bank of India (SBI), has been appointed to Hero Motocorp's board of directors as an independent non-executive director.
In October 2020, Mr. Kumar's three-year term as chairman of SBI came to an end. He is renowned with successfully navigating the bank through difficult times and implementing important technological advancements.
14. Vivek Johri, a 1985-batch Indian Revenue Service official, has been named chairman of the Central Board of Indirect Taxes and Customs (CBIC).
Mr. Johri is currently employed at the CBIC as a member. He takes over from M Ajit Kumar, whose term ends on November 30, 2021.
---
Sports News
---
15. Saurav Ghosal wins the Malaysian Open Squash Championship for the first time.
After defeating Miguel Rodriguez in the men's singles final, squash star Saurav Ghosal made history by becoming the first Indian to win the Malaysian Open Championships.
The second-seeded Ghosal, known as the face of Indian squash, defeated Colombia's top seed Rodriguez 11-7, 11-8, and 13-11 in 55 minutes to win the country's first champion.
---
Awards & Honours News
---
16. Vocal for Local: 'Hunar Haat' receives IITF2021 Silver Medal
The HUNAR HAAT, organised by the Ministry of Minority Affairs at Pragati Maidan, New Delhi, received the prestigious India International Trade Fair, 2021 Silver Medal for strengthening commitment to "Vocal for Local" and its strong presence at the Trade Fair.
Mukhtar Abbas Naqvi, Minister for Minority Affairs, said that while lakhs of people visited "Hunar Haat" at Pragati Maidan, "Hunar Haat" also saw the sale of indigenous products worth crores of rupees, encouraging artisans and craftsmen from across the country.
17. The 'Startup India Grand Challenge 2021' was won by a Kerala-based medical technology startup.
A Kerala-based medical technology start-up has been named the winner of the Government of India's Startup India Grand Challenge 2021 in the medical device category.
Sascan Meditech, the start-up incubated at the SCTIMST-TIMed the Technology Business Incubator of Sree Chitra Tirunal Institute for MedicalSciences & Technology, Thiruvananthapuram, an autonomous institute of the Department of Science and Technology (DST), received a Cash grant of INR 15,00,000 at the Grand Challenge organised by Department of Pharmaceuticals, Govt of India along with Startup India and Investindia.org.
---
Books & Authors News
---
18. 'Bangladesh Liberation at 50 Years: 'Bijoy' with Synergy, 1971 India-Pakistan War' General MM Naravane has published a book.
General MM Naravane published a book titled "Bangladesh Liberation @ 50 Years: 'Bijoy' with Synergy, India-Pakistan War 1971," which is a collection of personal narratives from Indian and Pakistani veterans.
The book includes authors from both India and Bangladesh, and it is a combination of historical and anecdotal stories of the 1971 War. The majority of those who fought in the war.
---
Obituary News
---
19. Nationally Recognized Shiva Shankar Master, a choreographer, has died.
Sivasankar, a popular choreographer who gained to notoriety via his work in Telugu and Tamil films, died after battling COVID-19 for weeks. He was 72 years old at the time.
In 2011, he won a National Award for the song "Dheera Dheera" from Ram Charan's SS Rajamouli-directed film "Magadheera." He choreographed over 800 songs, had a slew of hits, won a slew of prizes, and drew millions of fans in India and around the world.
---
Important Days
---
20. 30 November is the International Day of Remembrance for Chemical Warfare Victims.
Every year on November 30, the United Nations recognises a Day of Remembrance for All Victims of Chemical Warfare.
In 2005, the inaugural Day of Remembrance for All Chemical Warfare Victims was conducted.
Bidyasagar Classes Address
Plot No-N-6-325, Biju Patnaik College Road,  Infront of SBI, Jayadev Vihar, Bhubaneswar
Website: www.bidyasagar.com
Opening and closing hours: Monday to Sunday :7AM-9PM
 -Mail : bidyasagar.classes@gmail.com
Contact No. : 8917265768; 9337421183, 8093021183