Important Daily Current Affairs of 4th Dcember 2021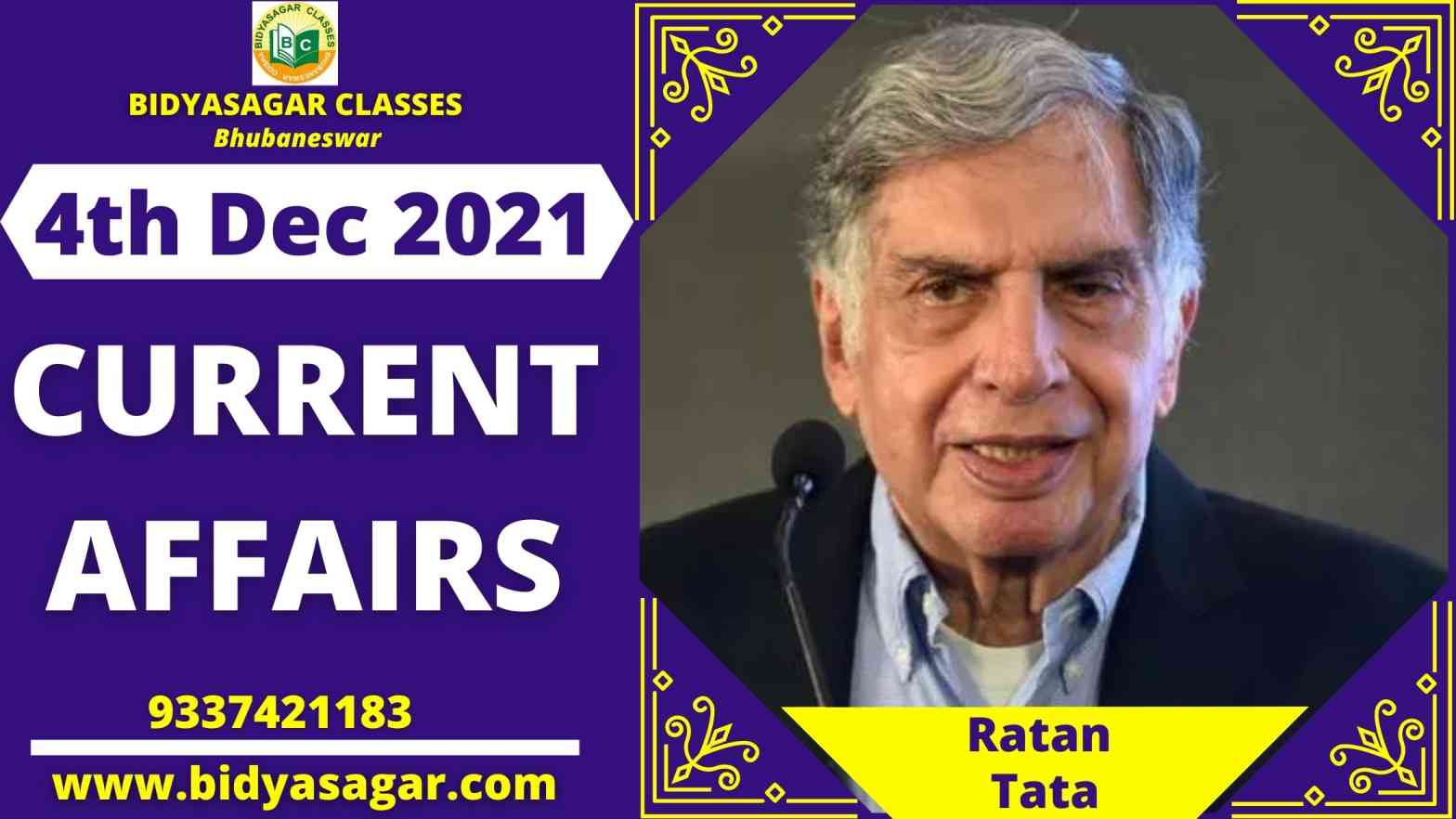 In this article, we will discuss all the important current affairs of 4th Dcember 2021 in detail.
---
National
---
1. In Gorakhpur, the Doordarshan Kendra's Earth Station was inaugurated.
The Earth Station of Doordarshan Kendra in Gorakhpur was launched by Union Minister of Information and Broadcasting Anurag Singh Thakur and Uttar Pradesh Chief Minister Yogi Adityanath.
Three All India Radio FM stations were also virtually inaugurated on the occasion. This would be Doordarshan's second earth station in Uttar Pradesh, and it will cost Rs.7 crore to construct.
2. By 2024, India will have nine nuclear reactors.
The country will have nine nuclear reactors by 2024, according to the government, and a new nuclear plant, the first in northern India, will be built 150 kilometres from Delhi in Gorakhpur, Haryana.
By 2024, India will have nine nuclear reactors, plus 12 new ones with a capacity of 9000 MW that were permitted during the Covid period.
3. IFFCO is ranked top in the World Cooperative Monitor report for 2021.
IFFCO (Indian Farmers Fertiliser Cooperative Limited) has been named the "number one Cooperative" among the world's top 300 cooperatives. The ranking is determined by the turnover to gross domestic product (GDP) per capita ratio.
It means that IFFCO is making a major contribution to the country's GDP and economic growth. The 10th Annual World Cooperative Monitor (WCM) report will be published in 2021, withholding its position from the 2020 edition.
---
Banking & Finance News
---
4. SBI published USD 650 million green bonds on India INX and LuxSE State Bank of India (SBI) listed USD 650 million green bonds on the India International Exchange (India INX) and the Luxembourg Stock Exchange (LuxSE) at the same time (LuxSE).
According to the governing agency International Financial Services Centres Authority, this dual listing is in accordance with the World Investor Week (WIW) topic of'sustainable finance' in 2021. (IFSCA). With over $33 billion in bonds listed, India INX has become the top bond listing venue in the world.
5. Federal Bank introduces a new women-only scheme with a variety of benefits.
Federal Bank, a private sector lender, has introduced a feature-rich savings bank product for women. Mahila Mitra Plus is the name of the savings system, which offers a tailored set of features aimed at making financial planning and investing simple for women.
Exclusive preferential interest rates on housing loans, waived processing fees for house loans, and complementary and customised insurance coverage are among the distinctive benefits.
---
Business & Economy News
---
6. The Asian Development Bank has approved a $500 million loan to improve school education quality.
The Asian Development Bank (ADB) has authorised a $500 million loan to India's government to help boost school instruction and minimise the effects of the Covid-19) outbreak on pupils' learning.
The loan will help the Ministry of Education (MOE) implement the Integrated Scheme for School Education (Samagra Shiksha) and the new Exemplar School Initiative to improve education quality by focusing on inclusive and equitable learning outcomes.
7. India's growth is expected to be 9.4% in FY22, according to the OECD.
The Organisation for Economic Co-operation and Development (OECD), based in Paris, lowered India's growth forecast for FY22 to 9.4% from 9.7% in September 2021. The Indian economy is expected to rise at 8.1 percent in FY23 and then moderate to 5 percent in FY24, according to the report. The OECD has cut its global growth prediction for 2021 from 5.7 percent to 5.6 percent.
Low-skilled domestic migrants and urban workers in India, who bore the brunt of job losses during both waves of the pandemic, have yet to see their salaries rebound to pre-pandemic levels, according to the OECD.
---
Appointments News
---
8. National Asset Reconstruction Company's Chairman, Pradip Shah, has been appointed.
The National Asset Reconstruction Company has named Pradip Shah, the creator of IndAsia Fund Advisors, as its chairman (NARCL). Shah, a Harvard MBA and chartered accountant, is credited with founding India's first and largest home finance company, HDFC, as well as the credit rating agency Crisil.
Sanjay Jain, managing director of Aditya Birla Asset Reconstruction Company, will be the CEO of India Debt Resolution Company (IDRCL), a privately-owned asset management company (AMC) tasked with resolving bad loans acquired by NARCL.
---
Awards & Honours News
---
9. Ratan Tata will be honoured with Assam's highest civilian honour.
The state government of Assam has decided to honour renowned entrepreneur Ratan Tata with the 'Asom Bhaibav' award, the highest civilian state award, on the occasion of Assam Divas for his commitment to cancer care in the state.
Asom Saurav and Asom Gaurav are the awards that come before it. The Assam government is praising Tata's commitment to cancer care in the region, which is one of the state's main priorities.
---
Important Days
---
10. Celebrate the achievements of the Indian Navy on Indian Navy Day. 4th of December
Every year on December 4, India commemorates National Navy Day to honour the naval force's accomplishments and contributions to the country.
The theme for Indian Navy Day 2021 is 'Swarnim Vijay Varsh,' which commemorates India's victory in the 1971 Indo-Pakistan war.
11. Banks' International Day is celebrated on December 4th.
On December 4, the International Day of Banks is commemorated to honour the role of multilateral and international development banks in supporting sustainable development.
The United Nations also commemorates the day to recognise the critical role played by financial institutions in Member States in raising living standards.
Bidyasagar Classes Address
Plot No-N-6-325, Biju Patnaik College Road,  Infront of SBI, Jayadev Vihar, Bhubaneswar
Website: www.bidyasagar.com
Opening and closing hours: Monday to Sunday :7AM-9PM
 -Mail : bidyasagar.classes@gmail.com
Contact No. : 8917265768; 9337421183, 8093021183