Important Daily Current Affairs of 4th November 2021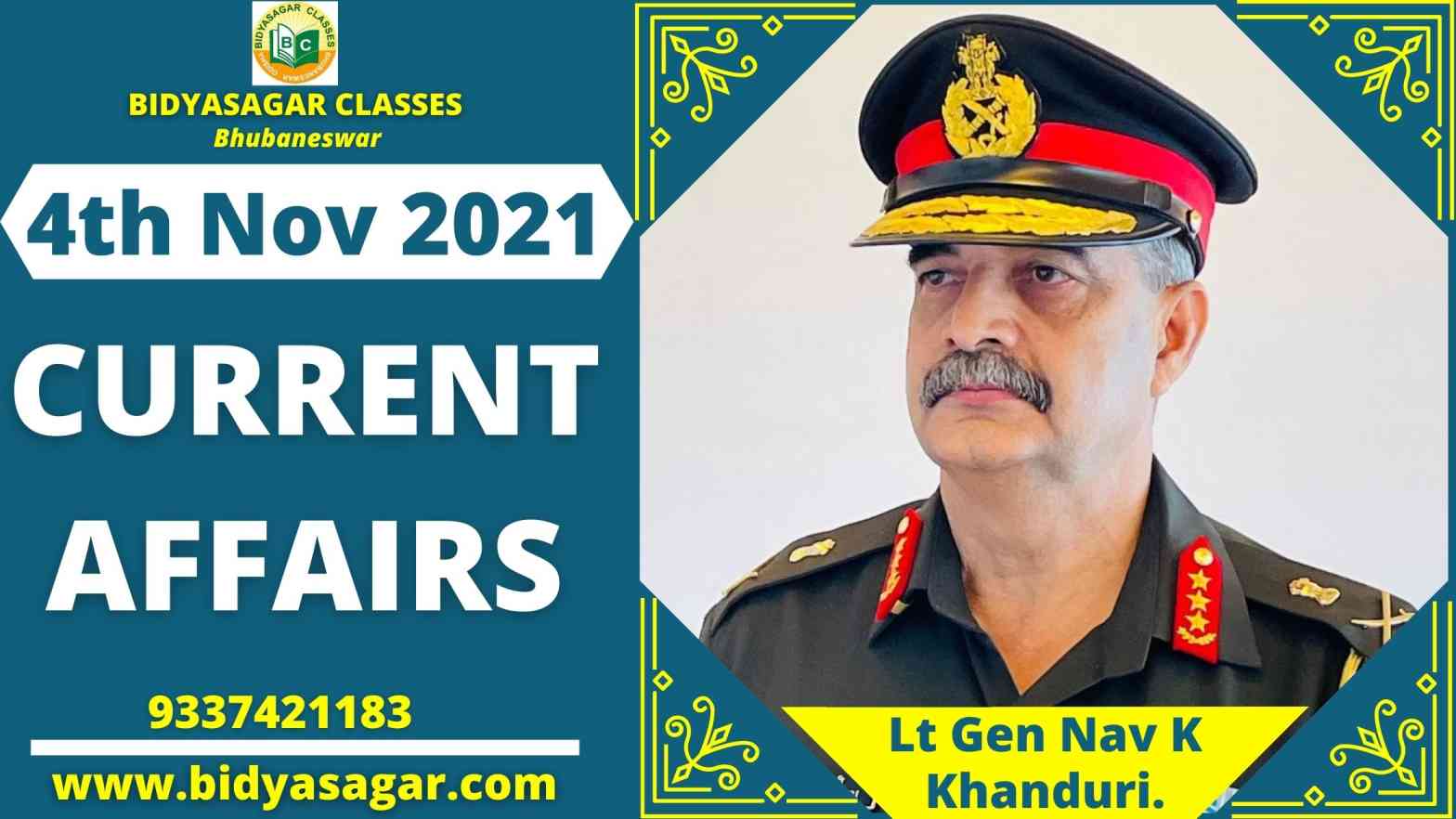 In this article, we will discuss all the important current affairs of 4th November 2021 in detail.
---
National News
---
1. PM Modi announces the launch of the 'Infrastructure for Resilient Island States' initiative for the world's most vulnerable countries.
Prime Minister Narendra Modi announced the creation of the Initiative for Resilient Island States (IRIS) to help small island nations develop infrastructure, saying it provides them "new hope, new confidence, and the satisfaction of doing something for the most vulnerable."
On the second day of the COP26 climate summit, Prime Minister Modi was accompanied by his British colleague Boris Johnson. Australian Prime Minister Scott Morrison and UN Secretary-General Antonio Guterres were also present at the ceremony.
2. In the Thoubal district of Manipur, the government has launched Go to Village 2.0.
With the introduction of Go to Village 2.0 in Thoubal district, the State Government of Manipur relaunched its drive to deliver governance at the doorstep and bring inclusive development to the state.
The Go to Village 2.0 initiative was launched to ensure that government officials continue to visit villages in order to ensure that governance reaches every area of the state.
---
Appointments News
---
3. GOC of the Indian Army's Western Command is Lt Gen Nav K Khanduri.
According to an official release, Lieutenant General Nav K Khanduri has assumed command of the Indian Army's Western Command.
The headquarters of Western Command are at Chandimandir, Haryana. The Western Command oversees the Kharga Corps in Ambala, the Rising Star Corps in Yol, and the Vajra Corps in Jalandhar.
---
Sports News
---
4. The Senior Women's National Football Championship will be held in Kerala.
Kerala has been chosen by the All India Football Federation (AIFF) to host the women's national championship, which will take place from November 25 to December 9.
Three venues and five stadiums will host the senior women's nationals. The executive committee also praised Odisha and Jharkhand's efforts, praising both governments for their "exemplary assistance."
5. In Belgrade, debutant Akash Kumar wins India's first medal.
Young boxer Akash Kumar (54kg) advanced to the semifinals of the present AIBA Men's World Championships with a great win over former Olympic silver medalist Yoel Finol Rivas of Venezuela, despite the challenging conditions of his personal life.
Akash became only the seventh Indian male boxer to win a world championship medal, and he is now guaranteed at least USD 25,000 in prize money.
6. P Iniyan, an Indian grandmaster, wins a chess tournament in Serbia.
With seven points from nine rounds, Indian Grandmaster P Iniyan won the 5th Rujna Zora chess competition.
He had recently won an event in Spain, and his performance allowed him to earn one Elo point here. His FIDE rating is currently 2556.
Bidyasagar Classes Address
Plot No-N-6-325, Biju Patnaik College Road,  Infront of SBI, Jayadev Vihar, Bhubaneswar
Website: www.bidyasagar.com
Opening and closing hours: Monday to Sunday :7AM-9PM
 -Mail : bidyasagar.classes@gmail.com
Contact No. : 8917265768; 9337421183, 8093021183