Important Daily Current Affairs of 5th October 2021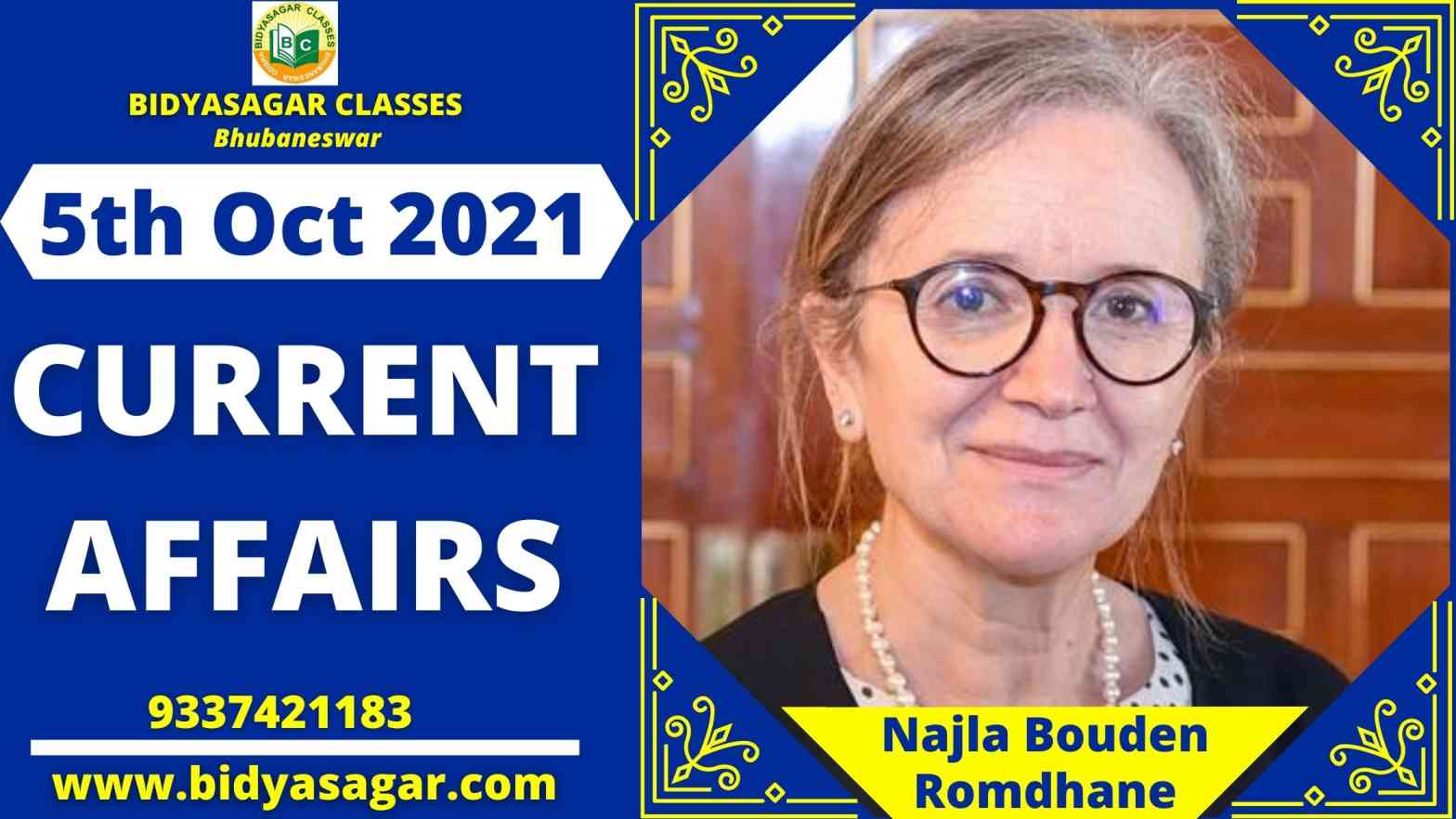 In this article, we will discuss all the important current affairs of 5th October 2021 in detail.
---
National
---
1. The government has approved a budget of Rs 7234 crore to implement integrated farming in all gramme panchayats by 2023: Agriculture Minister of Karnataka
The Government has sanctioned an amount of Rs. 7234 crore to introduce integrated farming in all gramme panchayats by 2023, according to Karnataka Agriculture Minister B C Patil.
In a press conference in Bengaluru, the minister stated that this will assist quadruple the income of farmers, as the Prime Minister has stated.
2. The government has extended the Credit Guarantee Scheme for Subordinated Debt until March 31, 2022.
The Credit Guarantee Scheme for Subordinate Debt has been extended by the government until March 31st of next year.
The government has announced the creation of the Distressed Assets Fund – Subordinate Debt for Stressed MSMEs, according to the Ministry of Micro, Small and Medium Enterprises. On the 13th of May last year, the Atma Nirbhar Bharat Package was launched.
3. The government will investigate the 'Pandora Papers Leak' through a multi-agency group led by the CBDT Chairman, according to the government. The cases relating to the Pandora Papers will be investigated, and necessary legal action will be taken in such cases, according to the law.
The Multi Agency Group, headed by J.B. Mohapatra, Chairman, Central Board of Direct Taxes, would monitor the investigations in cases of Pandora Papers leaks surfacing in the media under the term Pandora Papers, according to the Finance Ministry.
4. In Gandhinagar, Union Minister Kiren Rijiju inaugurates the Sports Arbitration Centre of India.
In Gujarat, Union Law Minister Kiren Rijiju opened the country's first "Sports Arbitration Centre of India," which would act as an independent authority to resolve sports-related disputes.
SE TransStadia Pvt Ltd, based in Ahmedabad, is promoting the SACI as an independent body to resolve sports-related disputes.
5. The India Pavilion was unveiled at the Dubai Expo 2020.
The World Expo 2020 will take place in Dubai, United Arab Emirates, from October 1, 2021, to March 31, 2022.
Dubai Expo 2020's main theme is "Connecting Minds, Creating the Future."
---
Banking & Finance News
---
6. During the first quarter of this fiscal year, bank credit increased by 5.8% over the previous year.
Bank credit increased by 5.8% in the first quarter of this fiscal year compared to the same period last year. On a year-over-year basis, personal loans increased by 14.8 percent, while bank lending to the industrial sector decreased.
Individual credit to households has increased, with their percentage of total loans rising to 43.3 percent from 34.2 percent five years earlier. Female borrowers accounted for roughly 22% of total credit to people.
7. The Asian Infrastructure Investment Bank (AIIB) has approved a loan of USD356.67 million for the expansion of the Chennai Metro Rail System.
The Asian Infrastructure Investment Bank (AIIB) has authorised a USD356.67 million loan to the Indian government to help expand the Chennai metro system.
As part of Chennai Metro Rail Phase 2, the project entails the building of a new route in Chennai's metro network.
8. Indel Money and IndusInd Bank have signed a gold loan co-lending agreement.
Indel Money has partnered with IndusInd Bank to offer gold loans at low rates through a gold loan co-lending agreement.
Indel Money will originate and process gold loans based on mutually agreed-upon credit standards and eligibility requirements under the co-lending partnership agreement. Customers will be served throughout the loan lifecycle, including sourcing, documentation, collection, and loan servicing.
9. Acuite Ratings & Research is the first local credit rating firm to be affiliated with the Principles for Responsible Investment (PRI), a United Nations-backed project that addresses ESG (Environmental Social Governance) credit risk.
It will join PRI's "ESG in Credit Risk and Ratings Statement" as a signatory. Among the existing signatories to the gauge are Fitch, Moody's, S&P Global, and Kroll Bond.
10. A co-lending arrangement is signed between U GRO Capital and IDBI Bank.
On the occasion of IDBI Bank's 58th Foundation Day, U GRO Capital struck a co-lending arrangement with the bank.
The co-lending agreement will help underserved MSMEs obtain formal financing at reasonable rates.
11. NTPC REL signs its first green term credit agreement with Bank of India for Rs 500 crore.
NTPC Renewable Energy Ltd (NTPC REL), a subsidiary of the state-owned power company NTPC, has signed the first green term loan deal for Rs 500 crore with Bank of India.
According to a company statement, NTPC REL has inked its first Green Term Loan arrangement with Bank of India for Rs 500 crores at a very low rate and a tenor of 15 years for its 470 MW solar project in Rajasthan and 200 MW solar project in Gujarat.
---
Business & Economy News
---
12. Manipur's government and Tata Technologies have teamed up to enhance technical education and foster innovation.
A Memorandum of Agreement (MoA) has been signed between Tata Technologies and the Government of Manipur to create a first-of-its-kind centre for Invention, Innovation, Incubation, and Training (CIIIT) on Industrial Experiential Learning and Development in Manipur.
The centre will cover around 20,000 square feet and will have the most up-to-date infrastructure, tools, and technologies in the areas of Industry 4.0, Robotics, 3D printing, and Electric Vehicle design.
13. The total GST revenue for September has surpassed Rs.1.17 lakh crore.
The gross GST income collected in September was 1,17,010 crore rupees, with the CGST component being 20,578 crore, the SGST component totaling 26,767 crore, and the IGST component totaling 60,911 crore rupees.
The GST revenue in September was 23% greater than in the same month the previous year.
---
Appointments News
---
14. B C Patnaik takes over as LIC's managing director.
BC Patnaik has been named Managing Director of India's Life Insurance Corporation.
Patnaik was the Secretary General of the Council for Insurance Ombudsmen (CIO) in Mumbai before becoming the Managing Director of LIC. As a Direct Recruit Officer, he joined the LIC of India in March 1986.
15. Tunisia's first female Prime Minister, Najla Bouden Romdhane, has been appointed.
Two months after President Kais Saied usurped executive authority, fired the prime minister, and suspended parliament, Najla Bouden Romdhane was named Tunisia's first female prime minister.
In the wake of mounting internal and international outrage over the president's power grab, Romdhane, 63, was tasked with forming a new administration.
16. Colonel Mamady Doumbouya has been sworn in as Guinea's interim president.
Guinea's Interim President, Colonel Mamady Doumbouya, was sworn in. Guinea is a coastal West African republic.
Colonel Doumbouya, who overthrew President Alpha Conde on February 5th, was sworn in by Supreme Court Head Mamadou Sylla for an undefined transition time.
---
Sports News
---
17. Naamya Kapoor wins gold in the ISSF Junior World Championships Women's 25-meter Air Pistol event.
Naamya Kapoor, a 14-year-old Indian shooter, won gold in the ISSF Junior World Championships in Lima, Peru, in the women's 25-meter air pistol event.
The teenager took first place on the podium, ahead of famed compatriot Manu Bhaker, who took third place.
18. FC Goa has won the Durand Cup for the first time, defeating Mohammedan Sporting 1-0.
FC Goa won the Durand Cup for the first time with a 1-0 victory over Mohammedan Sporting in the final in Kolkata.
After the final match went into extra time, captain Eduardo Bedia scored the game-winning goal in the 105th minute.
---
Awards & Honours News
---
19. Mukesh Ambani tops Hurun India Rich List 2021 According to the Hurun India Rich List 2021, Mukesh Ambani, the chairman of Reliance Industries, has kept his position as the richest Indian for the 10th year in a row.
Both Adani brothers have climbed into the top ten for the first time, and the Hurun India top ten rich list now includes four new names, including businessmen Lakshmi Mittal and Kumar Mangalam Birla.
20. David Julius and Ardem Patapoutian, both from the United States, will split the award for Medicine or Physiology in 2021.
The Nobel Prize in Medicine or Physiology was awarded to scientists who discovered how our bodies respond to the warmth of the sun or a hug from a loved one.
For their work in sensing touch and temperature, David Julius and Ardem Patapoutian from the United States share the 2021 award in Medicine or Physiology.
---
Books & Authors News
---
21. Ranjit Rae's book "Kathmandu Dilemma: Resetting India-Nepal Ties"
Former ambassador to Nepal, Ranjit Rae, recently published a book titled "Kathmandu Dilemma: Resetting India-Nepal Ties."
The book analyses India's perspective on developments in the context of the relationship's civilisational and economic roots, as well as the obstacles that keep it from realising its full potential.
---
Important Days
---
22. The 5th of October is World Teachers' Day.
Since 1994, World Teachers' Day, also known as International Teachers Day, has been celebrated on October 5 every year.
The purpose of the Day is to focus on appreciating, evaluating, and enhancing the world's educators, as well as to provide an opportunity to think about issues concerning teachers and teaching.
23. 5 October is Ganga River Dolphin Day.
Every year on October 5, India commemorates "Ganga River Dolphin Day" to raise awareness and support protection of Ganga River Dolphins.
Ganga Dolphins were designated as national aquatic animals on this day in 2010.
Bidyasagar Classes Address
Plot No-N-6-325, Biju Patnaik College Road,  Infront of SBI, Jayadev Vihar, Bhubaneswar
Website: www.bidyasagar.com
Opening and closing hours: Monday to Sunday :7AM-9PM
 -Mail : bidyasagar.classes@gmail.com
Contact No. : 8917265768; 9337421183, 8093021183