Important Daily Current Affairs of 6th November 2021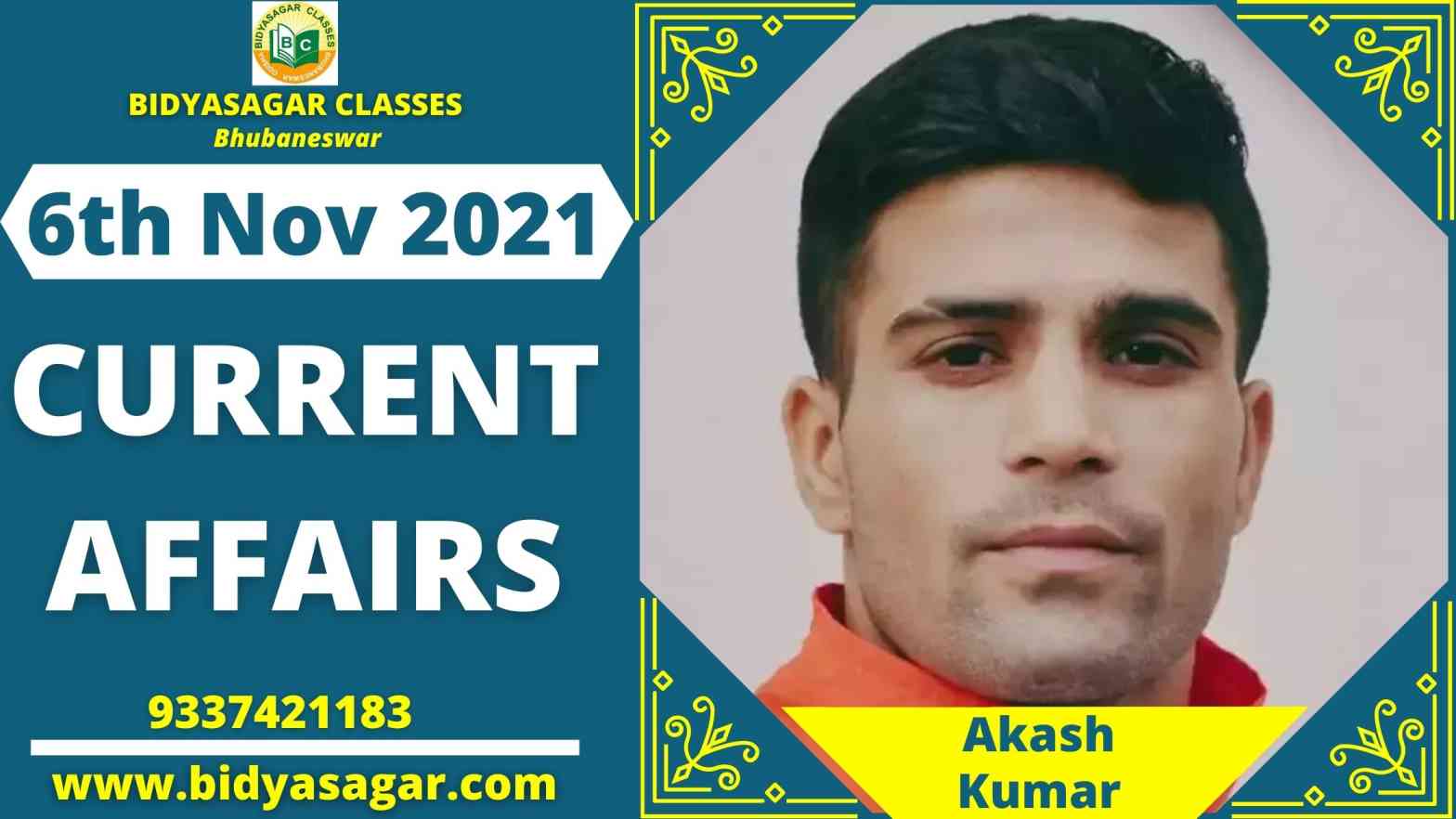 In this article, we will discuss all the important current affairs of 6th November 2021 in detail.
---
National
---
1. In Kedarnath, Prime Minister Narendra Modi unveils Shri Adi Shankaracharya's Samadhi and Statue.
On November 5, 2021, Prime Minister Narendra Modi visited Kedarnath in Uttarakhand to inaugurate critical infrastructure projects connected to the rebuilding of the city.
The PM unveiled the statue of Shri Adi Shankaracharya at the refurbished Shri Adi Shankaracharya Samadhi (last resting place) on the grounds of the Kedarnath Temple in Uttarakhand's Rudraprayag district. During the 2013 Kedarnath flood, the Samadhi was damaged.
2. In Mumbai, India's first rooftop drive-in theatre opened.
The first open-air rooftop drive-in movie cinema in India has opened at Reliance Industries' Jio World Drive mall in Mumbai, Maharashtra.
PVR Ltd, a multiplex chain, will run and manage the drive-in theatre. The theatre was opened in collaboration with Reliance Retail and PVR, a multiplex company.
---
International News
---
3. The United Kingdom has approved the world's first oral tablet to treat Covid-19.
The world's first medication to treat symptomatic COVID-19 has been approved by British health officials.
The antiviral molnupiravir has been found to be safe and effective in reducing the risk of hospitalisation and death in patients with mild to moderate COVID-19 who are at elevated risk of developing the condition, according to the Medicines and Healthcare Products Regulatory Agency (MHRA).
4. Yahoo Inc. has ceased operations in China.
Yahoo Inc. has declared that it would cease providing services in mainland China on November 1, 2021, due to the country's increasingly difficult commercial and legal climate.
Yahoo's 22-year presence in China has come to an end with this announcement. This implies that Yahoo Weather, Yahoo Finance, and other Yahoo-owned websites such as AOL.com, TechCrunch, and Engadget will be unavailable in China.
5. The QS World University Rankings for 2022 have been released.
The QS World University Rankings for 2022 have been issued by QS (Quacquarelli Symonds). For the fourth year in a row, the National University of Singapore (NUS) has topped the rankings.
Peking University in China is ranked second, followed by Nanyang Technological University in Singapore and the University of Hong Kong in Hong Kong.
---
Business & Economy News
---
6. 'SafeCard,' a tokenization solution from PhonePe, has been unveiled.
PhonePe, a digital payment company, has unveiled 'SafeCard,' a tokenization solution for online debit and credit card transactions.
Previously, in September 2021, the RBI created a device-based tokenization framework available to Card-on-File Tokenization (CoFT) services as well. Card-on-File (CoF) means that merchants store credit/debit card credentials for ease of payment.
---
Sports News
---
7. In the 2021 AIBA Men's World Championships, Akash Kumar settles for bronze.
On November 5, 2021, Indian boxer Akash Kumar won the bronze medal at the AIBA Men's World Boxing Championships in Belgrade, Serbia.
In the 54 kg category, Akash, 21, was defeated 0-5 by Kazakhstan's Makhmud Sabyrkhan. Akash is the eighth Indian male boxer to compete in the world championships and win a medal.
---
Books & Authors News
---
8. Sudha Murty's book "The Sage with Two Horns: Unusual Tales from Mythology"
Sudha Murty, the chairperson of the Infosys Foundation and a well-known author, has released her fifth and final book in the "Unusual Tales from Mythology" series, titled "The Sage with Two Horns: Unusual Tales from Mythology."
The stories of kings and queens, gods and goddesses, sages, and amazing men and women of wisdom are featured in the series.
---
Important Days
---
9. International Day to Prevent Environmental Exploitation in War and Armed Conflict
The International Day for the Prevention of Environmental Exploitation in War and Armed Conflict is observed every year on November 6th.
The United Nations General Assembly established November 6 as the International Day for Preventing the Exploitation of the Environment in War and Armed Conflict on November 5, 2001.
Bidyasagar Classes Address
Plot No-N-6-325, Biju Patnaik College Road,  Infront of SBI, Jayadev Vihar, Bhubaneswar
Website: www.bidyasagar.com
Opening and closing hours: Monday to Sunday :7AM-9PM
 -Mail : bidyasagar.classes@gmail.com
Contact No. : 8917265768; 9337421183, 8093021183