Important Daily Current Affairs of 6th October 2021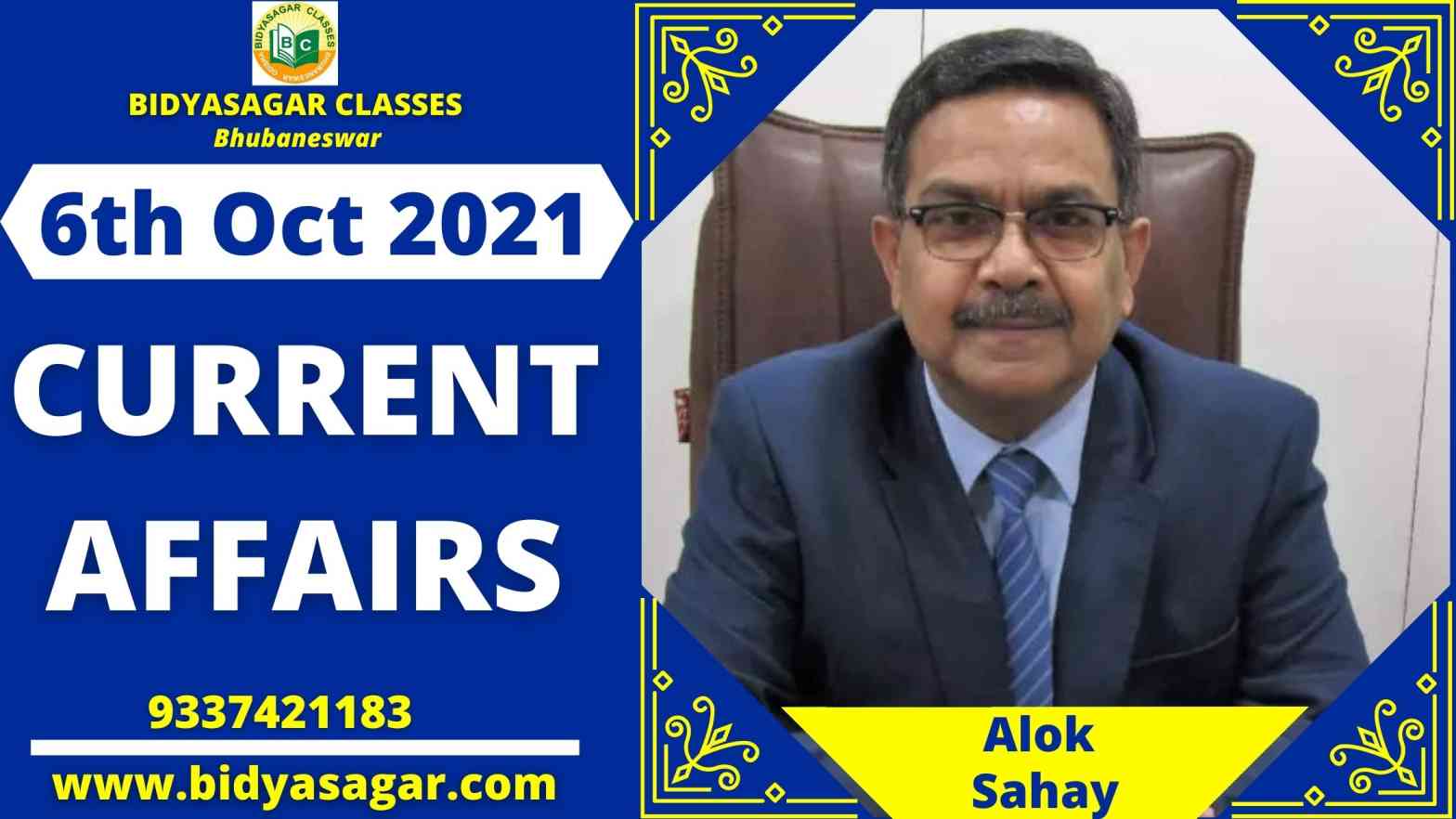 In this article, we will discuss all the important current affairs of 6th October 2021 in detail.
---
National
---
1. In the current fiscal year, the government receives a dividend of Rs. 1,426 crore from Coal India Limited.
In this financial year, the Government of India received a dividend of Rs. 1,426 crore from Coal India Limited.
Government of India has received roughly Rs. 1,406 crore as dividend from Oil and Natural Gas Corporation ONGC, according to Secretary, Department of Investment and Public Asset Management in a tweet.
2. The Tax Inspectors Without Borders (TIWB) programme in Seychelles was launched in collaboration with India.
The Income-Tax Department announced that the Seychelles' Tax Inspectors Without Borders (TIWB) initiative was inaugurated in collaboration with India.
This 12-month programme aims to assist Seychelles in strengthening its tax administration by transferring technical know-how and skills to its tax auditors through sharing of best audit practises, in collaboration with the TIWB Secretariat and with the support of the UNDP Country Office in Mauritius and Seychelles.
3. The ICMR's drone-based vaccine delivery concept, i-Drone, has been launched by the Centre.
In the North East, Health Minister Mansukh Mandaviya started the ICMR's Drone Response and Outreach programme (i-Drone). The delivery approach aims to ensure that everyone receives life-saving immunizations.
For the first time in South Asia, a 'Make in India' drone was deployed to transfer COVID vaccination over a 15-kilometer aerial distance in 12-15 minutes from Bishnupur district hospital to Loktak lake, Karang island in Manipur for administration at the primary health centre.
4. Mansukh Mandaviya, the Minister of Health, releases UNICEF's publication "The State of the World's Children 2021."
Union In New Delhi, UNICEF's worldwide flagship publication, "The State of the World's Children 2021; On My Mind: Promoting, Protecting, and Caring for Children's Mental Health," was released by Health Minister Mansukh Mandaviya.
The paper goes into great depth about the devastating effects of the COVID-19 pandemic on children's mental health.
5. From 2022, Sikkim will prohibit the sale of packaged mineral water.
From January 1, 2022, the state of Sikkim will prohibit the sale of packaged mineral water.
Travellers must take note, and not enter the state with any packaged mineral water bottles. The administration of Sikkim has been working to assist the environment heal and save the state's natural riches.
6. 'Operation Sajag' is launched by the NW Delhi Police.
Officials say the Delhi police have arrested 116 criminals in the last two days as part of 'Operation Sajag,' which includes area domination exercises, special combings, and intensive checking at pickets.
Special cordon and search operations were undertaken in various sections of Delhi's northwest district as part of 'Operation Sajag,' which was targeted at catching criminals and anti-social elements.
7. Himanta Biswa Sarma, the Chief Minister of Assam, has launched Mission Basundhara to streamline land-related operations.
At a ceremony organised by the Revenue and Disaster Management Department in Guwahati, Assam Chief Minister Himanta Biswa Sarma launched 'Mission Basundhara.'
The objective is a significant step toward streamlining land revenue services and making land-related activity more accessible to the general public.
---
International News
---
8. India and Japan are both developing countries. JIMEX is a three-day bilateral maritime exercise held in the Arabian Sea.
The fifth edition of the India-Japan Maritime Bilateral Exercise, JIMEX, will take place in the Arabian Sea between the Indian Navy and the Japan Maritime Self-Defense Force.
The Indian Navy will be represented in the three-day drill by the indigenously built Guided Missile Stealth Destroyer Kochi and the Guided Missile Frigate Teg, which will be commanded by Rear Admiral Ajay Kochhar, Flag Officer Commanding Western Fleet.
---
Banking & Finance News
---
9. The World Bank has approved a loan of USD 150 million for Tamil Nadu.
The World Bank said that its board of executive directors has authorised a USD 150 million (about Rs 1,112 crore) programme to help Tamil Nadu achieve its goal of creating Chennai a world-class metropolis that is more green, livable, and climate resilient.
In addition, the World Bank has approved a USD 40 million (about Rs 296 crore) initiative in Meghalaya that will improve the quality of health services and strengthen the state's capacity to deal with health emergencies such as the COVID-19 pandemic.
10. SBI and the Indian Navy have launched the NAV-eCash card.
SBI's NAV-eCash card was inaugurated onboard the country's largest naval aircraft carrier, the INS Vikramaditya, by the State Bank of India and the Indian Navy.
The card will eliminate the challenges faced by crew members onboard when managing actual cash during a ship's deployment at sea.
---
Business & Economy News
---
11. To encourage innovation, NITI Aayog has partnered with Amazon and Intel.
Think tank for federal policy The NITI Aayog has announced that it has partnered with Amazon Web Services (AWS) and Intel to establish a centre that would foster innovation and collaboration among government agencies, start-ups, enterprises, and subject experts.
The facility, which will be housed at NITI Aayog's headquarters in New Delhi, will demonstrate the possibilities of technologies like artificial intelligence, machine learning, augmented reality and virtual reality, blockchain, and robots in order to encourage their adoption.
---
Appointments News
---
12. Amitabh Bachchan joins CoinDCX as a brand advocate.
CoinDCX, a cryptocurrency exchange, has announced Amitabh Bachchan as its first-ever brand ambassador.
CoinDCX hopes to raise knowledge about cryptocurrency and popularise it as an emerging asset class as a result of this partnership.
13. Elon Musk's Starlink satellite broadband venture in India will be led by Sanjay Bhargava.
Elon Musk's SpaceX has appointed a top executive in India as part of a drive to grow its presence in the nation. Sanjay Bhargava will join the Starlink team as Country Director India beginning next month, according to the world's premier space company.
Sanjay Bhargava will join SpaceX as the Country Director for Starlink in India on October 1, 2021.
14. The Indian Steel Association has selected Alok Sahay as its Secretary-General and Executive Head.
Former executive director of state-owned SAIL, Alok Sahay, will take over as Secretary-General and Executive Head of the Indian Steel Association (ISA) on October 1, 2021, succeeding Bhaskar Chatterjee.
As one of the key industry representatives advocating on trade-related issues at national and international forums, Sahay has worked closely with the steel industry and the government. His background also includes training at British Steel and a position as a visiting fellow at Oxford University's Queen Elizabeth House.
---
Sports News
---
15. The "Meltwater Champions Chess Tour" is won by Magnus Carlsen.
Magnus Carlsen, the reigning World Chess Champion, won the inaugural Meltwater Champions Chess Tour, taking home the non-fungible token (NFT) trophy and $1 million in the finals.
From November 22, 2020, to October 4, 2021, chess24.com hosted a 10-month online chess tournament. FIDE does not rate the tournaments.
16. Aishwary Pratap Singh Tomar, a shooter from India, breaks the world record on her way to gold in the Junior World Championships.
At the ISSF junior world championships, young Indian shooter Aishwary Pratap Singh Tomar destroyed the world record in the final to win gold in the men's 50m rifle 3 positions event.
Tomar topped the field after equaling the junior world record score of 1185 in qualifying.
---
Awards & Honours News
---
17. Scientists from Japan, Germany, and Italy were awarded the Nobel Prize in Physics.
Scientists from Japan, Germany, and Italy have been awarded the Nobel Prize in Physics.
Syukuro Manabe, 90, and Klaus Hasselmann, 89, were honoured for their contributions to "physical modelling of Earth's climate, quantifying variability, and accurately forecasting global warming."
18. Mantri Raksha Mantri Raksha Man Rajnath Singh congratulates the winners of the 2019 DRDO Young Scientists Awards and the DRDO Dare to Dream 2.0 programme.
On October 4, 2021, Union Minister of Defence Shri Rajnath Singh presented the awards to the winners of the Defence Research & Development Organisation (DRDO'Dare )'s to Dream 2.0′ Contest in New Delhi.
The prize was given to 40 recipients, with 22 in the Individual category and 18 in the Startup category.
19. Vice President Venkaiah Naidu bestows the Lokapriya Gopinath Bordoloi Award for National Integration and National Contribution on three deserving individuals from Assam.
On October 3, 2021, Vice President of India Shri M Venkaiah Naidu awarded three honorees with the Assam Government's 'Lokpriya Gopinath Bordoloi Award for National Integration and Contribution' for the year 2021.
---
Obituary News
---
20. Arvind Trivedi, the actor who played Ravan in the Hindu epic Ramayan, has died.
Arvind Trivedi, who was best known for his role as Raavan in the renowned 1986 mythological programme Ramayan, died of a heart attack. He was in his early eighties at the time.
Arvind Trivedi appeared in approximately 300 Hindi and Gujarati films and rose to fame after starring in Ramanand Sagar's Ramayan television series in 1986.
Bidyasagar Classes Address
Plot No-N-6-325, Biju Patnaik College Road,  Infront of SBI, Jayadev Vihar, Bhubaneswar
Website: www.bidyasagar.com
Opening and closing hours: Monday to Sunday :7AM-9PM
 -Mail : bidyasagar.classes@gmail.com
Contact No. : 8917265768; 9337421183, 8093021183