Important Daily Current Affairs of 7th Dcember 2021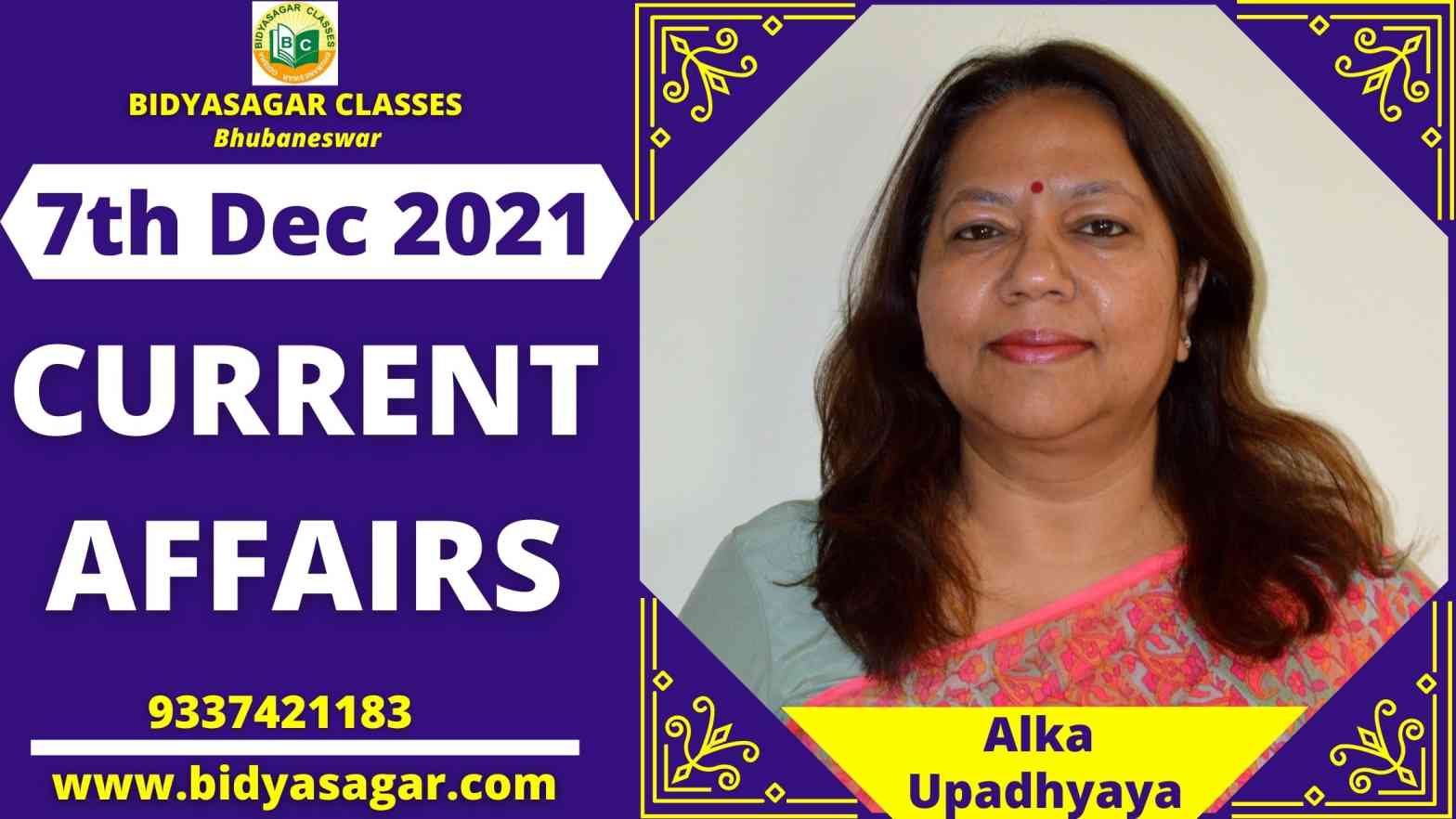 In this article, we will discuss all the important current affairs of 7th Dcember 2021 in detail.
---
National
---
1. SRESHTA, a scheme for the socioeconomic upliftment of SC students, has been launched by the Minister of Social Justice and Empowerment.
Dr. Virendra Kumar, Minister of Social Justice and Empowerment, announced the Scheme for Residential Education for Students in High Schools in Targeted Areas (SRESHTA) to help Scheduled Castes students improve their socioeconomic status and overall growth.
The scheme was launched in New Delhi on the occasion of Dr. B R Ambedkar's Mahaparinirvan Diwas. The initiative would provide high-quality education to bright SC youngsters, allowing them to have a better future.
2. The Centre has launched a scheme to protect and preserve India's endangered languages.
The Centre has announced the launch of a Scheme for the Protection and Preservation of India's Endangered Languages.
Minister of Education Dharmendra Pradhan said in a written reply to the Lok Sabha that the Central Institute of India Languages in Mysuru is working on the conservation, preservation, and recording of all Indian languages spoken by less than ten thousand people. According to him, the plan currently supports 117 languages.
---
International News
---
3. At Kadhdhoo Island, India and the Maldives will commence a joint military drill.
On Kadhdhoo Island in the Maldives, the 11th edition of Exercise EKUVERIN between India and the Maldives will take place. It will come to an end on the 19th of this month.
In terms of comprehending transnational terrorism on land and at sea, executing Counter-Terrorism and Counter-Insurgency Operations, and sharing best military practises and experiences, the exercise will improve synergy and interoperability between the Armed Forces of both nations.
4. The word 'perseverance' was coined by the Cambridge Dictionary. 2021's Word of the Year
Perseverance has been named the Cambridge Dictionary's Word of the Year for 2021.
It's a word that wonderfully encapsulates people all across the world's unwavering will to never give up, despite the many hardships that await them in 2021.
---
Banking & Finance News
---
5. PNB has launched an Android app for employees who are differently abled.
PNB Pride-CRMD module tool, an android-based application for differently-abled personnel, has been introduced to monitor and effectively follow up with special mention account (SMA) borrowers, according to Punjab National Bank (PNB).
It was also stated that this tool would be compatible with iOS very shortly. SMA accounts are stressed loans that are identified early, allowing banks to take timely corrective action and keeping borrowers from becoming non-performing assets (NPA).
6. Paytm has partnered with Amazon Web Services to offer its startup toolkit to entrepreneurs.
Paytm, India's leading digital ecosystem for consumers and merchants, has teamed with Amazon Web Services (AWS) to provide its startup toolkit to entrepreneurs onboarded on AWS Activate, a programme that provides free tools, resources, and more to help startups get started on AWS rapidly.
Paytm will provide payment, distribution, and growth options to entrepreneurs in India participating in the AWS Activate initiative.
7. J&K Bank has launched mPay Delight, a mobile payment service for the general public.
J&K Bank has made its redesigned and refurbished Mobile Banking App mPay Delight available to the public in order to make customers' daily transactions more secure and convenient.
The J&K Bank mPay Delight app, which is available on Google Play and Apple Store, has been enhanced to make it more user-friendly, vivid, and simple to use, with biometric fingerprint authentication for faster and more secure logins.
8. Aditya Birla Health Insurance has introduced a senior citizen package.
The health insurance division of Aditya Birla Capital Limited (ABCL), a prominent non-bank financial services giant, has developed a new plan dubbed Activ Health Essential, an inexpensive health solution plan for the special.
This plan will provide coverage for chronic health management from the start, as well as optional benefits to waive the obligatory co-payment.
---
Appointments News
---
9. Adama Barrow has been re-elected. In The Gambia's presidential election, President Adama Barrow easily won a second term, with thousands of supporters rejoicing and opponents challenging the results.
According to the election commission's figures, Barrow received 53 percent of the vote. Ousainou Darboe, his major opponent, received 27.7% of the vote.
10. Alka Upadhyaya has been named head of India's National Highways Authority (NHAI)
Alka Upadhyaya has been named chairman of the National Highways Authority of India by the Indian government (NHAI). Upadhyaya is the Additional Secretary, Department of Rural Development, and is a Madhya Pradesh cadre IAS officer from the 1990 batch.
---
Sports News
---
11. Pranjala wins the women's singles title at the ITF World Tour Championships, defeating Sowjanya.
In Bengaluru, Pranjala Yadlapalli defeated Sowjanya Bhavisetti to win the KSLTA ITF World Tour Championships women's singles title.
Yadlapalli, who had had cramping after playing two back-to-back three-setters in her quarterfinal and semifinal matches, dreaded yet another three-setter in the championship match against statemate Sowjanya.
12. India reclaims the top rank in the ICC Test Rankings after dethroning New Zealand.
India won the two-match series 1-0 after defeating New Zealand by 372 runs in the second test at Mumbai. On the fourth day of play at the Wankhede Stadium, India dispatched New Zealand's lower order in under 40 minutes. The Black Caps were bowled out for 167 in 56.3 overs while chasing a huge 540.
Virat Kohli and his team have climbed to the top of the ICC Test Championships standings, dethroning New Zealand.
India now has 124 rating points, while New Zealand has dropped three points to 121. India's triumph in Mumbai also marked their 14th consecutive series victory at home. Kohli became the first player in the history of cricket to win 50 international matches in each format.
13. In a tumultuous Saudi Arabian Formula One race, Hamilton wins for the third time in a row.
As Formula One's spectacular championship race moves into the title-deciding finish, Lewis Hamilton passed Max Verstappen with six laps remaining to win the wild inaugural Saudi Arabian Grand Prix and draw level on points with his adversary.
Valtteri Bottas finished third, completing the podium for both Mercedes drivers. Alpine's Esteban Ocon finished fourth, followed by McLaren's Daniel Ricciardo.
14. Argentina has won the Junior Hockey World Cup after defeating Germany 4-2 in the final.
After defeating Germany 4-2 in the Summit Clash in Bhubaneswar, Argentina won the coveted Junior Men's Hockey World Cup.
With his hat-trick, Argentina's forward Lautaro Domene made all the difference in the game, and Agostini sealed the championship trophy with his stunning goal in the final minute.
---
Books & Authors News
---
15. Prabhat Kumar wrote a book called "Public Service Ethics — A Quest for Naitik Bharat."
Prabhat Kumar, the former Governor of Jharkhand, authored the book 'Public Service Ethics.'
M Venkaiah Naidu, the Vice President, released the book. IC Centre for Governance is the publisher of the book. It discusses governance and public sector ethics, as well as a collective striving for an ethical India.
---
Obituary News
---
16. India's First Woman Psychiatrist, Dr. Sarada Menon, has died.
Sarada Menon, the Institute of Mental Health's longest-serving director, died in Chennai. She was 98 years old at the time.
She was awarded the Padma Bhushan in 1992 for being the country's first female psychiatrist. In 1984, she and physician R. Thara launched the Schizophrenia Research Foundation (SCARF India).
17. Vinod Dua, a veteran journalist, died recently.
Vinod Dua, a veteran journalist, died lately. He was the first electronic media journalist to earn the Ramnath Goenka Excellence in Journalism Award, which he received in 1996. In 2008, the Government of India awarded him the Padma Shri for Journalism.
He was a pioneer in Hindi broadcast journalism, presenting the youth show Yuva Manch for Doordarshan in the mid-'70s and afterwards for various other television news stations.
---
Important Days
---
18. International Civil Aviation Day is celebrated on December 7th.
Every year on December 7, International Civil Aviation Day is observed to commemorate the importance of aviation to the world's social and economic progress.
The International Civil Aviation Organization (ICAO) celebrated its 50th anniversary in 1994, and the Day was established to commemorate the occasion (ICAO).
Bidyasagar Classes Address
Plot No-N-6-325, Biju Patnaik College Road,  Infront of SBI, Jayadev Vihar, Bhubaneswar
Website: www.bidyasagar.com
Opening and closing hours: Monday to Sunday :7AM-9PM
 -Mail : bidyasagar.classes@gmail.com
Contact No. : 8917265768; 9337421183, 8093021183