Important Daily Current Affairs of 8th Dcember 2021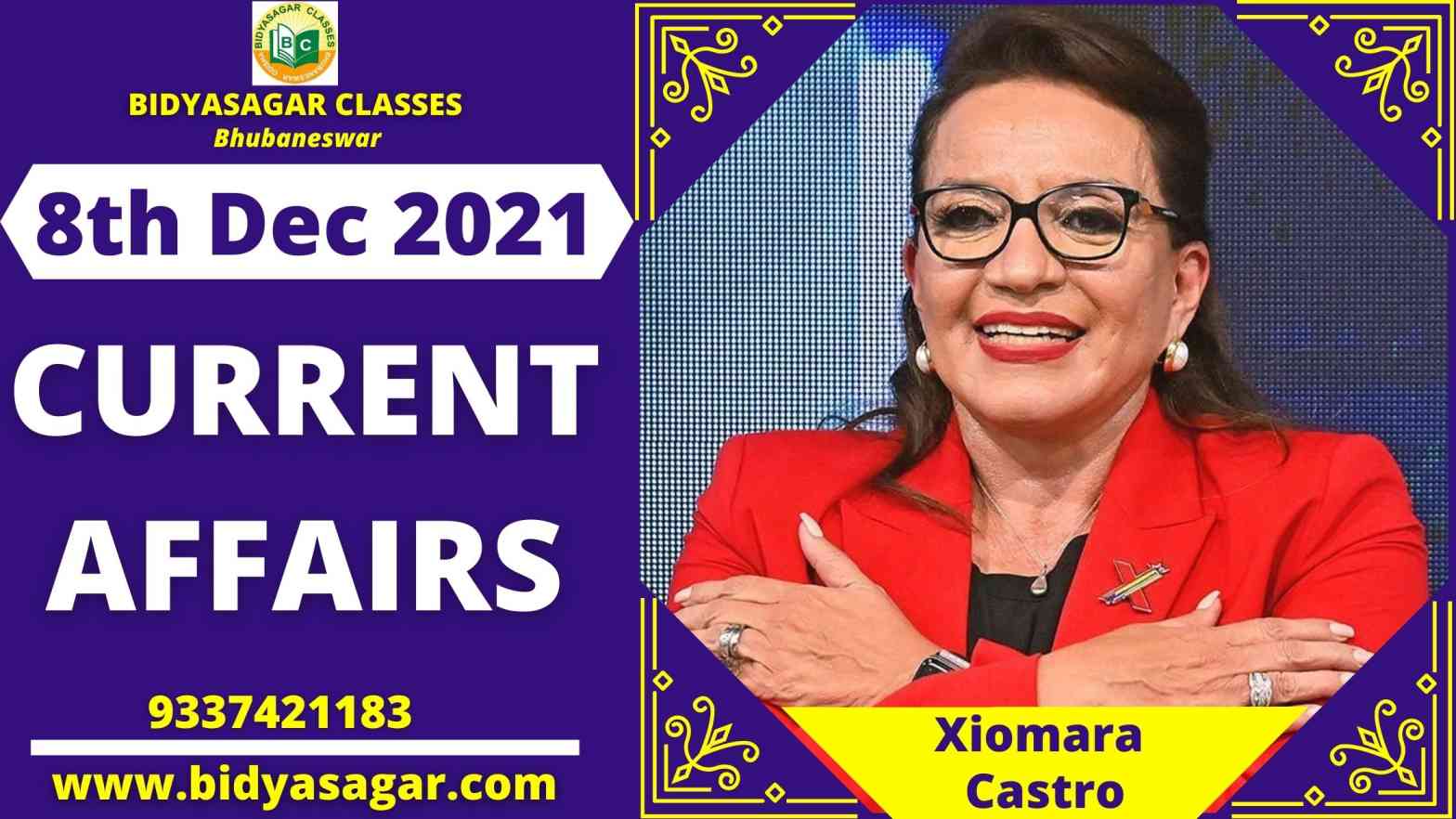 In this article, we will discuss all the important current affairs of 8th Dcember 2021 in detail.
---
National
---
1. Pune will hold a combined military drill with countries from the BIMSTEC region.
Between December 20 and 22, Pune will host a multilateral and multi-agency exercise for BIMSTEC (Bay of Bengal Initiative for Multi Sectoral Technical and Economic Cooperation) member countries, focusing on Humanitarian Assistance and Disaster Relief (HADR) operations.
At the Kothari Auditorium at the DRDO Bhawan in New Delhi, a curtain raiser event for the HADR exercise termed PANEX-21 was place.
2. The Kazhuveli Wetland has been designated as Tamil Nadu's 16th Bird Sanctuary.
Surpiya Sahu, Environment and Forest Secretary, at the Minister of Environment, Forest and Climate Change, proclaimed the Kazhuveli wetland in Tamil Nadu's Villupuram district as the 16th Bird Sanctuary.
The declaration was issued under section 18 of the Wildlife (Protection) Act, 1972, subsection (1). The Kazhuveli wetlands are only second in size to Pulicat Lake in terms of Brackish Water Lakes in South India.
---
International News
---
3. Gambia's President, Adama Barrow, was re-elected for a second term.
Adama Barrow, the President of Gambia, was re-elected to a second term after receiving over 53% of the vote in 50 of the country's 53 constituencies during the country's presidential election.
He defeated his primary opponent, Ousainou Darboe, who received 27.7% of the vote. Chairman of the Electoral Commission Alieu Momarr Njai announced the election results.
---
Banking & Finance News
---
4. Ittira Davis has been appointed as the new MD and CEO of Ujjivan SFB.
Ittira Davis has been named managing director and chief executive officer of Ujjivan Small Finance Bank (SFB) for a three-year term. Martin P S, an officer on special duty, is currently in charge of the bank's day-to-day operations (OSD). Carol Furtado was the OSD before Martin.
Ittira Davis, who was previously the CEO of Ujjivan Financial Services, has been with Ujjivan since 2015. His appointment as Director (Executive) will run concurrently with his time as MD and CEO.
5. ICICI Bank provides merchants on Flipkart with a quick overdraft opportunity.
ICICI Bank has launched a partnership with Flipkart to provide individual sellers and enterprises registered on the e-commerce platform with a fast and entirely digital overdraft (OD) option of up to Rs 25 lakh.
The agreement, which is enabled by API connectivity, allows sellers to obtain an OD from the Bank in a totally digital procedure, from application to sanction to disbursement.
6. CUB announces a 'On-the-Go' wearable keychain for debit card clients in collaboration with NPCI.
City Union Bank (CUB) has announced the launch of RuPay On-the-Go contactless wearable keychain for its debit card clients, in conjunction with National Payments Corporation of India (NPCI) and its manufacturing partner Seshaasai.
The keychain can be ordered through CUB's online banking, mobile banking, and branch locations.
7. PayPhi has launched a RuPay tokenization service for Indian businesses.
PayPhi, Phi Commerce's API-first digital payments platform, has been recognised by the National Payments Corporation of India (NPCI) as the first tokenization provider to allow the tokenization of RuPay cards.
RBI has established a set of rules for storing sensitive customer information in the form of encrypted 'tokens' to improve security.
---
Appointments News
---
8. Sanjiv Mehta, chairman and managing director of Hindustan Unilever Limited (HUL), will take over as president of the Federation of Indian Chambers of Commerce and Industry (FICCI) after the association's 94th annual general meeting.
He is also the president of Unilever South Asia (India, Pakistan, Bangladesh, Sri Lanka, and Nepal), as well as a member of Unilever's global executive board, the Unilever Leadership Executive.
9. Former CEC Arora has been appointed to the advisory board of an international democratic organisation.
Former Chief Election Commissioner Sunil Arora has joined the board of advisers of the International Institute for Democracy and Electoral Assistance, a Stockholm-based intergovernmental organisation with 34 member nations, according to the Election Commission.
Sunil Arora was chosen because he has extensive leadership experience, abilities, and understanding that can help the worldwide institute function effectively.
10. Xiomara Castro, Honduras' first female president, was elected.
Xiomara Castro, a leftist opposition candidate, was elected as Honduras' first female president. The conservative ruling party conceded defeat in presidential elections, granting Castro victory and putting an end to fears of a second contested election and violent protests.
According to the National Electoral Council, former First Lady Michelle Obama received 53% of the vote, while Teguc received 33%.
---
Sports News
---
11. PV Sindhu takes second place in the BWF World Tour Finals.
After losing to Korean teen phenom An Seyoung in the final, Indian badminton star P V Sindhu settled for a silver medal at the BWF World Tour Finals.
Sindhu, the incumbent world champion and two-time Olympic medalist, was unable to match the world number six Korean's speed or penetrate his defence, losing 16-21 12-21 in a 40-minute lopsided match.
12. Russia defeated Croatia to win the Davis Cup for the third time.
After defeating Croatia 2-0 in the final in Madrid, Russia has won the Davis Cup for the third time.
In the first match, Andrey Rublev upset Borna Gojo 6-4, 7-5, and the victory was clinched by Daniil Medvedev, who trounced Marin Cilic.
---
Awards & Honours News
---
13. Nilmani Phookan Jr. and Damodar Mauzo are the winners of the Jnanpith award for 2020 and 2021.
The 56th Jnanpith Award went to eminent Assamese poet Nilmani Phookan Jr., while the 57th Jnanpith Award went to Konkani novelist Damodar Mauzo.
Phookan is the third Assamese novelist to be awarded the Jnanpith prize. Surya Henu Nami Ahe Ei Nodiyedi, Gulapi Jamur Lagna, and Kobita are some of his well-known poems from Guwahati.
---
Books & Authors News
---
14. Gautam Chintamani wrote a book called "The Midway Battle: Modi's Roller-coaster Second Term."
At Upa-Rashtrapati Nivas in New Delhi, Vice President Venkaiah Naidu presented a book by Gautam Chintamani titled "The Midway Battle: Modi's Roller-coaster Second Term."
The political situation in India was discussed in the book. The current Prime Minister, Narendra Modi, is on his second term.
15. At Home In The Universe, a book chronicling a poor boy's journey from a town in South India to the pinnacle of corporate success and personal spiritual growth spanning over six decades, has been released in Mumbai.
B.K. Madhur, former Chief Executive Officer of DHFL Property Services Ltd, recalls his early life as the son of a landless farmer and daily wage labourer in a rural village in South India (in the Kasaragod area of present-day Kerala) just after Independence in this remarkable autobiography.
---
Obituary News
---
16. Sarada Menon, India's first female psychiatrist, died.
Dr. Mamballaikalathil Sarada Menon, India's first woman Psychiatrist and the Institute of Mental Health's longest-serving director, died in Chennai, Tamil Nadu.
She was born in Mangaluru, Karnataka, to a Malayali family. In 1961, she became the Institute of Mental Health's first female Superintendent.
17. Bipin Rawat, the Chief of Defence Staff, and his wife died in an IAF chopper crash in Tamil Nadu.
The Indian Air Force reported in a tweet that Chief of Defence Staff (CDS) Bipin Rawat, his wife Madhulika Rawat, and 11 others died in an IAF Mi-17V5 helicopter crash on Wednesday, December 8.
General Bipin Rawat, his wife, the pilot Wing Commander Prithvi Singh Chauhan, and several top officials were on board when an IAF Mi-17V5 helicopter crashed in Tamil Nadu's Coonoor.
Bidyasagar Classes Address
Plot No-N-6-325, Biju Patnaik College Road,  Infront of SBI, Jayadev Vihar, Bhubaneswar
Website: www.bidyasagar.com
Opening and closing hours: Monday to Sunday :7AM-9PM
 -Mail : bidyasagar.classes@gmail.com
Contact No. : 8917265768; 9337421183, 8093021183