Important Daily Current Affairs of 8th January 2022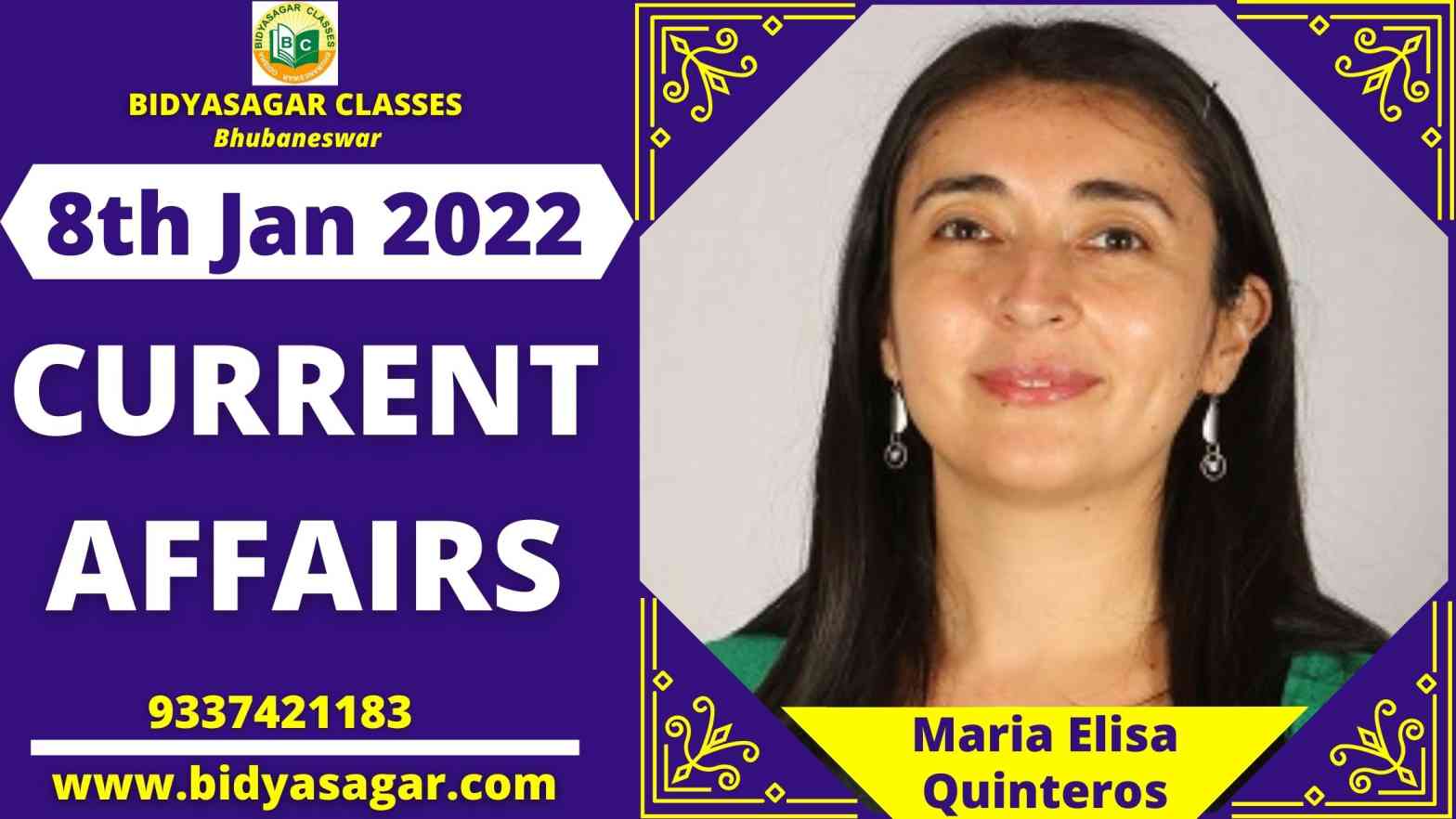 In this article, we will discuss all the important current affairs of 8th January 2022 in detail.
---
National
---
1. The first Open Rock Museum Union in India has opened in Hyderabad. Dr. Jitendra Singh, India's Minister of State for Science and Technology, opened India's first Open Rock Museum in Hyderabad, which features over 35 different types of rocks from various parts of India, ranging in age from 3.3 billion years to around 55 million years of Earth's history.
The Open Rock Museum, which was established with the goal of educating and enlightening the public about a variety of lesser-known facts, houses roughly 35 different types of rocks from various parts of India, ranging in age from 3.3 billion years to around 55 million years in Earth's history.
2. To assist farmers and beekeepers, KVIC has launched a "Mobile Honey Processing Van."
At a Sirora village in Ghaziabad, UP, KVIC chairman Vinai Kumar Saxena unveiled the country's first Mobile Honey Processing Van.
KVIC's Multi-disciplinary training centre, Panjokehra, designed the Mobile Van in-house at a cost of Rs 15 lakh.
3. The Department of Public Instruction and Information Technology (DPIIT) and the Ministry of Commerce have collaborated From January 10 to 15, the Startup India Innovation Week will be held.
The Department of Promotion of Industry and Internal Trade (DPIIT) and the Ministry of Commerce and Industry have decided to hold a virtual innovation week named "Startup India Innovation Week" to highlight the breadth and depth of entrepreneurship in India.
From January 10 to January 16, 2022, a virtual event will be held. The 'Azadi Ka Amrit Mahotsav' will also honour India's 75th year of independence.
---
International News
---
4. India and five other countries have begun a joint anti-submarine exercise with the United States.
India is one of six Indo-Pacific nations taking part in a Pacific Ocean multilateral anti-submarine warfare drill.
The Indian, Australian, Canadian, Japanese, and South Korean fleets took part in the Sea Dragon 22 exercise.
---
Banking & Finance News
---
5. Irdai publishes guidelines for the surety insurance industry.
The Insurance Regulatory and Development Authority of India (IRDAI), India's insurance regulator, has issued recommendations to promote and manage the country's surety insurance market in a sustainable and healthy manner. The regulations will take effect on April 1, 2022.
A surety bond is a three-party contract in which one party (the surety) guarantees a second party's (the principal's) performance or obligations to a third party (the obligee).
6. The RBI has increased the deposit and other funds requirement for non-financial small enterprises by 50% to Rs 7.5 crore.
The Reserve Bank of India has increased the deposit and other funds threshold for non-financial small businesses by 50% to Rs 7.5 crore for the purpose of maintaining the Liquidity Coverage Ratio (LCR), with the goal of better aligning its regulations with Basel norms and enabling banks to manage liquidity risks more effectively.
The previous limit was Rs 5 crore, according to the central bank, and the new framework will take effect immediately.
---
Business & Economy News
---
6. In FY22, the Omicron spread will lower GDP growth by 10 basis points, according to India Ratings.
According to India Ratings and Research, the rising incidences of the Omicron version of Covid-19, as well as the ensuing bans, will have a negative influence on India's Q4FY22 GDP (Ind-Ra).
As a result of the increased number of incidents, state governments have implemented a variety of restrictions, including market capacity reductions and night and weekend curfews to limit human mobility. According to Ind-estimations, Ra's GDP growth in Q4FY22 will be 5.7 percent year-on-year (YoY), down 40 basis points from the agency's previous forecast of 6.1 percent.
7. Karnataka's government has partnered with LNG Alliance, a Singapore-based company, to build the state's first LNG import facility.
For the project, the Government of Karnataka and the Port Authority New Mangal5ore Port Trust (NMPT) have collaborated with Singapore's LNG Alliance, which will have an initial capacity of four million tonnes per year (MTPA).
It will be able to expand up to 8MTPA in order to meet expected demand growth over the next 20 years.
---
Appointments News
---
8. Jhulan Goswami, a cricketer, has been appointed as an ambassador for LLC.
Legends League Cricket (LLC) has named cricketer Jhulan Goswami as an ambassador to support women's empowerment, according to LLC.
The League will also include a 'All Women Match Official Team,' which will feature ICC-empaneled female umpires and match referees from throughout the world.
9. Maria Elisa Quinteros is the new president of Chile, according to the country's constitutional convention.
After nine rounds of voting, Chile's Constitutional Convention picked dentist and epidemiologist Mara Elisa Quinteros as its next president, according to reports.
Quinteros, a 40-year-old member of the Constituent Social Movements faction, will succeed Mapuche scholar Elisa Loncon, whose six-month term is coming to an end, as required by the internal laws.
---
Sports News
---
10. Alexandra Kosteniuk and Nodirbek Abdusattorov are the winners. Rapid World Championships
Nodirbek Abdusattorov, a 17-year-old chess prodigy from Uzbekistan, won the World Rapid Chess Championship after defeating a strong field that includes Ian Nepomniachtchi, defending champion Magnus Carlsen, and Fabiano Caruana in the open event.
Alexandra Kosteniuk won her first world title in rapid chess in the women's section.
---
Awards & Honours News
---
11. The SKOCH award goes to the Forensic Science Laboratory for its efforts to combat crime against children.
For its efforts to reduce crime and violence against children, the Forensic Science Laboratory (FSL) received a Silver SKOCH Award.
It was delivered at the 78th SKOCH Summit, which focused on the topic of "State of Governance."
---
Books & Authors News
---
11. Dhirendra Jha's new book "Gandhi's Assassin: The Making of Nathuram Godse and His Idea of India"
"Gandhi's Assassin: The Making of Nathuram Godse and His Idea of India," by Dhirendra K. Jha, a Delhi-based journalist, is a new book.
Godse's relationship with the groups that inspired his views and gave him a sense of purpose is explored in the book, as well as the progressive hardening of Godse's resolve that culminated to Mahatma Gandhi's killing.
---
Obituary News
---
12. Neil Nongkynrih, the founder of the Shillong Chamber Choir, has died.
Neil Nongkynrih, the founder of the Shillong Chamber Choir (SCC) and a renowned Indian concert pianist, has died.
During former US President Barack Obama's and Michelle Obama's visit to India in 2010, SCC performed for them.
13. Sidney Poitier, the first black man to receive an Academy Award for Best Actor, has died.
Sidney Poitier, a Bahamian-American actor who won an Academy Award for Best Actor in 1964, died at the age of 94. Poitier had produced a film called Lilies of the Field in Arizona in 1963. As a result of his performance, he became the first black actor to receive an Academy Award for Best Actor in a Leading Role.
President Barack Obama honoured him with the Presidential Medal of Freedom in 2009 for his efforts.
Bidyasagar Classes Address
Plot No-N-6-325, Biju Patnaik College Road,  Infront of SBI, Jayadev Vihar, Bhubaneswar
Website: www.bidyasagar.com
Opening and closing hours: Monday to Sunday :7AM-9PM
 -Mail : bidyasagar.classes@gmail.com
Contact No. : 8917265768; 9337421183, 8093021183