Important Daily Current Affairs of 9th November 2021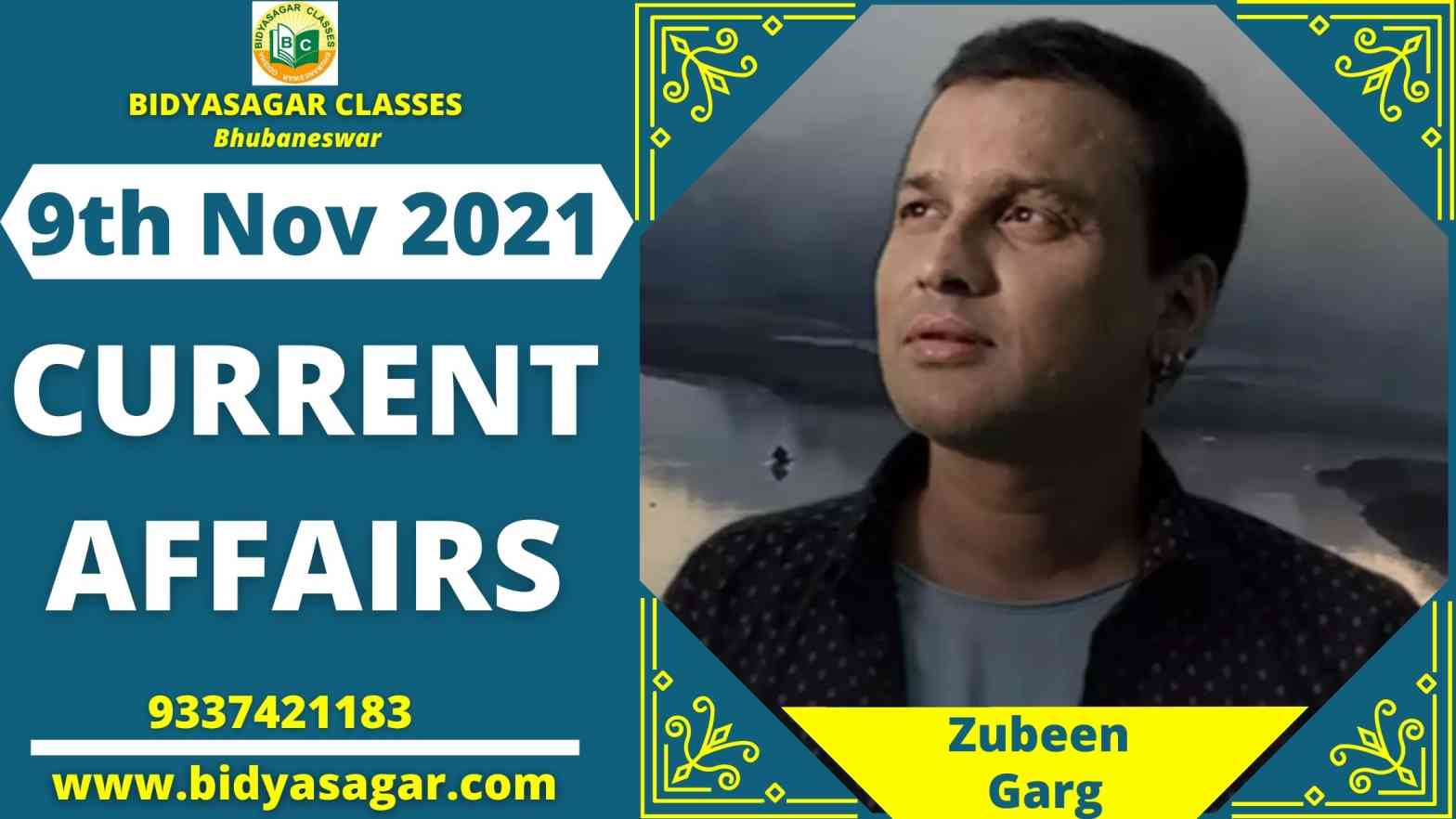 In this article, we will discuss all the important current affairs of 9th November 2021 in detail.
---
National
---
1. Gujarat is the best-performing state, and Uttar Pradesh is the best-improving state, according to the LEADS Report 2021.
The 3rd edition of the Logistics Ease Across Different States (LEADS) report, 2021, was launched by Union Minister of Commerce and Industry Piyush Goyal.
According to the research, Gujarat is the best performing state, while Uttar Pradesh is the best improver. According to the research, Gujarat came in first, Haryana came in second, and Punjab came in third.
2. Tissue culture-based seed potato rules have received Cabinet approval in Punjab.
Punjab's Cabinet has adopted the 'Punjab Tissue Culture Based Seed Potato Rules-2021', which would help the province become a standard potato seed centre.
According to the cabinet, the centre will help the state government achieve its goal of agricultural diversification by boosting potato acreage and raising potato production to 4 LMT from 1 lakh hectare.
3. The Army has signed an agreement with the University of Kashmir to provide soldiers with distant education courses.
The Army signed a Memorandum of Understanding (MoU) with the University of Kashmir in the Union Territory of Jammu and Kashmir, allowing soldiers stationed in J&K to enrol in a variety of courses.
According to Col Emron Musavi, PRO (Defense) Srinagar, a Memorandum of Understanding has been signed between Srinagar's Chinar Corps of Army and the University of Kashmir's Directorate of Distance Education.
---
International News
---
4. Global Drug Index shows how most countries fail drug policy test, India ranks 18
A first of its kind global drug policy index 2021 that ranks 30 countries drawn from across regions on how humane and health-driven their drug laws and policies are, gives India a score of 46 out of 100 with Norway at the top with 74 and Brazil at the bottom scoring 26. In terms of ranking India is at 18.
The index highlights that the global dominance of drug policies based on repression and punishment has led to low scores overall, with a median score of just 48 out of 100 for all 30 countries which is assessed as a "drug policy failure" and a sign for urgent measures to deal with the situation.
5. Srinagar has been accepted for the UNESCO Creative Cities Network 2021 in the field of crafts and folk arts.
Srinagar, the capital of the Union Territory of Jammu and Kashmir, has been added to UNESCO's prestigious Creative Cities Network (UCCN).
UNESCO Director-General Audrey Azoulay made the news in a press statement, stating the 49 cities chosen "in honour of their dedication to putting culture and creativity at the core of their development and to sharing knowledge and good practises."
---
Banking & Finance News
---
6. Liberty General Insurance and PhonePe have teamed up to offer motor insurance.
Liberty General Insurance Ltd has teamed up with PhonePe to provide digital motor insurance.
Liberty General Insurance's car insurance policy enables quick access to the motor insurance cover via PhonePe, which is especially beneficial to the digitally savvy generation.
7. For local economic development in Kerala, ESAF has partnered with NABARD.
In partnership with NABARD, the ESAF Small Finance Bank has started a State Level Local Sustainable Economic Development Training Program in Kerala.
According to the Bank, the programme will initially help 300 panchayats across Kerala, with the goal of promoting financial empowerment and economic independence to the grassroots level.
---
Business & Economy News
---
8. In FY2022, India's GDP is expected to rise at a rate of 10-10.5 percent, according to Brickwork Ratings.
Brickwork Ratings, a domestic rating agency, increased its growth forecast for the country's gross domestic product (GDP) to 10-10.5 percent in the current fiscal year from 9% previously.
Many economic growth indicators point to a faster-than-expected recovery in economic activity, according to the report.
9. GST revenue soared to Rs 1.30 lakh crore in October.
Revenue collections under the Goods and Services Tax (GST) increased by 23.7 percent year on year to Rs 1,30,127 crore in October (for sales in September). This is the second highest revenue collection under GST since its implementation in July 2017 and the fourth month in a row that collections have surpassed Rs 1 lakh.
This follows a surge in economic activity and the adoption of a slew of compliance measures by tax officials to combat evasion.
---
Appointments News
---
10. Morinari Watanabe re-elected as president of the International Gymnastics Federation Morinari Watanabe was re-elected as president of the International Gymnastics Federation for a new three-year term after defeating a contender.
At a conference in Turkey, Watanabe of Japan defeated Farid Gayibov of Azerbaijan 81 to 47, according to the federation.
11. Sankalp Gupta, a teen, Becomes India's 71st Grandmaster.
18-year-old After completing the third and final norm in the GM Ask 3 round-robin event in Arandjelovac, Sankalp Gupta of Nagpur became India's 71st Grandmaster.
Sankalp earned the three requisite GM norms in just 24 days by playing three tournaments in a row, each with a rating of over 2599 and even crossing the 2500 Elo line.
12. In Assam, Bandhan Bank has named Zubeen Garg as their brand ambassador.
Zubeen Garg, a popular Assamese and Bollywood singer, has been named as Bandhan Bank's brand ambassador in Assam.
This is a historic partnership for Bandhan Bank, as it is the first time the bank has partnered with a brand ambassador since its founding six years ago.
---
Sports News
---
13. Afghanistan leg-spinner Rashid Khan becomes the youngest bowler to take 400 T20 wickets. During his team's vital Super 12 match against New Zealand in Dubai, Rashid Khan became the youngest bowler to take 400 T20 wickets. Rashid joined an exclusive group of cricketers as he took his 400th wicket in the present T20 World Cup match between New Zealand and Afghanistan.
In T20 cricket, Martin Guptill became Rashid's 400th victim. After Dwayne Bravo (553), Sunil Narine (425), and Imran Tahir, he is the fourth bowler to reach the 400 mark (420).
14. Novak Djokovic defeats Daniil Medvedev to win his 37th Masters title and sixth in Paris.
Novak Djokovic beat No. 2 Daniil Medvedev 4-6, 6-3, 6-3 in the Paris Masters final for a record 37th Masters championship the day after guaranteeing he finishes No. 1 for a record seventh year.
Djokovic now has one more Masters trophy than fellow 20-time Grand Slam winner Rafael Nadal, and nine more than Roger Federer, the other tennis great with 20 majors.
---
Books & Authors News
---
15. Aseem Chawla's latest book, 'Finding A Straight Line Between Twists and Turns – An Imperfect, Yet Honest Reflections on the Indian Tax Landscape,' has been released. Chawla is India's foremost tax lawyer and well-known international tax and policy expert.
Matrix Publishers' book provides in-depth examination of major recent milestones/landmark events that have altered the Indian tax scene, in particular, over the last decade or so.
16. In Dhaka, a Bangla edition of a book about naval commando operations during the 1971 Liberation War was released.
In Dhaka, the Bangla translation of the book 'Operation X,' describing the joint naval commando operation between the Indian Navy and Bangladesh's Mukti Bahini, was released.
Capt MNR Samant and Sandeep Unnithan wrote the book. AKM Muzammel Haq, Bangladesh's Minister of Liberation War Affairs, was the Chief Guest at the event.
Bidyasagar Classes Address
Plot No-N-6-325, Biju Patnaik College Road,  Infront of SBI, Jayadev Vihar, Bhubaneswar
Website: www.bidyasagar.com
Opening and closing hours: Monday to Sunday :7AM-9PM
 -Mail : bidyasagar.classes@gmail.com
Contact No. : 8917265768; 9337421183, 8093021183